Zach will be heading to Snowglobe in Lake Tahoe to bring in the New Year, so he curated a playlist for your listening pleasure!
---
Another successful Halloween has come and gone, and now it's time to focus on where you'll be bringing in the new year. Sure, while there may be some upcoming events like Dreamstate, Strobe, or WinterFresh still left in 2016, the planning has begun for where to be on New Year's Eve. For me, that means looking forward to one of my favorite events, SnowGlobe. The event is just around the corner and I could not be more excited for this year! For a sixth year South Lake Tahoe will be the beautiful backdrop as The Chainsmokers, Flume, Major Lazer, Odesza, and more create the soundtrack to another unforgettable New Year's Eve celebration. Check out the full lineup below!
Not sure what to expect? Check out Zach's SnowGlobe 2015 review!
SnowGlobe 2016 Lineup: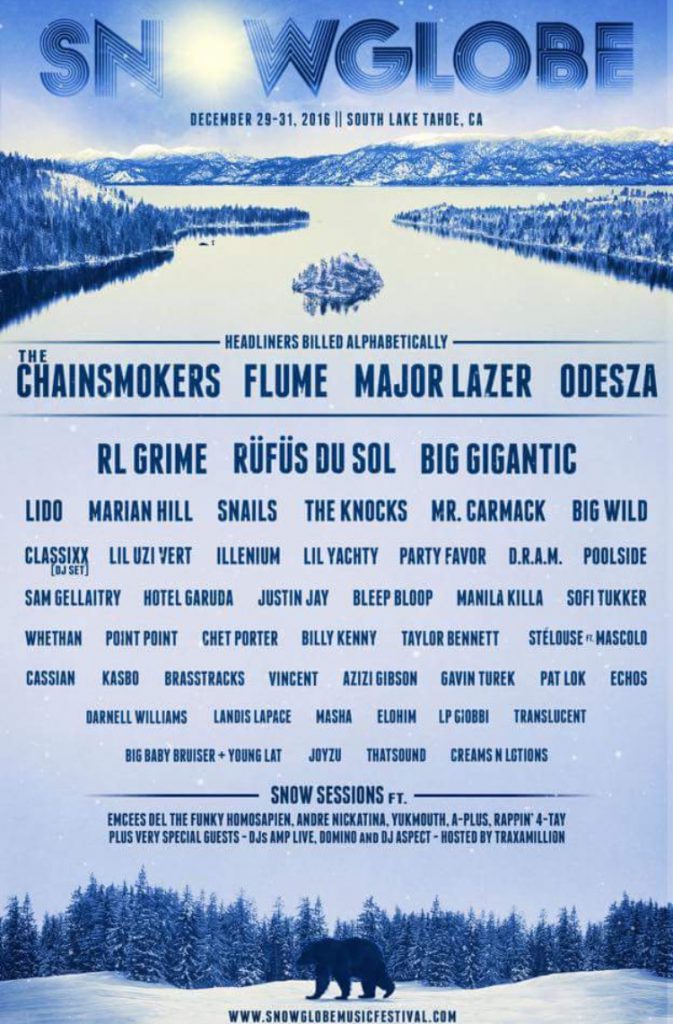 Of course the headliners are amazing, but the whole lineup is solid top to bottom. Some undercard artists who stand out to me are Marian Hill, Illenium, The Knocks, Justin Jay, and the Snow Sessions. Check out my  SG16 Spotify Playlist below, shuffle it, and become more familiar with the artists on the lineup! Also, check out the SnowGlobe Sound Sessions (playlists curated by SG16 artists)!
Stream Zach's SnowGlobe 2016 Playlist on Spotify:
3-Day tickets have officially sold out, but you can still enter to win a pair of passes from iHeartRaves! Single day tickets are also available here! For more information visit their website.
---
Connect with SnowGlobe on Social Media:
Website | Facebook | Twitter | SoundCloud