The Chainsmokers, aka Drew Taggert and Alex Pall, have busted the lid in popularity since their release of "Selfie" in 2013. In March they played Ultra Music Festival Miami's Main Stage and premiered hit track "Don't Let Me Down" after an interlude remix of "Yellow" by Coldplay. Recently, The Chainsmokers have played major festivals like Coachella and EDC Las Vegas, and will soon play Electric Zoo: Wild Island in New York City over Labor Day Weekend. The latest releases from The Chainsmokers have all been hits that have charted, and it seems that they are an unstoppable force in the electronic music scene today.
Check out our interview with The Chainsmokers by clicking HERE!
August 22nd is my opportunity to see The Chainsmokers after waiting nearly 4 years. I finally have the chance to see one of my favorite artists that I have followed since day one. The Chainsmokers are set to play a sold out show in Honolulu at The Republik and I am super stoked to see them play live.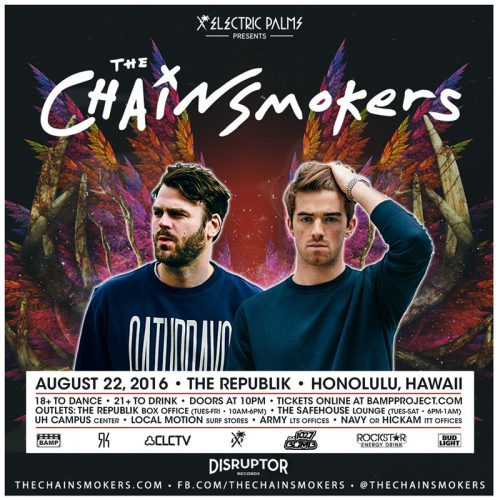 Mason's Top 10 Tracks By The Chainsmokers:
---
10. The Chainsmokers, Tritonal – "Until You Were Gone" Ft. Emily Warren
I enjoy this track because it plays out really well in their live sets and keeps the crowd going. It works fantastic as a transition into a build up during their sets. The vocals by Emily Warren are perfect and it is a great collaboration with Tritonal.
Check out "Until You Were Gone" HERE!
9. Adventure Club – "Wonder" (The Chainsmokers Remix)
"Wonder" has been a favorite of mine for a while because it is a remix of an Adventure Club track that I already love. I really like the twist that The Chainsmokers used in this song, giving it a different sort of feel than the original.
8. "Let You Go" Ft. Great Good Fine Ok
"Let You Go" is a fantastic song to listen to when you're driving down the coast or riding the subway. When included in a mix, the track is a great break between really hyped up baselines and gives a nice relaxing feel when you feature it in a party playlist.
Listen to "Let You Go" Ft Great Good Fine Ok HERE!
7. Tiesto & The Chainsmokers – "Split (Only You)"
I first heard this song in their set from Electric Zoo 2013. It is a fantastic festival anthem and great in a workout playlist. I really like the track for its steady pace.
Check out "Split (Only You)" HERE!
6. ASTR – "Operate" (The Chainsmokers Remix)
"Operate" is great because it is a quintessential remix that features a melody that The Chainsmokers were pushing early on. That style is currently in the sound they play out to fans today. Tracks and remixes like this lead to the hype around their future hit track "Roses".
5. "Don't Let Me Down" Ft. Daya
"Don't Let Me Down" is great because its kind of like "Roses" but its a little different in that the track is more radio friendly. This song drives itself through its super catchy vocals and a melodic upbeat feel that can be played out at any venue.
Check out "Don't Let Me Down" Ft. Daya HERE!
4. The Chainsmokers vs Tove Lo – Habits
This remix of "Habits" is fantastic because it was also featured in a lot of earlier sets from The Chainsmokers and it is just a really fun and upbeat track. I like the remix more than the original Top 40 version that plays on the radio.
3. "Roses"
To me, "Roses" is a generational anthem. This track is going to forever be a part of The Chainsmokers rise in popularity and legacy. It is also ultra catchy and one of their biggest hits.
Stream "Roses" by clicking HERE!
2. Ellie Goulding – "Goodness Gracious" (The Chainsmokers Remix)
This is hands down the best remix I have heard from The Chainsmokers. I like how they rearranged the vocals to put their own unique spin on the track.
1. "New York City"
This is my favorite track that The Chainsmokers have released to date. It is amazing to hear in their live sets, I love the vocals, and I love the beat. Everything about this track is amazing.
Check out "New York City" on YouTube HERE!
---
Follow The Chainsmokers on Social Media:
Website | Facebook | Twitter | Instagram | SoundCloud | YouTube | Spotify