Hector caught up with Justin Jay & Friends after their set at HARD Summer for an in-depth chat…
---
Justin Jay is an LA-based producer dedicated to bringing the funk back into dance music in a big way. Still in his early 20's, Justin has seen huge success after launching his music career from his college dorm room. He was welcomed as the youngest member of the Dirtybird family with open arms and support from Claude VonStroke, Justin Martin, and other big names on the label. Opening up his career with touring has allowed Justin to showcase his blend of house music and live band performance. His music has put him in the spotlight across club and festival stages including The Roxy theater, the Dirtybird residency at Sankeys Ibiza, Coachella, Splash House, Lightning in a Bottle, HARD Summer, Electric Zoo, and many more. His unmistakable brand of house music shines through the energy of him and his friends onstage. From the looks of his growth, Justin will continue to solidify his presence in the world of dance music. I had the chance to sit down and chat with him after his performance at this year's HARD Summer celebration. I talked with him and his friends Ben and Josh who have become a big part of his productions as well as performances.
Stream Justin Jay & Friends – Fantastic Voyage on SoundCloud:
---
How you doing Justin? You played your set already, man.
*Justin motions to me* Up to the bench
So I got some questions for you, I saw your set and it was amazing,
Justin: Dude, thank you man.
I saw you play at, was it the Roxy…a

t that Kill the Zo show?
Justin: Oh Ho! That one was really funny. AM Only put a charity event together and yeah, I think Kill the Zo was one of the artists there. 
At first I was like "that's definitely Justin Jay, and he's got some band members it looks like"; how did that start working out?
Justin: It was really interesting because 3 of us and more homies ended up playing a show there that was like our show. And it was kind of cool because it kind of validated that it could work. It's just interesting because we're all really into tossing live music and electronic music in the blender, and sometimes a nightclub isn't the best place to do that at. Sometimes people can't even see Ben's guitar because it's behind the DJ booth, and Josh on the mic with the monitors right into the microphone is what you don't want for sound. But what was cool about the Roxy is that it's intimate, and it has a stage that can accommodate a band you know we had live drums there. It's interesting how it changed the dynamic because the club HATED us but we ended up inviting all of our homies on stage, and it was just as much, if not more so, of a party on stage than in the crowd because we were just surrounded by homies; it was chaos.
It looked like a proper setup though like if you were watching a band perform…
Justin: I feel like we're all tried and tested in the college house party environment which is just as lawless.
You make your own rules when you throw your own parties right? That's pretty sick…
Justin: Exactly, but The Roxy kept trying to shut us down and my manager was like "please just five more minutes!" and then we got through the whole show. We're really nice, polite artists, — (John) but our friends weren't haha.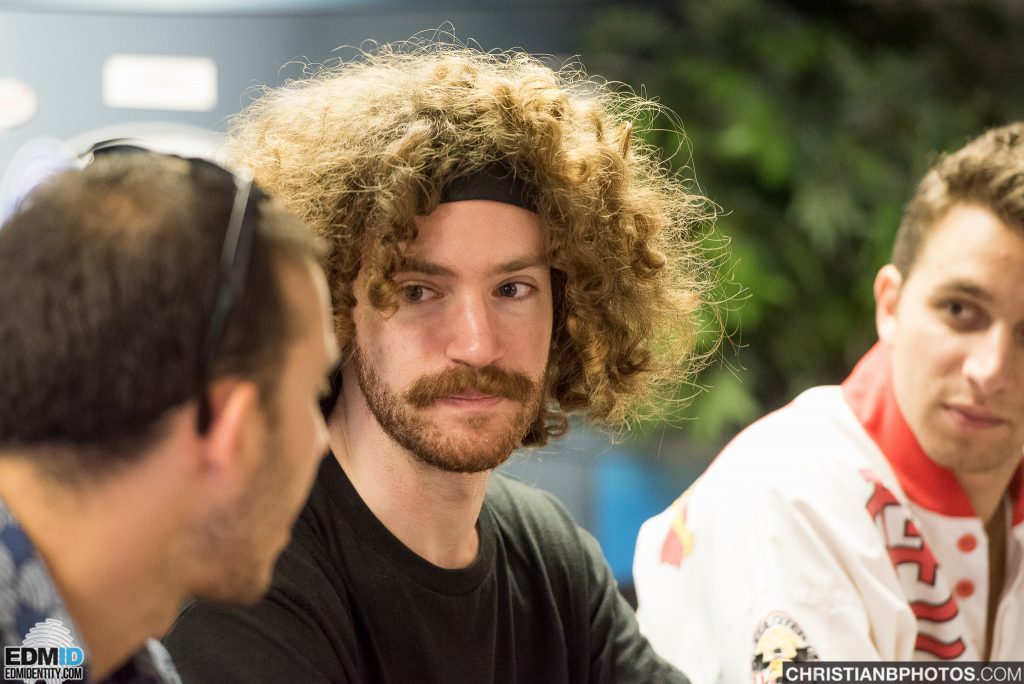 So I know you're a USC guy, no hard feelings I'm studying at UCLA right now…
Justin: Dude hey, we're both LA
That's how I feel about it man, I don't have that rivalry going.
Ben: I care. Interview's over! [haha]
Shit . . I should've ended with that one
[everyone laughs]
What's it like to balance college, having a college mindset and music? How do you fuse those things?
Justin: For me, my first release and kind of the beginning of my career started my first week of college. So the two become very intertwined from the get-go, and I think it was really positive in so many ways. It kept me in this kind of learning mindset as I was starting to do shows, and I was always just going back to the classroom no matter what the gig was. I would go to class taking notes or cranking out a midterm, and a lot of the stuff I did in school was getting through GE's and easy music classes. I took intro to Logic Pro which was what I had been making my music on already, so it was like easy A and didn't have to do much work; played the game in that regard a little bit so that I could spend as much of my time in my bedroom making music. And another cool thing about being into music and being in school is just the social environment of college, which I honestly didn't really fully take advantage of while I was there. 
When did that aspect start taking off for you then?
Justin: My homie Alf, who was my roommate for two years in college was finishing up his fifth year, and he started throwing these parties at a house that's called "the pink house" which is this kind of artsy little spot that a bunch of cool kids lived in. It has this back house that's perfect for having bands or DJs, it's psychedelic and really grungy.
(John) lots of weird rugs and dirt, basically — Danny Belt who was the number two guy at HARD for a long time, he actually was the dude who quite a few years ago lived there and made it a spot.
So he facilitated it kind of?
Justin: Yeah exactly, and also part of our crew and one of our collaborators — he's a really dope producer — he's this Swedish kid who's into the coolest, artsiest house music, Right now he's really hyped on minimal Berlin techy shit that's not what you would expect to hear at a college party and he was like "dude, I can do this," and he started throwing this party and he just played whatever he wanted, and it was so amazing because the vibe in this house is like a barn. It's so vibey that you can play any type of music and people just want to have a good time. We just had some magical moments in there and that inspired us to start throwing a party collectively as a larger group that kind of popped off from what Alf had started, and now has turned into a very defining thing, this college house party thing.
Yeah, definitely.
Justin: It's super ironic but most of my college weekends I would go to cool warehouse parties and clubs in LA, because I saw a lot of my favorite DJs start to play in LA for the first time and saw this resurgence of LA warehouse parties and house and techno, and it was at a time when EDM was still very new to the college kids and so I didn't really feel at home at the college parties musically. When I went to these warehouse parties it was like "Woah, this is so crazy," you'd get the address an hour before the show and ironically, by the end of college for me I started hearing house music at the college parties; and I started seeing frat bros and homies at the warehouse parties. I feel like when people graduate they kind of want something new and different that they haven't done, like all of my homies are super done with frat parties but are down to go to some super artsy warehouse shows and now I think "there's so much novelty in these house parties but for me it's also nostalgic because that's the kind of environment that I first started DJing in."
One thing that I don't like about some of the warehouse parties is that the best ones, I feel like sometimes can attract people who just wanna be there to be cool where it's really kind of forward-thinking music and people will take it a little seriously.
Ben: You get a lot of chin-scratching…
Justin: I love the music but I'll be trying to dance and the person next to me is kind of confused by the beat. With house music there's so much variation and there's such a wide spectrum and even though it all has the same beat and speed, I feel like part of that snobby forward-thinking mindset kind of helps move things forward and plays a part in the ecosystem of dance music, but it can be taken too far when you stop dancing; then you're kind of missing the point.
Yeah, you're making it seem like the purpose has fizzled out instead of pushing the music culture forward. So how have those experiences shaped the type of energy you bring with you when you play?
Justin: What me and my friends are into, first it's about having a good time. When you have an opportunity to have a party with your friends and dance, you're there to have fun and smile and not necessarily be like "oh my god," lost in some kind of artistic thing. But I also feel like because I'm into the weird forward-thinking music too, and the reason why I love the house party thing that we've been doing is because it's this creative space that has such a warm intimate vibe, we can play these really weird artsy tracks and people can still dance to them; but first and foremost it's about having fun and smiling. Sometimes when you have that dark techno track and something feel-good comes on right after and sometimes having that contrast makes the feel good moments even more like "YES I was listening to the same high-hat for 20 minutes and now it's disco!" I think that sort of arc is really important and we just get that in such a special way at these house parties. I think moving forward, like we did at the Roxy, we just wanna bring that energy everywhere because it doesn't necessarily have to be at a house party though, you can have fun in any sort of space when you're with your friends.
So I wanted to ask, can you tell me the story behind the most epic party you've thrown or helped organize?
Justin: Most recently, it was right after I finished my Spring Tour, which was a really intense one. I got back and Ben just graduated, Ben plays guitar and Josh sings, by the way. About a year and a half ago, it was our last semester of college and Josh and I pledged the same frat when we were in college and roomed together Sophomore year: we were like the two sensitive music kids who were used to singing and playing ukulele while I was into warehouse party music; both styles didn't really fit well in the frat. We bonded over our love for music and had mutual respect for what each other were doing but never even thought about bringing it together because it was like techno stuff and Jack Johnson, John Mayer feel good live stuff. Our last semester of college, we were like "dude, we're spending all our time together anyways, let's just try messing around." It was a Monday night and we came up with a little song, and then I started throwing a beat under it. Then Wednesday, as the song was coming together, Josh was like "let's bring Ben in," who was in our frat too and playing guitar in Josh's band.
That Friday night, the song was nearly done and we were at a frat party. We thought the song was so sick, and I was like "I have a gig in San Francisco tomorrow night, I'm gonna ditch my flight, I'll drive up. Would you guys be down to roll with and play it live at the show?" We get into my car Saturday morning, Josh is driving, my laptop is plugged into the sound system while I'm finishing this track driving up and cutting it close on time. My computer dies, and we stop at an in-n-out, the only place we could charge with the ceiling outlets with a dangling computer charger as I'm trying to finish this thing. We finish the track and get to the club literally 10 minutes before the doors open, which gave us just enough time to do a sound check and the party started. About 12:30, I was just getting into my set while the party was going off, and I had the homies hop on and we played the song, it was just MAGICAL. I asked the promoter to have Alf be the opening DJ and he took a video of it, and we were like "oh this is the dopest thing ever!"
Next week we did the same process all over: started a new song on Monday, finished it on the way to the gig, and we didn't realize it but we ended up making an album and that album just came out this Spring, so it's just been a rollercoaster. For me it was this really defining moment because it was at a time where I had been on the house and techno instrumental grind for about 3 and a half years at that point, and it was professionally putting out releases and stuff. I was starting to get to this point where I was starting to get a little bored or feel as though "oh man, I'm making the same song over and over again now," but having songs with vocals and songwriting and instruments and bridges and choruses, it added this whole new dimension to making music for me that gave me this resurgence of inspiration and interest which was just so dope. When we would do these shows, Ben would plug his guitar in, Josh his microphone in, and Ben would improvise over other house tracks.
That's so jammin', man…
Justin: I grew up playing classical piano, and when I was in seventh grade and homies were all starting to get bands together, no one needed like a Mozart sonata in their Strokes cover, and that's what drove me into making house music. It was cool because I felt like "damn this is almost like a band, but I've never played in a band." Fall of last year, I had graduated, and decided to sign back up to school for a minor in songwriting and it was an excuse to be in the rock band class. So I was playing in my first band, playing keys and doing a little singing with a drummer who couldn't keep a beat; it was perfect because I didn't wanna just hop in the ring with these guys because they're really good and I was at square negative one. It was great to just slowly but surely learn what it was like to be in a band, ya know doing cover songs and stuff.
One semester after that, I had two weeks off of touring, Josh was out of town, we had started jamming with my drummer homie Henry from one of my classes and I was like "dude we should learn cover songs." Henry was this rock star college party drummer and you would see his band play with his long hair just rocking out, and we were seeing that a lot our last semester of college as we were starting to write music. But, funny enough, about a year later, we kind of integrated him in what we did and he did drums on some of the songs of the album that allowed us to finish them. We had this vision of Spring semester to learn a bunch of cover songs, we got two cool synths, and I was like "dude I can play house music with this shit," so we started jamming and rehearsing.
Then I had this crazy Spring tour which was really hard on me, physically, I had just been grinding tour-wise non-stop on the hardest tour I'd ever had in the Fall. My two weeks off, I spent jamming every day, and it was just insane but I signed up for more classes to learn more about song-writing and music. It was kind of crazy, half way through my tour I had just done a run in Australia, and when I got back I was just destroyed physically. It's crazy feeling the toll that this lifestyle can bring because you hear about it, but it's hard to really understand and then I felt it viscerally and I'm still kind of dissecting that. After getting back from that tour I had to drop all of my classes because I was just getting destroyed and finishing up the album at the same time. 
That's a lot on your plate…
Justin: Yeah, so I got back and it was literally the last week of school when we talked about doing a house party with the band the weekend before graduation, and we finally had the opportunity to do it and it was the dopest thing ever. We were in this living room and there were the four of us crammed into this small corner of the room. People were like hanging from the chandelier and on the couches while we did covers of anything from Dr. Dre and Snoop to Sublime Josh: It was the most college I ever felt and it was like the last week of college —  I kind of had an existential freak out to witness what it could be, which was like the coolest thing ever.
So now you've got a solid batch of homies on stage with you whenever you play, yeah?
Justin: I'm still figuring out how I'm gonna live my life in the next year, but like today, we brought on Henry the drummer, who's part of this really cool band called "Thumpasaurus." Henry's integration into our crew has kind of led to his whole band being integrated in what we do. My focus moving forward is just experimenting with live music and dance music because there are points of intersection, like dance music came from Disco and Funk, and the structure of those songs you can see how it lead to the drop, breakdown, drop convention of dance music, and the instrumentation and the bass lines are all there. This "Thumpasaurus," band, they're all just rooted in funk and disco, and super rooted in Jazz as well so I feel like they've done all the ground work from the beginning of live music into the 70's, and I'm like the synth guy, computer guy, house techno guy so I'm like 80's to now
So you guys can bridge it in time and in style too…
Justin: Yeah, and I feel like the way to do that, my plan is to keep on making music, but then also doing these house parties is a space where you can fuck up horribly, miserably and it doesn't matter. If you're on the stage and people paid x-amount of dollars to see you, you can't just flop in the same way that you can when people are just shotgunning "natty light" in the back room. It's sick because I feel like it's the type of incubator that I'm really craving to flesh out the potential that we have.
Josh: Ultimately, long story short is we don't really know what we're doing and those are the situations that we get really get to try this stuff and put it all in the blender without all the pressure that a big stage can give you.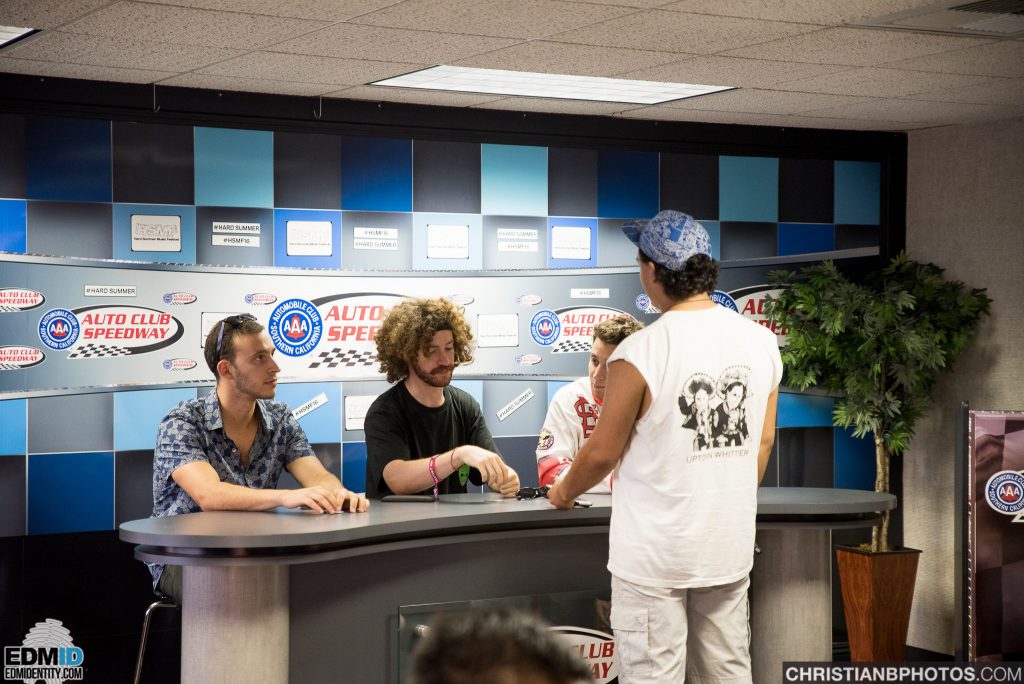 When you start making a song, how do you usually start a song — like are you more melody based?
Justin: For me, when I first started working with Josh it was really crazy because for a dude who's writing songs that are inspired by Jack Johnson, house is at a very different speed. I thought it would be a disaster creatively
Seems incompatible right?
Justin: Yeah, 100%. So what I did is I took a Jack Johnson song that I liked, looped the beginning before the vocal came in, he came up with a top line and fleshed out the lyrics that might have been one section of the song. I recorded the acapella in my closet, sped it up to house music speed because he has a kind of laid-back style that allowed us to speed up and I just produced around the acapella, produced around the verse, and then Ben came in to help us find out what the chorus would be which helped influence what the vocals of the chorus would be. We did that a couple of times to just get into the groove.
Josh: I didn't really do much of it the first album, it was primarily either me coming up with melody and lyrics on my own or singing over a loop that we both liked — If we had just started in the studio and I just laid down that kick, Josh: it would've felt so unnatural. What was dope is we started the first couple of songs with "Never Know" by Jack Johnson which gave us the top line for "Weatherman," and "Make You Mine" was from Outkast. After a few songs we were able to mix it up, I started with a beat, Josh wrote on top, then I changed the beat completely and it evolved. I feel like moving past that, we really just tried every single way of making a song and I think that definitely contributed to the diversity on the album because the songs are so different. Mixing up the process was a very important thing for just keeping it fresh; if you make it too formulaic it would just be annoying.
It sounds like you guys are functioning like a straight-up band now from performance to production then, right?
Justin: Yes, and there's a reason why bands work a certain way and that's why as a producer I feel like my learning about what it's like to be in a band is so invaluable. If I just tried to make these guys make and play songs as if they were club tracks, it wouldn't work; and the more we each learn about each other's craft, it's helped inform each other. 
So what's next with you guys?
Justin: Well over the past couple of years, Josh and Ben have started producing tracks. Subjecting them to shows, and now they have spent just as much time in front of the computer as I did, I was explaining what I was doing and also showing them the types of house and techno tracks that I found inspiring. It's cool because they started making house music and I was like "this is dope," and I remember in December was when Ben first made a really dope edit, and Josh cranked out this dope original track that I ended up only helping a small bit that's gonna be a collaboration coming out on Lee Foss's label. Now I had this band with kids who listen to so much dope music and are interested in dance music and are learning about it, so now they just have to make it because they can.
So that's what's been happening because we all have this very eclectic hodge-podge inspiration, so sometimes I'll send these demos on their behalf to labels like Dirtybird. Sometimes when you give a label something outside of their thing, it could be great, but sometimes they want a little more cohesiveness. But honestly, I think it's really cool music and I play the shit out of it when I DJ, and people message me on Facebook about these songs, so we have this house party that is kind of the inspiration for it all. The house party is called "Fantastic Voyage," we ended up naming the album that, and now there will be a tour and it's all just the same spirit whether it's the band, the house party, the label, it's all just the people; that's us.
I just put out the promo for my first track on my first EP on this new label, and I did this really weird thing where I, with the help of these guys, put together this little quiz I posted on my Facebook. DJs and Producers could answer the questions in a private message and I would give out some unreleased goodies, and people were writing back paragraphs of responses. I was like "dude I'm down to give these people the promos, let's give it out to the kids who are playing the music and really want it." Since the whole spirit of it is very unprotected, like "yeah this is our house party, this is our music," there are no barriers as if we're DJing up here and people are down there, and the house party vibe is dope because I can high-five the dude in the front with that level of intimacy.
So we should expect to see some releases coming out from the new label, soon?
 Justin: My EP is gonna be out in the next month, and the Alf has this EP that people have been asking about for over a year that's so good so that'll be out in September, and lots of music from these guys and Thumpasaurus.
That's a big network you're building now…
Josh: It's all of the homies!
Justin: One of the artists I see being a big part of this is my homie Sam, I played one of his songs at the very end of the set just today, who was like my DJ partner when I first started DJing these house parties. It's so dope because I feel like I've grown up and just met kids who are really talented and into really dope music, so it's so cool to have a platform where I feel like I can bring it together, collaborate, and just have fun. 
So I've got some silly questions for you: Favorite pizza toppings? 
Josh: Chicken Parm, so good. I had it once in Harbor, Michigan outside of UMichigan, and they had like chicken parmesan on top of pizza and then a baked ziti pizza; it's like all an Italian meal on a slice of 'za
Ben: Philly Cheesesteak thin crust from Domino's with Garlic sauce to dip it
Oh that's my dude…
Justin: Can you guess mine?…Salad. Dude like before that I didn't like veggies but I realized in college I can put a salad on a pizza and it's way easier to eat cause it's pizza.
Josh: He makes the weirdest food combinations . . There were some questionable combinations, questionable foods. Sometimes whenever you get the nutrition by putting it on top of a pizza is weird, but it was a weird time, so . . 
If you were stranded on an island and you could only have 3 albums to listen to for ever, what would they be?
Ben: Dark Side of the Moon, definitely; any one of the Beatles albums would be great to have; and one that I've never heard before so that I could get to know it
Josh: Maybe "In-between Dreams" by Jack Johnson; "Natty Dread" by Bob Marley; and then Kids Bop 13 — more of a compilation but it was unreal
Justin: Daft Punk "Discovery,"; Red Hot Chili Peppers "Californication"; a third one I feel like I would put on like a classical album, maybe a Tchaikovsky or like Chopin, something that I could listen to a lot and just keep on learning new things. Like Rachmaninoff would be tight but that's hard to listen to — or Debussy would be very tight; it'd be chill when you're just kicking it but it's so dope.
Who were some of your earliest musical influences?
Ben: I very much remember Billy Joel, my dad played in the car all the time just every one of his records which got me to want to play piano, which led me to play guitar. Once I was playing guitar there were lots of heady Jazz guitar guys that blew my mind mixing Rock and Jazz
Josh: when I think about music that brings back nostalgia I think of being out in the summer at my pool with my family and they would play James Taylor, Cat Stevens, which kind of led me into Jack Johnson. Simon & Garfunkel, a lot of Beatles, and then a bunch of Bob Marley too; it was like the chill relaxed vibe was inescapable when I started writing music.
Justin: My defining, first musical purchase was I was watching an infomercial for a CD compilation called "Easy Rock," volumes One and Two and I asked my dad to buy that for me. That request was informed by the car rides I'd go on with my dad, he'd put on this station called 94.7 The Wave, smooth jazz and R&B, it's changed a little bit now but the programming back in the day was everything from straight up elevator music, soul, R&B, funk, a touch of disco, some Earth Wind & Fire. So that was really defining, there were some cheesy love songs as well like Luther Vandross
Then also when I was 8 years old and watching Toonami, I was really into Dragonball Z, they showed some of the Daft Punk music videos from "Discovery" which were anime, and I was like "what is this," because there are a lot of disco and soul samples in the tracks. It was so familiar because it's so funky but there was a difference because there were drum machines, and there was an auto-tune things on the vocals, and it was like outer-space music because it was electronic. I didn't immediately get into dance music until around 2007 when dance music hit LA with Daft Punk's "Alive," and Justice, and that whole era. I thought "dope, I'm going to start going to festivals," and I eventually found techno and proper house music. I got on the internet and then discovered Dirtybird and got obsessed with those guys and watched like every YouTube video/interview that exists.
HARD had kind of a combination of all of these electronic influences really…
Justin: HARD was the dopest when we were obsessed with Justice and Deadmau5 and stuff, my mom wouldn't let me go to the first HARD that I asked to go. 
Which HARD was that?
Justin: It was tenth grade, HARD Haunted with those two headliners and my mom was like "you've been going to raves!"
---
Follow Justin Jay & Friends on Social Media:
Website | Facebook | Twitter | Instagram | SoundCloud