Ferry Corsten made history this past year when he announced that he would be breathing new life into his beloved Gouryella project and bringing it to major events all over the world.
---
After 13 years of dormancy he kicked off the revamp with unforgettable performance's in Sydney and Melbourne Australia and Beyond Wonderland SoCal in 2016. Since then the Gouryella project has exploded with a demand unmatched by any other as the resurgence of trance in the United States has taken off and spread like wild-fire. Now, a limited edition 'From The Heavens' Box Set that is commemorating the return of Gouryella is available for fans around the world!
Check out our interview with the man himself HERE!
The revamp began in 2015 when Ferry Corsten released "Anahera", a track that will go down in history as one of the best uplifting trance tracks ever created and one that sparks quite an insane reaction whenever and wherever it's played. In fact, the single was chosen as "Tune of the Year" on Armin van Buuren's A State of Trance. "Anhera" also was the biggest selling trance track of 2015 and the longest track at the #1 position on the Beatport Trance Chart in history. If that's not enough, it even climbed up to the #10 position on the Beatport Main Chart! With such a stunning response, a follow-up would be imminent. "Neba" would ultimately become "Anahera"'s follow up and just like its counterpart, "Neba" would receive major accolades from major trance artists and fans all over the planet. With the stars aligned Gouryella would present "Neba" on the live circuit at EDC Las Vegas 2016. A performance that would change the trance game and raise the bar higher that it has ever been raised before.
Watch the official music video for Gouryella – "Neba" on YouTube:
With the Gouryella project back in action it seems only appropriate to blend the old with the new. To make this happen Ferry Corsten is giving 500 Gouryella fans first dibs on a very special box set that features some insanely sweet pieces of musical gold. The tracks in the box set include Gouryella's latest releases but also highlight originals from 1999 like "Walhalla" and "Gouryella". 'From The Heavens' even includes a very special track by Dimension called "Dopamina", a track that has garnered the attention of trance sultan's Ferry Corsten, Markus Schulz, and Aly & Fila. An appropriate inclusion on an album full of trance fire. The set is only available for pre-order right now with its release date set for December 9th, 2016. So, if you are a fan of everything Gouryella then you are going to want to jump on this opportunity and snag your copy right away!
Pre-Order you copy of Gouryella – 'From The Heavens' collectors box right here!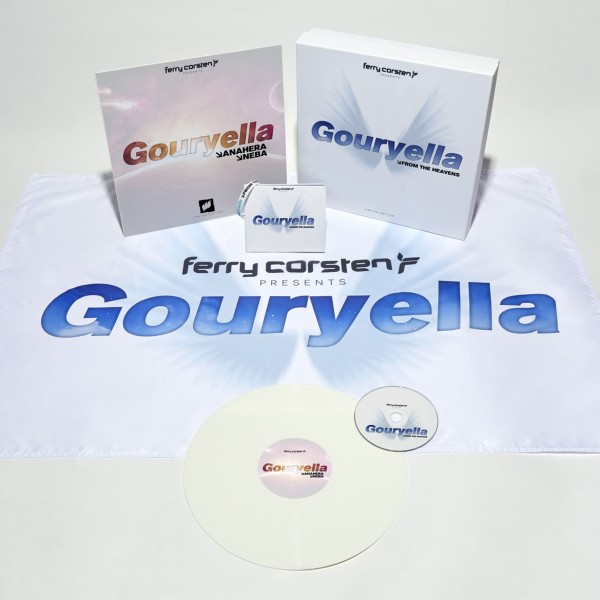 With a limited edition of 500 copies signed by Ferry Corsten the 'From The Heavens' Box Set includes:
– Anahera (Extended Mix) b/w Neba (Extended Mix) 12″ (180 Gram White Vinyl)
– Ferry Corsten Presents Gouryella Double Sided Poster (not visible in the image)
– Ferry Corsten Presents Gouryella Flag
– Gouryella – From The Heavens Silicone Wristband
– Ferry Corsten Presents 'From The Heavens' CD
Tracklisting:
01. Ferry Corsten Presents Gouryella – Intro
02. Ferry Corsten Presents Gouryella – Gouryella
03. Ferry Corsten Presents Gouryella – Ligaya
04. Ferry Corsten – Drum's A Weapon
05. Ferry Corsten Presents Gouryella – Gorella
06. Ferry Corsten – Voema
07. Ferry Corsten – Follow You
08. Dimension – Dopamina
09. Ferry Corsten Presents Gouryella – Walhalla
10. Ferry Corsten Presents Gouryella – Tenshi
11. Ferry Corsten Presents Gouryella – Anahera
12. Ferry Corsten Presents Gouryella – Neba
---
Follow Ferry Corsten (Gouryella) on social media:
Facebook | SoundCloud | Twitter | Official