It's pretty safe to say that 2016 has been amazing year for Bass/Drum and Bass duo Delta Heavy.
---
Why has this year been so massive, you ask? In March, Delta Heavy released their debut album, Paradise, only to have it be in the top 10 dance charts in both the UK and US. They also followed up this album with an EP entitled White Flag, that was released in May. They've also had a sensational amount of success on the festival and club circuit. They made appearances and headlined at: The Common – Glastonbury, Reading & Leeds, Creamfields, and many more including a killer set at EDC Las Vegas's Basspod stage.
Check out our featured interview with the dynamic duo HERE!
The pair is a perfect blend of Bass and UK Drum and Bass. They take listeners down and dark path and layer pounding hard beat after pounding beat while keeping the flow and melody. I love when I come across a good Drum n Bass track especially ones that are able to incorporate beautiful vocals such as the ones found on "White Flag." I personally love both the bass-heavy "White Flag" and Drum N Bass fueled rework "White Flag VP." and believe they show Delta Heavy's true versatility.
Most recently Delta Heavy has dropped very exciting news for fans! Earlier in the week the British duo featured their very first BBC Radio 1 Essential mix and now has a fortnightly residency on US national radio iHeartEvolution as well as two brand new club records. They also recently released their new single, "Kill Room" via Ram Records which is starts off very eerie and slowly incorporates more of that heavy drum n bass beat that I fans expect and love from the duo. Interestingly, the title may be paying homage to television serial killer Dexter and even incorporates excerpts from the show. This track is perfectly timed and fits in with the Halloween season as it really gives a haunting and creepy feeling.
Stream Delta Heavy – Kill Room via SoundCloud:
https://soundcloud.com/deltaheavy/delta-heavy-kill-room
The biggest piece of news the duo release will drive fans wild. Delta Heavy are headed on a massive World Tour across three continents. The tour commences this weekend in Toronto. It will be amazing to hear the hard pumping beats live. Comment below if you wIll you be attending one of the shows!
Delta Heavy World Tour – Winter 2016 – 2017 Tour Dates: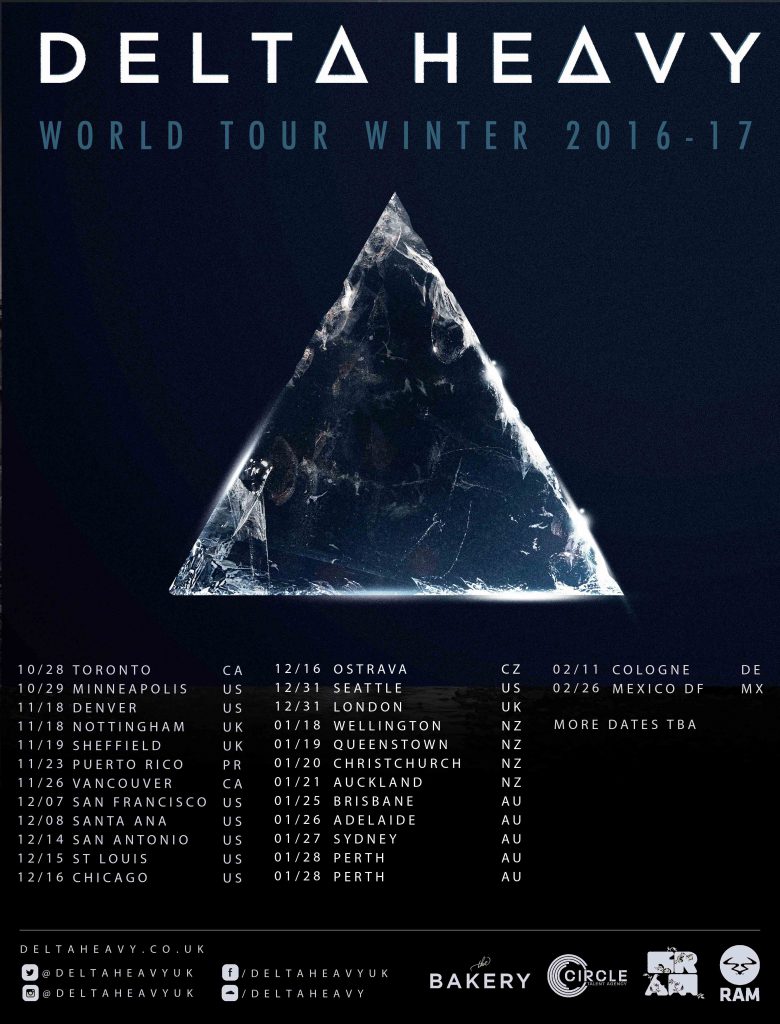 ---
Follow Delta Heavy on Social Media:
Website | Facebook | Twitter | Instagram | SoundCloud
Follow Ram Records on Social Media:
Website | Facebook | Twitter | Instagram | SoundCloud