External Battery Packs have become a standard item for those attending festivals, and BUQU intends on upgrading that device with their fun and fashionable product line.
---
Disclaimer: We received this product in exchange for an honest, unbiased review.
As someone who is always on the go and needs to be connected all the time, something I am always looking to add external batteries to my festival accessory kit. I've gone through so many different brands, styles, and capacities over the years that I have a nice little collection sitting at home now. While it seems like everyone and their brother are releasing new externals with higher capacities all the time, I have run into many problems in regards to both quality and design of these products. Factors like charging time, portability, size, and more tend to make or break these externals when I'm thinking about throwing them in my bag before heading out for the day. BUQU recently brought their product line to light, and we absolutely loved the fun look of these external batteries.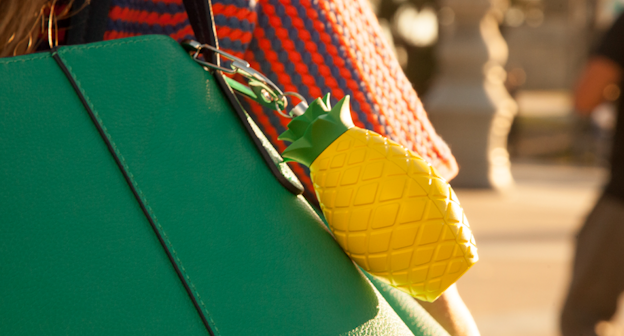 In the past, I have purchased externals boasting of charging my phone multiple times on one charge of the external, yet have them fail to meet expectations. There have been batteries that have just simply died without me ever getting a chance to use them, and ones that have only lasted a few charges until they broke as well. I find that higher capacity external batteries tend to be too clunky to carry with me at most events so size matters. Sure, at events where I can camp I'll leave them in my tent during the time I'm inside the festival, but that only does any good if I'm back at the campsite. Having a lightweight external battery is clutch at events like EDC Las Vegas, Ultra Music Festival, and Coachella, if you want to be able to take plenty of photos and try to find your friends as well.
The goal is to find a battery pack that is lightweight, high enough capacity to charge my device, and work well.
Once a device fits all that criteria ease of use and look comes next, and that was what caught my eye when I saw the battery packs from BUQU for the first time. If you take a look at their product line, they definitely have some fun choices for chargers. Coming in the style of a pineapple, grenade, pig, or rubber ducky, they all bring a unique fashion sense with them to accent your outfit. The pig and rubber ducky are actually named "Chubs" and "Bubs", which is pretty adorable, while the pineapple edition "Piña", actually smells like one! Something else that I enjoyed was the ability to attach it to a carabiner clip to hang from my bag, it made access super easy during the events I tested it out at.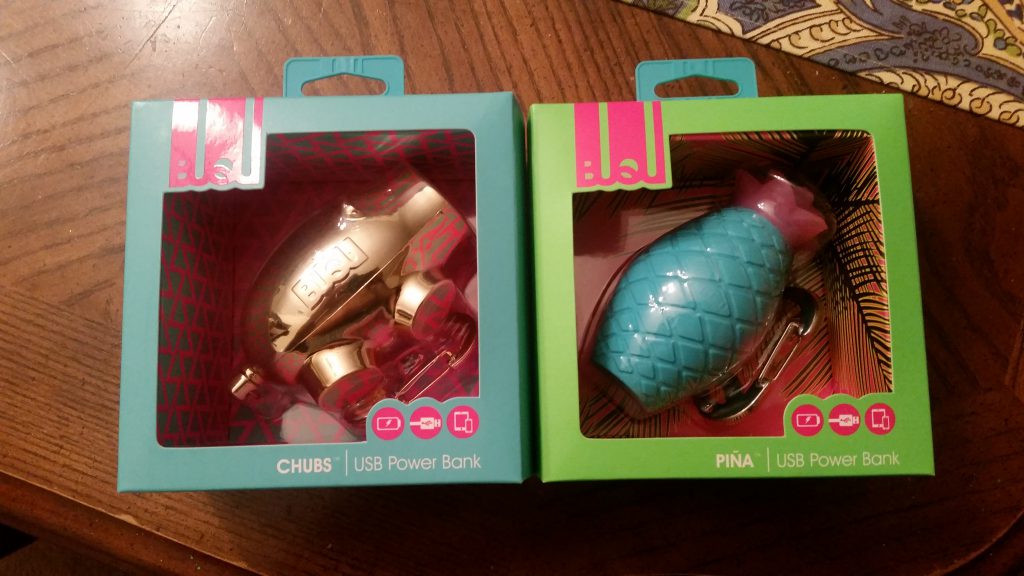 On to the devices themselves. Clocking in at $20 each, these externals are at an interesting price point as they are affordable and fashionable as well. Each device contains a 3,350mAh battery, which they claim will charge most smartphones 1.5 times and has a 12W (2.4 A) port on it that is compatible with the latest models too. Packaging includes clip, short charging cable, sticker, product catalog, and a quick start guide, pretty standard for products like this. It was easy to open, and the instructions told me to shake the device to check battery level. It was about half-full upon opening, so I plugged it in to charge it full and give it a nice test. It took about three hours to get the device to a full charge, although I am not sure of the actual battery percentage going in. In subsequent charges from empty it did not take six hours to fully charge, but perhaps it that had to deal with the difference between adapters I used to charge. For the record, I'm basing these tests going forward off of a Samsung Galaxy S5, and the two devices I received to test were the "Piña" and "Chubs".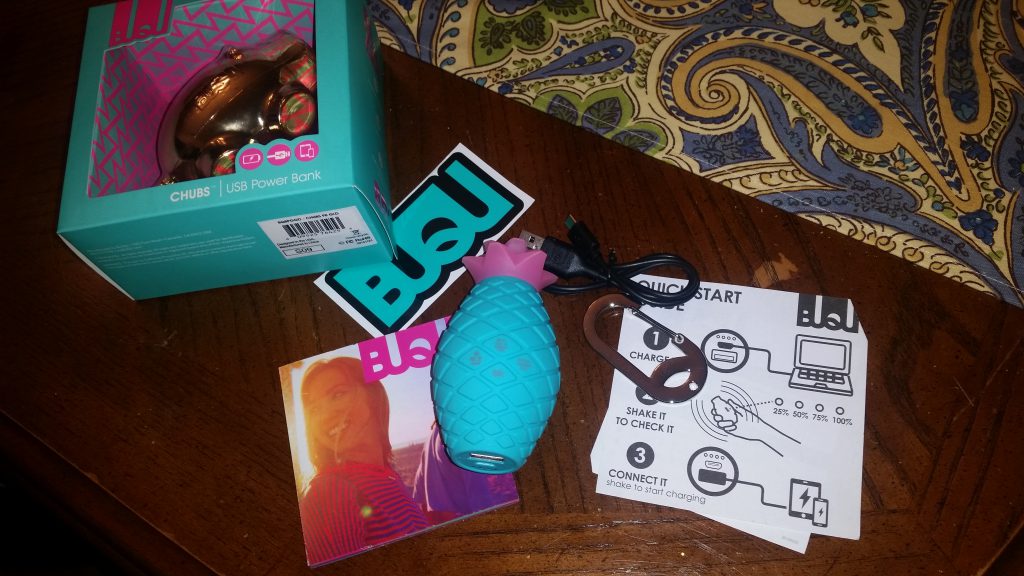 I tested the "Piña" more extensively, as I preferred the look of the device and figured that they both had the same internal components. I had both CRSSD Festival Fall and Dirtybird Campout ahead of me, which have different experiences for attendees as one is camping, while the other is a hotel type experience. Taking it to CRSSD Festival Fall, I walked through security without them even questioning what the device was, but it was also pretty clear on the bottom that it was a charging device. I doubt there would ever be an issue getting these style devices through security, well except for the "Nade" which could be somewhat problematic. As the night progressed, my battery became depleted, and I began charging at around ~15% battery left. As I was charging I definitely continued using the phone, taking videos and pictures while also texting friends. The battery kept chugging away and my phone reached about 70% charge before the icon flipped back and the battery clearly had died. While it did not get me back to full strength, it was definitely enough to keep my phone going for a few more hours of the festival which was great. If I was to use this at an event, charging it once back at the hotel would definitely be the next step and that isn't a difficult task.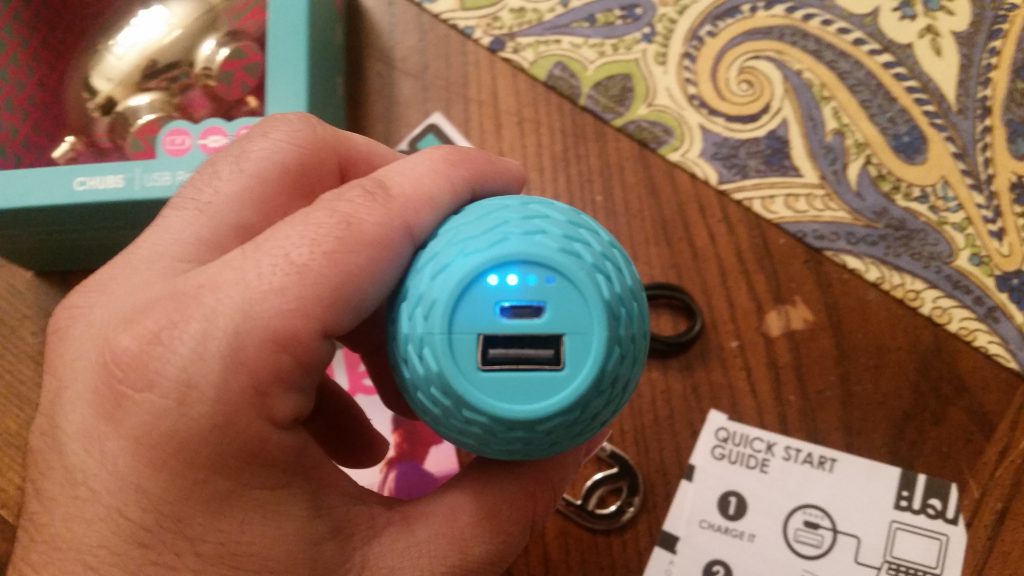 At Dirtybird Campout however, that would definitely be a bit more difficult. As a camping festival with no power to charge devices outside of your car while at your campsite, external batteries are a must if you want to stay connected. I actually let my phone die completely before testing the battery this time, and left it shut off to see how much juice I could get out of it. From 0% the BUQU External Battery topped the battery of my Galaxy S5 to 80% before completing the charge. That is personally about 20% less than what I would like to see, but still was a great way to boost my device up when I needed it. Of course, once the battery was dead though I just had a nifty keychain to carry around with me the rest of the weekend, as the charge time wasn't worth running a car or sitting at camp for that long. So after the first use of the festival the battery became something that was unnecessary to carry around.
Overall, I feel that this device is best served as something to carry at non-camping festivals, when you're out on the town or while travelling.
You definitely will have to recharge it to use it each day of an event or festival, and so having the ability to be by a power source is necessary for this device to be included in your arsenal. While this device is lightweight and convenient for inside the grounds of a festival, it definitely isn't a long-term solution for camping events. At around $20 per external battery, I think they fit nicely at their price point. I could definitely spend double that to receive a more clunky, high capacity battery, but I would be losing out on the lightweight appeal and look. The fashion-forward look of these devices forces the battery capacity to suffer, so that is really what you are trading off when deciding to go with BUQU. So for events like Life Is Beautiful, CRSSD Festival, or EDC Las Vegas, I would definitely suggest grabbing one of these batteries to extend the life of your cellphone. If you're thinking about purchasing this to keep your phone going at a camping event like Coachella, Summer Set Music Festival, or Dirtybird Campout, this may not be the device for you.
Want to purchase your own BUQU External Battery? Click HERE for their full collection!
---
Connect with BUQU online: