Life Is Beautiful is truly a festival of all the senses.
Tens of thousands of people came to Las Vegas to celebrate Life is Beautiful's fourth year in downtown Las Vegas. It was located at the end of the Fremont Street experience. A short walk from The Plaza Casino & Hotel would bring us directly to the main entrance. The path of least resistance had a small line but it moved quickly. There was an entrance one block down that was literally never had a line so we used that entrance most of the time. The search was thorough but not excessive and with a quick scan of your wristband you entered a concrete jungle of art and music.
Before I move further into my review of the weekend's festivities, check out the Life Is Beautiful Manifesto below to get a feel for what this event really is about.
Life is Beautiful is a movement. We are a soul collective. Among us are dreamers and doers, challengers and compassionates, optimists and outliers. We inspire and transform. Our Acts of kindness are intentional. Together, we create pause. We create space to appreciate the beauty in ourselves and our surroundings.Most of all, we create noise. We create noise that drowns out he naysayers. The kind of noise that calls you into the here and now. The kind of noise that makes you move your feet. Because life is reason for celebration, and you should get out there and dance. So if you've just dropped in, join us. You'll fit right in.

– Life is Beautiful Manifesto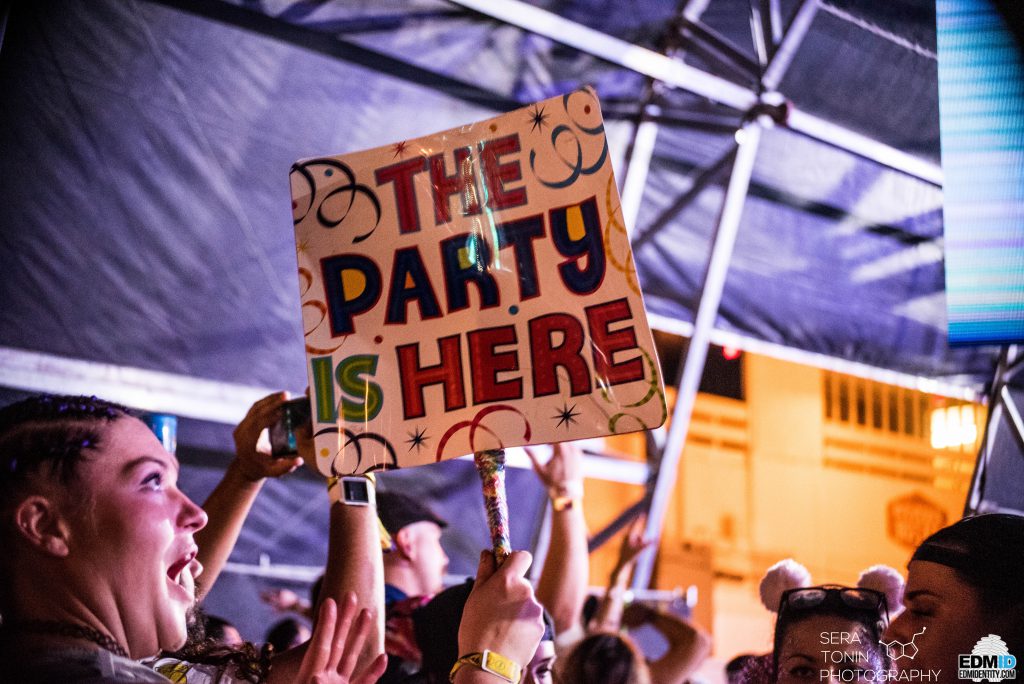 The art was both subtle and obvious at the same time…
As we entered the main path we immediately saw art pieces. The closest and most obvious being the LIFE IS BEAUTFUL letters. A line had already formed for people to take pictures with the sign that would also light up at night. Right in front of it we discovered a bubble stand. It was a raised platform with a square top. There were a bunch of wands sitting in the water. A light wave of the wand through the air generated a bubble trail and as the sun was setting on the first day it felt like I had entered a magical world.
Between the Troubador and Downtown stage we discovered a Butterfly. Wonderfully colored, with paper wings and a soft body, it was a frequent place for people to sit, lay and relax. Two girls we met had affectionately nicknamed him Bae, which was how I referred to him from that moment forward. It was by this giant insect that we also discovered the body marbling booth. The line fluctuated frequently but was definitely worth it. If you've never had the opportunity to participate in this activity I would highly recommend it. The best part at this festival was that it was FREE.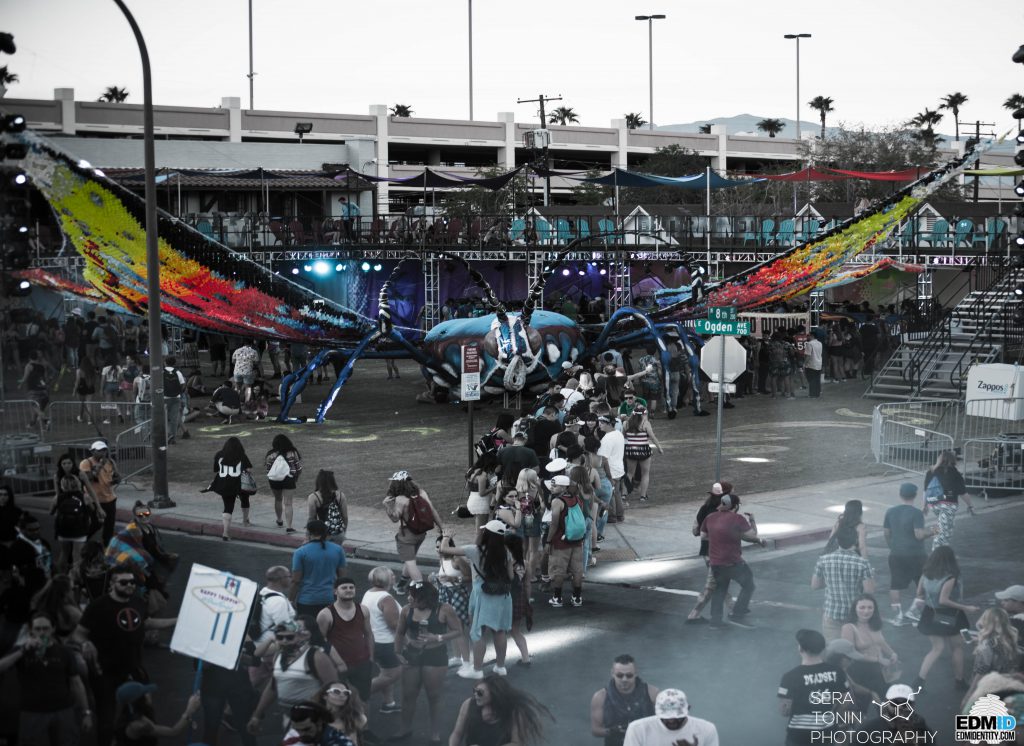 Around the corner was the sculpture garden. It was a grassy area covered in tall glowing sculptures of rabbits. The garden had two giant murals along its sides and was another place that you could sit, eat, and take a short break from running back and forth between stages. As we walked away from the garden there was a building that we dubbed "the pinata building," covered in small pieces of paper. The design and implementation must have taken so much time. Farther down on the path we would discover another picture perfect display. A square box with monkey bars lining the top. The line for this photo opportunity was also frequently long.
Once you got closer to the Huntridge stage there were two notable pieces of art. The first was the giant LOVE letters. People would climb or sit on the letters while watching whatever set was playing, but the other notable piece went beyond the festival itself. From outside the festival, tall buildings were lighting up with messages for the attendees. The first day the building was scrolling the words ALEX is BEAUTIFUL and the last day it was flashing a giant heart. Even as we exited the festival grounds a giant preying mantis would move back and forth expelling fire from its body.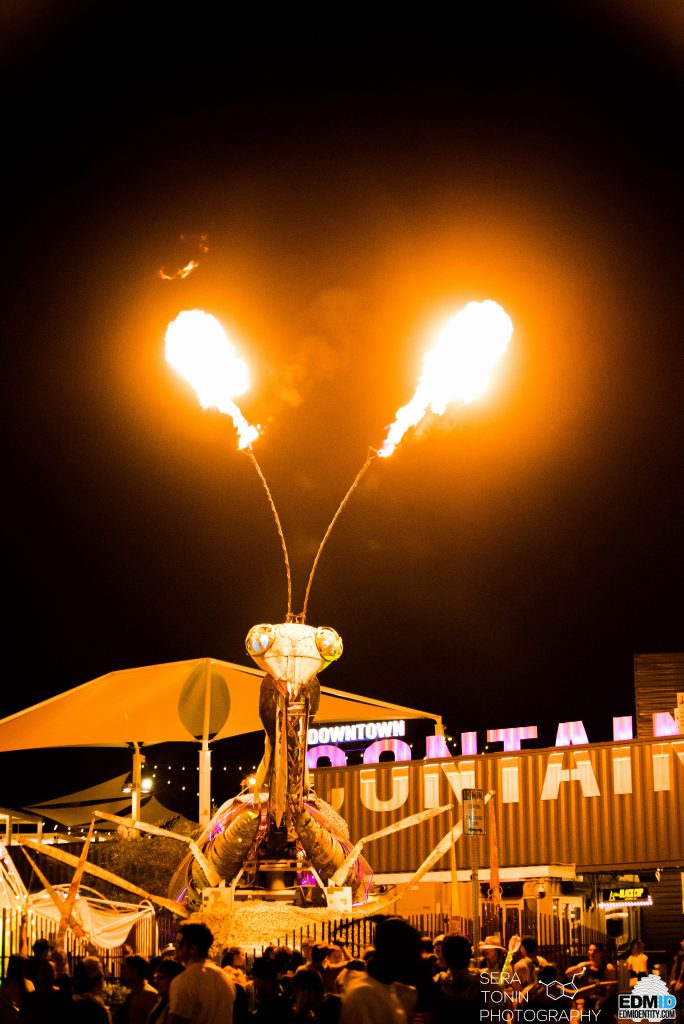 Even after all of this, we had yet to even go inside the actual art exhibit where we could see and purchase art from the "Crime on Canvas" exhibit. The exhibit entrance was also another building covered in a mural and housed so many wonderful pieces of art. As we walked to the building next to the Troubador stage we also had the opportunity of experiencing a live performance from Cirque Du Soleil. The art was so prevalent and persistent throughout the festival that to be honest most of the revelations about what was art came after seeing it multiple times.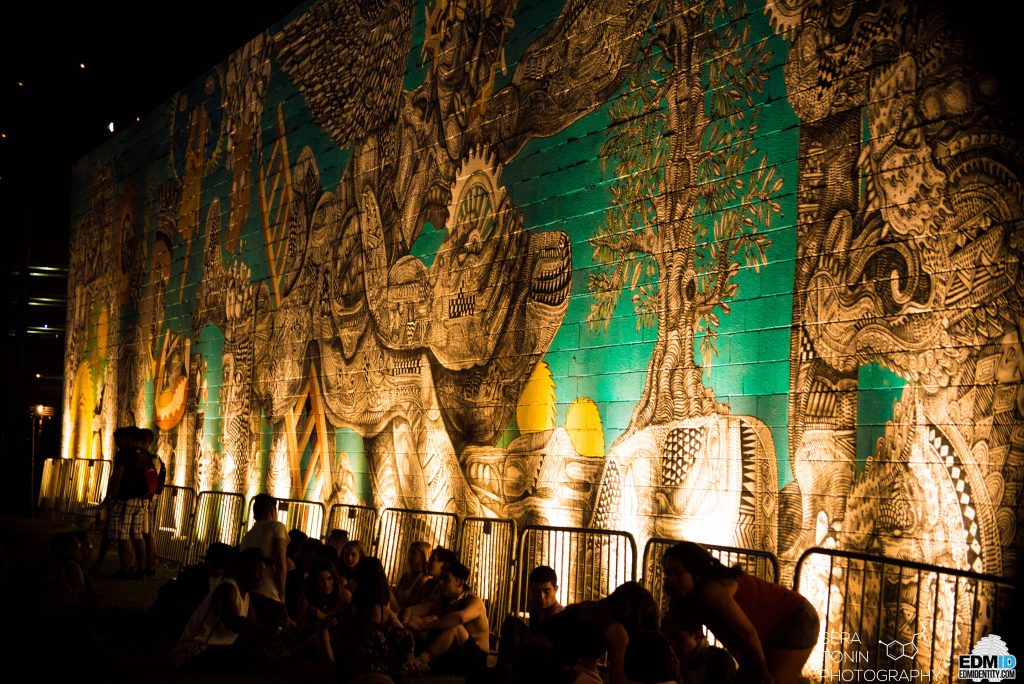 The food was inescapable, I found myself constantly looking for people to share food with
Food at festivals is always a must. Whether you're running from stage to stage or dancing in the crowd you definitely build up an appetite. This festival is no exception. Featuring food from over 48 vendors they had everything you could imagine. We started with carne asada fries, I quickly forgot some of my friends were not from California and had never even heard of such a combination. Smothered in carne asada, cheese, and guacamole they were the perfect dinner. We then split a quesadilla complete with green chile salsa.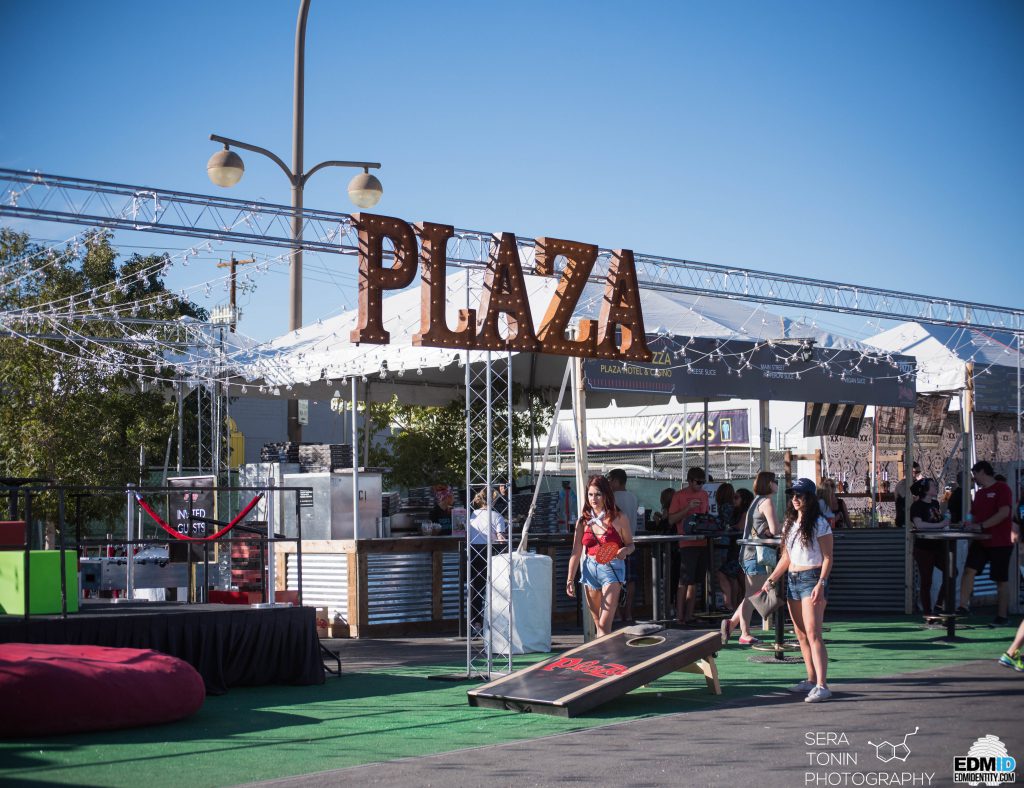 Following our food adventure was of course the entire craft beer menu. IPA's from different locales and varying degrees of hops. From chocolate to pineapple, if you liked beer at all this was your place to be. On the other hand if you weren't a beer aficionado, there were a plethora of mixed drinks to choose from. My favorite ended up being an actual coconut served with rum, but perhaps it was also the fact that the coconut was branded with the Life is Beautiful logo!
Between funnel cakes, shaved ice, and even Dole whip, we stopped by a Hawaiian food stand to grab grilled chicken skewers and lumpia (a personal favorite as I too am Filipino). The most ironic part was that during most of adventure we were looking for pizza when we discovered all these other wonderful options. The only drawback is that at a festival one can only eat so much, 3-4 times inside the venue and even then there's no way to try everything no matter how much will power you have. On the other hand if you have a bunch of friends you just keep saying, "hey, I'll split that with you."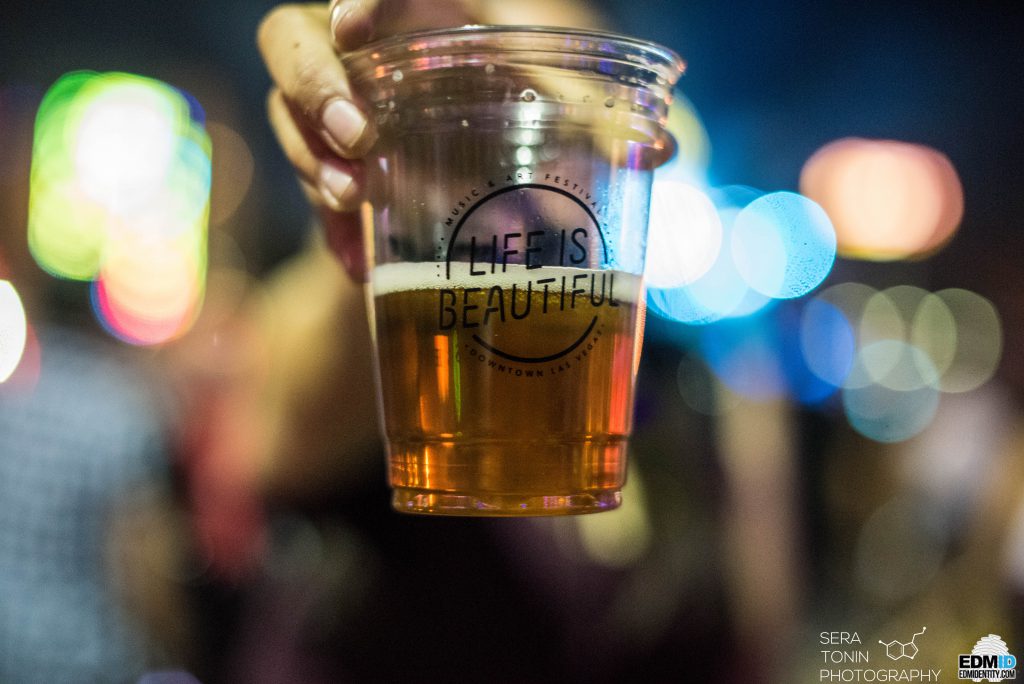 My personal advice is to always go for the music…
The first day we spent most of our time at the Troubador stage which was basically all EDM. From Rezz dropping some deadmau5 hits to Gryffin's live musical performance we got a taste for everything. The stage was set up at the end of a galley style tent. With an elevated stage and huge big screen raised above the producer/DJ. There were large vents on either side to make access easier as well as large screen LCD's for even more visuals. Multiple times throughout the weekend someone commented that it was similar to EDC Las Vegas 2014 Circuit Grounds without the moving panels. There was never a time that we felt overly crowded and it was fairly easy to walk straight up to the front using the side entrances.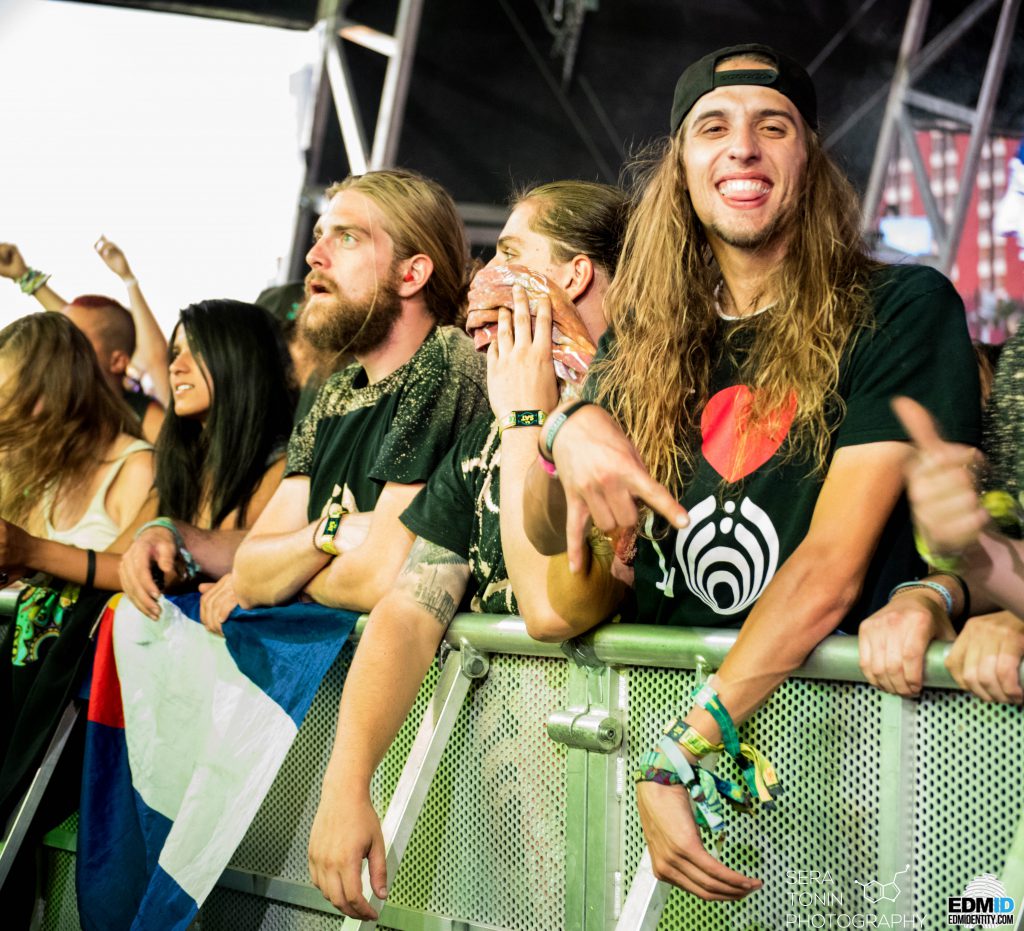 After staying for Kaytranada, Keys N Krates, and most of Galantis we headed out to see Mumford and Sons. The atmosphere was electric and full of love. The crowd was singing along with so many of their hits. The time would go by way too fast before we were closing out our night with Zhu. The next day we would move from stage to stage like clockwork. From the rock of Finish Ticket to the dubstep of Spag Heddy and then to Bob Moses just to return for what was possibly Ghastly's best set. My friend Michelle has seen him 4-5 times over this last month and insisted that this was by far his best performance. After that the schedule became a little murky because Ookay replaced Gramatik but performed before Snails. We would catch a little bit of Empire of the Sun before head banging away our night with Excision and Bassnectar.
The final day came quickly and would bring even more movement between stages. Our day would start with the incredible house mixes of CID. We would travel across the venue to see Third Eye Blind where we were again greeted with a loving and open crowd just to go back and see Mija. Her set was nothing short of beautiful and before we knew it we were on our way to see Flume. Closing out the night with a little bit of the Lumineers and of course Duke Dumont.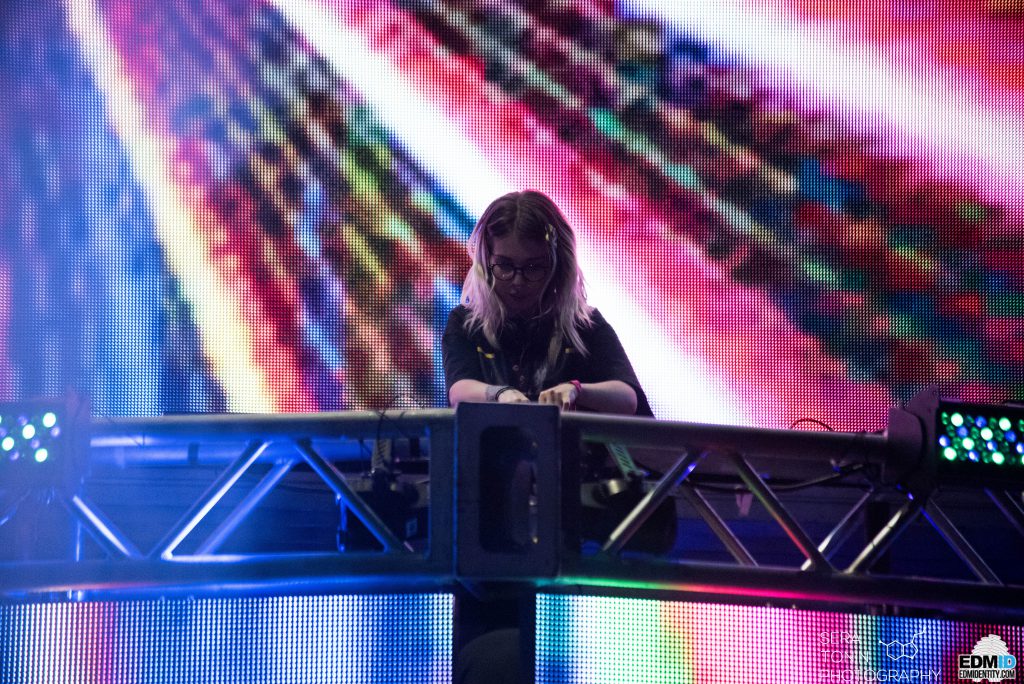 A blissfully beautiful experience – an escape from the normal every day noise
Everything about this festival just worked. It was a combination of a bunch of festivals all rolled into one. The organizers were able to encapsulate a small break from reality for three days that left us feeling like the whole thing was surreal. As we all departed Vegas to go back to our every day lives we would not soon forget the experience and the reminder that life is full of beautiful moments. You will most definitely find me at Life is Beautiful 2017.
Be sure to check out the rest of our photo album on Facebook and read about Zach's Experience here.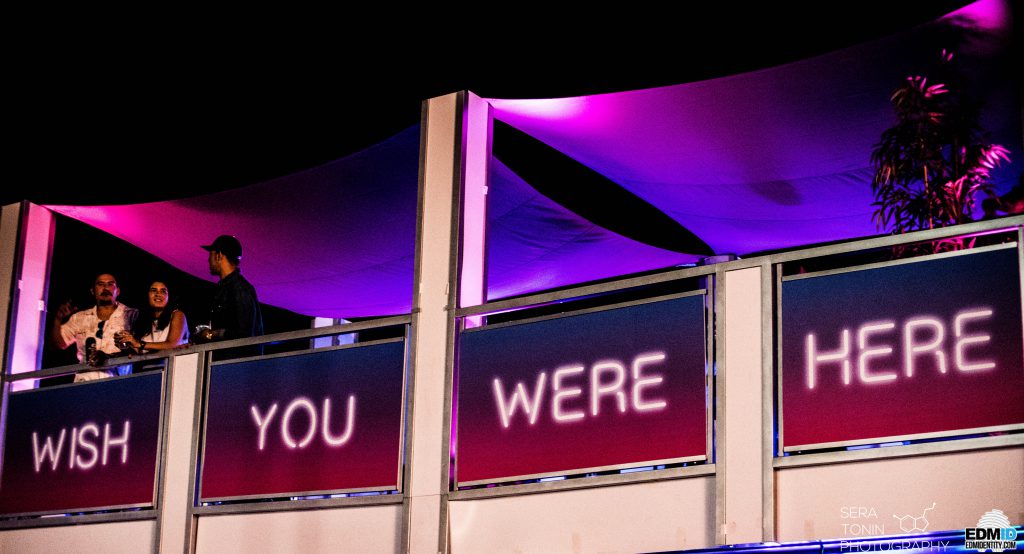 ---
Connect with Life is Beautiful 2016 on Social Media: