Are you ready to explore the virtual world at Escape: Psycho Circus this year?
---
Today, Insomniac Events announced yet another treat for headliners that will be attending Escape: Psycho Circus 2016! Partnering with Venue Interactive, there will be a Virtual Reality activation at the event this year. Headliners will have a chance to "teleport" between two stages and relieve past editions of festivals hosted by Insomniac Events as well. You are in complete control of your experience inside the virtual world, so this is definitely something not to miss out on!
Thinking about upgrading to VIP this year? Check out the amenities for 2016 HERE!
The VR activation will be located in both GA and VIP, and are built off of HTC's Vive VR System, with high-end PCs powered by NVIDIA, and of course high quality audio from V-Moda Headphones. As you jump between the Slaughterhouse and Ghouls' Graveyard stages, you can experience both with a 360 degree camera that will let you sit next to your favorite artists as they perform in real time. The virtual world is here, and this is definitely an interesting experience to have at the festival itself. It's almost perfect for those who want an up close look but can't deal with crowds, or those who just want a different view of the festivities.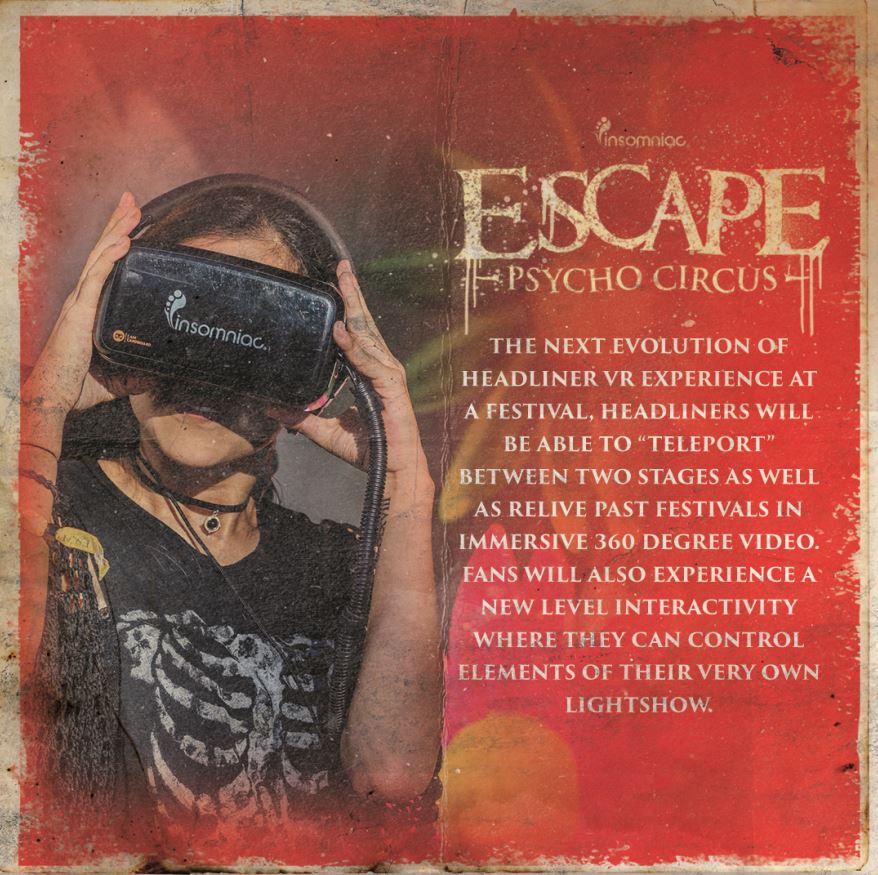 Looking for the Escape: Psycho Circus 2016 Lineup? Click HERE!
I am personally excited for Escape, and it is only second to EDC Las Vegas as my favorite event hosted by Insomniac. For those of you looking for more excitement, this year's event will also feature the unveiling of the largest interactive haunted house to ever appear at the festival. It will feature a massive, maze-like experience that will take attendees on a journey through six years of Escape's frightening dimensions and sinister storylines. Having attended Escape since it's inception in 2011, I have always been left both impressed and excited for the following year. Check out my experiences from the 2015 edition, the 2014 edition, and why Escape is one of my all time favorites HERE!
---
Connect with Escape: Psycho Circus 2016 on Social Media: