When Pasquale made the announcement that Escape All Hallows' Eve was going to be held at the NOS Events Center in San Bernardino, I was met with a rush of emotions and people approaching me with a slew of questions. "What's the venue like?" "Where should we stay?" "What's the weather like?" "Is the venue big?" all these questions began flooding my multiple message inboxes; I had almost forgotten that Insomniac had not hosted a full multi-stage event at the NOS Events Center since Escape from Wonderland 2012. The return to NOS not only made me excited for the event, but also for the fact that I had a group of people who had never had the chance to experience a full event there. It was just an added bonus that Escape from Wonderland 2011 was my first ever Insomniac Event and that the memories from that event, and 2012, came rushing back as if they were yesterday.
Things have changed since 2011, I've changed since then and the face of the EDM scene has drastically changed as well. None of that mattered because the event was yet another fantastic example of Pasquale Rotella and the Insomniac Team completely outdoing themselves to provide a great experience.
Getting to the venue was fairly easy, although if you missed a turn you could end up further away than you'd like. The first night we parked inside the GA Parking lot and that was arguably the biggest mistake all weekend. After all was said and done at the end of the night I had waited nearly 2 hours just to get out of that lot. I will never park inside ever again. The second day we got lucky and were able to park on a side street, exiting that night was insanity too, as the police legitimately just had us driving in circles. Security moved quickly and no one had an issue with getting through faster than you could walk. If you have an issue with security at this point it's more than likely your fault, not theirs.
The venue itself was themed well in my opinion.
The lake, which many of us hold dear to our hearts, had giant ducks floating in it. The trees were dotted with large Chinese paper lanterns, guiding us through the night. One thing I didn't notice until we arrived inside was that they had removed an entire stage from the events in years past; I'm not sure as to why other than logistics of the venue or noise reduction. The Bayou Voodoo Mansion was outdoors, Slaughterhouse was under the Circuit Grounds mega-structure from EDC LV, Ghoul's Graveyard was in the adjacent tent and The Chopping Block and Cannibal's Tea Party were indoors. There was the addition of a ferris wheel and swing ride, and if you didn't ride the ferris wheel this weekend you really missed out. The Insomniac Team created a pretty festive environment with the addition of a haunted house near the rides. Water was plentiful and easily accessible, as was the merchandise booth and food options.
Unfortunately, I wasn't able to keep you all up-to-date with a daily recap of who I saw each night, so I'll expand a little bit on who I actually saw at Escape All Hallows' Eve.
On Friday I began my night by first getting settled, but I split my time between the 219 Boys, Jordan Suckley and Deorro. I had to check out the stages and get everything prepped for the night. I spent a majority of the rest of my Friday at the Ghoul's Graveyard, soaking up as much trance as I could. Simon Patterson and Bryan Kearney simply murdered it with some amazing sets. I left Bryan Kearney a tad bit early to check out Friction over at the Chopping Block. After hearing some awesome bass beats we took a side adventure to the Enter stage for the end of the Martinez Brothers and Hot Since 82. Missing the trance stage we headed back to catch all of Astrix's set, I was simply blown away by how awesome that set was and I am so glad that we made it back in time. It was arguably one of my favorite sets of the weekend. We ended our night with Paul Van Dyk, and last but not least Aly & Fila B2B John O'Callaghan. I had such a blast at that stage all night and I absolutely loved the closing B2B set by two of my favorite trance artists.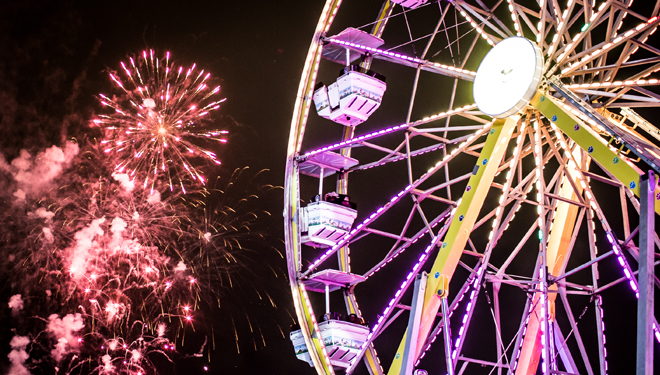 Saturday was a different story, as it was nearly the opposite in time divided compared to the night before.
We began our night passing by Sandro Silva and heading to the Slaughterhouse to see Dusky, which was a great set to start the night off and dance to. From that point on we got lost in deep house heaven, hitting up The Magician and Duke Dumont over at the Chopping Block. I guess we left at the right time, as the stage got shut down after Keys N Krates due to everyone and their brother clamoring over Schoolboy Q, Adventure Club, and Oliver Heldens. We exited that area and partied with Laidback Luke for a while before finishing our night off back at the Slaughterhouse. W&W, Steve Angello, and Armin van Buuren all played sets that were great. Armin even played a bit of Thriller in his set to make it seem even more festive.
At the end of the day, I think that I made the right choice in deciding to return to NOS for my fourth Insomniac Halloween event.
Everything was fantastic and the vibes were unreal. Outside of the terrible parking situation and the cold weather there are no other complaints from this happy Han Solo. Whether you went to Boo!, Spookfest, HARD Day of the Dead or Insomniac's Escape All Hallows' Eve I hope your Halloween was as awesome as mine!
---
Originally posted on November 12, 2014, at The Scene Is Dead. Click HERE for the story!