Having surpassed over 100 million streams over these past 12 months, Tritonal has recently dropped their latest album, 'Painting With Dreams' via Enhanced Music.
---
'Painting With Dreams' features some of Tritonal's biggest and latest hits. Tracks like "Blackout", "This is Love", and "Getaway" dot the tracklist, along with a number of new songs as well. Halfway through their tour already, the Tritonal duo have made appearances all over the United States and Canada. Chad Cisneros and Dave Reed have slated themselves as two of electronic music's most dynamic producers. Boasting four Top 10 singles on Billboard Dance charts over the last year and half. They have proven to have real production and songwriting abilities, working with other artists such as The Chainsmokers, Cash Cash, Adam Lambert, Zedd, and Hardwell. They've come a long way from their trance roots and have really established themselves in the electro house and progressive house. The music from this album sets the scene for a beautiful story that lyrically and musically people can relate to on an emotional level. They have truly created a empathetic storyboard for all of us to connect with.
Get to know Tritonal better by checking out our featured interview with the duo HERE!
Stream Tritonal – Painting With Dreams on SoundCloud:
Purchase or Download Painting With Dreams here!
---
Tritonal – Painting With Dreams, Track By Track:
01 – "Tela Vuota"
The opening song on the album is this soothing piano melody that really gets you ready for something bigger. As the song builds you get the sense of an unknown world opening itself up to you. The perfect piece to begin a story.
02 – "Broken"
This track featuring the melodic vocals of Adam Lambert combined with the unique sounds of Jenaux will prompt you to sing the chorus out loud. A song about finding someone who makes you forget that you ever had a broken heart is an incredible goal and I'm sure hits home with a lot of fans.
03 – "Waiting 4 U"
This catchy tune will get you on your feet. The beat is solid and when the chorus hits you will find yourself chanting "the way you make me feel" in echo to the song.
04 – "I Feel The Love"
This groovy song will definitely get you swaying. Featuring the vocals of Ross Lynch from R5 and Austin and Ally on Disney Channel this song speaks to anyone who has ever said, "I want to get to know them…" New love on the basic level of just trying to learn more about someone.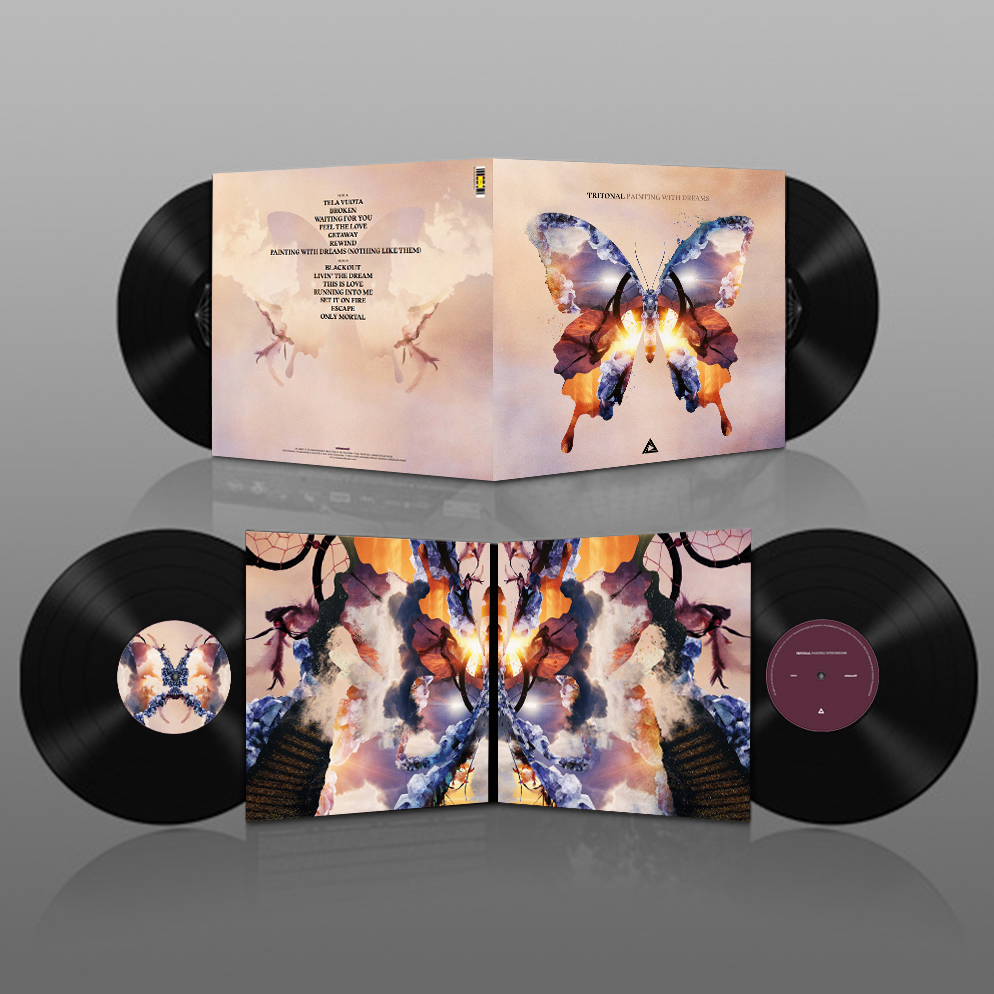 05 – "Getaway"
With the silky vocals of Angel Taylor this track has a powerful build up. Starting smoothly and slowly picking up pace this song's drop had me jumping.
06 – "Rewind"
One of their releases after Blackout this song's heavy synth sound almost makes me feel like I'm watching something being played in reverse.
07 – "Painting With Dreams (Nothing Like Them)"
The namesake of the album and tour, this song starts with the softly played melody. The vocals slowly help build the song and layer by layer gets added until it is a beautiful ballad that really pulled at my heart strings. A simple reminder that dreamers are nothing like the rest of them.
08 – "Blackout"
A pure comfort song that truly makes you feel connected. The music video on this song shows two people who never felt like they fit in until they discover each other. Another track that will have you singing to the chorus arms raised waiting for the stars to align.
09 – "Livin' The Dream"
A song that truly tells a story about embracing your youth and living out your dream. I really connect with this idea of just doing what works for you and not settling.
10 – "This Is Love"
Anyone who has waited for love can relate to this track. This idea of how long can we wait for that person to enter our lives and show us what love is, it's pretty self-explanatory.
11 – "Running Into Me"
Jaden Michaels voice is a powerful addition to this song. As she belts out the chorus during the build up before the drop I found myself imagining electricity flowing all around me and thinking of how much energy we get from the people around us.
12 – "Set It On Fire"
The first time I listened to this song I closed my eyes and just embraced the calm. The songs soothing beat and Fred Page's vocals had me really remembering every time something didn't go exactly right and just how to recover from it – a very uplifting track.
13 – "Escape"
For every time that anyone has ever lied to you or just made you put up with their crazy rules this song is really about escaping. Steph Jone's vocals on this track really make me realize how much of the problems in life that I could really do without.
14 – "Only Mortal"
The slow ending to the album, it the perfect wrap up. It's peaceful melody is something I want to listen to before bed every night. One of the longer tracks on the album it's something you could use for quiet meditation, yoga, or just sitting quietly watching the rain.
Final Thoughts
This album covers a broad range emotions and really frames a story of both developing love and focusing on yourself. Tritonal's signature sounds and obvious musical understanding shine through in a way that is unique to them. They have achieved a beautiful album that won't have you switching songs but instead listening to the whole thing through, feeling and remembering all the moments that make us dreamers.
---
Follow Tritonal on Social Media:
Website | Facebook | Twitter | SoundCloud | Instagram | YouTube