Global Dance Festival 2016 Set Times, Festival Map, FAQ, & More!
Thousands of people will be attending the 13th Annual Global Dance Festival this weekend. The amazing 3 day festival will take place at the Red Rocks Amphitheatre in Morrison, CO (just 10 miles outside of Denver). For outdoor events, it's important to keep in mind the weather which will be in the 80's with mostly sunny days and only a 20% chance or precipitation on Saturday. Each day the show will start at 5pm, Red Rocks opens at 9am and the box office will open at 3pm.
Global Dance Festival 2016 Essential Info:
Dates: July 8, 9 & 10, 2016
Red Rocks Park opens: 9am
Show times: 5pm – 12am (Friday & Saturday) 5pm – 11pm (Sunday)
Box Office: 3pm
Venue Address: Red Rocks Amphitheater 2901 Ship Rock Dr. Morrison CO, 80465
Directions: Click here to find your way to the venue.
Ages: This is an ALL AGES event, of course its 21+ to drink.
---
Global Dance Festival 2016 Set Times: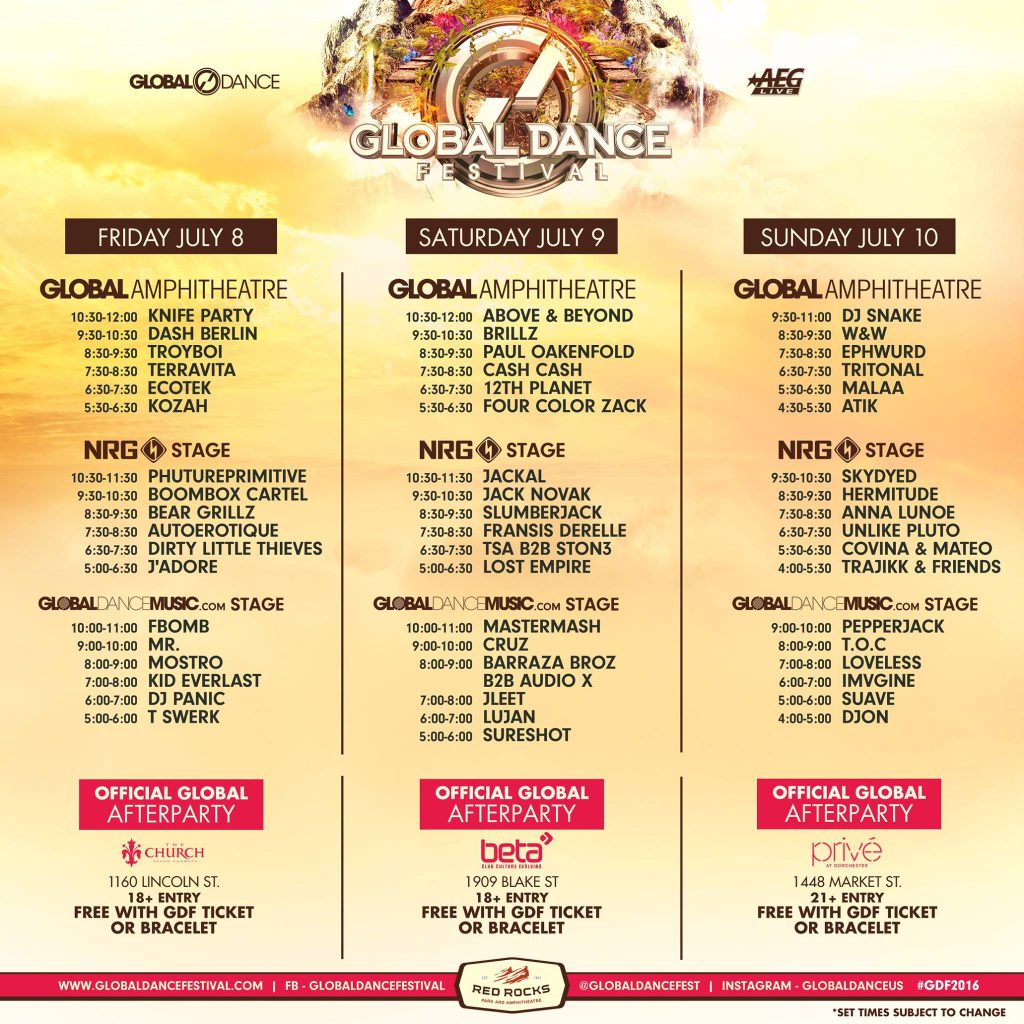 ---
Global Dance Festival 2016 Festival Map: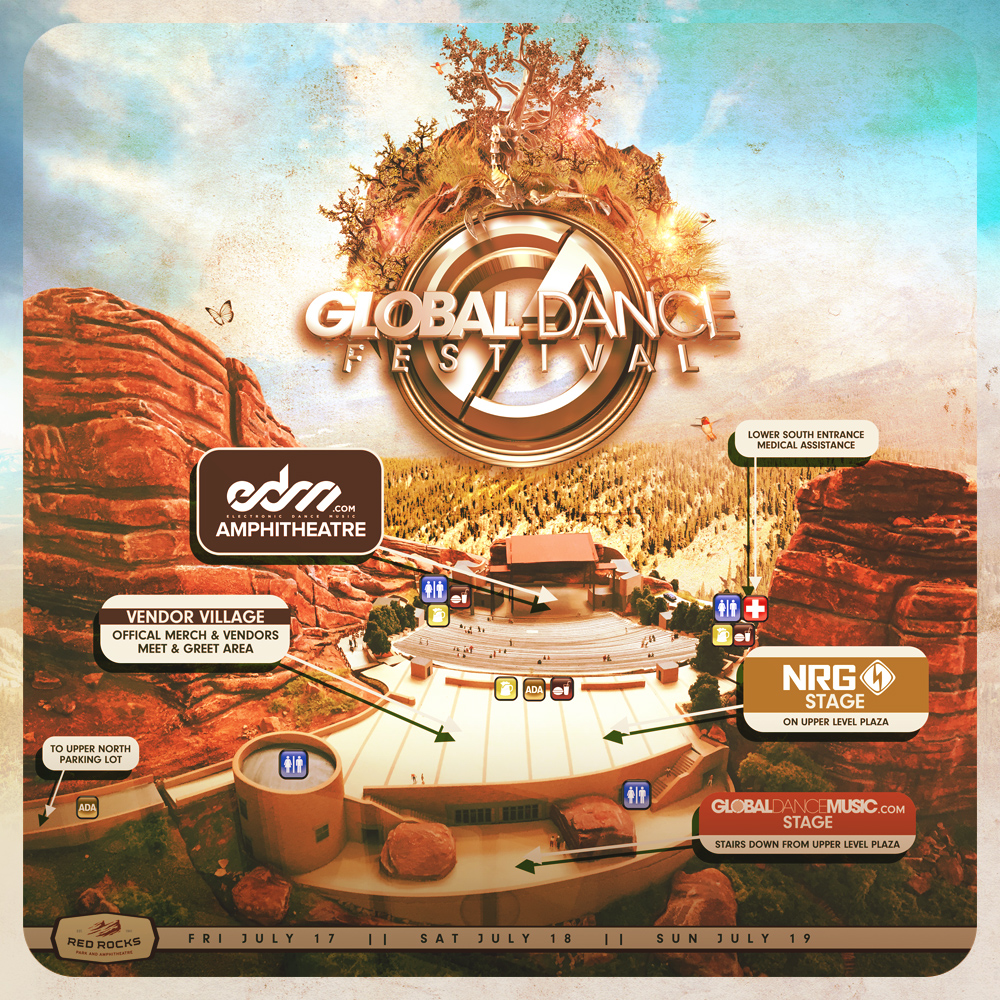 ---
Reminder To Mind Your Belongings
Unfortunately, many people have reported pickpockets, bag slashings, and theft of wallets, smartphones, purses and other valuables during this festival season. While this small number of bad apples in the bunch doesn't define an entire crowd, there are opportunistic people who come to these events to take advantage of unsuspecting party goers and it's important to be mindful of your valuables while at GDF.
Pay attention to who's around you and what's going on around you. Keep your wallet and phone in your front pocket(s) if you can. Treat your phone the same way you would treat cash; don't set it down on a table or bar and look away. If a friend isn't standing behind you in a crowd, be careful of your backpack or purse, and don't put valuables in a pocket that could easily be unzipped by someone behind in a crowded spot without you realizing.
Global Dance Festival and Festivals in general is a very densely populated place, and are a well-known place where pick-pocketing of unsuspecting people occurs. It's easy to find yourself in a crowded environment in a line, crowd in the festival, elevator, or even out on the street where someone could slip your wallet or phone our of your pocket or bag in a matter of seconds. Stay alert, be careful, and make sure to not carry more than what you need!
---
Global Dance Festival 2016 Do's & Don'ts
PERMITTED ITEMS
Non-alcoholic beverages in factory sealed plastic containers (some shows may require the removal of lids upon entering the amphitheater.)
Empty soft-sided water bottles
Coolers 12" x 17" x 12" and smaller (must fit under designated seat)
Bags 12" x 17" x 12" (must fit under designated seat)
Food (fruit, vegetables must be sliced)
Binoculars
Small, compact umbrellas (24 inches maximum)
Small, personal cameras

**All personal possessions must fit under the guest's designated seat
PROHIBITED ITEMS
Non Factory-sealed beverage/liquid filled containers (including thermoses, bota bags or wine skins)
Alcoholic beverages or illegal drugs
Glass bottles or aluminum/steel cans
Laser pointers (will be confiscated & patron subject to ejection)
Coolers larger than 12" x 17" x 12"
Bags larger than 12" x 16" x 12"
Audio or video recording devices, professional cameras or cameras with removable lenses
Weapons or items construed as weapons (e.g., guns, knives, sticks, fireworks)
Bullhorns or noisemakers
Framed backpacks
Confetti
Animals (except guide dogs)
Skateboards or inline skates
Personal property that is a potential hazard to others (e.g., chains, wallet chains or jewelry with spiked edges)
---
Global Dance Festival 2016 Playlist
Remember to bring positive vibes, stay hydrated and have fun!
---
Connect with Global Dance Festival 2016 – Colorado on Social Media: