HARD has released the official Hard Summer 2016 lineup this morning while people were still buzzing from the huge electronic music presence at Coachella this year. Once again, Hard Summer is sporting a line-up that appeals to a truly broad crowd of music-lovers. Several big names on this list include Major Lazer, Baauer, Porter Robinson, Justin Martin, Mr. Carmack, Pretty Lights and more who had some phenomenal performances at Coachella. Hard Summer 2016 will be located at the Auto Club Speedway in Fontana, California, and will commence as an 18+ festival with camping for the first time ever. Despite the festival moving around to a few different venues over the last couple of years, Hard Summer will still be the place where the future of electronic music meets the presence of some of music's most popular names. This year around, the newcomers of Hard Summer are sure to make massive waves in the reputation of EDM for the better and put some new tastes in the ears of attendees.
Hard Summer 2016 Lineup: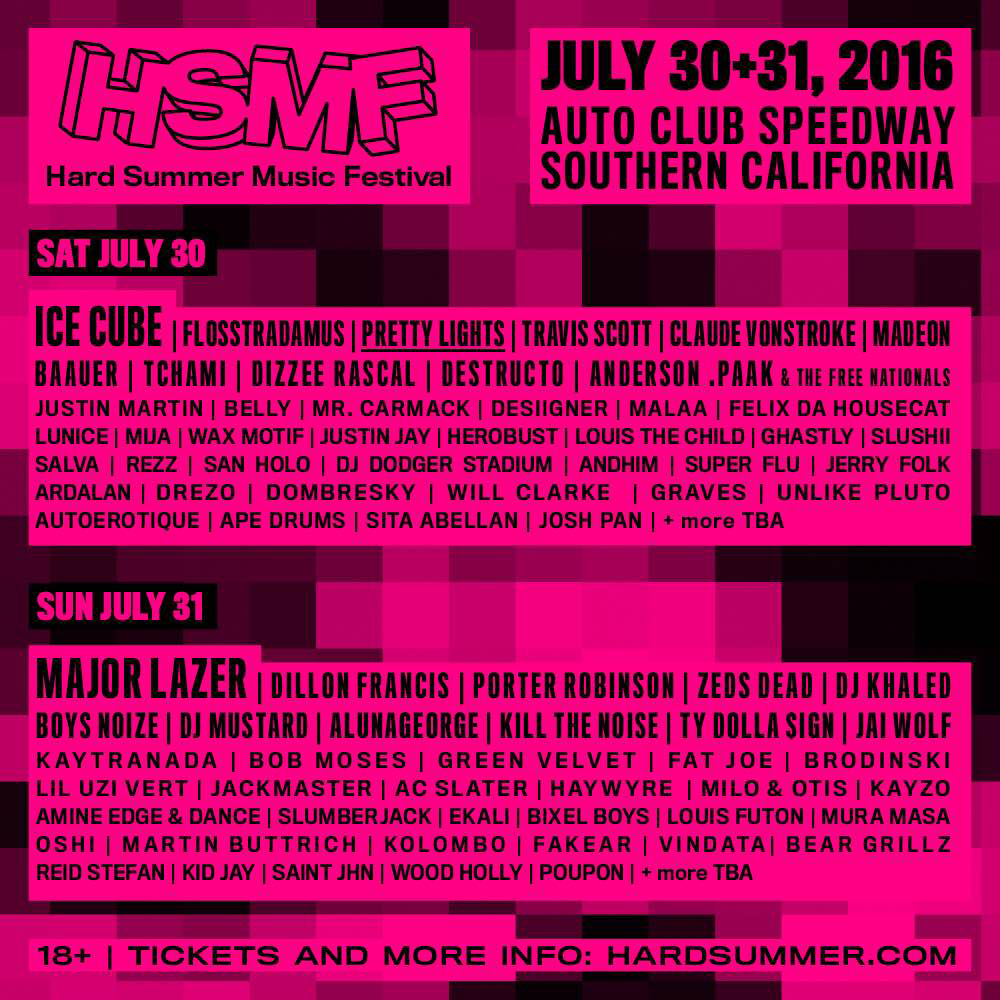 The Music..
Over the last couple of years, Hard Summer has seen a much bigger hip-hop and rap presence. A$AP Mob and Pusha T showed up in 2014, Schoolboy Q, Rae Srummerd and Fetty Wap in 2015, and Method Man & Red Man were even on the Day of The Dead lineup last year.
This year, Hard Summer is bringing the big man Ice Cube to headline on Saturday. Other Saturday performers include Dizzee Rascal and Travi$ Scott. Sunday will feature the likes of DJ Mustard a la 2015, the ever popular DJ Khaled, and Ty Dolla $ign. While this is only a portion of the massive lineup that Hard Summer has to offer, it's sure to epitomize the spirit of HARD.
As far as dance music is concerned, HARD is delivering once again with an awesome blend of familiar and new. Reputed Hard Summer acts like Dirtybird greats Claude VonStroke, Justin Martin, and Justin Jay join newcomers like Will Clarke to fill the dance floor with some awesome house vibes on Saturday. Sunday is no exception either, boasting Amine Edge & Dance, Green Velvet, Bob Moses, Jackmaster, and Night Bass founder AC Slater on the line-up.
Future electronic music has been making a stronger presence at music festivals, and Hard Summer has consistently been a platform for recently up-and-coming artists. This year's lineup is featuring acts that you would find at Coachella's Do Lab stage or a low-key show in Los Angeles. Producer/DJs such as Louis The Child, Josh Pan, Oshi, Unlike Pluto, Graves, Ekali, Jerry Folk and more are sure to impress any one who makes it to their stage. These artists are a taste of where new electronic music meets funk and truly high-level music production, to say the least. It will be interesting to see how the presence of these acts makes an impression on campers, since many of the newer acts don't usually get seen by the masses during their performances early in the day. Now that the camping is an option, acts during the first few hours of the festival will be much easier to witness and enjoy.
Tickets for HARD Summer 2016 go on sale Friday, 4/29 at 9AM (PT) and are available here.
Check out the Official Trailer for Hard Summer Music Festival 2016 on YouTube: