Daan Romers, or as you may know him, Dannic, has transformed into a world-class talent since his start in 2009. Beginning his career playing bars and clubs, he began his ascent to super-stardom with a series of mashups. Releasing his debut track "Doster" on Hardwell's Revealed Recordings catapulted him further into the limelight. With support from major artists ranging from Hardwell and Nicky Romero to Tiesto and Dyro, the past three years have been a roller-coaster of massive releases and epic shows around the world. Dannic reached #26 on the DJ Mag Top 100 in their 2015 poll and has no signs of stopping anytime soon. Most recently, he has dropped some amazing tracks for fans around the world and is coming off the launch of his new label, Fonk Recordings. The label intends to connect Dannic with other producers to help them reach the next level of their careers. We had a chat with the man himself about his latest releases, tour stops, and more!
---
Launching a label must be exciting! Do you have any surprises in store in the next coming months?
Hey! Thanks, yeah it's been exciting, it feels like my child haha! Yes, lots of cool releases we're working on and bringing the Fonk Recordings sound to the live shows too, making sure everyone feels the groove!
How long did it take to fully produce your mix album 'Fonk'?
It took a lot less time than producing a 'normal' album. First you need to search for the right tracks and when you find them you can start mixing. With 'Dannic presents Fonk' it was very important to select the best tracks for the album, cause you have only one chance to show your fans where Fonk Recordings stands for. I'm very happy with the result and besides that really proud!
What was your inspiration behind the track "Light The Sky"?
I wanted to create this big track that had one foot in the dance world but would still appeal to a wider audience, so it wouldn't sound out-of-place next to a pop song or on the radio and I think we really captured that with Aïrto's vocal too.
Do you think that a DJ today needs to be both a DJ and producer in order to continue to grow as an artist?
No, there are a lot of DJ's out there who choose not to produce and still manage to live and work successfully but I do think that producing and the knowledge that comes with that, is invaluable to the whole process of making music.
Other than electronic music what type of music do you like to listen to?
I listen to a lot of funk, soul, old Motown records but also a lot of pop too. I love pop music and huge radio hits!
What has been one of your favorite festivals or shows to play?
I just returned from China and then Tokyo which was a crazy weekend, lots of fans waiting when I landed to greet me with signs, always so nice to see when I travel the world! I love more intimate shows and venues; those are where I really feel I can connect with the crowd.
You have a lot of international festivals leading into the fall this year. When can we expect a North American tour again?
Yes, a lot of festivals throughout the spring and into the Summer, looking forward to some fun in the sun and seeing all the fans, it's a totally different vibe than a normal, headlining club show too so I can sometimes experiment a bit more, play some tracks that people wouldn't usually expect from me. As I said, my favourite shows are the intimate club shows so hoping to get back on the road in the US before the year is over!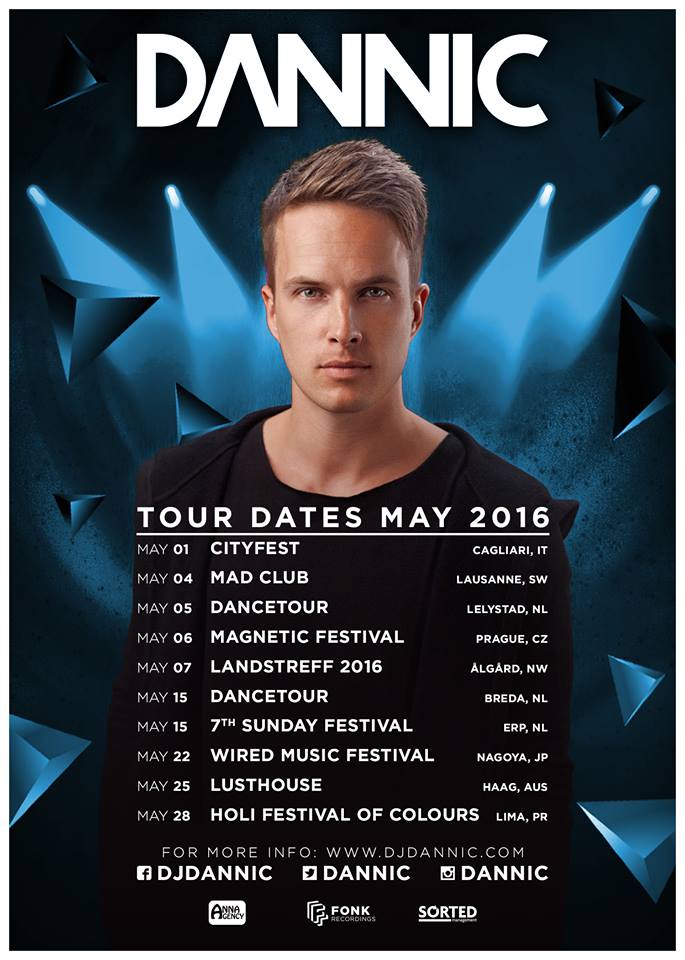 Every DJ/producer you've toured with is amazing, what's been one of your favorite memories from a tour?
Too many to mention! The North American Revealed Recordings bus tour we did back in 2014 with Hardwell was pretty funny, we played a super-haunted venue for the opening night and walked into this old, abandoned swimming pool that had us all jumpy for the rest of the show!
Your set at EDC Las Vegas 2014 was b2b with Dyro, do you plan on teaming up with him again in the future?
I've done a few B2Bs with some different producers but for now, I'm concentrating on the Dannic sound and growing Fonk Recordings into a hugely original label.
I know that you like to help young aspiring producers, who are some artists we should keep our ears out for?
We Am are a great Swiss duo coming up, it's crazy to think they're still teenagers, they have so much talent! M35 is also a talented artist that released on Fonk Recordings recently with 'Outbreak', received a lot of support from guys like Knife Party at Ultra Miami, another one you should keep your ears out for!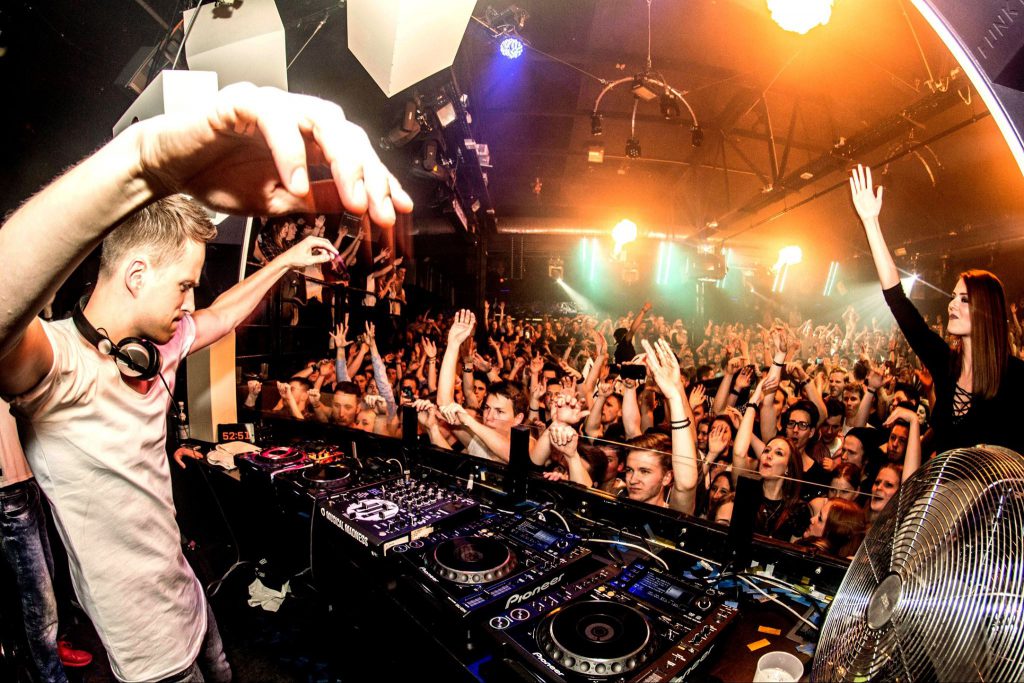 You're great at reading a crowd, what advice would you give beginning DJs or producers in honing that skill?
Trust your gut! If you don't think a certain mash-up is going to work or may be too crazy for a certain crowd or festival at a certain time of the day, then it probably is! It's a skill that comes with time, you just have to feel the vibe!
Recently there's been more discussion of producers switching genres or perhaps refusing to play just one genre. Do you think that upcoming producers need to be flexible in the genres they play? Does it matter?
As long as artists are playing what they want to play, not just being flexible because it is what is expected of them or what is cool, then I think yes, it is important. A large crowd at a festival will expect a different set that what would go down in an intimate club, a bit more room to experiment and create a mood – it's great that guys are shaking it up!
---
Follow DANNIC on Social Media:
Website | Facebook | Twitter | Instagram | SoundCloud