Originally posted on November 3rd, 2014 on The Scene Is Dead. Click HERE for original story!
As I headed into Bassmnt in San Diego for the first stop of Bassjackers and Dyro's X-Tour, I already knew that it was going to be a great night. Kenneth G was on the decks making the crowd move in the fully packed club, I could tell that it was going to be a great night. I grabbed a quick drink at the bar and met up with some friends while his set ended. A group of the clubs security guards surrounding Dyro moved past me to get him to the stage and the crowd started going wild. Dyro played an awesome set energizing the crowd with his hits; he was definitely feeling the crowd as they lost their minds to it. That energy only stopped for a brief second, quickly picking up for the second half of the show. Bassjackers made his way to the DJ booth to close out the show. What Dyro had mentioned to me earlier during the interview about Marlon's skills as a DJ and all around entertainer proved to be completely true. Both of their sets were accented by Bassmnt's LED wall and other lighting effects, it definitely helped that the sound was on point all night as well. Unfortunately the night had to end at some point, closing out the first stop of the X-Tour.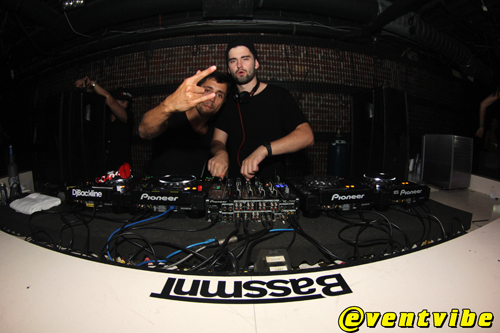 Prior to the show I had the opportunity to sit down with Bassjackers and Dyro. I was able to speak with them about the X-Tour and their prior history working together. First I caught up with Marlon backstage to chat for a bit.
The Scene is Dead: Alright I'm sitting here with Marlon from Bassjackers.
Marlon Flohr from Bassjackers: So yeah to make things clear I'm the DJ and Ralph (van Hilstis) the producer, that's how we work. I do all the touring and he does the producing while I'm on tour. Ralph was always busy making music on his computer while I was picking up DJing as a hobby. And at some point I was um yeah we were already friends since high school and I knew he made music on his computer. So I was like you can you make something like this and I showed him a few examples. And within a few months we had the first track and it was like whoa this is actually pretty cool, I can play this out in the club. I just tested it out and we sent it to some DJs. It got picked up and they wanted to sign it and we had to come up with a name, so that's when Bassjackers was born.
TSiD:  That's awesome, it seems like you have great synergy together.
Marlon: Yeah we've known each other for years and years. So we were already good friends and then we started this. You know, I think that's perfect. You can always be 100% honest and we can deal with each others criticism and it was really important to develop and evolve as artists.
TSiD: Do you have a special moment that sticks out and is super important or special?
Marlon: It gets better and better every year, so the highs are getting higher every year. So this year we got to close EDC Las Vegas mainstage, which was a milestone for us show wise. It was one of the most amazing things I've ever experienced. Closing the mainstage at one of the biggest festivals in the world, the sun coming up, I mean, I had goosebumps all over. So that is for me, personally, a very big high. And on the production level I think it was when Tiësto decided to release our track on his label Musical Freedom which was a really new label at the time. He only released his own music on the label and we were the first release that wasn't his music. As you can imagine, we were pretty stoked.
TSiD: Would you say that Tiësto is your favorite artist that you've worked with or…?
Marlon: We released on his label and he invited us to play his show in Ibiza the same year we released "Mush Mush". But we've worked with so many talented and cool people. For example now we are doing the tour with Dyro, the X-Tour. Dyro is an amazing person and a really talented producer. We became friends 2 years ago on our first collaboration. Now we're on this tour, full headlining a 30 show bus tour and it's crazy. There are too many (artists) to mention. We worked with a lot of the dutch guys and they are all super talented so I can't just pick one.
TSiD: Is there anything on this tour that you're excited for? Any new cities you haven't been to yet or something new?
Marlon: Yeah this tour we hit the major markets but we are also doing a lot of small towns. I thought I had played everywhere over the past three years, I have been doing 200+ shows a year, but there is still some undiscovered territory and I'm always excited to play in a new venue or new city. I'm just in general really excited for this tour.
TSiD: You mentioned EDC Las Vegas earlier, did you get a chance to walk around and check out other stages, art installations, or rides this year?
Marlon: No, because I came from a show. I flew in, took a power nap, went right to the festival, got a quick drink in the trailer and went right to the stage for the closing set. So there was not much happening after that because I came in late. I've been to other editions of EDC Las Vegas as well. I think the first time we played there, was also mainstage. We had a half hour set, after Alesso and before Fedde (Le Grande), 2 or 3 years ago. That day I was at the festival for the whole day. I went to every stage, in the crowd, everywhere.
TSiD: Are there any artists flying under the radar that you would like us to take a look at?
Marlon: I mean, it's not really under the radar but we're working with this kid from Holland, Thomas Newson. He had some pretty big tracks a year ago but I think he doesn't get the attention he deserves. So I'll mention him right now, we're working with him, Thomas Newson, check out his stuff.
TSiD: Last question, you guys have a deep passion for house music, but if there was any other genre you could produce, what would it be?
Marlon: I cannot really talk as a producer, but, I listen to a lot of hip hop and rap music when I'm not listening to dance. Ralph listens to a lot of indie rock and that type of stuff. But that is live music, more than computer generated music. So I think we should just start a rock band. I would play the drums.
TSiD: What would Ralph play?
Marlon: Probably Guitar.
TSiD: Awesome, so who would sing?
Marlon: I hope none of us hahaha, it would be really bad.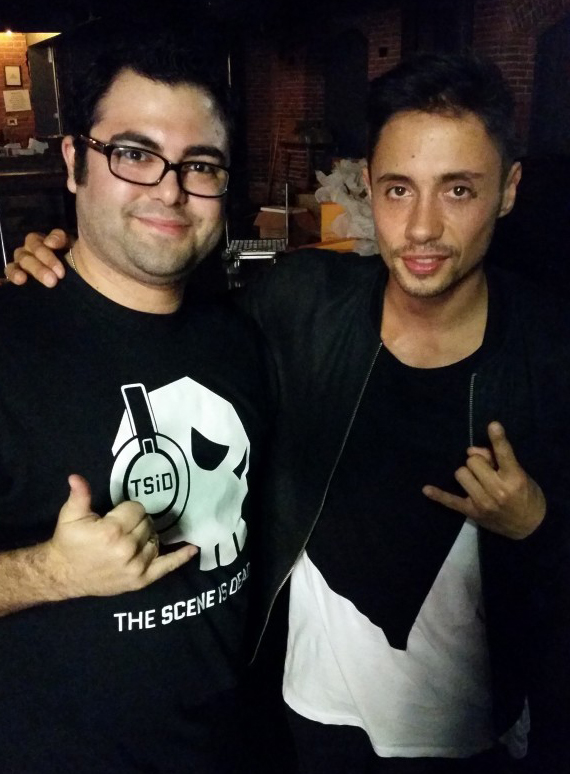 After having the opportunity to speak with Marlon from Bassjackers, I met up with Dyro (Jordy van Egmond) next and we had a long enjoyable conversation.
TSiD: What was your inspiration behind becoming a DJ?
Dyro: Oh good question, there wasn't really an idea behind me becoming a DJ. When I was in high school and college, I was studying to become an engineer. It was probably 2010-11. What happened was, when I went to school any time I had off I would make music as a hobby. I was making music as a hobby for a couple of years, and my last year of school I was making so much music and it came to a level that I was putting it out on SoundCloud. Hardwell ended up contacting me and said he wanted to release my music. It was really casual back then because he wasn't in DJ Mag, he was just Hardwell ya know?
TSiD: Yeah he was just old Hardwell.
Dyro: I knew Hardwell, I knew his songs, he was an inspiration for me, but he wasn't the #1 DJ in the world like he is right now. So it was like cool, Hardwell, ya know, I'm gonna release music with his label because I had no clue and hadn't released anything in my life, it was fun. So there wasn't really an inspiration behind it, I just wanted to do something different with my life. I was in school and I didn't really enjoy living the regular life, so that's what I did. It just takes a weirdo to acknowledge it and do something different, I mean, I consider myself a weirdo, haha. Yeah I'm a weirdo.
TSiD: Hardwell picked you up on his label Revealed, and he's obviously been a huge influence for you. Do you feel that his style has influenced your style of music?
Dyro: Hardwell definitely changed the game a lot especially a year ago with his DJ sets. But I think I created my own sound, that's what I like to believe. That's where I took my right turn from everything and especially lately with Revealed, that turn became so big and different from revealed that I started my own label. In the beginning he definitely inspired me and contributed to my sound, but nowadays I have my own sound and my own label to support that.
TSiD: You've collaborated with a lot of artists as well, who is your favorite artist that you've worked with recently?
Dyro: I think Headhunterz, I only recently started working with him. I've only had one studio session with him so far. Headhunterz is hard to describe because you're American and working for an American company, but in Holland hardstyle is its own community.
TSiD: Oh trust me, I love hardstyle.
Dyro: Me too. That's the thing, when I was 14 years old I was only listening to hardstyle. In Holland it's a thing, it's its own community, they have events in Holland that fill huge stadiums of 60k people just for hardstyle, and Headhunterz was always the main guy. So when I was around 16 years old it was all hardstyle for me and Headhunterz was my all time hero. He was one of the guys that got me into producing in the first place. I was making hardstyle music and it was pretty hard so it steered me towards something different and it evolved into what I'm doing right now. But still he's one of my heroes and he recently hit me up and was like "I really like your music and I'd like to work with you", and I was like "Fuck yeah, come to my house and we'll work on some stuff". When he came over we didn't really do that much, we just started working on a basic idea. Working with a guy like Headhunterz was great because I think he has the most knowledge of anyone I've worked with so far.
TSiD: By the way, congratulations on making #27 on the DJ Mag Top 100. What do you think you did to move up and solidify your spot in the top 50 artists in the world?
Dyro: Well last year we did the highest entry at #30, the scene changed a little bit to… I don't really wanna give my opinion on this but it's kinda saturated… a lot of people are doing the same stuff…which kinda bummed me out and I tried to step back from that in a certain way which created me to not be as high as a lot of people expected. Because I get that a lot, a lot of people on my twitter and everything wanted me to be higher and I mean it's fair, ya know? People vote and that's how it is. So but still every year its different. So to be #27 this year was a huge honor. There were so many people that were voting this year, they had the most votes of any year, I think there was like almost a million people voting, so to be #27 was a really big honor.
TSiD: I was excited for you too, because you entered at #30, so you're only going up!
Dyro: It's a really hard thing to overpower because last year entering at 30 I was like, "Why?", honestly I had a couple of songs and a collaboration with Hardwell but why am I 30? I mean, I was really grateful, there were a lot of people that voted for me and especially Hardwell. I was really happy and grateful but I was beating Laidback Luke last year. To me, Laidback Luke is like a hero, it didn't seem fair to me, I should have been way further back. But I'm not going to say anything about that because I never did. It's hard to do better than last year because I think I already hit that high. I thought to myself, how am I going to overpower this, there's no way? But I still went up 3 places, which is respectable. I'd rather go up 3 places every single year, and last for 10 years, than be #1 this year and only go down for the rest of my career. You know, that's how it is. I'd rather make it last long than super-fast and have emotional drama because I'm already going down. It's really hard because if you're #1 in 1 year, your career starts here and eventually you're going to go down. It must be fucking horrible. I couldn't deal with it because to me it's like I'm doing worse every year. It is so much stress so I'd rather do this every year and stop at my peak than start here and go down, that's my opinion.
TSiD: You're starting the X-Tour with Bassjackers, what are you excited for on this tour?
Dyro: To be honest there is a lot. First of all let me start at the beginning, when I met Bassjackers for the first time last year, Ralph and I met for the first time. We met up and were like "okay let's do a song together". Ralph and I were really creative in the studio and we worked on a song. So we created the song "Grid" and released it in 2013. It didn't do that good but a lot of people knew about it so it had a lot of recognition. We did a tour around it and that's when I met Marlon. Marlon is a really good DJ and entertainer, fun guy and he knows what he is doing you know. That's why it's a really good combination for them. So Ralph and I in the studio and Marlon and I doing shows together, we hit it off so well, and we became really good friends. We even did a couple shows in Australia at the beginning of this year and we were together the entire time. So naturally we came to a point where decided we should do another song, and another tour just for fun you know because we are here for the same reason. We just want to have fun. So we did and our agents made it into a 6 week tour of 30 shows. It was like "okay why not?" and we didn't really think of the extent of the tour and how big it was going to be but we're happy and willing to do a 6 week show. Coming back to your question we're doing shows in almost every market in America that I haven't been to before and its exciting because I can see how people know me in those kind of markets. That's what I'm most excited about, to see how my sound works in different markets.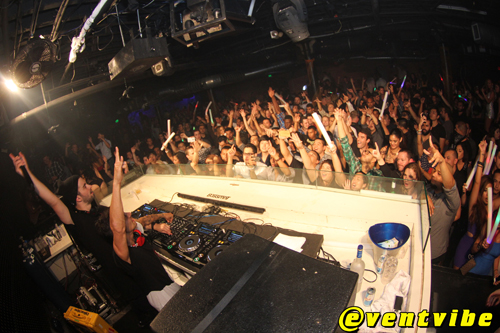 TSiD: Is there a specific festival or show that sticks out as special?
Dyro: It has to be either EDC Las Vegas or Tomorrowland. I played EDC twice, once on mainstage as an opener. I had a lot of people and it was respectable as an opener. It was 2012 and people didn't really know me, it was fine because I wasn't a big name back then. This year, Dannic and I did a back to back set and it was slam packed. We did it to promote our song "Reticle" and it went so good, we were playing at the Circuit Grounds and it was absolutely insane. We had so much fun. And then coming from Europe Tomorrowland is one of the iconic festivals so I always wanted to play the mainstage and this year I did. It was one of my goals and I reached it. It was funny because when I was in school my goal was to become a DJ, when I became a DJ my goal was to make money and play multiple shows, you extend your goals every year and it's really hard to be satisfied. I like to like put boundaries and be like okay I'm satisfied, still setting new goals but I'm satisfied. I'm living a dream and every day I'm satisfied with what I'm doing.
TSiD: That's awesome, doing what satisfies you is exactly how you should be living your life.
Dyro: I'm really lucky and blessed with a talent and blessed with fans that enjoy my music.
TSiD: Are there any up and coming artists that you want us to check out that we may not have heard of?
Dyro: I would like to address me starting my own label. I've been helping out these guys for the last two years. I've been helping out these guys and they have been sending me their music which I enjoy, I play out and it works in clubs, but a lot of labels won't sign it because they are all out on festival bangers and straight hits. So a lot of these guys make a lot of good music but they can't get their music out there, so I've been helping these guys by giving them a lot of feedback and that's the extent that I could give them, nothing more than that. So I would help them with their music and then that's that, we couldn't do anything else with it. That's one of the reasons I started my own label, to give those guys a spot.
Guys like Nathan, which is a new guy from Holland, more in the north of Holland, he makes really good music his former name was Nathaniel K which was too hard. I made him change it to Nathan but he makes really good music, he needs to understand more of the DJ side than the production side, but I recognize a lot of myself in him because when I was just making music without DJing. I would get too deep in production and to a certain extent people didn't understand anymore.
Other guys like Loopers, I played a couple songs with Loopers and released some of his songs especially at the beginning of my career. We did a couple of songs on Laidback Luke's label which was really interesting. Loopers and I became friends really fast when we were nothing and then we met up with Laidback Luke and he gave us a spot with his label. I evolved by doing stuff with Hardwell and he kind of stayed there. He makes a lot of good music but he doesn't have the audience for it because he's really artistic and sticks with his own thing. And I respect him for that but there are not a lot of people that enjoy it as much, so I want to give him a stage and help form a something more that the crowd wants.
The third artist I want to address is Bali Bandits. I did a show back in June or July in Amsterdam, it was like a pre-DJ Mag show. There were these two guys standing in the front row and they gave me their CD while I was standing up on stage. I started playing and I accidentally left their CD in the DJ booth. So I walk off and they are pointing at the DJ booth, I was like oh what is going on? They said "you left the CD", I went and grabbed the CD and put it in my bag and walked away. So I think over a month later I was cleaning my room and my girlfriend was there and she said "what do you want to do with this CD?" I didn't remember where the CD was from because I get so many demos and USB drives. I try to listen to each one but it's so much to handle. She told me I should listen to it so I did and the song was really good. I requested all the parts to it and I ended up remixing it and releasing it on my label as well. They are called the Bali Bandits and they are doing a really great job doing something different, I'm definitely going to release more of their music.
There is a fourth guy and then I'm done. There is this guy named Conro, from Vancouver. He's actually going to be on this tour supporting some shows so I can meet him and he is insanely good. I think I have around 30 of his songs on my computer, he's making a lot of music. It is really hard to put his songs to a certain genre, because the songs he is producing are really diverse. I think he needs to find his sound before I release any of his music because I don't want to kick off his career, not like I can kick off careers, but I don't want to do anything for his career that he's going to regret. I have a lot of contact with him and he has 20 songs spanning four genres, so when he finds his sound we'll be ready to instantly release four songs from him. He's built up a really great catalog already.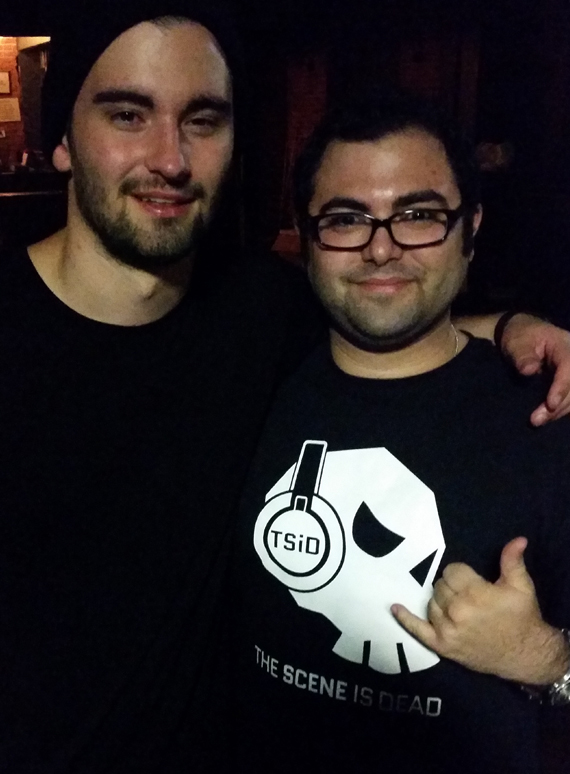 Check the dates and make sure to catch Dyro and Bassjackers when they stop by your city on the X-Tour, it's definitely a show you shouldn't miss!
You can purchase tickets to upcoming X-Tour shows at http://xtour.wantickets.com