The third installment of CRSSD Festival is in the books, and I wanted to personally recap and document my personal experiences throughout the weekend! CRSSD Spring 2016 edition has had so many wonderful memories, great friends, and terrific moments. Whether you weren't able to make it this time around or just wanted to relive the moments, let my story draw as inspiration for you to join the next time CRSSD comes around! If you have never heard of CRSSD Festival, I highly recommend that you check out my previous article on My 5 Favorite Things About CRSSD!
Instant Impressions:
The venue itself had not changed much at all. The 3 stages were practically in the same position, facing the same way as previous years. The Palms stage was the first stage you got to see and hear upon entry. Right behind the County Administration Building was the City Steps stage. At the far end of the venue was the Ocean View Live Stage, with an improved stage design. The main bar area in the center was still in full effect and now included a sponsored Stella Artois photo booth.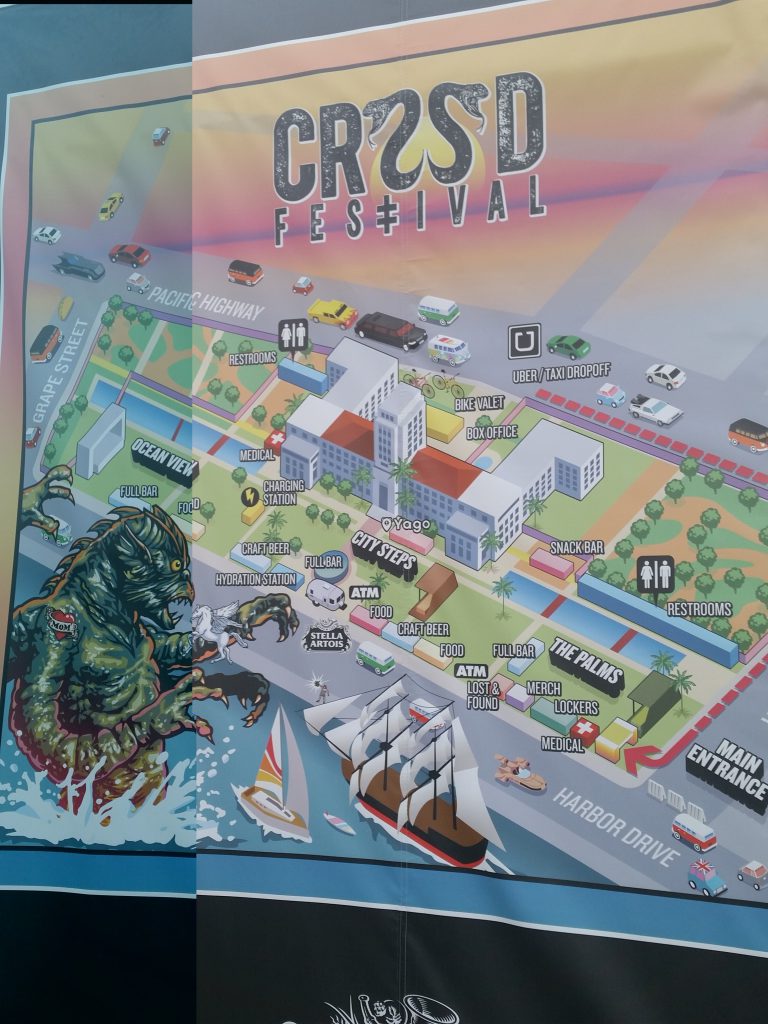 Saturday:
One of my personal advantages in regard to this event is that I live so close to the venue. It is a legitimate 15 minute walk from my home to the gate. Logistically, it is the most liberating experience: not worrying about transportation, parking, etc. So once I gathered my things for the day, I made my way down to the venue. Upon arrival at around 2:15pm, I was greeted by a graciously long line of attendees. Much more than previous CRSSD events, but well contained and everyone was in good spirits. After the quick routine of ID Checks and pat-downs, I went inside and wandered throughout to get my lay of the land.
I had started out my day with a quick stop by the merch booth and then off to get a center spot for Damian Lazarus. When Damian came onto the stage, the massive crowd erupted with cheer. His highly experimental set had the crowd all over the place. I'm honestly not too familiar with his original tracks, so I relied more on the vibe of the crowd to get my feel of the set. Eventually, the set was a bit too down-tempo for my tastes, so I exited to find something a bit more upbeat. I end up finding myself over at Bondax. Bondax's set was very enjoyable! Everyone was dancing. As I made my way up to the front, I ended up bumping into fellow writer Zachary. After joining his brother and him, they told me about Poolside. So as we were catching up, we passed by another writer, Carlos! After getting everyone introduced, we made our way over to Poolside over at the Palms Stage. Poolside had such a unique style. They were a perfect blend of upbeat and funky, like a soundtrack for a pool party at a popular resort. The duo was pumped, having a great time, and the crowd responded in kind. FNGRS CRSSD did a great job getting these two to the event, as they fit within the "mini-Coachella/Desert Hearts/HARD hybrid event" vibe they have established over the past two years. We got up to the second row, and danced through their whole set. After their set, that group wanted to stay for Lane 8, but I felt like checking out Gryffin over at Ocean View Live stage for a few. Just him on stage with his keyboards and electronics was a sight. His live performance was quite technical and well versed. He played a few covers while I was over there, and embracing his crowd. Seeing a good following while I was there was also a huge plus. After getting a message from my group, I made my way back to The Palms stage. Lee Foss was playing and had great energy, but my group wanted to find a good spot and be ready for the night.
Sunset was upon us, and we all took our time taking photos of the majestic sunset. Others were totally on the same page: taking photos, recording videos, selfies. It was a beautiful moment that we all shared. There's very few venues out there that have an ocean front to enjoy the sunset at. But now that night was upon us, the party was only just beginning!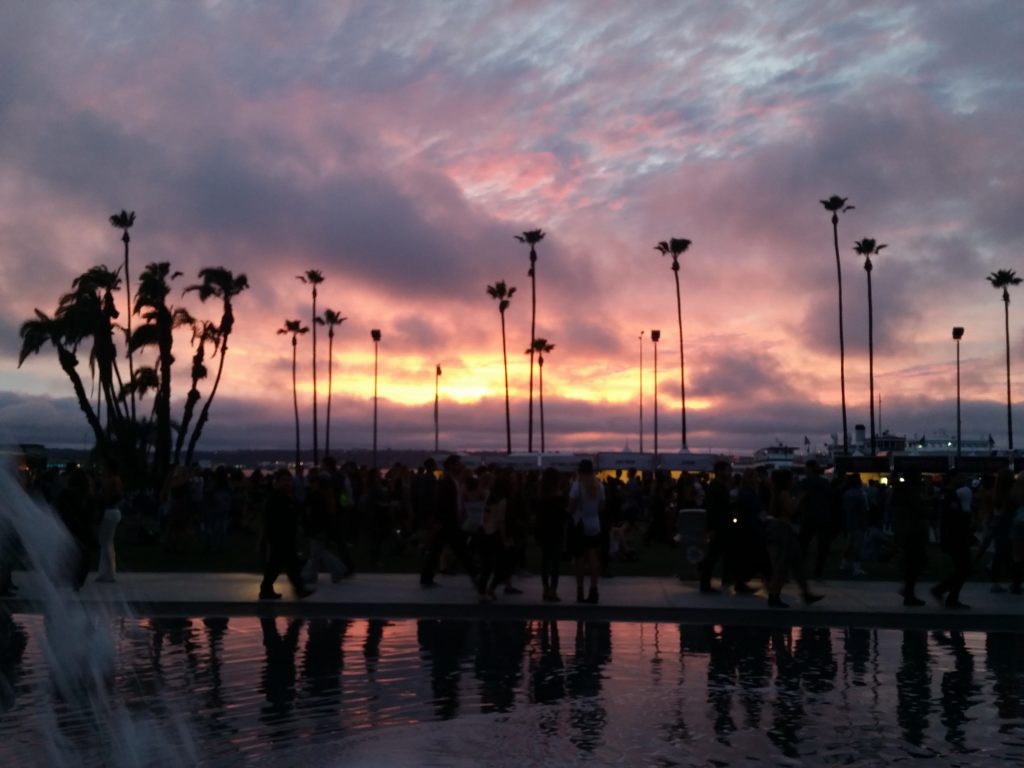 Our dozen-and-a-half large group decided that the fountains by the stage was the best play for us all to enjoy the next set. It felt like everybody was there for the upcoming act. The prince of Dark Techno, Gesaffelstein. One of the most coveted acts of CRSSD Spring, the crowd was more than anxious to see him perform. Thousands were all on their feet for his DJ set. The moment that his signature white spotlights came to life, the crowd lost it. Every beat was harder than the next and he absolutely played one of my favorite sets I had ever seen. He played it all. Made us move, took it to the next level. I wasn't even apologetic, I just left my group and went through the crowd. I was pulled in. I found a spot for myself, would try to take pictures, but get locked into the music before I could even get much recorded. PURSUIT was flawless, and his lights worked perfectly for the set. Start to finish, it was phenomenal. I'm so glad that I put him as my number 1 in my Top 10. Because he certainly earned that title. After his set, my group was just as enamored as I was. He blew us all away. So we all had a very difficult decision to make: who to close out our first night of CRSSD Spring 2016 with. The options available were Cirez D (Eric Prydz), Jamie Jones, or Odesza. I made the decision to start with Cirez D until Odesza started since they had adjoining stages. The Cirez D model was very interesting. His buildups were great and his breakdowns left everyone dancing. I was impressed with his style, but I know that his style wasn't my forte. Taking a few minutes to enjoy the atmosphere, I took heed to others' recommendations and stuck it out. He has a great groove and knows how to work the crowd. So after I said my goodbye's, I took the venture back over to Ocean View to become one with Odesza once more. Weaving through the crowd, I ran into another one of my friends that was there and found my place in the grass. We sang along and danced to "Say My Name". The two were playing side by side and I was able to take in the wonderful visuals playing all around them. The stage was so well-lit, it really did feel like a concert. They played their remixes of Hayden James' "Something About You" and Zhu's "Faded". Everything about that set was euphoric and uplifting. The only negative about the set was that it was noticeably quieter than previous sets that day. Once the group got reunited after our respective sets, we made our way home to prepare for day 2!
Sunday:
I started out Sunday at a pre-party with some mimosas and loud music. Afterwards, we made our way down to the venue for a second helping of CRSSD Spring! Coming in after 2pm was a poor choice in hindsight. The line was astronomically longer than coming in before 2pm. Despite the longer line, the waiting was unobtrusive, civil, and pretty much a non-issue. After the usual ID check and pat-down, I was able to head over to the 2nd half of the J. Phlip b2b Ardalan set. The Palms stage, now without the parasols hanging from the awning, was filled with people dancing and having a good time. It had great bass, J. Phlip was bouncing and getting into her tracks, Ardalan was getting the crowd pumped with high energy and some awesome shades. Each new track had the crowd cheering. After finishing out their set, I made my way across to Ocean View to watch Hi-Lo (Oliver Heldens). His tribal beats and heavy bass got the crowd jumping! Hi-Lo dropped some great vibin' tracks to get the crowd moving throughout his entire set. It was very surprising to her him drop a remix to "Shake Your Money Maker", but welcomed all the same.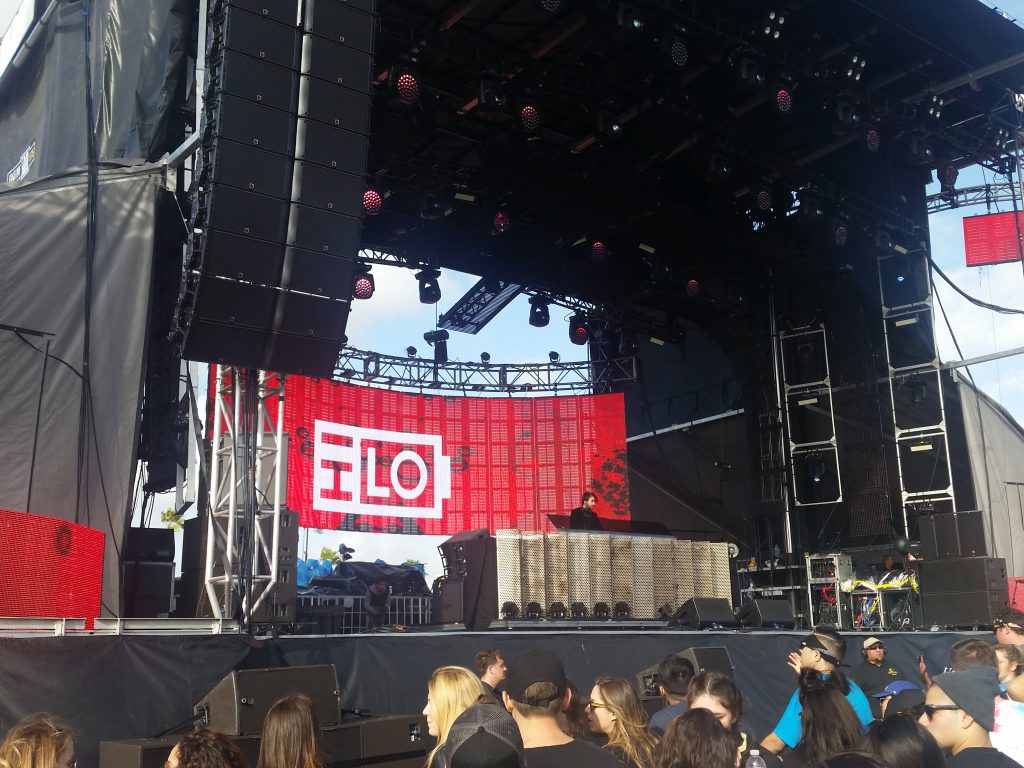 After Hi-Lo, I reunited with my group and then headed over to City Steps to get a feel for the legendary Green Velvet. Start to finish, his set was amazing. There was a huge crowd to see him, as expected. When he performed tracks like "Flash" as well as other, he spoke into his headset to get his signature vocals. It was great that amidst the talented DJ's deck-work, he was still multi-tasking quite often. It was also entertaining to watch how many Coca-Cola cans he could stack up around the turntables. Near the end of his set, he was joined by Claude VonStroke for a hello and tease of Get Real. Skream came back onto the stage for his second set of the day; filling in for Loco Dice who was delayed on route to the city. So I made my way back to Ocean View to meet up with my group for Gorgon City. This was the first set that our group was together for the same artist in the same area. Their live set was phenomenal and majestic! The duo added on a live drummer and two vocalists to turn their performance into a spectacle! They were somehow were able to make time stand still with their set. I only realized this because someone asked me what the time was. I honestly felt like we had been there an hour and was shocked that we had only been at the set for half of that. So many songs from their "Sirens" album and their "Real" EP. Lulu James' vocals absolutely stole the show, and that says a lot with how great Gorgon City performed that night.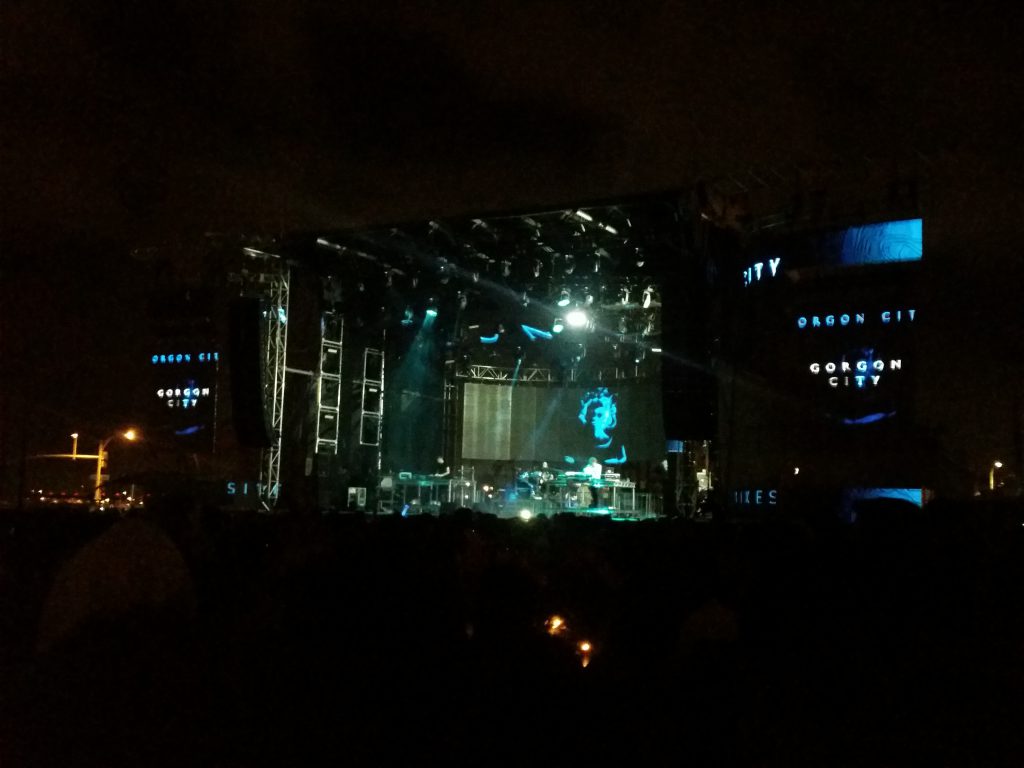 Once their set ended, our group parted ways once more, to close out CRSSD Spring with who we really wanted to go see. Ending the weekend was a difficult decision: Claude VonStroke, Chet Faker, or Maceoplex (filling in for Tale Of Us). While most of my friends were going to Claude at The Palms and some where going to Chet Faker at Ocean View, I made the decision to take a chance seeing Tale of Us. Once I got there and Maceoplex came out instead, the crowd was still very positive about the switch. Maceoplex's set was much more my speed, with a strong and alluring tempo that kept the crowd packed in and enjoying themselves. I was talking to a few of the nearby attendees about the set and they were nothing but elated to see Maceoplex! His set was riddled with great house-stormers that was fantastic and an excellent way to finish out my CRSSD experience.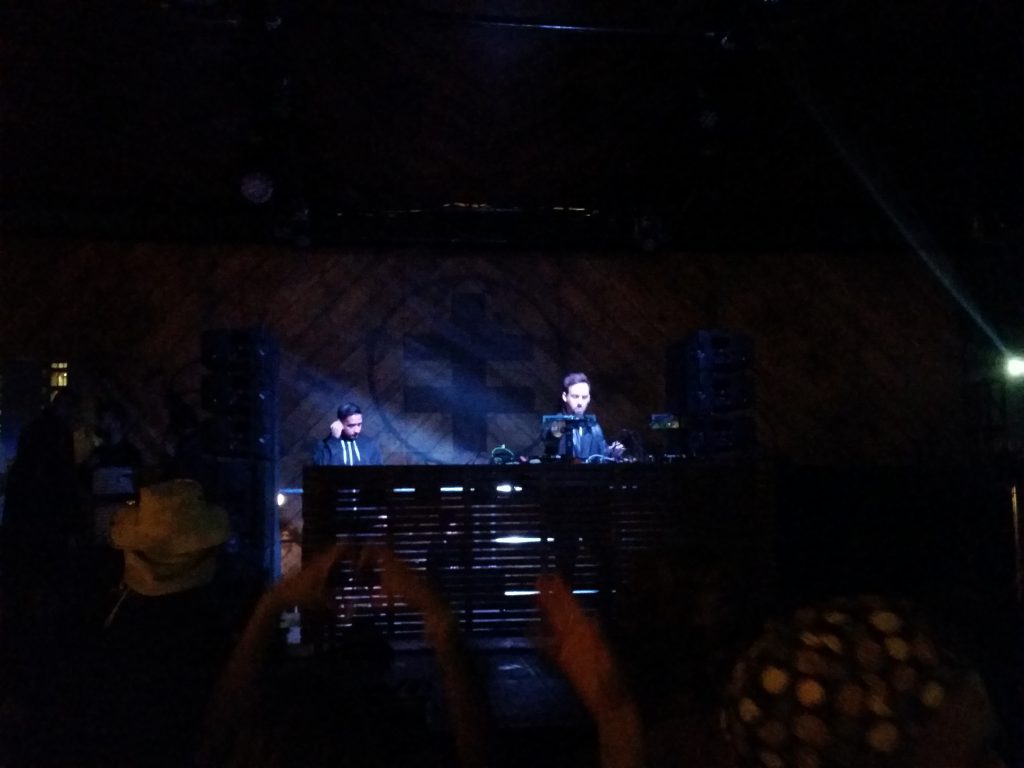 Pros/Cons of CRSSD Spring 2016:
Pros:
Very easy to navigate.
Intimate venue that doesn't get bogged down by crowds of people between stages.
The surrounding view is amazing.
Only daytime festival I'd recommend. Never too hot or too cold.
Food options galore! Lobster tacos, Monster Fries, pulled pork, dumplings, and more!
Lineup is catered to a diverse crowd without pandering to the masses.
Fountains that people are encouraged to walk, stand and dance in!
Many improvements at venue from previous years.
Cons:
Light rain/sprinkling throughout Saturday night.
Line to enter can be a nightmare.
"Non smoking" but enforcement was inconsistent
Expensive. 11 dollar mixed drinks before Red Bulls added. 15 dollars after.
No activities beside music, eating and drinking.
Schedule lists City Steps/Palms/Ocean View rather than Palms/City Steps/Ocean View, causing confusion.
Intermissions between each Ocean View act means heavy concentration at other stages.
Less rock/alternative variety this time around.
---
Check out EDM Identity's previous coverage of CRSSD:
Anna Lunoe DJ Set @ CRSSD Fall
Bixel Boys b2b Viceroy @ CRSSD 2015
5 Coachella Ready Street Style Looks We Loved At CRSSD Festival