CRSSD Festival is right around the corner; this season's lineup has quite a few talented performers coming through this season! Prepare for two full days of great music, awesome tunes, and terrific San Diego weather! It's going to be a weekend not worth missing out on! Sunday tickets are still available HERE!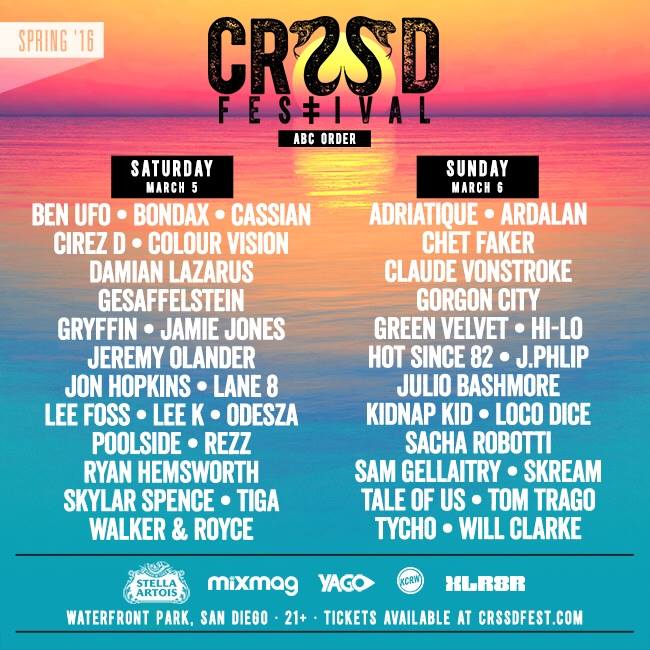 10. J. Phlip
Dirtybird's most captivating camp councilor, J. Phlip will be bringing some serious acid house and booty bass dancing music to CRSSD this time around! She is no stranger to festivals; she has performed at Desert Hearts, Dirtybird Campout, Dirtybird BBQ, Hard: Day of the Dead and Movement Electronic Music Festival within the past few years. Her vibes are excellent, her music is solid, and she'll make you bounce!
9. Sacha Robotti
Robotti is one of the most talented Tech House performers out there, and his presence at CRSSD Festival Spring Edition this time around will be a welcomed experience. Dating back to his first vinyls in '04, he's been pumping out that bouncy tunes for everyone to get down at! His sets will absolutely compliment the CRSSD atmosphere and that's I've included him in this Top 10!
8. Lee K
She has been tearing up the decks all over SoCal over that past few years, and Lee K coming back to CRSSD with more energy than ever! I've seen her a few times at different venues such as CRSSD last year, Quartyard, and Bang Bang. It's always a pleasure to see her spin, and this time will be no exception!
https://soundcloud.com/thisisleek/lee-k-live-at-bang-bang-11-20-15
7. Skream
Notably one of the more popular on this lineup, Skream will bring the crowd and the energy to CRSSD Festival! He's got some great talent on the decks, and his productions will get the crowd going, guaranteed. Be prepared for quite a few "Skreamixes" that'll get you reminiscing on the classic tracks he features and draws inspiration from. Even after departing the scene he helped create to pursue new endeavors, his new nu-disco/house inspired sound will work its magic on your ears.
https://soundcloud.com/skreamizm/skream-rollercoaster-feat-sam-frank
6. Damian Lazarus
His recent project, Damian Lazarus & The Ancient Moons, has been a guilty pleasure of mine for the past few months. Their style is far from my usual preferences, but carries an aura of creative prosperity unlike other artists. This'll be my first time seeing his solo production, and while not familiar with his solo tracks, my interest in his side project is inspiration enough for me to see him perform. And what better time to see him than this week!
5. REZZ
The princess of Dark Techno is once again coming back to San Diego! After seeing her mesmerize the crowd twice in one day during Ship2Ship San Diego, REZZ will be sure to attract a whole wave of her fans to CRSSD Festival on March 5th. Her music is hypnotizing and I will highly recommend that you check out her set! Nothing but positive, crushing, bass-fueled techno to vibe out! My only hope for her set is she plays after sunset, because what better way to set the mood than to turn the lights down low and let her take your breath away!
4. Green Velvet
La La Land is finally upon us here at San Diego! Green Velvet is the veteran of my Top 10, and an absolute must-see! Electronica is eternal thanks to artists like him, and I wouldn't want it any other way! He'll be sure to fill The Palms stage on Sunday to capacity, as everyone will want to have their chance to see the legend in person!
3. Gorgon City
How could you not love Gorgon City?!?! House is immensely popular, and Gorgon City has been at the forefront with their catchy tracks and amazing lyrics. This duo has made an impeccable Sirens album, their producing skills are phenomenal. Let the waves of their music carry you away with every beautiful note!
2. Odesza
Dearest Odesza, how I envy you two. Your music is just so wonderful. Your fans adore you, your every beat is both empowering and alluring, and every show you play is better than your last! Relax, chill, lay in the grass. Whatever makes you comfortable. These guys will make your night unforgettable.
1. Gestaffelstein
The Dark Prince of Techno. To put it short, DO NOT MISS THIS SET. He will usher you to a new universe with his songs and you'll lose yourself through his set. I have taken the liberty of showing you his set from Coachella 2015, and just stop what you are doing and watch this encompassing experience. It just might change your world.