Earlier this month, San Diego's Waterfront Park was home to the very first CRSSD festival. This gorgeous backdrop for some of dance music's most coveted acts (Odesza, Maceo Plex and Empire of the Sun were all in attendance) was like a portal into the tropics. Sunshine, food trucks and palm trees created a perfect setting for stylish festivalgoers to frolic. After CRSSD management made a call for ticketholders to leave their rave gear at home, I saw quite a few bummed-out social media posts (I can feel naked without my kandi too). Not sure if these regulations had any impact on the vibrant spectrum of festival fashion I scoped out that weekend, but I was pleased by the variety of fashionable folks I photographed in the crowd – no light gloves, plastic beads or fluffies required.
With Coachella in our midst, plenty of stylish EDM-lovers are on their way to planning yet another weekend of eye-catching outfits. I thought it'd be helpful to throw it back to some of the super rad street style I scoped out at CRSSD for some inspiration.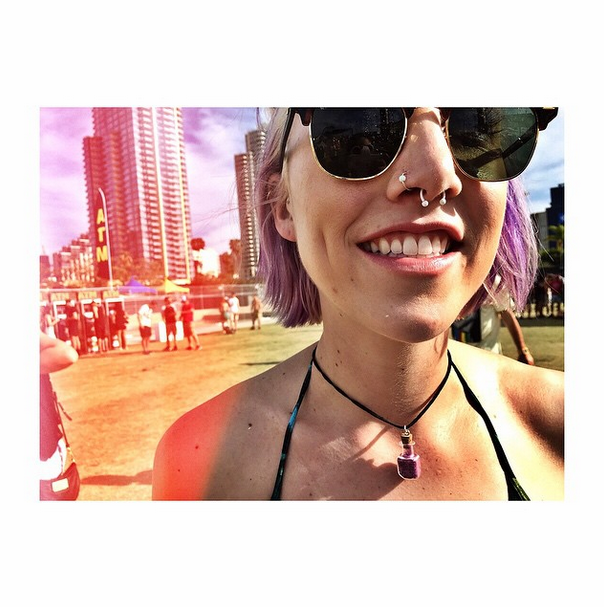 1. Choose a one-of-a-kind choker
It's all about chokers lately and while I love the look, I've found that it can be difficult to find chokers with pendants you can't find anywhere else. Steph of online jewelry shopfront Glitter Babez was killin' it in a choker of her own design featuring a tiny bottle filled with violet glitter. Paired with her lavender locks, the choker set off her radiant look when paired with her palm-patterned dress and infectious smile! I'm grabbing one of these chokers for Lightning in a Bottle  – get your own at Glitter Babez!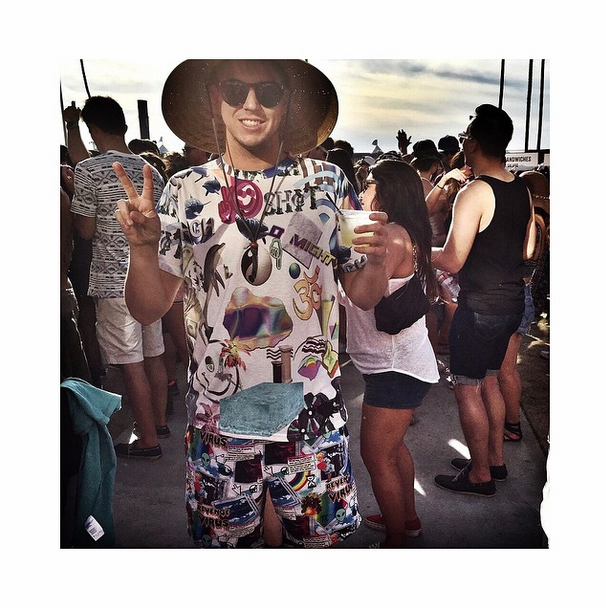 2. Stay bold in trippy Internet-inspired graphics
I spotted Nick in the crowd real quick – why? He was repping one of my favorite online clothing retailers – OMIGHTY! If you're looking for festival wear that'll turn heads and pay homage to the 90s (use of WordArt on this t-shirt is prevalent), take a page from Nick's book and visit O-MIGHTY.COM for some last-minute Chella gear. My favorite item on the site right now? A hilarious black halter top that reads: "Drake would never treat me like this!" #STORYOFMYLIFE
3. Show up color coordinated with your festie bestie!
While taking a break at the festival entrance, I crossed paths with these two lovelies from Arizona. Nay (left) chose a rainbow crochet dress that complemented her rose locks perfectly, while Erica was stunning with a pair of heart-shaped shades and a powder-blue maxi dress. This twosome definitely brought some of the brightest color out there to the festival grounds and I couldn't have been happier to take their photo.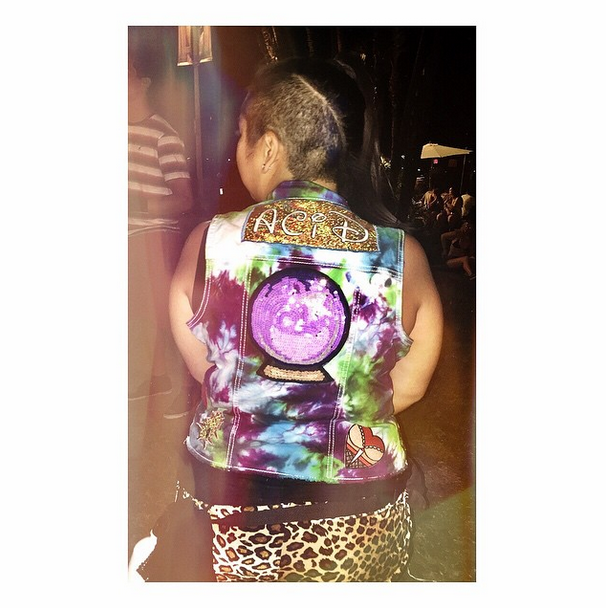 4. Go DIY with a customized denim vest
Fellow festivalgoer Serena is about that emoji fashion life like I am and I loved it! This homemade tie-dye vest wasn't only super badass but it also commemorates one of my favorite emojis on the keyboard – the crystal ball! If you can find a way to include homemade pieces into your Coachella closet then I definitely see stylish times in your future. I loved her look so much that I'm ordering my very own customized vest from Serena to come very soon featuring my favorite emoji. If you want to learn how to order your own, tweet me (scroll down to find my handle) and I'll let you know how to get in touch with this talented DIY queen.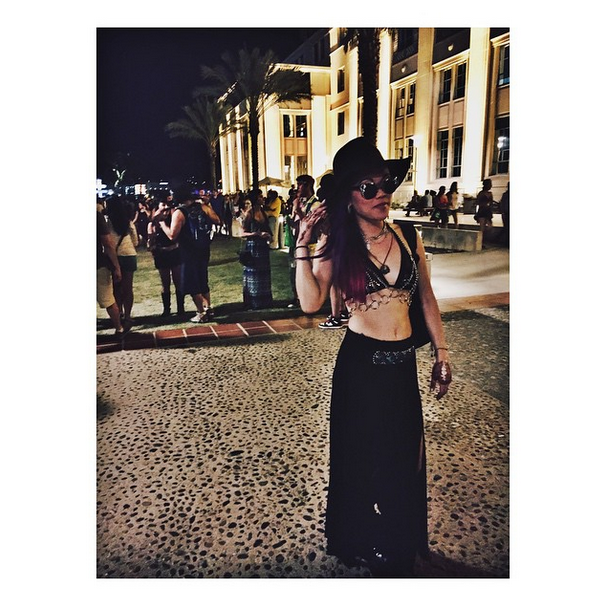 5. Slay in black from head to toe
Adrienne, boss lady of ravewear favorite Little Black Diamond was slaying it in the CRSSD fest crowd in all black everything. Her massive shades and hat paired with a chain link bra top were refreshingly edgy choices I was happy to see in the middle of so many beach-inspired neons and pastels. If you're looking for Coachella-ready pieces, peep her online store – my next purchase will be the alien emoji crop tank.
What are you wearing to Coachella? Let me know in the comments!
For more beyond perf CRSSD festival street style, follow Marisa on Twitter and Instagram below.