In Futuro, John Digweed curates 25 genre-redefining tracks from the scene's most talented producers.
---
UK legend John Digweed continues to be a driving force in shaping the sound and direction of electronic music. His shape-shifting discography has been known to challenge the limitations of the genre, with each experimental sound commanding the scene's attention and helping build his dedicated fan base.
Through his popular radio show, Transitions, and his own Bedrock Records imprint (launched in 1999), the 56-year-old producer has championed talented producers like Henry Saiz, Steve Lawler, and Guy J. Now, the music titan is shifting the electronic landscape again with the release of his latest compilation album, Futuro.
In a project that took over a year to complete, John Digweed has curated an all-star cast of producers in a carefully crafted, nearly three-hour mix split into two parts. He starts the album with "FuturaScent (Intro Mix)," a track that creates an underwater atmosphere that morphs as it goes through different genres such as techno and progressive. It's co-produced with his longtime collaborator Nick Muir.
Next is LA-based producer DAVI's "Forbidden City," a noir track that features an upbeat groove with cinematic soundscapes and haunting pads. Then, UK artist Four Candles takes house music to a different dimension. His song "Don't Talk About" is filled with punchy synths and a circling atmosphere, crafting a buildup that sounds like he's melting notes in a furnace and conjuring an eerie sound that pushes the range of electronic music.
"Diridim" starts off as a classic house track. n the middle of the song, however, David Morales brilliantly crafts an orchestral section that eventually blends both electronic and classical instruments, leading to a vivid score meant to be heard through cinema speakers. "Revenge of Symphony" by Raxon is a new wave-driven track that contains fleeting effects and chopped vocals. Meanwhile, Martin HERRS, Aliot, and Bunbeck deliver a tranquil anthem filled with uplifting synths and transient vocals that make you want to drift away on "Tarantula."
The project also features two dance favorites, Spencer Brown and Mat Zo, partnering up on "Spun Day," a record layered with tribal drums, swirling synths, and futuristic textures. It's sure to be a dancefloor favorite. Oniris' "Isla" also highlights tribal percussions with icy strings and shiny pads, eventually weaving in a forceful bassline that increases the song's already energetic feel.
"Bleu Cobalt" — one of the album's lead singles produced by John Digweed, Nick Muir, and Captain Mustache — is a record that seems to glow with neon light. It's defined by a driving bassline, fleeting percussion, and hints of '80s synthwave.
Closing the 25-track collection, John Digweed revisits themes from the album's first song. This time, however he and Nick Muir fuse a subtle drum-and-bass twist to the already genre-bending number, calling it "FuturaScent (Breaks Mix)."
Give Futuro a spin on Spotify or your preferred platform, and follow John Digweed on social media to stay in the know on his future releases and shows!
Stream John Digweed – Futuro on Spotify:
---
---
John Digweed – Futuro – Tracklist:
CD1
John Digweed & Nick Muir – FuturaScent Intro
Carerra & Tavares – Mind
Davi – Forbidden City
Lost Desert – Floatish Ft. Felix Raphael
Of Norway – I Miss You
Mariano Mellino, Lopezhouse & Folgar – Tarantula
David Morales – DIRIDIM
Jamie Stevens & Zankee Gulati – Low Tide
Moshic – Love Made Me Do It
Bushwacka – Lectrobee – Electro Mix
Four Candles – Don't Talk About
Raxon – Revenge of Symphony
Ruede Hagelstein & Die Zwoelfe – The Rock
CD2
Martin HERRS, Aliot & Bunbeck – The Last Call
Sasha Carassi – Nexus 6
Spencer Brown & Mat Zo – Spun Day
Rodriguez Jr. – Alraegadir
Oniris – Isla
8Kays – Waves
Weska – Hawkins
John Digweed, Nick Muir, Captain Mustache – Bleu Cobalt
Marco Bailey – Traum
Aubrey Fry – Begone
Madben – That Ending Track
John Digweed & Nick Muir – FuturaScent Breaks Mix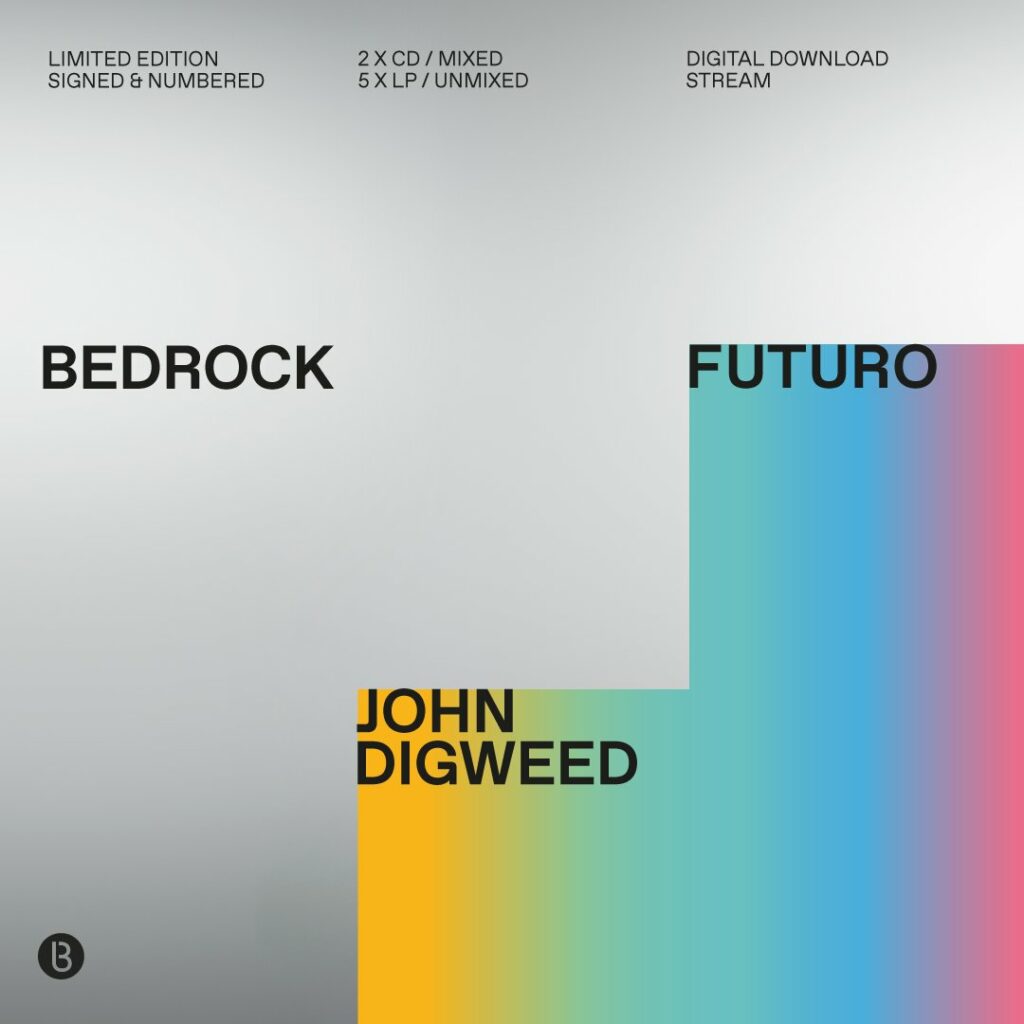 ---
Follow John Digweed: