French house maestro Tony Romera stopped by to chat about his latest release, "House Y'all," which is out now on Toolroom Records!
---
Tony Romera is a powerhouse producer who has taken the world by storm with his countless infectious releases. From his earliest productions in 2010, like "The Power Of Life" and "Rony," to his acclaimed debut album Introspection, he has remained vigilant in his work ethic while always pushing the boundaries of his own sound.
This steadfast grind has allowed the French producer to take the stage at the world's largest festivals, including EDC Las Vegas, Tomorrowland, Lollapalooza Paris, and tour alongside artists like DJ Snake, Malaa, and more. In addition to these high-caliber performances, Tony Romera has also released music on some of electronic dance music's most renowned labels like mau5trap, Armada Music, Monstercat, Black Book Records, and Toolroom, among others.
With his latest release, Tony Romera returns to Toolroom with yet another dance-floor-ready tech house track titled "House Y'all." The track begins with a classic tech house four-to-the-floor beat before being joined by a deep bass line and eerie synth plucks. The heavy-hitting track crescendos into an undeniably groovy drop with accompanying vocals that invite listeners to lean into those staple house music vibes. Midway through the track, the stuttered vocals breathe a fresh variation into the production, putting an exclamation on what is sure to inject a second wind of energy into any late-night party.
In the wake of Tony Romera's latest release, we were ecstatic to be able to chat with him about working with Toolroom, the track's origin, and future plans for Tony Romera. Listen to "House Y'all" and read on for the full conversation.
Stream Tony Romera – House Y'all on YouTube:
---
Hi Tony Romera! Thank you for taking the time to answer our questions in support of your newest release, "House Y'all," which is out now on Toolroom Records. What is it about Toolroom that has drawn you back to the label for multiple releases?
I've been a big Toolroom fan for many, many years. I think I discovered the label in 2008 or 2009, and since then, I've played a lot of music from Toolroom in my sets. Mark [Knight] is a legend, so it's an honor for me to have released a bunch of music on the label!
"House Y'all" has a classic tech house groove alongside a deep creeping bassline and familiar vocals. Does producing a tech house track require you tap into a different creative part of your brain?
Thank you! Producing a tech house track is all about the feeling and the groove. I usually go with the flow without thinking too much. I love to pick an element that will be the main element and then build the track around it, adding drums, bassline, and then structure, etc.
Your recent releases have spanned the vast range of house music. "Bohéme" is a stand-out track as it has a Bohemian swing to it. I learned it means "A person with artistic or literary interests who disregards conventional standards of behavior." How much did the definition of the wordplay affect the production of the track?
I'm happy you asked this! When I was doing some introspection recently, I realized I was thinking pretty differently. I hate doing conventional stuff, music-wise or even in my personal life. So, I guess this track reflects my personality.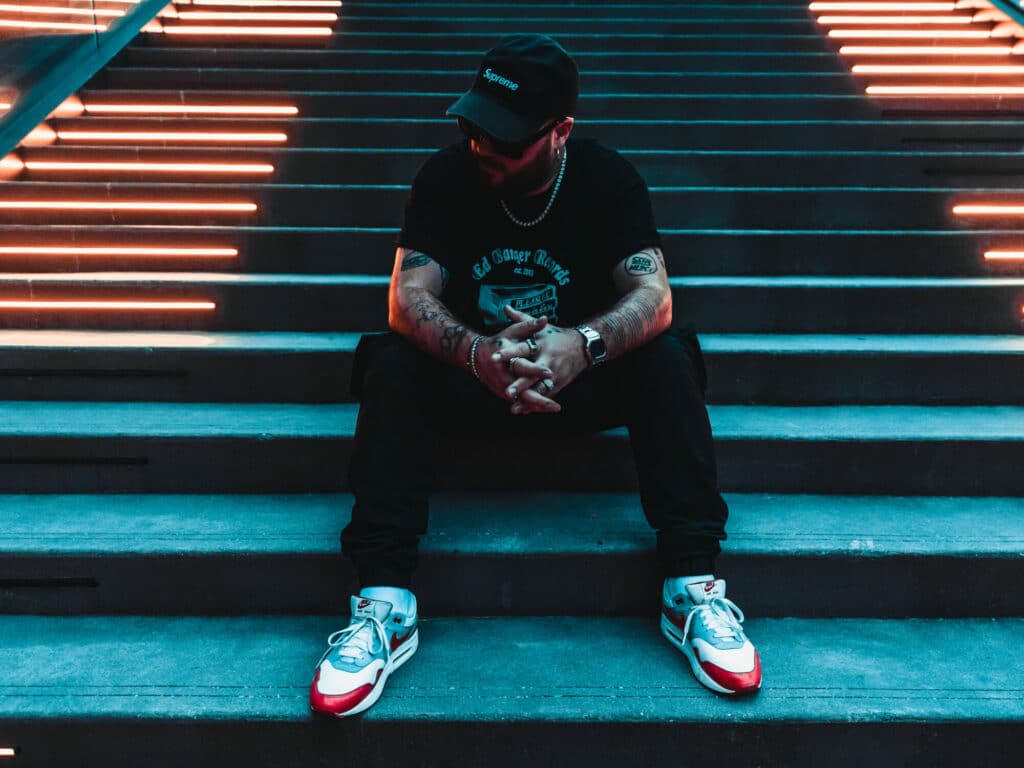 You also recently released "Epilogue," which has been one of my favorite tracks this year as I've been leaning more into the melodic and feelsy vibes. What was your intention in producing this track?
Thank you so much! Really glad you love this one! At the time I produced this one, I was alone in Mexico to do a 15-day quarantine to be able to enter the US for a two-month tour. COVID was still a thing, and I was away from my family, friends, and girlfriend, who was pregnant and going back and forth every day at the urgent care. So, it was a really stressful, sad, and nostalgic moment in my life. But at the same time, I was going back on tour after stopping for a while due to the pandemic. So, it was kind of an internal conflict between being super happy and being super sad. And I think we can really feel these feelings in this song.
I was really touched by your documentary 1000 Mercis, where you played in your hometown of Lyon at Ninkasi. It's a beautiful documentary created for your debut album. When you watch it back, is there a specific moment or memory from the evening that elates you?
To be honest, this whole party was such a crazy night. All my loved ones were here, and the venue was sold out. We had some sick visuals reflecting the story of my personal and professional life. It was legendary, and I'm really happy that my friend Georges Lg did this documentary. He's so talented!
Looking forward to the future of Tony Romera, is there any news you can divulge to fans to stoke their excitement for the rest of 2023?
Yeah! I have a lot of new releases coming up: something on Sosa's Coco, another one on Sonny Fodera's Solotoko, and more releases in 2024 with Toolroom, Black Book, and more! I am also going to make some changes to my label, SANS MERCI. We're doing a pause right now but coming back really soon with some super sick things…
---
Follow Tony Romera:
Facebook | Twitter | Instagram | SoundCloud | YouTube