DEATH CODE uncovers his signature sound on his debut EP, BEYOND CIPHER, landing on Theracords Labs.
---
Nearly two years ago, DEATH CODE retired his previous alias and began his latest venture in the world of hard dance. Despite being a respected name within the scene, he took a leap of faith with the new moniker — one that proved to be an integral step in his journey as an artist. This seasoned veteran has stunned the scene locally and worldwide through jaw-dropping releases on Gearbox Digital and Scantraxx while also highlighting his undeniable talent on big stages like at Basscon Wasteland.
This year alone has been massive for DEATH CODE with bookings all over the world while adding to his long list of accolades by joining Theracords Labs. With this huge stamp of approval from the European scene, it's clear that DEATH CODE's rise has only just begun. It's best to get familiar with this artist sooner rather than later.
Today, the producer is unveiling his first-ever EP under the DEATH CODE name, BEYOND CIPHER. Landing on Theracords Labs, this body of work is a peek into his mind and where he plans to take his listeners in the future. Consisting of four high-quality records, BEYOND CIPHER takes listeners on an energetic experience that delivers epic highs, electrifying melodies, and a dose of raw hardstyle for the thrill-seekers.
Make sure to stream BEYOND CIPHER on Spotify or your preferred platform and read on for a deeper look at each track.
Stream DEATH CODE – BEYOND CIPHER on Spotify:
---
BEYOND CIPHER begins with "Love Stolen," a red-hot collaboration with one of Mexico's standout producers, Equalizer.
This record marks the first time these two artists meet for a collaboration, and it's everything you'd expect and more. g the shep's vocals open the record, creating a warm atmosphere despite the lyrics depicting a negative story about heartbreak. The intense emotions evoked in the introduction prepare the listener for the madness to come in the drops. While they're arguably the highlight of this track, the melody in between truly steals the show as it gives listeners a glimpse of Hard Dance Heaven.
The next track should be familiar to fans as it was previously released under Theracords Labs, but it deserved to shine as part of a cohesive project on BEYOND CIPHER. "Runaway" instills intense emotion with an electrifying melody preceding an aggressive drop that pushes the boundaries of reverse bass with a rawstyle switch in the middle. The melody provides a sense of hope, but it's quickly taken away at the next drop as DEATH CODE tests the limits of listeners' endurance with some destructive zaagkicks.
DEATH CODE enlists the help of Devin Barrus for "Echoes."
Unlike the other tracks, this one takes listeners on a redemption arc with uplifting vocals and a melody that complements the pleasant atmosphere. Of course, this redemption comes with some bumps in the road, as the first drop teases a melodic drop before an unexpected switch to extremely distorted, raw kick drums. Luckily, the second drop finally provides the sweet, melodic drop that listeners have desperately chased throughout this EP. Ultimately, this record turned out to be my favorite because of the encouraging vocals that target the most vulnerable parts of my being.
g the shep returns on the vocals for the final track, "Fading." This EP had to end with a bang, and this record perfectly executed this goal as it's the clearest example of DEATH CODE's signature metal and hard dance hybrid style. As BEYOND CIPHER comes to a close, it's clear that this project establishes his identity as a producer — one he's been chasing throughout his entire career. While great in its own right, everything that came before doesn't compare to what the future will bring in terms of music and his brand. Strap in and stay tuned into the frequencies of DEATH CODE.
---
DEATH CODE – BEYOND CIPHER – Tracklist:
Love Stolen (with Equalizer and g the shep)
Runaway
Echoes (feat. Devin Barrus)
Fading (feat. g the shep)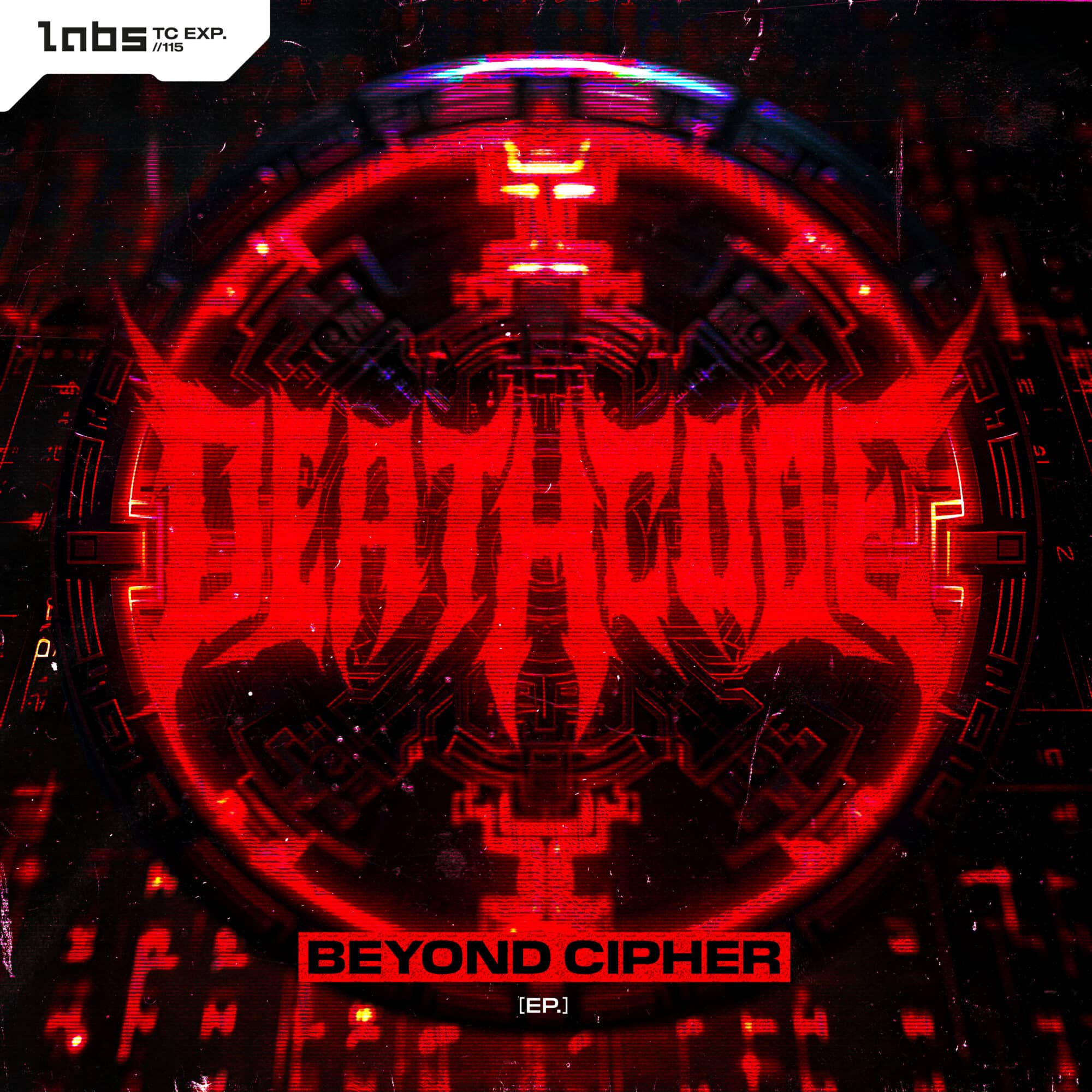 ---
Follow DEATH CODE:
Facebook | Twitter | Instagram | SoundCloud | Spotify