CRSSD Festival Fall proved to be another success as house and techno fans converged in San Diego.
---
FNGRS CRSSD surely knows how to throw a party. Whether you're at events like DAY MVS XL or PROPER NYE/NYD, among others, you're bound to have a solid time. CRSSD Festival is no exception. With spring and fall editions and tickets consistently selling out in record time, the festival has become a haven to which house and techno fans have eagerly returned every time since its inception in 2015.
This year's edition of CRSSD Festival Fall was one of the best ones yet as it graced Waterfront Park on September 23-24. Heavy hitters like Amelie Lens, Charlotte de Witte, Enrico Sangiuliano, Cassian, and Boys Noize caught my eye, and I knew I had to attend. The venue itself is also always a major draw for fans. The San Diego skyline, palm trees, and bay breeze make it a recipe for success.
Arriving at the festival was fairly seamless. In no time, I was dancing along to the sounds of CRSSD.
Security lines tend to run fairly short for CRSSD. There is an option to purchase an expedited entry add-on, but you could honestly go without it and still get inside relatively quickly if you arrive in the early to mid-afternoon. One thing to note is that there is no dedicated parking for CRSSD, but there are a plethora of unofficial lots and some street parking nearby. You can also call a rideshare or take public transportation.
After a frictionless entry into the festival, I was ready to kick off day one with HAAi at the City Steps stage. This artist was a pleasant surprise. She was not on my list of people to catch, and I was happy to stumble upon her dynamic, techno-fueled set. I later wandered over to Todd Terje at The Palms stage and arrived just as he was dropping FISHER and Aatig's "TAKE IT OFF," which seemed to be a crowd favorite throughout the weekend.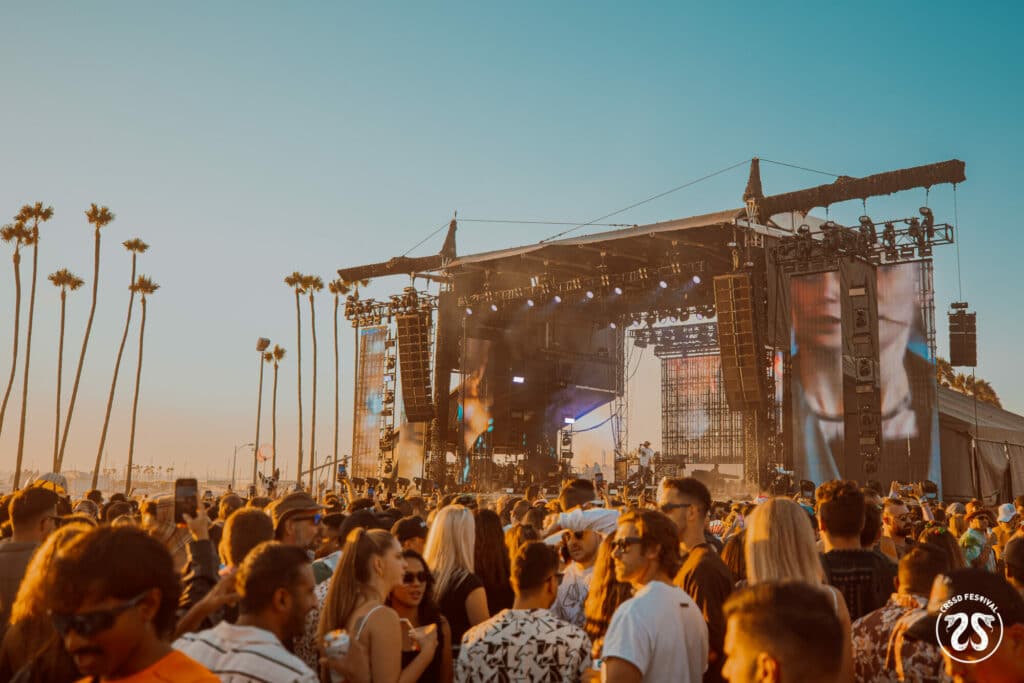 Next up on my lineup: A much-needed trip to the water station.
CRSSD allows "empty Nalgene-style bottles 24oz and under" into the festival, which comes in clutch when you need to fill up at the free water stations. My empty plastic water bottle did the trick, though, and I was happy to quench my thirst without paying a penny. Bottled water is also available for purchase at all of the bars located throughout the venue.
CRSSD has become known for their wide array of food and drinks available at the festival. Attendees could enjoy food options like tacos, burritos, açaí bowls, hibachi plates, dumplings, grilled cheese, street kabobs, and more across the 13 vendors, including vegan and vegetarian options. Fan favorite Spicy Pie is always a good choice for more affordable yet still delectable grub.
If you're looking for drinks, CRSSD has got you more than covered with plenty of options and bars located around the venue, along with non-alcoholic sips as well. Just be prepared to pay typical festival drink prices. My White Claw was $18, and I believe cocktails ran around the same price.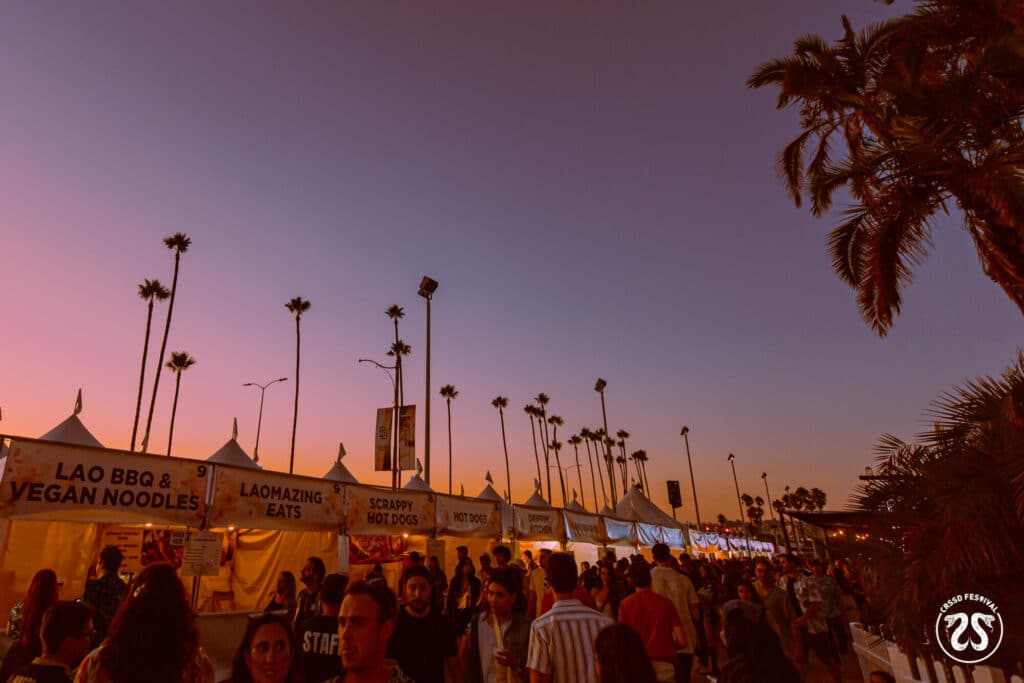 Will Clarke and DJ Minx went back-to-back for an enjoyable set, but it was Farrago who really took the cake.
Farrago slammed the crowd with a heavy dose of hard techno and hardstyle, making this my number-one performance of Saturday as tracks like Hardwell and Sub Zero Project's "Judgement Day" erupted through the speakers. I took a break from City Steps to meet up with a friend at The Palms for Chris Stussy and, later, Interplanetary Criminal. While Stussy was a vibe, I was left wanting more with Interplanetary Criminal, although I did enjoy hearing his and Eliza Rose's "B.O.T.A. (Baddest Of Them All)" live.
Walking around for a bit, I caught the likes of Berlin techno duo FJAAK, techno queen Amelie Lens, and scene mainstays Underworld at the Ocean View stage before returning to The Palms for Chris Lake B2B Cloonee. The majority of festival attendees flocked to their performance as crowds overflowed well past the shade structures of The Palms. This special back-to-back set would have been better suited for Ocean View. The pair of producers still threw down and dosed the crowd with dance-ready house music to close out night one.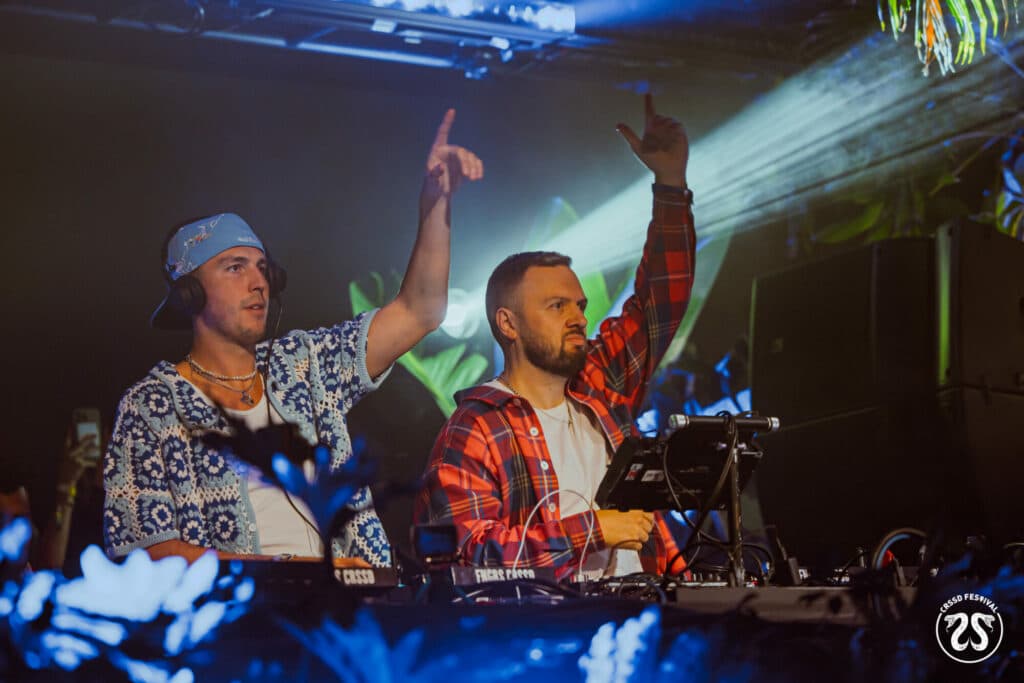 Returning for day two, I was bursting to catch some of my favorite artists on the lineup.
Cassian's progressive beats enchanted the crowd at City Steps, as many people showed up early to catch his set. "Great Southern Land" remained on replay in my head as he exited the stage, and I made my way to Ocean View to see a bit of Ben Böhmer's live, laid-back performance.
After trekking across Waterfront Park to witness Boys Noize at The Palms, I navigated through the crowd where the famous fountains normally would have been on full display. While their absence allowed for more space, I did miss seeing people dancing and splashing in the iconic waterworks for which CRSSD is known. I don't know exactly why they were turned off this time, but I really do hope they return for the next edition.
As FISHER hopped on the decks next, I ended up with a prime spot in the middle of the crowd. The energy was palpable here, with a sea of people surrounding The Palms once again to take in one of the scene's most prominent acts. Fans enjoyed dancing along to releases like "Atmosphere" with Kita Alexander, "It's A Killa" with Shermanology, and, of course, "Losing It." I was also thrilled to hear Anyma's remix of Lana Del Rey's "Say Yes To Heaven" as FISHER mixed progressive into his tracklist. While I didn't plan on staying for the entire set, it was almost impossible to get out with so many people there. I didn't mind staying, either, as I was enjoying my time.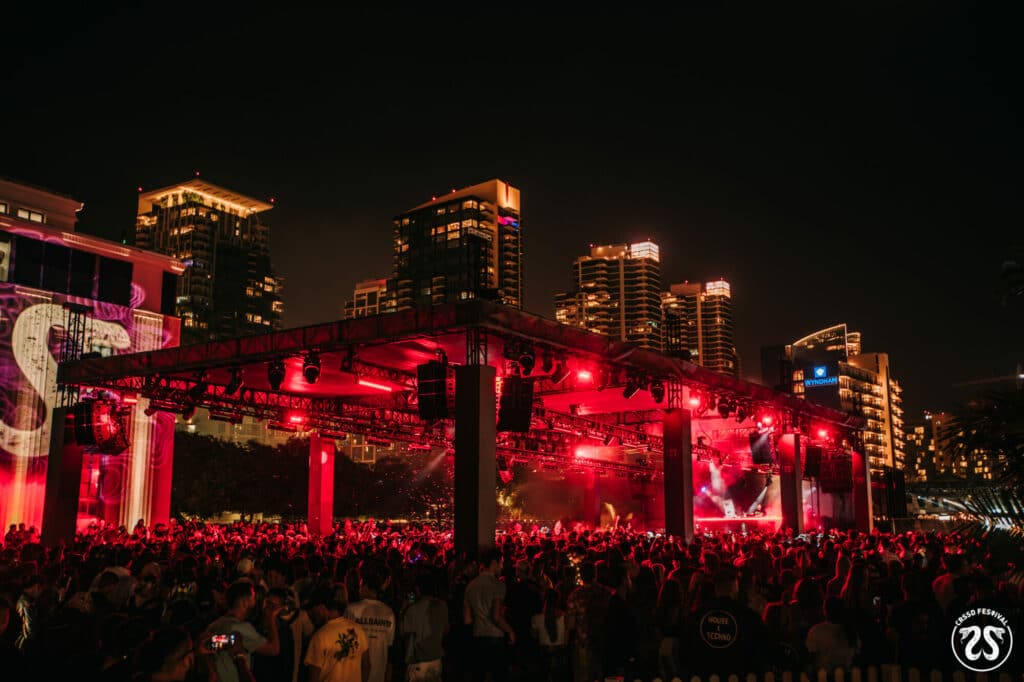 Techno reigned supreme as CRSSD wrapped up the festivities on night two.
I chose to end my weekend at CRSSD at City Steps for Enrico Sangiuliano and Charlotte de Witte. Techno was much needed to balance out all the house I had just heard, and I was not disappointed from their sets. I pounded my fist in the air to the likes of Sangiuliano's "Physical Change" and de Witte's "Overdrive." Seeing these two was the perfect way to round out another successful edition of CRSSD. I could not have left on a higher note.
CRSSD Festival Fall 2023 was one of the best ones to date. I had been itching for another festival full of my favorite genres, and FNGRS CRSSD delivered what they set out to do. House, techno, and the ideal backdrop of San Diego blend together for a festival set apart from the rest. If you've been wanting to check out this boutique gathering, take this as your sign to do it. You'll be glad you did.
---
Follow CRSSD Festival:
Website | Facebook | Twitter | Instagram | SoundCloud | YouTube