DAY MVS XL was a fun weekend under the San Diego sun for all who attended, featuring a stacked lineup of prominent house and techno artists.
---
Returning for its second-ever edition, FNGRS CRSSD brought DAY MVS XL back to San Diego's Waterfront Park August 6-7 for a weekend full of good vibes and plenty of dancing. With a venue as beautiful as Waterfront Park, situated right alongside SD's harbor, you're guaranteed to have a good time swaying along to the bay breeze and dope beats of the festival. The summer heat was out to play, but that surely didn't stop the weekend's attendees, nor myself, as I made my way to Downtown San Diego for my second DAY MVS XL.
Having attended the first edition of DAY MVS XL in 2021, I knew what to expect from this festival, similar to its popular CRSSD Festival counterpart. DAY MVS XL features two stages instead of CRSSD's three, but that doesn't mean the festival is any less than stellar. There are still plenty of people flocking to the show the whole weekend, and the lineup always boats big names to reel you in. This year's roster featured the likes of Purple Disco Machine, Eric Prydz, Duke Dumont, Vintage Culture, ANNA, VNSSA, Chris Lorenzo, and more artists laying down beats on the decks.
Getting into the festival was seamless, although there were some complaints about security.
While there are no official parking lots for DAY MVS XL, I was luckily able to find street parking just a few blocks away, and there are other paid lots close by the show as well. The walk to the venue was pretty quick, and it didn't take too long for me to arrive at the ID check. I was met with a short line at security right after, and while it was a quick check for me, plenty of my friends who arrived earlier reported being patted down excessively and very invasively, too. I, fortunately, did not encounter this, but I was bummed for my friends who felt uncomfortable after this experience.
Upon entering the festival, I checked out the Southside stage briefly, catching the end of Spektre leading into Nastia b2b Stef Mendesidis. The first thing I noticed was the removal of the typical shade structures at the venue. This much-needed shade provides necessary protection and relief from the heat and adds to the stage's immersive experience, especially at night. Whoever decided not to have those this year, along with removing a majority of other shaded areas at the festival (like over the picnic tables near Northside stage), made the wrong choice.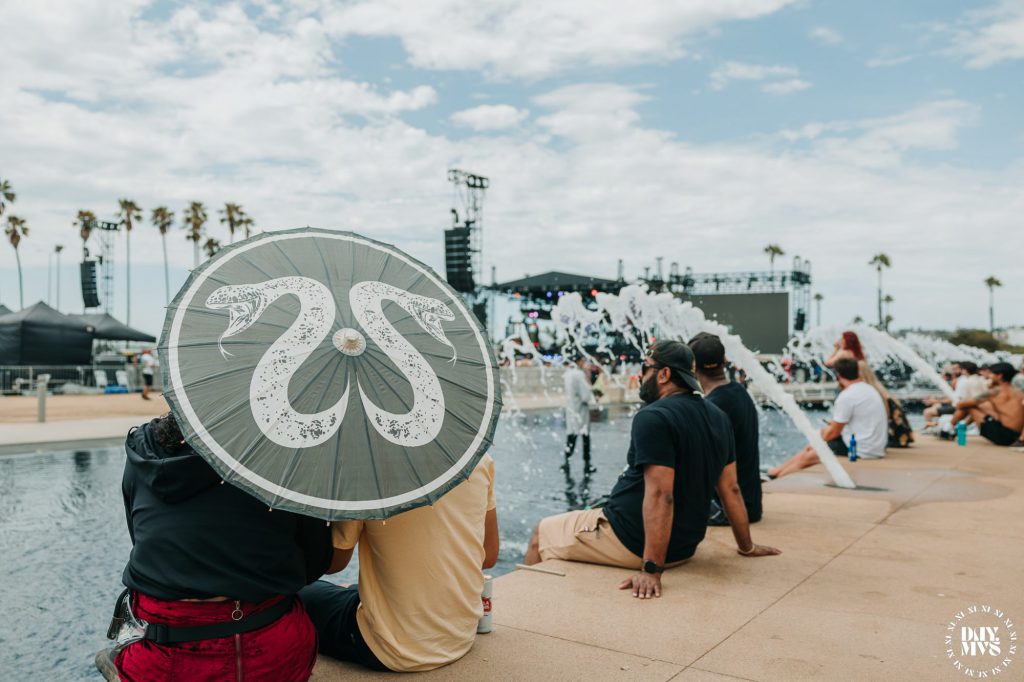 Purple Disco Machine and Vintage Culture played groovy, dance-ready beats while leading us into Saturday's sunset.
After seeing Purple Disco Machine and all the best vibes he brought to the table at CRSSD Festival in March 2020, I was more than excited to catch him again on Saturday at Waterfront Park. I made it to the Northside stage at the beginning of his set and grooved away for the next 90 minutes. He played classics like "Hypnotized" with Sophie and the Giants and even the iconic "Funkytown" by Lipps Inc..
Vintage Culture took the stage next as I moved to a better location in the crowd. His set was my favorite of the whole weekend, and I loved hearing tracks like "Free" with Fancy Inc and Roland Clark play us into the sunset. Vintage Culture's dark progressive beats took the crowd on a journey, and he was a real treat to anyone who caught his set. Fresh off a plane from Germany and playing in Vegas that same night along with a festival in Croatia shortly after, it always amazes me how artists have the stamina to fly all around the world and still have the utmost energy to bring to their performances.
Water, food, and drinks were accessible from anywhere inside the festival.
I caught a bit of Duke Dumont after, who opened with "Red Light Green Light" with Shaun Ross. His sets are always fun, but I had to leave the crowd to refill on water and take a breather. The water stations were in the middle of the festival grounds, providing easy access for attendees to walk over and fill up. There were plenty of self-serve stations, and there was never a wait, although the water could sometimes be somewhat warm. Food and drinks were also easily accessible, with two main bars near the festival's center and food and drink stands near the stages.
After sitting at a picnic table for a bit, I headed to the Southside stage for a dose of harder beats. ANNA was playing, taking us all on a spiritual ride through techno. She had Waterfront Park vibrating to her beats, and I couldn't help but pump my fist in the air. A sea of people were entranced by her sounds, with some shufflers showing off major talent. With the Star of India lit up right next to the stage, the evening was perfectly set for a vibe unlike any other and left me looking forward to the next day.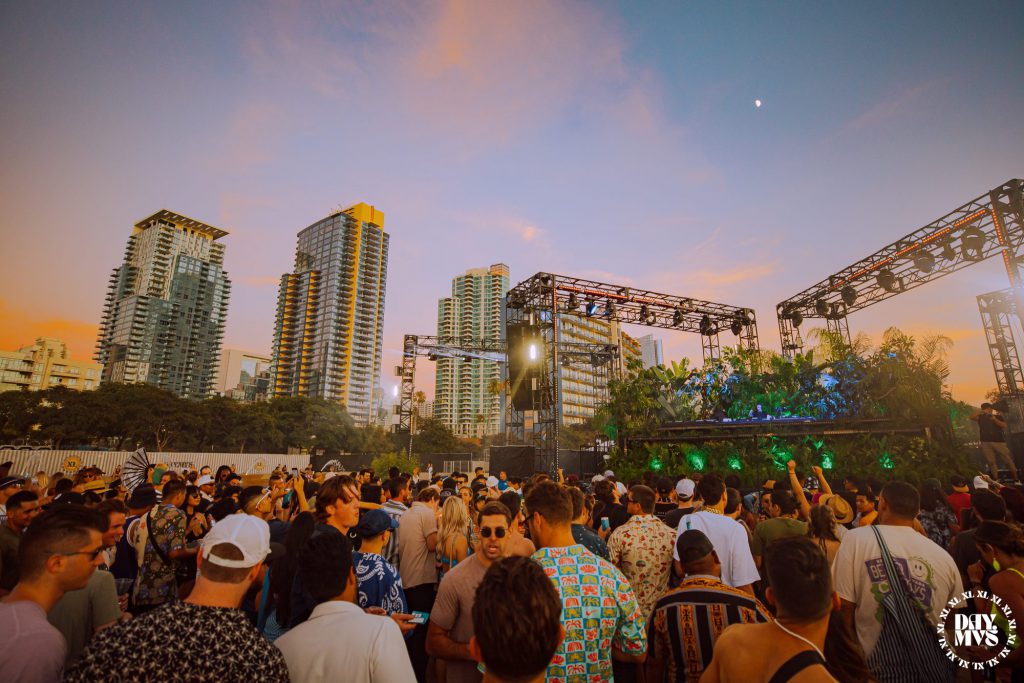 Due to the heat and lack of shade, I opted to arrive later in the day for the final day of DAY MVS XL.
A sunset set from Claptone was unsuspectingly a highlight of Sunday. I had only seen this mysterious, masked producer once before, but his chill beats and carefully-curated set blew me away. With the sun setting next to my position at the infamous water fountains, the vibes were truly immaculate as I splashed in the water with my friends.
Next was the artist I was most excited to see that day — Eric Prydz. His set was a vibe he surely crafted just for DAY MVS XL; I not only enjoyed listening to his music but also watching the crowd pulsate, becoming hypnotized by him. What amazes me is how he can play a completely different set every time I see him. His set was more upbeat and ethereal than some previous sets I've seen, but he did have his dark techno moments, making it the perfect finale to a weekend full of fun.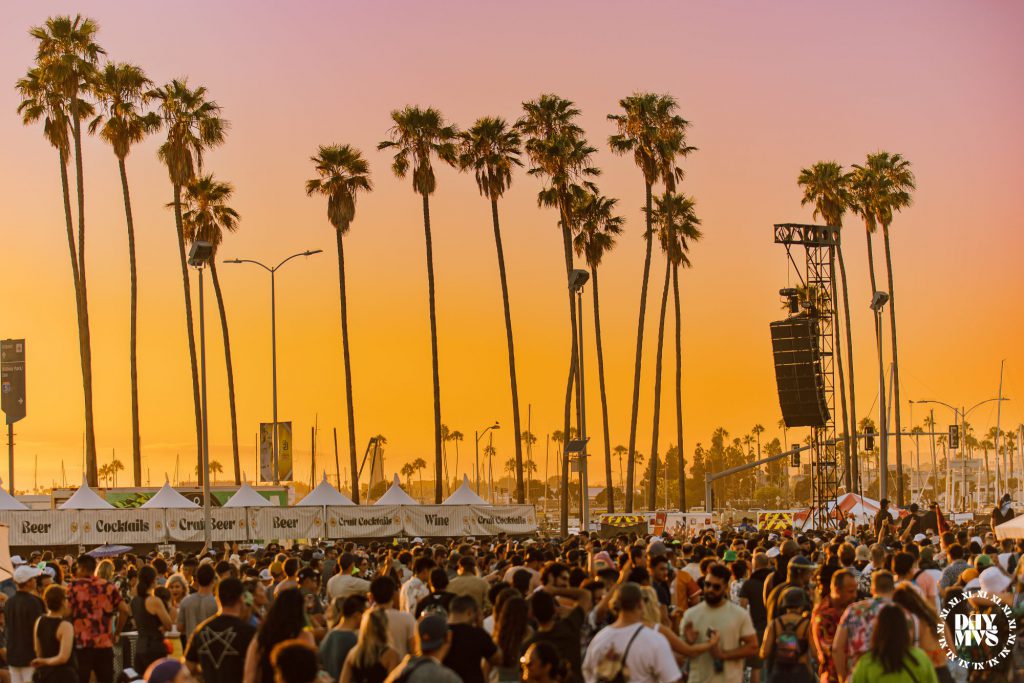 Overall, DAY MVS XL was a hit, but improvements can always be made.
The festival succeeded in bringing some of the best house and techno producers in the scene, along with rising artists, to San Diego for a fantastic weekend. Few other venues in the city can beat the ocean breeze and palm trees of Waterfront Park, and it's always an epic backdrop to FNGRS CRSSD events. The two stages are located far enough apart where there is no sound bleed, and it also helps with crowds when navigating the venue instead of having a third one.
That being said, removing the shade structures was a downer, and hopefully, they will return in the future. Not only were festival-goers not keeping cool, but the design of Southside itself wasn't as immersive as last year. This removal included the shade and picnic tables toward Northside as well, with ample shade structures being replaced with smaller umbrellas instead. There weren't too many places to sit comfortably in front of Northside or keep cool at the festival itself this year while also listening to the music. Hopefully, this changes next year.
Still, DAY MVS XL is a festival worth attending, along with CRSSD Festival coming up this fall and next spring. Regardless of the lineup, these festivals always provide a unique experience that's hard to match in other places in the country than San Diego's waterfront. Whether you're a house head or techno lover, you'll surely love the music and vibes that DAY MVS XL brings to the table.
---
Follow FNGRS CRSSD on Social Media:
Website | Facebook | Twitter | Instagram | SoundCloud | YouTube