Rome in Silver showcases his years of musical expertise within the tracks found on his debut album, Dragonfly.
---
Los Angeles producer Rome in Silver has been making a name for himself with hard work and dedication over the years, and his efforts are being noticed. Since his remix of the classic Flume track "Ezra," many eyes have been on the artist. Several tastemaking labels have snagged up notable releases, including bitbird, Deadbeats, Monstercat, and Thrive, to name a few.
Rome in Silver boasts a wealth of knowledge overflowing from life experience and is ready to share the wisdom. Everyone is in a different stage in life, and it's always nice to have a guide when all seems lost. Happy to offer the helping hand his listeners need, Rome in Silver has laid out a path to reach new beginnings with his debut album, Dragonfly.
Giving the world a window into just how diverse Rome in Silver can genuinely be, Dragonfly plays with many genres. All the while, the artist effortlessly makes the multi-genre spread flow cohesively during the entire album runtime. Listeners will find the answers they have been searching for. All they have to do is be brave enough to face the truth once Rome in Silver lays it out in musical form.
Listen to Rome In Silver's latest masterpiece on your favorite platform and continue reading for a deeper dive into the tracks!
Stream Rome In Silver – Dragonfly on Spotify:
---
Begin your journey to enlightenment as the first tracks of Dragonfly tug at your emotions.
Initiating the inner monologue, "Waiting…" has the power to make anyone dive into self-reflection. This song represents the feeling one has when realizing that the place they once called home no longer serves them. Break free of the chains of your past with the uplifting melody to reassure you of your strength.
"Diamond" and "Cicero" follow suit with positive affirmations wrapped into sonic sound waves. Each track does an excellent job of boosting the listener with catchy rhythms, all while providing a soul cleanse with the lightness of the messages they bear.
Touching on the harsher side of existence, "I Don't Wanna Be Here" expels lyrics that most have felt a handful of times within their lifespan. The crushing mental game one can have within oneself when feeling unwanted or outcasted bleeds through each word spoken. "Keep The Lights On" enlists Beach Season to show that life always has balance. This happy, jiggy beat will cause a rush of electricity to surge from your head to your toes as you sway side to side.
You're now halfway through your transformation through sound, but many lessons still eagerly await you.
"Return of Love," "Touch," and "cloud9high" are the perfect combinations to spark passion within your heart. Although they all have their own sparkle of individuality, one thing these tracks all graze on is the subject that makes hearts go pitter-patter: the moment you find a soul that connects with your own. Flipping on the spicy switch, "Inferno" is here to get bodies moving with each drum-filled segment present. Transport to a late-night speakeasy rave with this house energy-packed soundscape.
Keeping dreams alive, "Better" reminds listeners that things won't always be gloomy. The vocals and nostalgic guitar riffs will put you in a mesmerized chokehold as they bandage any disbelief that might cross your mind. "Back2Basics" showcases the bass side of the artist's talent. Catch yourself getting down hard to the low end, and snares are present around every corner of this track.
Ending on a lighter note, "Apollo's Lantern" feels like a gentle massage for your brain. Angelic soundscapes abound as tasteful breaks push you along to the final destination of your long-awaited new beginning.
Dragonfly is a masterpiece through and through. In case you didn't know, the dragonfly represents going past self-created illusions that limit our growth and ability to change. It has been a symbol of happiness, new beginnings, and change for many centuries. Rome in Silver's album encapsulates the inspiring insect's significance perfectly.
---
Stream Rome in Silver – Dragonfly – Tracklist:
Waiting..
Diamond
Cicero
I Don't Wanna Be Here
Keep The Lights On ft. Beach Season
Return of Love
Inferno
Touch
cloud9high
Better
Back2Basics
Apollo's Lantern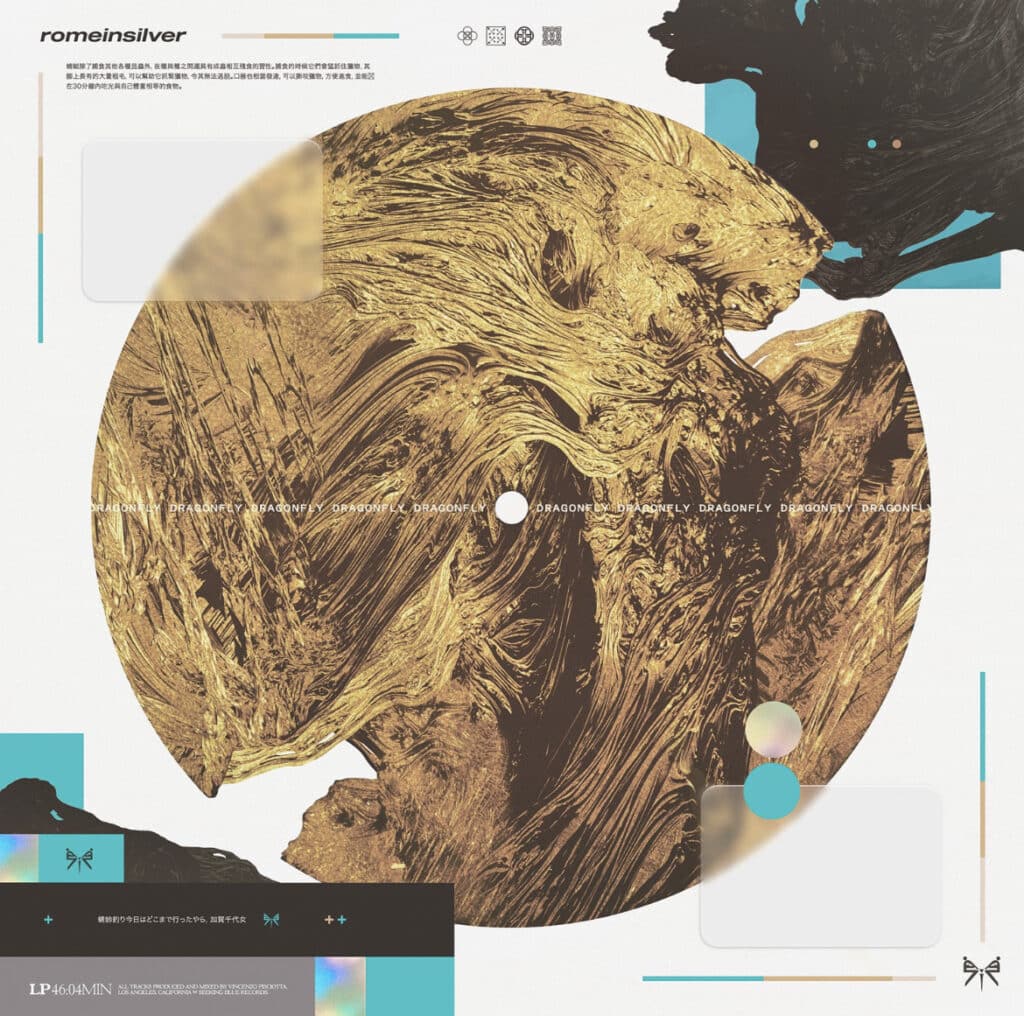 ---
Follow Rome in Silver:
Website | Facebook | Twitter | Instagram | SoundCloud | YouTube