New York-based artist Callie Reiff sat down with us before her sold-out show at Elsewhere in Brooklyn to chat about "Kiss Dance Sweat" and more.
---
If you haven't seen a Callie Reiff set before, then prepare to "Kiss Dance Sweat" all night long. Her latest release of the same title marks the beginning of a new era and hints at what's to come for the prodigy herself. The self-taught musician is ready to reveal to the world her true potential, and she's taken the first step by crossing off a huge milestone in her career, selling out her debut headline show right in her hometown.
Born and raised in New York City, Callie Reiff's career is rooted deep within the confines of the local dance music scene. Ever since she made history as the youngest DJ to perform at Webster Hall at age 15, she's dreamed of playing her own headline show. Fast forward to last month, her dreams came to fruition with what she considers the best night of her life. In our chat, she revealed she was nervous about no one coming, but quite the opposite was true. Though it was a Tuesday night, Elsewhere's Zone One Stage was jam-packed from front to back with her most dedicated fans.
Callie Reiff took the stage around 10pm, bringing a high stamina that soared from start to finish. Her energy-fueled set consisted of her originals, familiar house classics, and plenty of love for Skrillex. She pushed the sonic boundaries to their limit as she effortlessly blended her bass-heavy background with dynamic drops, vibrant hooks, and blood-pumping house beats fit for club enthusiasts alike.
Callie's performance gave fans a taste of her evolved sound and set a precedent for the next chapter of her musical journey. Give yourself a taste by listening to her latest single on Spotify, and continue reading below for our conversation.
Stream Callie Reiff – Kiss Dance Sweat on Spotify:
---
Hi Callie, thanks so much for chatting with us! We are here at Elsewhere in Brooklyn, and tonight, you will be playing her first-ever headline show. Given that you were born and raised in New York City, how does it feel to premiere your debut headline show right in your own backyard?
Definitely surreal. I started out as a DJ when I was learning at 12, then started to play at 15 at all these venues around New York opening for really cool artists. It was always a dream from that age to play my own show, call it a headline show, make it my show, and have people come for me. It's really weird, and I feel no one will come. Because it's a whole other feeling mentally where you think, "Are people gonna come?" There's no big name, essentially.
You are the big name! Playing a headline show is a huge milestone in your career, but what are some other milestones you hope to achieve in the near future?
Headlining other places in other areas and other cities around the world would be great. A tour would be awesome so that's definitely the next step in my head. Releasing more new music, getting it out there, and playing festival season next summer would be awesome. And continuing with my merch and incorporating fashion.
For those who haven't seen a Callie Reiff set before, what can they expect at your show?
Energy is the word I like to use. I constantly change the set, I really move a lot physically and with actual mixing, so it's just a fun party where you don't want to leave. After the set's done, you can breathe.
Switching gears, congrats on your latest release, "Kiss Dance Sweat," on Dim Mak Records! Let's dive into the track. How does it showcase the evolution of your sound thus far?
I started off very bass-heavy as a DJ at 15; I was DJing dubstep. Skrillex is the number one guy in my head always, so I just followed that wave. I love the crowd being so energetic and showing love and passion to headbang and go crazy. I wanted that feeling to go with my music, and I never really got there throughout the years. I always really loved vocals, so let me collaborate with vocalists and make really cool, pretty songs. Then I realized I wanted to stick to what I started with because it seemed to be working the most, and that's just the nitty-gritty of it. Cool, dark, grungy, energetic, bass-heavy – a house groove that makes you want to dance.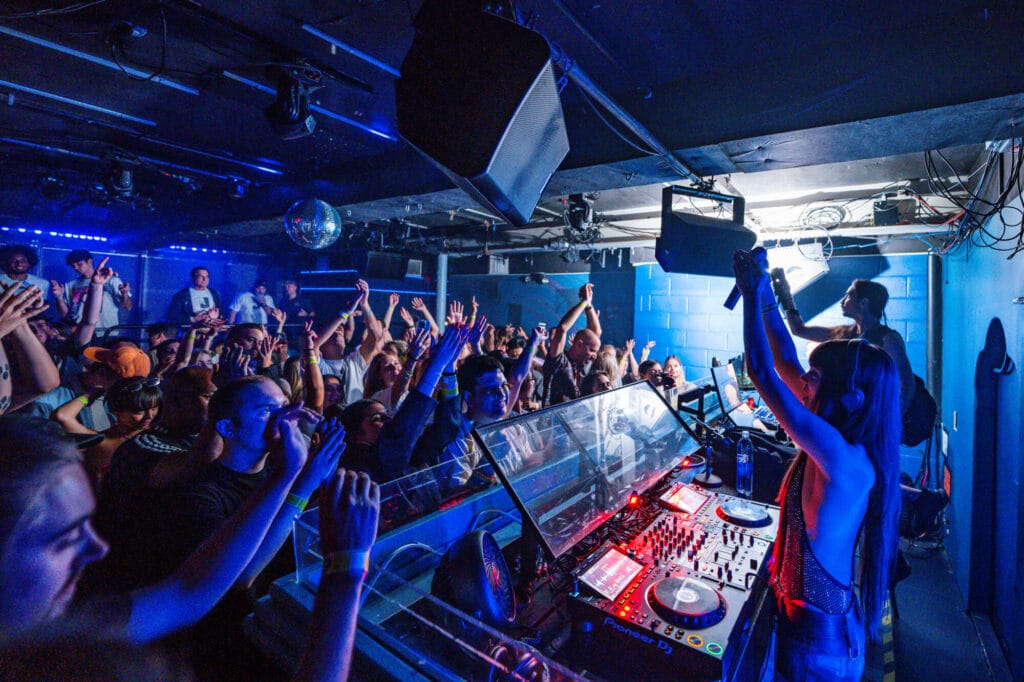 Can you walk us through the production process behind the track? How did you find the vocal sample, or is it someone you know? What did you learn along the process?
So, the vocal sample is me! Early in the year, I traveled a bit through Europe, and I realized I never really had the experience to be of age to go out, go with my friends, and party. But in a sense, to get knowledgeable on the music and what I want to play more, get more inspired, and feel what it feels like to be someone attending all the time and not be there to connect or not be there to speak to people. No one knows me in Amsterdam, so I would go to these clubs, and they would take away my phone and say, "No photos allowed." I always thought, "Wow, that's a great idea too." So it makes you expand; it expands all your ideas and thoughts when you do that.
One night, I was out in Brooklyn, and I thought, "Oh, I want to make one of those songs," you know, that's just energetic and fun. So I went on my voice notes and just said, "Kiss, dance, sweat." It just came to mind because I thought, what's catchy, what's fun, like, let's dance and let's kiss… I didn't know if it would stick. I just decided to work on it, and it came together in two hours, really, the overall demo. Then I made sure to just ride that wave where I created all the tunes around that main kiss dance, sweat theme.
Most of your other recent tracks were also released on Dim Mak Records, so what makes you feel Dim Mak is the perfect home for you and your music?
Steve Aoki, the founder and creator of Dim Mak, is very cool because he comes from the blog house era and the underground LA scene where he would throw these parties, get kids together, and play this music that people would maybe say was trashy or something. But it's really great music, and so the Yeah Yeah Yeahs and "Heads Will Roll" is a big example. A-Trak is a big influence as well. But the fact that Steve is from that time, he just gets it, and I think his label just gets it, and it just makes sense. It just works.
What's next for Callie Reiff? Are there any EPs or possibly an album on the horizon or other upcoming shows?
I'm definitely releasing more music, so a few more singles and an EP is coming soon; I don't know when, but soon. Keep your ears and eyes out. It will be based on "Kiss Dance Sweat," that sort of sound, so I'm excited. There should be more shows announced soon, and just continuing what I do.
Would you like to leave a message for your fans?
Thank you so much for tuning in, coming to my show, listening to my music, watching me grow, allowing me to take the time to progress naturally, and figuring out what I want to make and what I want to do. I'm very happy for those who have been sticking by my side for a long time. Some people are coming to the show who said they've seen me open seven years ago for someone, and I think that's really amazing and weird for me to process still. I'm very grateful, so thank you guys so much. Hopefully, you will like the new music and come to all the new shows!
---
Follow Callie Reiff:
Website | Facebook | Twitter | Instagram | SoundCloud | YouTube