ILLENIUM Presents: Starfall looks to portray an allegory of the superstar's battle with substance abuse.
---
Who had ILLENIUM publishing a graphic novel on their 2023 bingo card? The Denver-based DJ and producer has teamed up with V2 Comics on a depiction of his "origin story" titled ILLENIUM Presents: Starfall slated for publication on November 21.
ILLENIUM (real name Nicholas Miller) appears to have taken inspiration from his own struggle with substance abuse while crafting the comic book's plot. "In a cold totalitarian society where only the fittest survive, Nick has embraced a new world order of violence and brutality, blindly following his overseers' wishes no matter how much blood stains his hands," reads a press release. "To meet these vicious ends, Nick relies on an addictive Substance—a potent elixir that his malignant overlord rations out to the loyally subservient."
It continues: "But a mysterious woman named Ash soon challenges his worldview, unlocking a potential of harmony rooted in a winding mythology of phoenixes and fire. To transcend the dystopia he helped create, Nick will have to battle demons of addictions and unearth the secrets of ILLENIUM."
Originally hailing from Chicago, Miller began producing music in 2008 and relocated to Denver in 2013. He gained momentum for singles like 2015's "I'll Be Your Reason" on Skrillex's OWSLA imprint Nest as well as his 2016 debut studio-length album, Ashes. Miller's rise landed him his first Madison Square Garden headline show in 2019. He's soared to even greater heights in 2023, drawing a record-breaking 50,000 revelers to his Trilogy show in Denver and announcing his own boutique festival called Ember Shores in Cancún.
Miller has opened up about his battle with substance abuse more than once. "I was addicted to opiates," he told EDM.com in April. "At the time of my overdose, I was using heroin intravenously and was at such a low point in my life. I had gone through so many different treatments and I had no sense of self."
ILLENIUM Presents: Starfall will be available in hardcover, deluxe hardcover, and super deluxe editions on November 21. Pre-order the graphic novel ahead of its publication via Z2 Comics.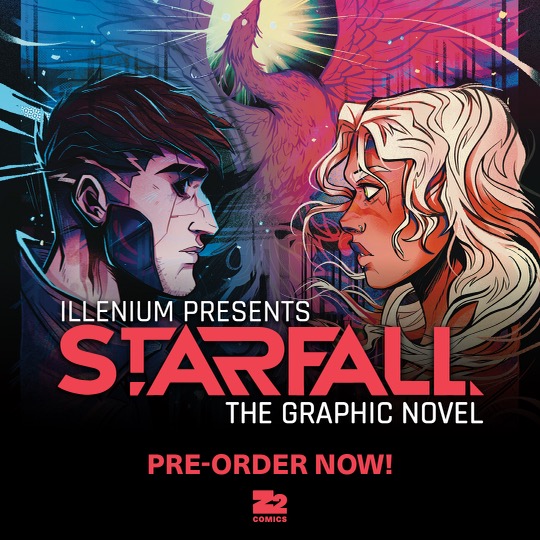 ---
Follow ILLENIUM:
Website | Facebook | Twitter | Instagram | SoundCloud | YouTube | Twitch