Rising star Callie Reiff swung by to chat about honing her skills during the pandemic, collaborating with women, and returning to live shows.
---
Callie Reiff is someone who was quickly seen as a bit of a child prodigy, having performed in The Nutcracker for New York City Ballet when she was 7 and becoming the youngest DJ to perform at Webster Hall when she was 15. This natural musician was also mostly self-taught – but while learning on your own has its challenges, it also keeps you from being pigeonholed and can allow for some freedom in direction. And if one person has taken advantage of that throughout her career, it's Callie Reiff.
Over the past five years, Callie Reiff has landed releases on a dynamic offering of imprints ranging from Fool's Gold and mau5trap to Ultra Music and more recently, 10Eighty. During this time her sets have also been fantastic as well, having taken the stage at major festivals like Ultra Miami and EDC Las Vegas, among others. But it was her set to support deadmau5 and Lights back in NYC back in February of 2020 that blew me away with her unique bass style – which would also turn out to be her last live show before the pandemic hit.
But after a year of livestreams and waiting for in-person events again, as luck would have it, we were able to catch up with her at her post-pandemic return where she was on the lineup with Steve Aoki. Not only did she play a fantastic set, but her return to the live event stage at Brooklyn Mirage marked the first performance where she could legally drink alcohol, having recently turned 21 as well. Talk about quite a re-emergence into the scene!
Jumping at the chance to chat with Callie Reiff, we found she's an idealistic professional who is entirely grounded in reality. It was refreshing to hear her speak so openly about topics like the disparity for female performers in a way that was both hopeful and entirely realistic. We hope her voice gets continually amplified because she has the right attitude to make big changes in our scene, and ones that need to happen. Check out her latest release "Heart Ain't Safe" with Kaeyra on YouTube and continue below for the insightful conversation!
Stream Callie Reiff and Kaeyra  – Heart Ain't Safe on YouTube:
---
Hi Callie, thanks for talking to us today! When we last talked to you in 2019 things were quite different than today. Pandemic aside, you seem to be doing well with your music career. Before we dive in, how have you handled the strange times since March 2020?
Well, that's a loaded question! [Laughs] It's been hard, for sure, without live shows. I really thrive off of the feeling of people being energetic through my set, and just enjoying it and vibing with me. I lean into the crowd's energy and how they enjoy it and then base the rest of the music that I play off of that. That was the main reason why I got into music. So it was very difficult to go from a lot of shows to zero while being kind of stuck in my bedroom, trapped with my family, and realizing, oh, I don't know when I'll be able to play a show live again!
I decided to lean into what I love, which is making music, and to try to get a lot better at it. I tried to learn new things and really focus on it every day – just making a song, whether it was good or bad. It really worked out because the songs I'm releasing recently are ones that I worked on in the pandemic. It helped my production style and motivated me to be able to play them out for a live crowd one day – which was tonight!
Your last live show was opening for deadmau5 at Brooklyn Mirage during the Cube v3 tour. Now here we are back at Mirage almost a year and a half later for your first live show since then. What does this venue mean to you? Does it feel like home to you?
It's really awesome to play here again! When I played with deadmau5 I only got to play the indoor stage. So being able to play the open-air Mirage, the place all my friends go every summer to see their favorite DJs, it's just incredible. I was just here watching deadmau5 and then Chris Lake and getting pumped up for this set. I'm in awe of how crazy the energy feels! When you're here, you just escape every other reality and we're all just a family here. It's so loving! Everyone that works here is so awesome, too. They take such good care of us. 
It's weird to think I was here before the pandemic and now that everything's started to get a little bit better, I got to play here again with a bigger crowd. outdoors, and opening for Steve Aoki. So it's not a bad show back, for sure. I found myself really being in the moment and being really thankful for this. It allowed me to take every second of this and really appreciate it.
As I understand it this is also your first live show since turning 21, congrats! You've been a bit of a child prodigy performing in The Nutcracker with New York City Ballet when you were 7 and becoming the youngest DJ ever to perform at Webster Hall at 15. Clearly, music and performance are in your soul, but how did you handle so much attention and pressure so young? And still?
It's weird because I've always just gone into things without thinking of my age. I was just like, oh, I'm gonna try this. I'll try drumming. I'll try ballet until I get sick of it and try something else till it sticks.
Once I learned how to DJ at a pretty young age, I just stuck to it. I did notice when I was learning how to DJ that there weren't many young kids or females doing this. I figured I just wasn't seeing them, but the further I got into it, the more I realized that there weren't. I thank my parents because they allowed me to go down a different path than most.
I saw Madeon play at Webster Hall when I was 16. I was actually 15, but it was a 16 and up show where my DJ teacher snuck me in, "Thank you, JP!" [Laughs] I saw him play at Webster Hall and was like, OK, that's it, I have to play here! And that's why I'm so attached to Webster Hall because they gave me my first opportunity to play.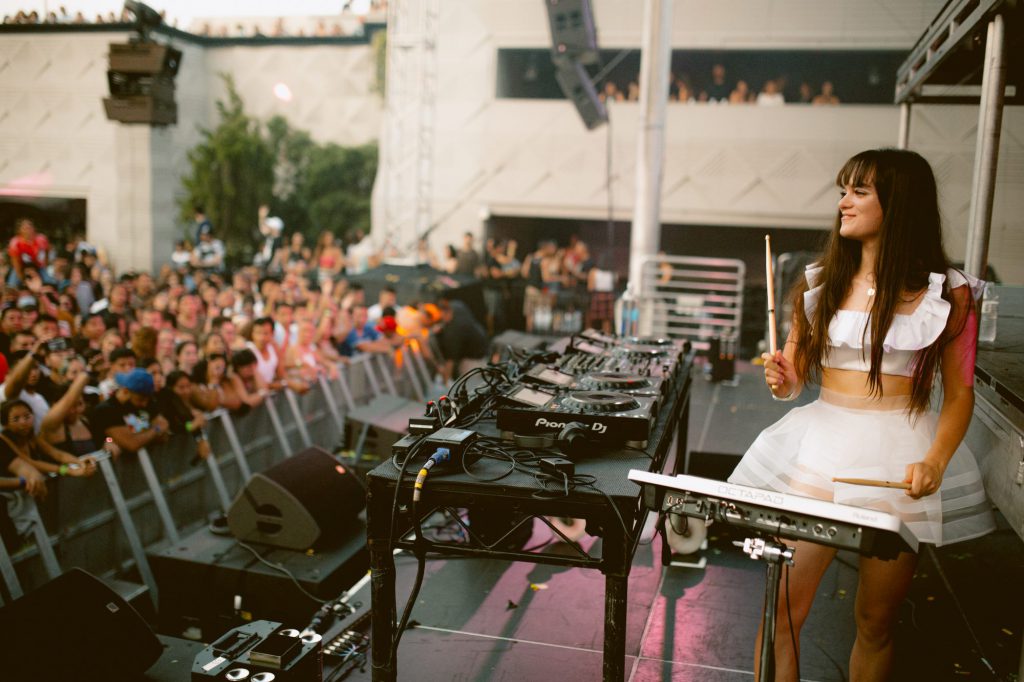 2021 has already been a terrific year for your fans – four new releases, each a collaboration, each squarely in your self-defined "indie-club" genre. These all seem to be in a style that appeals to a broader audience while still retaining your bass underpinnings. Tell us a little about these productions and the aim of this style.
I was always producing but initially way more focused on DJ'ing. Once things slowed down I was forced to think about what my sound is and what I might be without live shows. I asked myself a lot of questions. Are you an artist? Or are you a DJ? I decided I want to be an artist. I want to be known for my music. I said to myself that I could probably produce dubstep or drum and bass. I did a few releases like that, mostly trial and error of some ideas. 
Then I realized I was listening to a lot of toplines, a lot of EDM songs with amazing vocalists, and I was relating to the lyrics as a young teenage girl growing up. I was loving all of that music so I really wanted to try that. Not being classically trained I wasn't sure I could do it. I had to get out of my comfort zone, and once I did, it led me to this. I was really thankful to work with a lot of artists and keep my New York club energy sound while adding new melodic elements and emotion to my songs. I'm enjoying telling a story rather than just pushing beats and instrumentals.
Over the course of the pandemic, there have been a number of social movements, all of which highlighted specific issues in the music scene. One such issue was covered in the documentary Underplayed highlighting how difficult it is for female performers in the scene. Did you happen to watch this? What do you think of the attention on this topic? 
Being a female in any career comes with assumptions like "they don't know what they're doing." You have to always prove yourself. Growing up, I'm thankful I had a really amazing mom and really amazing woman in my life. She helped me keep my eye on the prize and was always like, "you got this!" I learned to treat it as a challenge. 
As I grew up, I realized there were so many talented women that were trying extra hard to do something that they could pretty much do in their sleep. But they thought they had to prepare more to prove they can do it. Meanwhile, there's a guy over there that just showed up plugged in his USB drive and is just having a good time, while we have to prepare for weeks in case there are any doubts. I see Alison Wonderland showing GoPro live footage of her hands moving to prove it's not pre-recorded. There's a double standard that's just lame, to be honest. But I love the attention on this topic because there are amazing people that are now truly becoming aware of the problems in the music industry. They're more willing to give an artist a shot just off of their talent, lately.
I think that's the key, to just go in and create a diverse lineup, rather than your average Top 10 headliners that will sell out your venue. I think venues can try a little harder to push these acts that will get some good PR. There are so many talented women in music now. There are so many amazing artists that are killing it right now. So I'm very excited to see this happening.
So many of your collaborations and remixes have been with female artists, including your latest release, "Heart Ain't Safe" with Kaeyra. Has this been intentional? Is this a way to help boost the attention on what might otherwise be underappreciated female talent?
I love female voices and I think we relate to each other a lot when songwriting. I started songwriting in the pandemic and found myself collaborating with a lot of women because of our shared experiences. There are lots of shared themes about a boy, or something very cliche, or your feelings being hurt about something. and you feel very comfortable with them right away. I was friends with most of them and just heard their voices in my songs. I saw the chance to uplift them. too. and get their name out there so I could promote them as much as I can. I think they're really talented and deserve tons of success.
I love working with women in music because there's no room for competition and we're all trying to amplify each other. It's cool because, at the end of it, I have a friend rather than just a random topliner. They are often a close friend of mine that I'll talk to and just hang out with every day.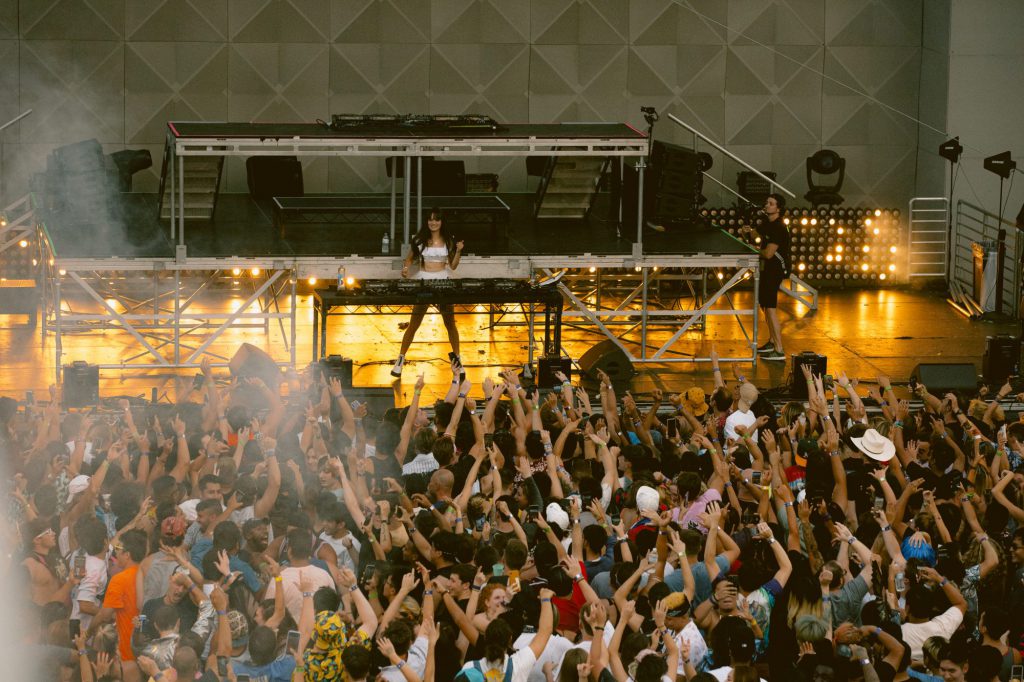 OK, here's a fun one. Let's project into the future when you are headlining big shows. You've got two amazing but different venues coming up on your tour: Brooklyn Mirage and Red Rocks. If you can choose anyone to support you, who would you choose?
Wow, yeah, this is such a fun question because I get to choose who opens for me! So I don't know if it would be as an opener, but I'd love to do a show with Alison Wonderland, no matter who opens for who.
Maybe like she and Dillon Francis did when they alternated the headline spot for each night on tour?
Yeah, that would be fun! I like the 50/50 tour concept, I think that could be cool. I really like Alison. I also like it when there are two separate genres at a show, so maybe Peggy Gou. I think she's dope and I love her music and I usually play Starry Night in a lot of my sets. I was going to play it tonight but ran out of time. 
And, um, Skrillex, if you'll open for me, come through, come open. I love you!. 
As a fellow New Yorker, I'm always curious where the performers go to hang out when they just want to blend into the crowd and appreciate the local talent. Any favorite local haunts you'd suggest for events where the locals get to shine and the scene is more laidback than the big-name venues?
I think Webster Hall is the perfect option for that because it's kind of in the middle. It could be a crazy night or could be slower and have a cool opener. They always seem to be adding amazing unknown artists to the lineup as well as a huge headliner. I feel like what's fun about that is you go early and you chat with everyone and can meet all these artists from all over, it's very international.
So I think Webster Hall is the place for that and I've gone a bunch and played there a bunch, too. I feel like I've met 80% of the industry people I speak to now at Webster. It's a great place to connect with other artists.
Good luck getting back there soon because I know you haven't yet. Maybe I'll see you there soon!
Yeah, that'd be awesome! Thank you so much for having me. Those were awesome questions!
---
Follow Callie Reiff on Social Media:
Website | Facebook | Twitter | Instagram | SoundCloud | YouTube