Spoonbill's latest album, the ten-track Mosaic Shuffle, frolics free from the flock, tethered by his production at its finest.
---
Spoonbill is one of the most vibrant voices in the world of electronic music. Bursting onto the scene with 2005's Megafauna, the project swallows highly technical sonic wizardry within a microcosm of mischievous cheekiness and pure, unadulterated fun for the whole family. Throughout five studio albums and six EPs, Jim Moynihan—the man behind the feathers—has influenced a wide variety of artists, from Kalya Scintilla to Ultrasloth, and has worked alongside the likes of Tipper, Mr. Bill, and Russ Liquid.
Now, the sixth full-length Spoonbill release, Mosaic Shuffle, has taken flight on his imprint, Omelette Records. Loaded to the brim with synths to make your ears salivate and bass to knock your socks off, this album offers a tantalizing tapestry of textures, instruments, and genres. Rarely will you hear such wild juxtapositions seamlessly integrated into a unified experience, as Spoonbill excels at delivering experimental cuts and jazzy compositions that simultaneously thrive in the same realm as pop bops.
Mosaic Shuffle is a portal to whatever weird and wonderful cartoony creations your imagination can conjure. Overflowing with a childlike curiosity, the album's power lies in its balance of stunning simplicity and hidden complexities. This interplay creates the magical effect of growing and growing on the listener. Like an elephant-sized earworm, the Spoonbill sound is relentlessly catchy and triumphant. Reflecting the collage-like cover art by Regression Design, Mosaic Shuffle is slyly stylized, abstract, and lush.
From the dystopian breakup song "Radio Silent" to the bombastic dubwaddle of "Barnacle," Mosaic Shuffle transcends current trends, instead opting for the timeless quirkiness that makes Spoonbill oh so unique. Each track paints a thriving auditory ecosystem with high-fidelity foliage, organic instrumentation, and acoustic animal life. Constantly pushing the boundaries of electronic music in the most animated ways, Spoonbill is a modern-day maestro who has finally revealed his latest masterpiece. You don't want to miss out on Mosaic Shuffle!
For a more detailed dive into the ten new Spoonbill tunes, keep on scrolling. Otherwise, stream Mosaic Shuffle on Spotify or your preferred platform.
Stream Spoonbill – Mosaic Shuffle on Spotify:
---
Dynamic and emphatic, Mosaic Shuffle showcases the primal prowess of Spoonbill's sublime sonic manipulation.
The album's lead single, "Mirari," blazes a trail full of contradictions, perfectly setting the tone of Mosaic Shuffle. By pitting the song's melancholy mood against the jubilant timbres of trumpets, this one elevates above and beyond its downtempo mold into the realm of party music. With the ability to simultaneously pull on your heartstrings and lift you out of a funk, this track tells of the trickery to come.
In praise of a top-tier plant, "Helichrysum" embodies the mystical healing properties of this potent member of the sunflower family named after the Greek words for sun and gold. Spoonbill's ode to Helichrysum emits bright beams of yellow with its radiant groove and shimmering sound design atop a guitar melody invigorated by delicate yet dazzling effects.
Featuring the intoxicating vocals of The Fret Drifters, "Radio Silent" is an undisputed zenith of Mosaic Shuffle.
Depicting a futuristic fission of technology and love, "Radio Silent" carries the emotional baggage of heartbreak mixed with a lingering sense of coldness felt when dwelling on humanity's disconnect with technology. The Fret Drifters unravel this metaphor rather explicitly: "Radio silent ever since you updated. It's like you've been afraid of what we created. Now you're turning off and hitting delete. You pulled the plug, and now we're obsolete."
Injecting the underlying instrumental with spine-chilling one-shots, Spoonbill flexes his mastery of music theory by burying any inkling of it deep down and thus enchanting "Radio Silent" with an ineffable quality oozing with an unspoken attitude. One particular refrain that behaves like a melodic exhale is especially gorgeous, but the words to properly describe it elude me.
"Seldom Seen" is a wistful wayside excursion that provides a calm after the storm.
The most soothing selection from Mosaic Shuffle, "Seldom Seen" speaks to the soul through a shared sense of mellow longing. Icy synth leads act as a cathartic release to the frigid sentiments introduced by "Radio Silent," wrapping up any residual bitterness as our voyage progresses. "Crackarelli" is a true amalgamation of styles crystallized into a dreamy gem that sparkles under the full moon's light. Textured horns and scintillating violins blend swimmingly with the symphony of serenading vibrations layered by Spoonbill. When the song's hook sweeps in, you won't believe how scrumptious and nostalgic such a simple notion can be!
Following, "Flaming Tides" ignites all the warmth that Spoonbill has been secretly and meticulously building in the background. Having reached the halfway point, this moment shifts the tides in a more uplifting direction with fiery inflections and crunchy grooves. Gyrating into the next track, the tangy nature of "Flaming Tides" bleeds into the zesty behemoth "Out Of Bounds." Upping the ante with a feisty, stomping rhythm and squelchy glitch-tastic tendencies, "Out Of Bounds" leaves the aural arena on a hero's journey only to return with rambunctious reverberations to get your booty moving.
"Nightjar" tempers the high-octane vigor that introduces the album's home stretch with a surprising passage of pulsating bliss.
After this initial anti-drop slaps you silly, the final drop on "Nightjar" fuses hype with halcyon for a sonic safari that bridges both energetic extremes of Mosaic Shuffle. And just in time! Because "Barnacles" untethers a drastic escalation by blasting the zaniest bass this side of the Pacific. Harking back to the intense waveform synthesis of late 2000s dubstep, Spoonbill encapsulates our quest with a bellowing bang. The final track, "Jumbleverse" is short and sweet, and also the most abstract cut on the album. Winding us down with a mélange of sounds, "Jumbleverse" mirrors the mosaic theme that Spoonbill nourishes throughout our shuffled odyssey.
Mosaic Shuffle is a cohesive collection of kaleidoscopic wonders.
Each track playfully dissolves the momentum that establishes its tone while nonetheless contributing to the subtle motif that strings the entire escapade together. Focused and yet drifting, at times delightful and yet at others, downcast—Mosaic Shuffle manipulates every color under the rainbow for a rollercoaster ride that rebels against its own tracks. Cascading with the most fluid of twists and turns, Mosaic Shuffle will keep you guessing, grooving, and gawking like a bewildered bird at the natural marvel that is Spoonbill.
---
Spoonbill – Mosaic Shuffle – Tracklist:
Mirari
Helichrysum
Radio Silent (ft. The Fret Drifters)
Seldom Seen
Crackarelli
Flaming Tides
Out Of Bounds
Nightjar
Barnacles
Jumbleverse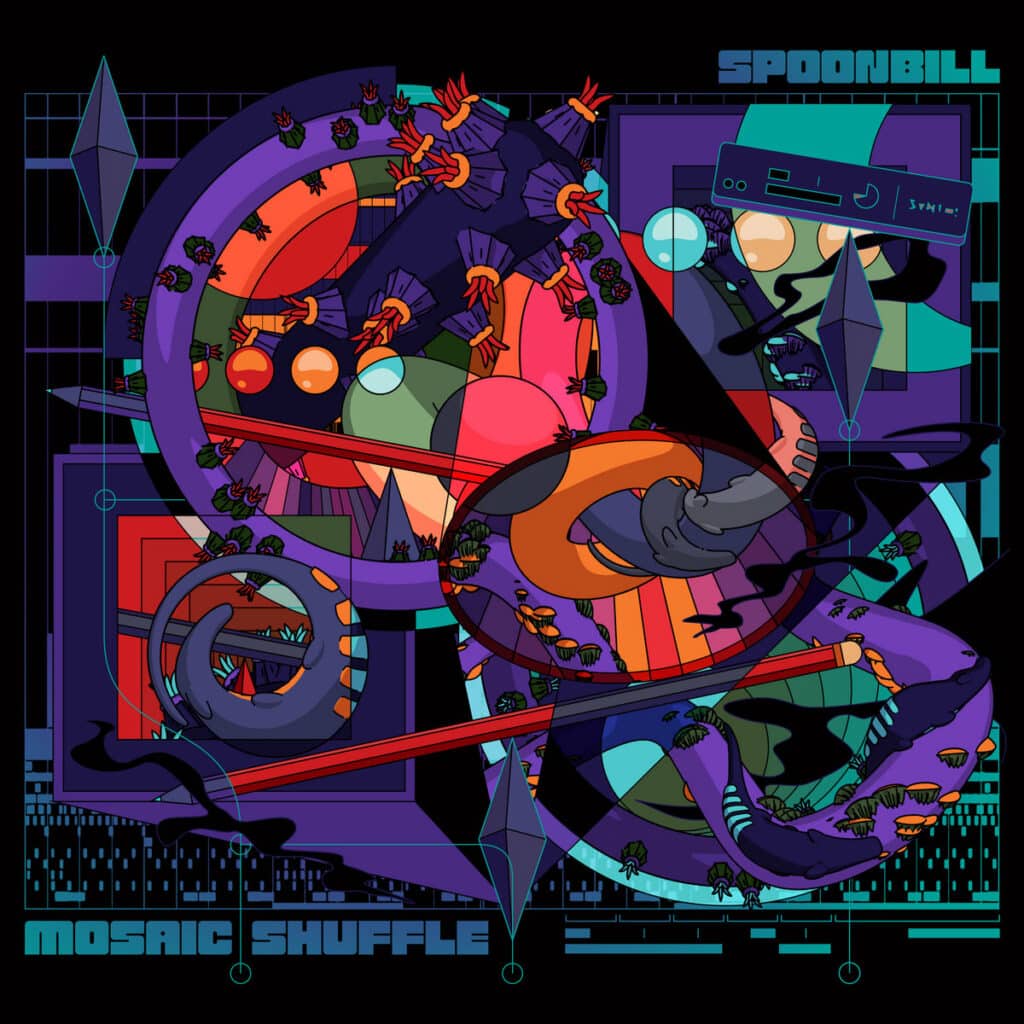 ---
Follow Spoonbill:
Website | Facebook | Instagram | SoundCloud | YouTube