Tipper drops new Lattice EP, featuring some of his hottest unreleased tracks of the summer.
---
Do you ever sit back and ask yourself, "What?" Well, this whole EP will have you questioning everything. On Wednesday, October 11, Tipper presented us with Lattice, a four-track EP with three newly released songs and a VIP of "Dreamsters" from Tipper's album, Forward Escape.
The EP is an exciting mix of uptempo tracks and I enjoyed listening to Lattice and getting to relive some of his music from shows that I saw this summer. I wouldn't normally try to put these feelings into words, but here we go…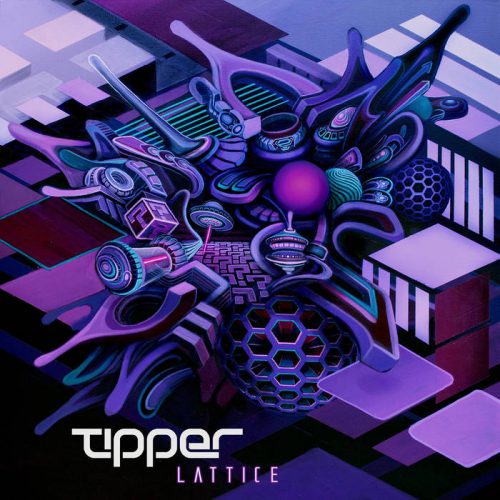 1. Lattice
The title track is the only song that makes any sense, really. The Egyptian horns are warm and welcoming, which is great for the first track on the album. The metallic drum line is like walking through the sewers. Summed up, the song is a regular repeated three-dimensional arrangement of atoms. This track fools you into thinking you are prepared for what is to come, but you are not…
2. Scapula
The siren-esque sounds are a warning of what is to come. The first drop comes at 22 seconds and it sounds like a Martian ambulance. The track continues its nonsense with what sounds like a Martian surgery. At some point in the song, you hear a life support beep. Is it just me? Hopefully, this next track brings some life…
3. Cubic Squeal
"Cubic Squeal" starts off a little bit slower than "Scapula". Some might recognize the video-game inspired melody from none other than our favorite plumber, Mario. Tipper rarely does things without intention, so the choice of this melody is interesting, to say the least. This song sounds like we left the Martian hospital and headed right to the Martian junkyard.
"Cubic Squeal" has stood out as a favorite in Tipper's community, and it's easy to see why. Perhaps he created it to celebrate the release of Mario Odyssey on October 27?
4. Dreamsters VIP
A favorite off of Forward Escape, "Dreamsters" is a downtempo jam that makes you question everything you just heard. "Dreamsters VIP" differentiates itself from the original with a much deeper drumline with an added hi-hat. Check out the original – which do you prefer?
Final Thoughts
Lattice takes you on a journey to a realm ruled by Egyptians that live on Mars and, for some reason, love Mario. So what's the best lesson to learn here? Don't try to make sense of Tipper. Just kick back and soak it all in.
---
Follow Tipper on Social Media:
Website | Facebook | Twitter | SoundCloud