Elements Music & Arts Festival might be the most creative regional festival around, but there are still lessons to be learned from its past.
---
Elements Music & Arts Festival continues to be the tale of two festivals. On the one hand, it's likely the most impressive and creative production for any regional festival – at least in the Northeast, if not the US. On the other hand, there are always logistical issues that seem entirely avoidable, especially for a festival of this size and with its notable history. It's become the festival we love to hate or the one we hate to love, depending on your perspective.
The 2021 edition of Elements devolved into a level of barely controlled chaos, and I, for one, thought I'd never return. For those that question how bad it was that year, there's a class action settlement to support attendees' claims. Many attendees complained about the overzealous growth of a festival that went from roughly 3,000 to 8,000 people in two years while remaining at the same cramped venue.
In response, organizers moved to a new home at the Poconos Raceway in 2022, a venue well-suited to the growth expected and better equipped to handle the adversity that plagued 2021. Elements grew further into this new venue for 2023, with a peak attendance of over 13,000 on Saturday and a total of 18,000 over the full festival. I will say unequivocally that this move paid off, and the venue had no trouble accommodating this audience.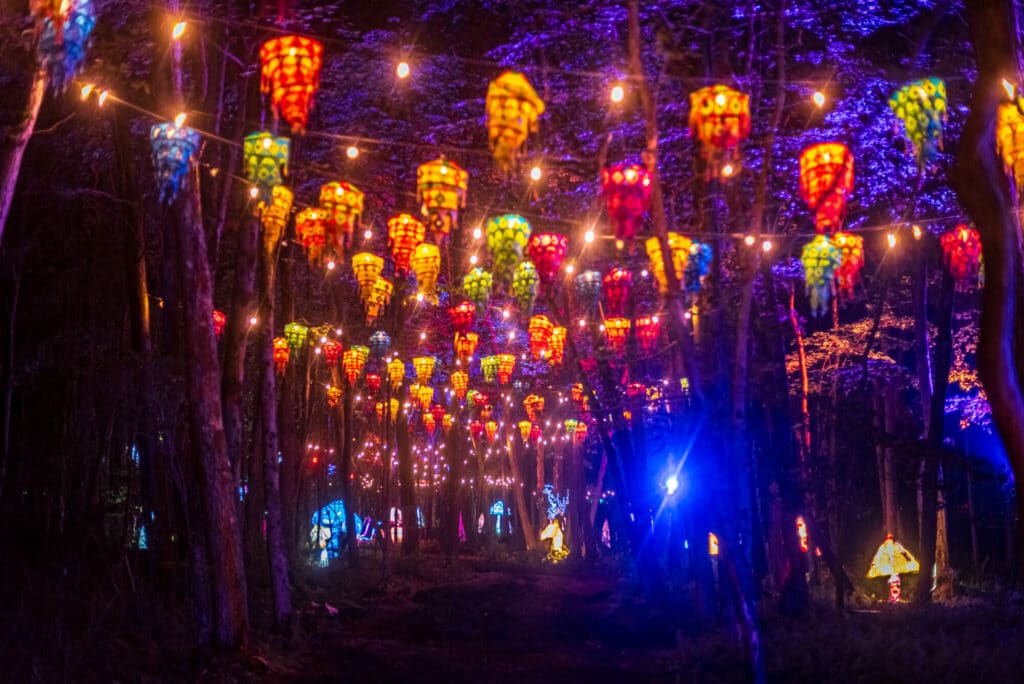 For all my complaints, there were a few important improvements from the past that must be acknowledged.
The three biggest issues in 2021 were: Entry delays, impassable mud between stages, and cars stuck in the mud at the festival's end. None of these were issues in 2023, and not just because there was less rain, but because it was clear Elements put some thought and effort into these matters. Entry lines were managed well, parked cars were all on thick grass or asphalt, and most of all, they were prepared for the rain.
After a brief storm evacuation and soaking rains on Saturday night, much of the grounds on Sunday were covered in sawdust and wood chips, including (and especially) the forest pathways between attractions. I later learned that huge piles of wood filler were ready behind the Earth stage, so it's clear Elements took this precaution seriously.
Elements Festival is a sensory experience that is second to none, and this year raised the bar yet again.
Where Elements has always hit the mark is in the music, art, and healing experiences they offer. They did this once again and definitely raised the bar even further than before. Every walk in the woods included both decorative and navigational lighting and lots of side quest experiences often hidden in plain sight.
One walk in the woods took us to the True Mirror Palace, where you could see yourself in a mirror that wasn't a "mirror image" but as others looking at you see you IRL. It's an incredibly weird and mind-bending room, despite being technically more natural than a real mirror. I found myself struggling to pull myself away!
Sometime later, we entered an impossibly tall teepee where ten of us laid down, and the team presented us with an immersive sound bath. I'm always open to new experiences, but this took me somewhere I didn't expect. The multisensory nature, like having a sound bowl on my chest, was something so very special, and we left the teepee ready to take on the world!
Another multi-sensory experience was the LIGHTCODE by LSDREAM set in the woods on Sunday morning. I called this "wook wellness" after seeing so many people in hammocks or lying on the ground with their pashminas over their heads or body as they meditated to the ambient electronic music and spoken word. The fact that anyone could lay on the ground that morning was confirmation of the Elements team's effort in getting wood filler laid down overnight.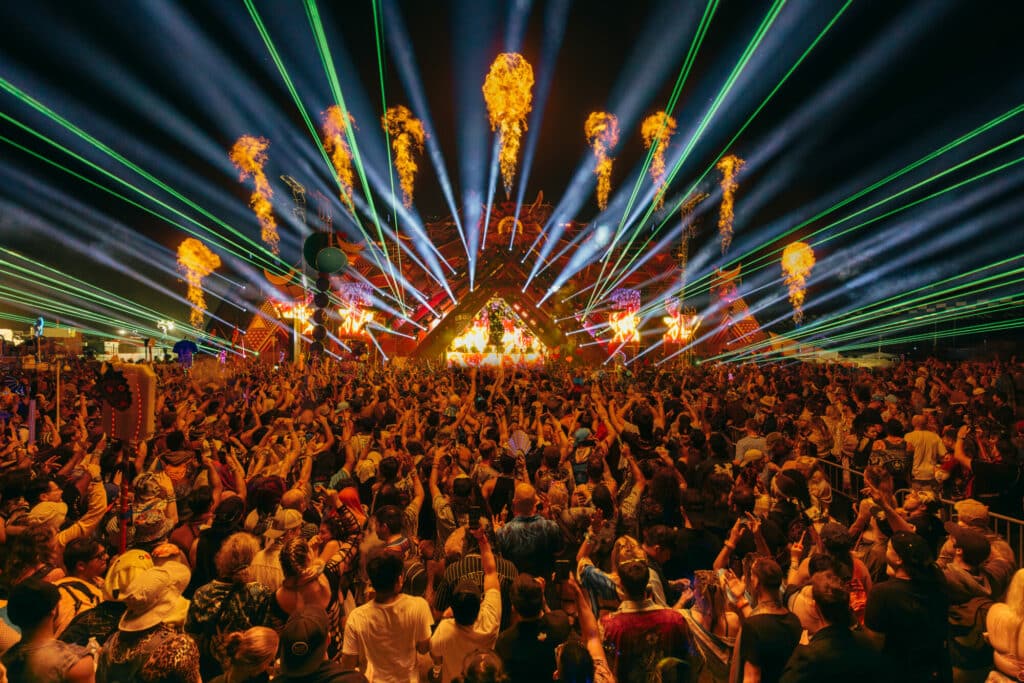 But we're really here for the music, right?
Well, if you only come to Elements for the music, I'd say you are missing out big time. But the music is the anchor for the festival and did not disappoint. From seeing John Summit on Fire Stage and a Porter Robinson DJ set on Earth Stage to TOKiMONSTA on Air Stage and The Sponges on Water Stage, each experience was unique and so very dance-worthy. And with the return of the Wub hub stage, there were some super-intimate sets from bass artists like Chef Boyarbeatz and Lavier, the latter being my top discovery of the festival.
Personally, I was planning to skip John Summit, feeling like he's overexposed these days, but my partner had never seen him, so I acquiesced. Boy was I glad I did! Summit, like Porter, played an incredibly dynamic, genre-bending, high-energy set that was a huge crowd-pleaser. We had plenty of dancing room in VIP, but the more tightly packed GA section wasn't missing a beat, either. I spoke to friends in the depth of GA, and they all said it was tight, but revelers were very courteous, something we love to hear.
I'd have to rank Porter Robinson's set as the most surprising one I saw. Admittedly, this was the first time I saw him do a DJ set, so I didn't know what to expect. His live sets generally follow a theme, and often a very emotional one, but not his DJ sets. It was like someone said, "No DJ can cover every Elements genre in one set." And Porter responded, "Hold my beer!"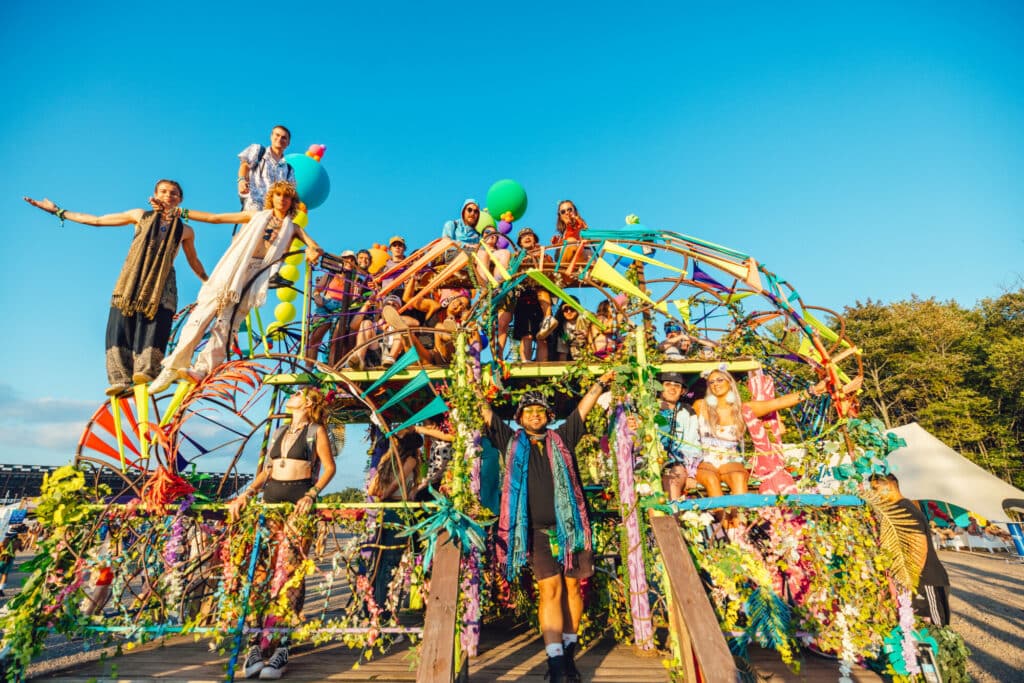 Nothing ever went wrong with the music and production, but there were some less obvious yet important snafus.
One thing about festivals like this is if the entertainment goes well, attendees may forget, or not even notice, any other logistical issues. But event organizers know that if they aren't prepared for the worst, things can go dangerously wrong and quickly. While it seemed that staff had things under control most of the time, and we didn't uncover anything inherently dangerous, there were a few hints or trouble that should be noted.
For us, this started right after staff got us parked in place for car camping. Almost immediately after staff moved on to the next area, campers started moving cars around to either camp with other friends or because they brought more than fit in their campsite. Mind you, we were told car camping was 20′ x 20′, and it was most definitely smaller, so I can see where campers had issues. But more than a few cars were parked in the emergency lanes, and staff never came by asking them to move. We never once saw staff or security in the camping area, which was troubling.
I was super happy to reunite with Abby, a raver with ADA needs who I first met at Elements in 2021. Nothing can break Abby's spirit, but she did tell me of another ADA issue that was entirely avoidable. "I wasn't able to shower for two days because there was only one ADA shower, and they couldn't find the key," she said. "But I wasn't going to let that dampen my spirits and keep me from enjoying all the incredible music and visual experiences!"
Showers were generally closed during listed hours because the service required after-hours never occurred. Further, staff and security did not communicate clearly with one another, with a security person telling me that he only learned of the weather evacuation from an attendee who showed him the app notification. It seemed there weren't enough radios to go around, so many staff weren't getting timely updates.
Most importantly, there were clear breakdowns in communication with the medical team. A volunteer named Kayla told us that neither staff nor security were entirely sure where to find the medics. On the attendee maps, there was only one medical tent to be found, despite the fact that we did see at least another one along our journeys. There were more roaming medical teams, but if staff or security couldn't easily reach them, that was a problem.
I had VIP access and was pleased with the VIP restrooms, which were trailers with flushing toilets. But on the Elements website is the image below, advertising "accessibility to 1,000 flushing toilets." The only flushing toilets we ever saw were the trailers in VIP, and there were only about a dozen of those with a half dozen toilets each, so less than 100 for sure. I will say that the many portos around the grounds were serviced regularly and kept way cleaner than I'd ever seen at a festival like this.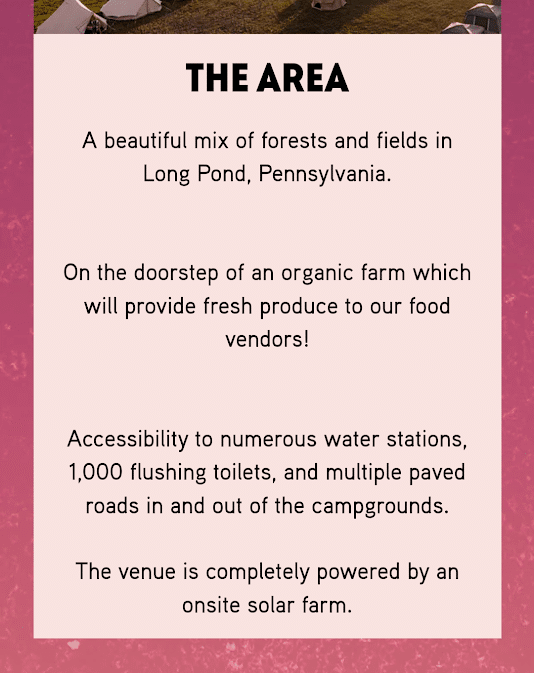 Despite these issues, Elements was an absolute blast, and the festival continues to draw an impossibly awesome audience.
Elements attracts a very hard-to-define audience, but someone they all carry the PLUR ethos proudly, despite often being quite young or simply new to festival life. It also attracts a lot of burners and is often referred to as a "burner adjacent" festival, meaning it's like a regional burn but with commerce. There are even Vibe Villages which are loosely the equivalent of theme camps. However, the placement of these within other camping and glamping, and the lack of directional signs, meant that too few people even found these hidden gems. Heck, one was even a speakeasy hidden behind the door to a porto in the middle of a bank of them, complete with the actual branding on its door!
Between the music, arts, healing, food, amazing humans, and vibe, it's hard not to enjoy Elements. That being said, I want to see organizers close the gap on the avoidable operational issues that could lead to bigger problems if something gets out of hand. No one should be having this much fun while worrying about their safety.
---
Follow Elements Music & Arts Festival: