The fun and funky sounds from The Sponges continue on April 21 with the 'Love. Death. Funk?' EP. We caught up with them to learn more.
---
The Sponges – just hearing this name for the first time, it's hard to not chuckle or at least crack a smile, and that's precisely how Ryan Slepin and Nik Eaton like it. From the jump, The Sponges are about having fun through music. Funky, chunky, upbeat, and often silly – the music of The Sponges is hard to ignore. When I first experienced them on the Water Stage at Elements Festival, the smiles and happy movements on the dancefloor were absolutely contagious. It's clear that The Sponges are here to have fun, and they are here to spread that fun far and wide through music and dance.
Take this new EP Love. Death. Funk? for example. Like their stage name, the name of the EP is cheeky and immediately gets your attention. Press play, and the cheeky fun continues on top of spectacular synths, beats, bass, and sounds that just make you want to move. Vocal samples such is "is this where the party's at?" add yet another layer to the dance party feeling The Sponges are throwing down. The five track EP package really does play as a single unit with the party building up and culminating in the throwback "Break Of Dawn" with heavy beats and old school record scratches throughout.
How can we categorize The Sponges' sound? Perhaps the only comparison I can think of is that the The Sponges are like Moon Boots, not in that their sounds are similar, but in that each is so unique as to carve out their own unique and beautiful path. Can't get enough of The Sponges sound? Take a trip down memory lane with this 2019 Summer Mix from The Sponges with the dual purpose of getting into the summer mode a little early this year.
The new EP Love. Death. Funk? will be released by Box of Cats on April 21 and can be pre-ordered or pre-saved now!
Check out this downtempo remix from The Sponges of Crystal Method's "Act Right" and read on below for the full interview!
---
If I have this right, you guys met in Palm Beach and are now based in Miami. How'd you guys form the duo and how's Florida treating you? And where does "The Sponges" name come from?
We both grew up in Palm Beach Gardens but frequented Miami for the music and art scenes. We spent many a wild night (morning) at Club Space, which definitely shaped our love for house music. But last year we moved to Denver, which is probably our favorite music scene in the country right now.
We had been making music together since high school, dabbling in Hip Hop and experimental pop stuff before we started this project. The name "The Sponges" started as a total joke, but since its inception, we have assigned our own meaning to the name. We like for people to have their own interpretation of it as well. It is fun and quirky but also goes CRAZY HARD.
The Sponges have a pretty unique sound that is genre-defying. One common element is funk which keeps your sounds lighthearted and upbeat. When in the studio, do you think about the final sound you want for a track first? Or do you just start riffing and see what comes together?
Blending electronic funk and bass house is what The Sponges is all about. The songwriting process is different for every song but always consists of a lot of experimentation. Our general rule of thumb is that every song we make needs to have some funky elements and samples, as well as some modern and experimental sound design.
These days, we work separately for the most part. We will send project stems back and forth, basically playing catch with songs. Throughout that process we talk quite a bit about where we think a particular song idea can go. We do that until we both agree a song is, in fact, hot flames.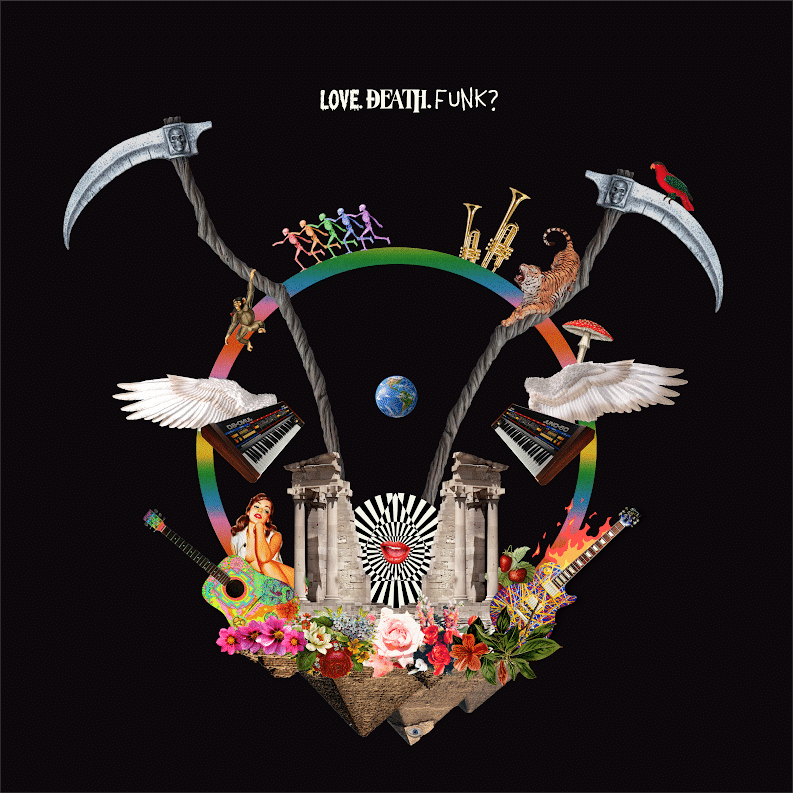 The name of the EP is Love. Death. Funk? (Which is a great name!) What do you want listeners to take away from this collection of songs?
Thank you! With this project, our main goal was to string together a cohesive collection of songs that play through from front to back seamlessly. We are huge fans of Justice, and the way that their first album blends together so perfectly was a huge inspiration for us. Jamie xx's album In Colour was another big reference for us in that regard as well. Although it's not a full-length album, we wanted to treat these songs with as much love and care as we could creating a full-length album. We hope that when people listen to these songs, they will be transported to an alternate dimension of fun, funky, bass-fueled sampledelica. 
Do you have a favorite tracking on this EP? Or is this like asking you to pick your favorite child?
Each song scratches a different itch for us, and each song gets a first-place ribbon and pat on the back from us 🙂 
How is this EP part of the evolution of The Sponges style and sound? How does it feel to get renewed support from Box of Cats?
As far as evolving our sound – one thing we focused on for this EP was the consistent implementation of vocal hooks. With our previous work, we struggled to land on hooks that would serve as a full-blown chorus, but with this EP each song has a strong vocal concept that we're proud of.
Box of Cats has been a huge part of our career, signing our first handful of records and really putting us on completely. They have always seen the vision, and it only felt right to work with them on our biggest effort to date! 
In 2021 I caught you guys on the Elements Festival's Water Stage and was immediately hooked. Later that year I got to see you again during Winter Wonderland at Three Dollar Bill in Brooklyn, a much smaller event. How do you prepare for such entirely different performances? 
First off, thank you for your patronage! We always try to put as much thought into each show as we can to make them special. We think about the audience experience so much, because we ourselves are such big fans of going to shows and festivals. Each show is different, and we try our best to always have new music ready to play. We just like to have fun, and if we're having fun and putting on an engaging show, we hope it's infectious enough for an audience to vibe with us. 
What's your most memorable performance to date and why?
This is tough… It would probably have to be a tie between Shambhala in 2022 and GRiZMAS in 2021. These shows had their own individual reasons to land the #1 spots, but both had such loving and enthusiastic crowds, and both felt like very special/epic moments in our career.
What's on the horizon for The Sponges that you can tell fans about now? Even if just a little teaser!
We have a couple of really exciting collaborations with some of our favorite artists as well as a very special remix pack for the EP, planning to release those later this year. We are also currently finishing up our own remix for one of our favorite funk bands of all time… more info on these projects in the near future!
And MERCH! We've never dropped an actual line of merch before but we will finally have some very soon!
What's your favorite city to visit and why? What makes that city so special in general or for you?
This is super tough, but Los Angeles is so much fun every time we visit. We have some great friends out there and have had so many sweet memorable experiences in LA. Also, the burritos in California in general are goated.
---
Follow The Sponges:
Website | Facebook | Twitter | Instagram | SoundCloud