After her set at Outside Lands, Becky Hill chats with us about her chart-topping career, working with Chase & Status, and growing stardom in the US.
---
If you're new to the scene or have been in it for a while, there's a 100% chance you've heard Becky Hill's powerful vocals. Whether it's on smash hits like 2014's "Gecko (Overdrive)" with Oliver Heldens or 2020's "Lose Control" with MEDUZA and Goodboys, her decade-long career has produced countless chart-toppers with hundreds of millions of streams apiece. And for good reason. Her often emotional songwriting paired with infectiously catchy melodies and beats is a recipe for success every time.
Becky Hill was discovered in 2012 during the first season of The Voice UK. She has since collaborated with some of the biggest names in dance music, including David Guetta, Tiësto, Wilkinson, MK, and Matoma. Her latest single, "Disconnect" with Chase & Status, sees Becky release another track in a genre close to her heart: drum and bass. Having grown up listening to drum and bass innovators and pioneers, "Disconnect" is the embodiment of this love with its apt lyrics about wanting to escape life's monotony atop a banger of a drum and bass beat.
Her collaborations are massive, but Becky Hill's accomplishments stand on their own and make her stand out as a vocalist in dance music. On Friday, August 11, she took to the Twin Peaks stage at Outside Lands in front of a packed-out crowd and delivered a complete triumph of a set. Hit after hit kept coming, and I was overcome with so much nostalgia, being reminded of her catalog. In a fun, neon, color-blocked outfit, Becky commanded the stage, bringing the heat even as the San Francisco fog started settling in. The crowd never stopped dancing, and I found myself singing my heart out alongside her.
After her high-energy set, we got a chance to sit down and talk with Becky Hill about her impressive career, coming to perform in the US, her style, and what's to come for the phenom. Press play on "Disconnect" and keep reading for our interview!
Stream Becky Hill and Chase & Status – "Disconnect" on Spotify:
---
You have so many hits, and you are able to create a full dance music set being a vocalist. When you're preparing for something like this at a major festival, what's your mindset?
I'm always a little bit worried that people won't know the songs. When America isn't your home territory, it becomes scary to step out on stage. Like, I didn't think anybody was going to turn up. I especially didn't expect the crowd that I had today. It was so beautiful to feel so welcomed, and like I had a real chance of making something of myself out here.
You also had a sold-out show in LA last night. Do you notice any marked differences between US and UK crowds?
Yeah, loads! Americans really appreciate vocals more than the British. The British, they appreciate you singing but not as much as the States do. The States really appreciate a good vocal.
So do you tailor your sets then differently based on the crowd?
No, I still sing my ass off (laughs). But I know that when I'm singing my ass off here, I get a reaction to it, whereas in the UK, it's like, "Yeah, nice, when's the drop coming?"
Your career spans a decade. You have one of the most viral hits on TikTok with "Remember," which is like a resurgence for the newer generation of dance music fans, but also chart-topping hits going all the way back to 2013. When you look back at all of it, what moments are you really proud of?
"Afterglow" was the first song I ever released back in 2013. I'm such a massive fan of drum and bass, and then I got to work with people whom I've been listening to since I was a child, especially with this new single at the moment. Chase & Status has certain songs that are the soundtrack to my teenage years. So that was really cool.
I think the last two Brit Awards have been so incredibly overwhelming. I'm really grateful. And Glastonbury this year was something I've been working toward my entire career. To be able to stand on the stage, and not only that but spend the weekend there after I'd never been before was mind-blowing. I feel incredibly lucky.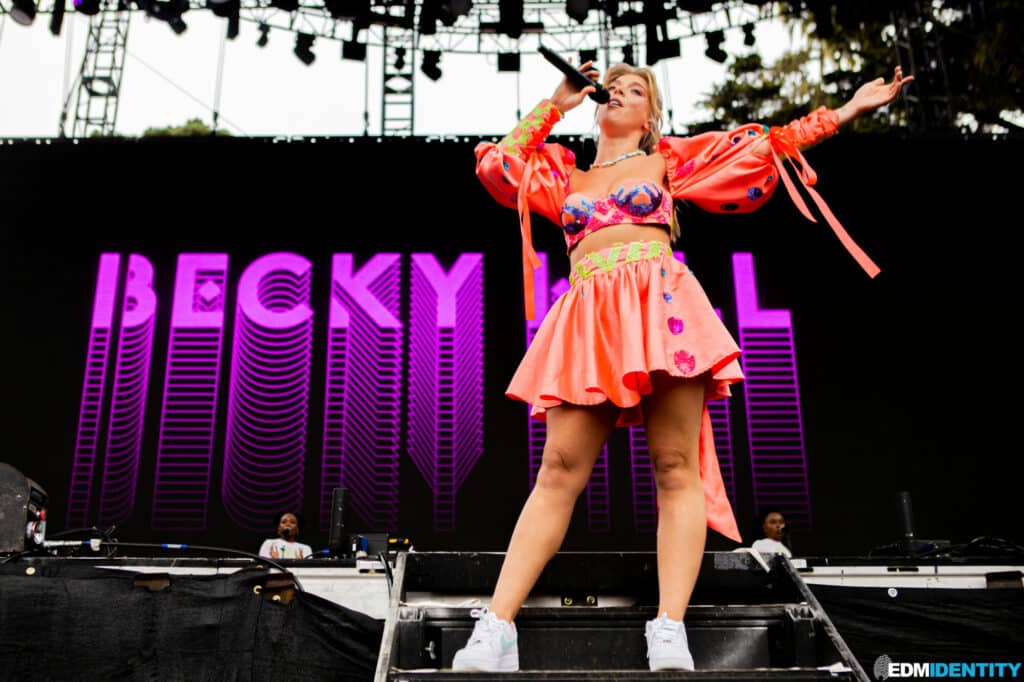 It's all very well deserved! You mentioned the Chase & Status single, and you're a huge drum and bass fan. This was your fourth drum and bass collaboration, right?
I've always been writing on drum and bass; I've got a small catalog of stuff I've written. But we did "Afterglow," then I did Netsky a song called "Hold On," and then another song with Wilkinson called "Here For You," which was nine years after "Afterglow." Now, with Chase & Status, this feels like a real moment for me. Drum and bass has never let me down.
What originally drew you to those sounds?
I love the tempo, 174 is my BPM for sure, and also how euphoric and emotional drum and bass can be. It's so versatile. Like, if you want to go for some gnarly, jump-up, aggressive kind of drum and bass, you can find that. But you can also find the moments where you can cry and have a vulnerable moment, too. So I love it. I always will.
During your set, we were in the crowd like, "drum and bass at Outside Lands, we never would have imagined! This is amazing."
I really hope the Americans start taking to it because the rumor in the UK is that it's a bit too fast. But for sure, like I'm starting to see people go, "Oh, I can get used to this."
What brought on that last collaboration? Had you worked together in the past? Was it that you had a top line ready for them, or did they have a beat?
It started on an email, really, but nothing kind of worked. Then I remember seeing them at another festival. I sat down with them and basically called them out. I was like, "You know, I've been trying to work with you guys for years, and you haven't been interested, but now I've got a little bit of success under my belt. Now you want to work with me?" Saul laughed and was like, "Well, yeah, everyone's got to do a bit of work." It was actually lovely to have that kind of jokey moment with them and then to be in the studio with them.
To start as a fan and then end up collaborating with them must have been such a dream come true. I can only imagine.
Yes, and there's a mutual respect because I think Saul and Will know how extensive my knowledge of drum and bass is. I do a podcast called The Art of Rave, where I've interviewed the likes of Pete Tong, but also a lot of people in the drum and bass world like Andy C, DJ Zinc, and Groove Armada as well – not drum bass, but still absolute legends. So I've been lucky enough to be able to sit down with some of my heroes in electronic music and pick their brains about how it all started for them.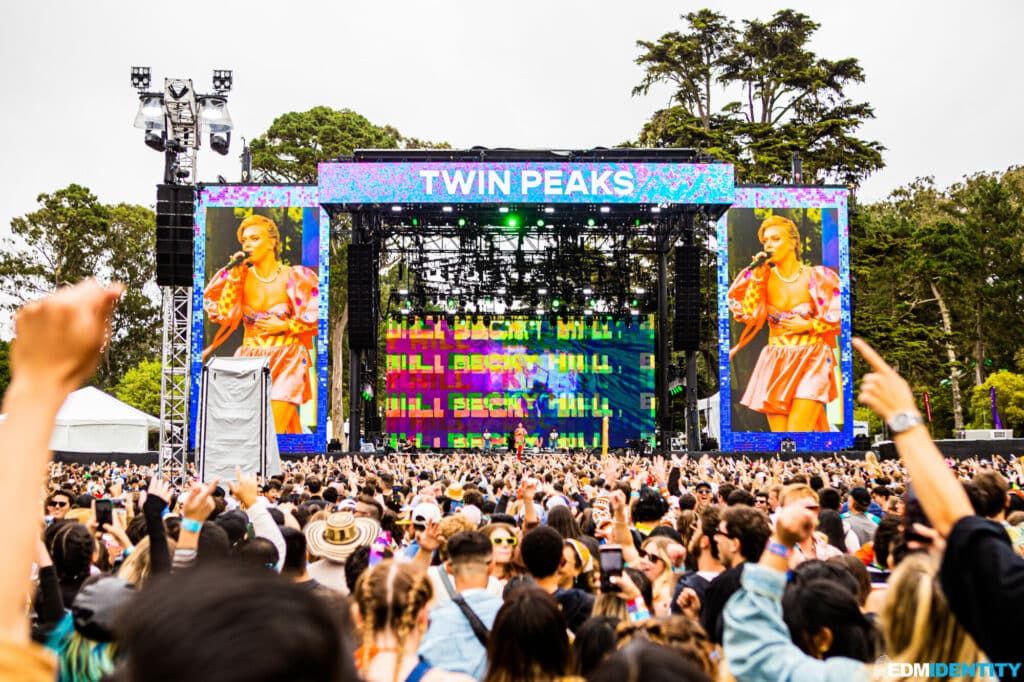 Speaking of, you're transitioning to fewer features and focusing on your music but staying within the dance realm. Can you tell us a little more about that? How are you exploring new genres, and how are you exploring your own production process as a solo artist?
For me, my project has always been a little cotton candy. I think this year was really the year that I wanted to be more deep-rooted in house, dance music, drum and bass, the stuff that I love, and to be leaning more on the cooler side of stuff. Now I get to work with people like MK on my project, or Solardo and Franky Wah. I feel really lucky that these people also have time and respect for me to work with me as well. It just feels like music is now a bit more of a playground.
You're so well versed in so many different subgenres because you study them and are a fan of them, but are there genres that you haven't explored that you would love to?
I would love to do some trance. My fiancé, he was a trance DJ himself many moons ago. But yeah, that's what Calvin Harris is doing at the minute, and it's nice to see that faster tempo coming alive now.
I am all for that! I love trance. Your style is so fun and colorful. Do you have any icons or are you influenced by any aspects of dance music?
I think for me, dance music got a little bit too heterosexual, and I felt like it needed to get some queerness back into it. So it was really important for me to dress flamboyantly. I came out as queer two years ago, and I really started to realize that my sexual prowess was on stage. I could dress colorful and sexy and wear knee-high boots and still come on the stage like I'm no different from a man behind the decks. So yeah, I'd like to think that I can have my cake and eat it too, and people will see that women on stage, especially in dance music, are something to be listened to and paid attention to.
That's incredible and so true. Last question, what is one thing that you're obsessed with right now?
Good question… I'm kind of obsessed with Succession! I don't really have time to have any obsessions. I mean, world domination is probably the thing I'm most obsessed with. The idea that coming to America, I feel like a very small fish in a big pond, whereas in the UK, I kind of feel like a bigger fish now. So now, my plan for world domination is taking full effect. I want to be an international, global artist who sells millions of records, and I want to be on the biggest stages and perform. That has been something that has kept me up at night. That's my real obsession, and Succession. [Laughs]
---
Follow Becky Hill: