San Francisco has a storied history, and the journey of how Outside Lands came to be is one that's fascinating!
---
Outside Lands has become one of the West Coast's premier festivals hosting multi-genre lineups alongside a plethora of art, food, comedy, and local vendors. Over the years, iconic musical acts have graced the stage at this weekend-long experience, including The Who, Elton John, Metallica, Paul McCartney, Dave Matthews Band, Nas & Damian Marley, Muse, deadmau5, and Stevie Wonder, to name a few. Not to mention Outside Lands has always had its finger on the pulse of the music scene and have booked and supported many up-and-coming artists years before their success, like Cage The Elephant, Pretty Lights, Foster The People, Twenty One Pilots, and many more.
Related: Check out the lineup and night shows for this year's edition of Outside Lands.
Although the first edition of Outside Lands took place in 2008 with headliners Radiohead, Tom Petty & The Heartbreakers, and Jack Johnson, the timeline and details of how the festival and Golden Gate Park came to be are fascinating. In 1848 with the signing of the Treaty of Guadalupe Hidalgo, Mexico ceded most of its territory to the United States Government. The territory included California, Nevada, Utah, New Mexico, most of Arizona and Colorado, and parts of Oklahoma, Kansas, and Wyoming.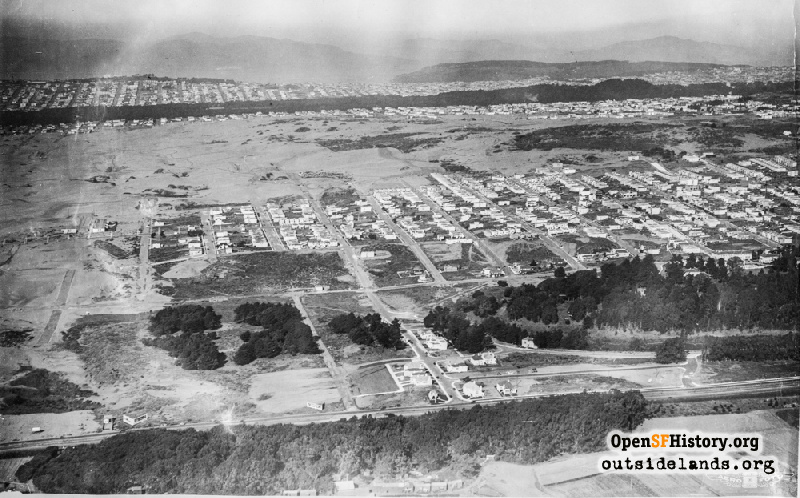 With this newly acquired land and a growing population, the County of San Francisco petitioned the United States Government to develop and invest more in the land.
After years of litigation and court battles, local politicians and residents successfully rallied to establish a public park in 1866. The then Mayor, Henry P. Coon, worked with surveyors, Board Supervisors, and a special three-member committee to map the Outside Lands, portion it into subdivisions, and submit a proposal detailing the idea for Golden Gate Park. In 1870, the state legislature passed the proposal, and "an act to provide for the improvement of Public Parks in the City of San Francisco" was granted.
Surveyor and engineer William Hammond Hall won the surveyor contract and led the development project. In 1871, a large portion of the developments had been completed, including grading, fencing, drainage and irrigation work, and the inclusion of a park nursery. In 1872, 22,000 trees were planted, park roads were built, and visitors from all over the area began to flock to the park. Among the 22,000 trees planted were Monterey Cypress, Monterey Pine, Blue Gum Eucalyptus, and the Giant Sequoia and Coast Redwood.
The final park footprint is a beautiful 1,017-acre development that includes unique gardens, commemorative tree groves, a conservatory of flowers, an arboretum, and dedicated athletic courses, which attract and accommodate about 25 million visitors annually. From its humble beginnings of being detached from the main city and comprised of uninhabitable sand dunes to hosting large-scale events and being the scenic backdrop to people's daily lives, Golden Gate Park has become an iconic space to enjoy time and make memories in San Francisco.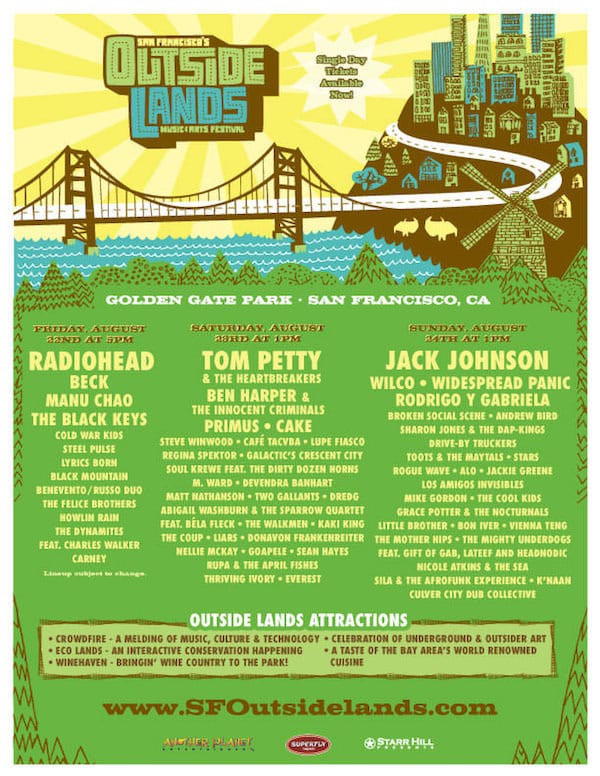 Since the park's development and festival's inception in 2008, there have been countless core memories made inside the unique and beautiful Golden Gate Park space.
Fast forward to August 22, 2008, Outside Lands debuted in Golden Gate Park, where Radiohead had the distinct honor of being the first artist to perform after dark. Over the years, many memorable moments have unfolded in Golden Gate Park during Outside Lands. Q-Tip was joined by fellow legend and A Tribe Called Quest MC Phife Dawg for an unforgettable guest appearance during his 2009 set.
Ranger Dave made his debut at Outside Lands in 2010 and has become synonymous with the festival. A statue of Ranger Dave was even erected in 2014 to cement his legendary status. The statue can be found in Lindley Meadow by the main gate, where he loves to pose for photos and be included in attendees' Outside Lands experience. In 2011, Dave Chapelle performed in between sets at Sutro, leaving guests belly-laughing and in high spirits.
In 2015, in the wake of his acclaimed album, To Pimp a Butterfly, Kendrick Lamar performed on the Twin Peaks stage to one of the biggest crowds in Outside Lands' history. In 2017, Gorillaz brought down the house with a spectacular set that included guest stars like Pusha T, Kali Uchis, and De La Soul. In 2018, Outside Lands became the first festival to offer a curated cannabis experience, Grass Lands, while Ranger Dave's friend, Ranger Ruth, also made her debut.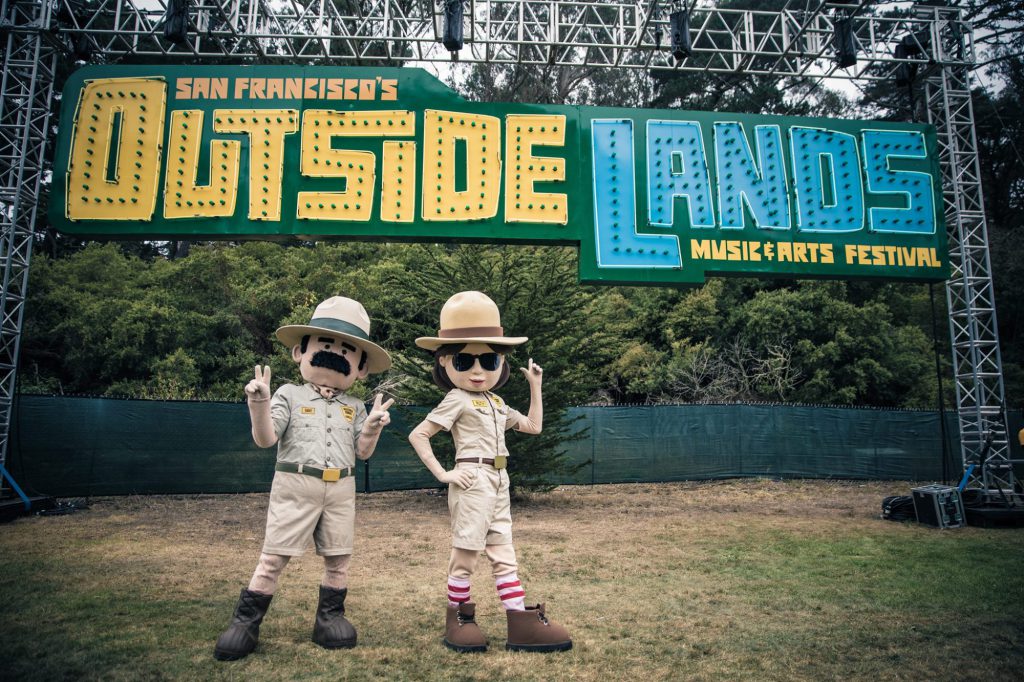 The pandemic saw Outside Lands shift to a virtual experience, Inside Lands.
This virtual experience featured never-before-seen footage, throwback artist sets, and live performances from the Ranger Station. Although there is no replacing the in-person experience, Inside Lands garnered over 5 million views. In 2021, Outside Lands took place in October for a uniquely special Halloween edition where the SOMA Tent was debuted—a tent where house music could be enjoyed all weekend long alongside top-tier lights and production.
Now that the festival has officially returned, it's been off to the races with stunning performances and unique experiences.
Last year, Green Day packed the Lands End stage for a highly-anticipated homecoming show that included hit after hit and left everyone floored. Not to mention sets from Disclosure, Claude VonStroke, Jack Harlow, Weezer, Post Malone, SZA, and countless others that kept festival-goers grooving throughout the weekend. Other inclusions, like the SOMA Tent and Grass Lands, have also been welcome additions in recent years as Outside Lands continues to solidify its place among the top festivals in the scene.
With the announcement of this year's lineup, we cannot wait to be back in Golden Gate Park to enjoy everything Outside Lands and the space has become. It has been a long journey from the early developments of the land to what has become of the space today. Enjoying world-class music, food, art, and comedy in such a storied city is a wonder. All of this makes Outside Lands one of the most attractive festivals in North America, so make sure you're there this year to experience the magic for yourself!
---
Follow Outside Lands: