David Guetta and MORTEN returned to their stomping grounds at The Brooklyn Mirage for another fantastic Future Rave performance.
---
Before the commencement of the Future Rave tour in 2022, which included performances at various venues, one being The Brooklyn Mirage, David Guetta and MORTEN made a deliberate decision to host a single, exclusive event back at Brooklyn's electronic dance stomping grounds. In anticipation of their upcoming Future Rave endeavors in Ibiza this summer, the duo expressed their earnest desire to provide an exceptional and enticing preview of what lies ahead in the near future. Intending to generate intrigue and anticipation, they meticulously curated a distinctive experience that served as a glimpse into their forthcoming undertakings.
Prior to their captivating stage performance, David Guetta and MORTEN provided some thoughts for a small group of lucky attendees, diving deeper into the essence of Future Rave and its profound significance to them. David Guetta expounded on the genesis of Future Rave in early 2020, driven by a desire to create distinctive music that would grant them the freedom to experiment, unburdened by expectations.
Guetta then expanded on how with Future Rave sets, he can play anything he wants compared to playing solo sets, with fans expecting his biggest singles to be played throughout the night, such as "Titanium" or "Sexy B*tch." He also elaborated on his fondness for Ultra Music Festival in Miami, a festival he holds dear, yet acknowledged the inherent stress it brings as it marks the beginning of the festival season—a pivotal moment to showcase the tracks these two producers have diligently crafted throughout the winter.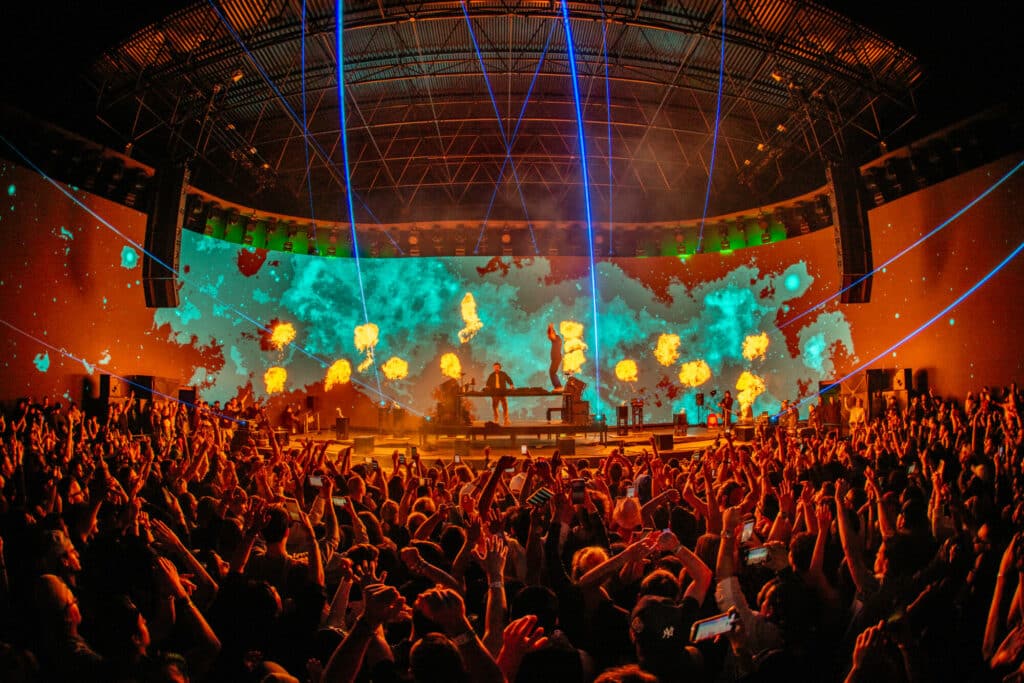 Meanwhile, MORTEN shared his experience of performing at a plethora of shows.
MORTEN confessed that each shoe induces a blend of nervous excitement, particularly when the time comes to unveil a specific Future Rave composition and witness the electrifying reactions of their devoted fans. When questioned about the choice of New York as the exclusive destination for Future Rave, David Guetta's sentimental attachment to the city emerged, as it holds a special place in his heart as the birthplace of his illustrious music career.
Lastly, David Guetta delved into a profound exploration of the true meaning of success. He imparted a valuable life lesson, emphasizing the importance of persisting in pursuing one's passion. Acknowledging that the initial stages might be arduous due to limited opportunities, he expressed confidence that unexpected doors of opportunity will swing open as time unfold, paving the way for greater achievements.
When the clock struck midnight, David Guetta and MORTEN graced the stage, captivating the enthusiastic New York audience with a mesmerizing two-hour set.
The two started their performance by unveiling "Lost In The Rhythm," a brand new track that boasts AI-generated vocals—an innovative and forward-thinking approach to music creation. Throughout the set, a plethora of unreleased tracks were unveiled, showcasing the duo's commitment to pushing boundaries and introducing fresh sonic experiences to their devoted fans.
The immersive atmosphere of Future Rave was heightened by its stunning visual elements, including captivating visuals, intricate laser displays, and fiery pyrotechnics that synchronized flawlessly with the climactic drops of each track. The synergy between the music and the enthralling visual spectacle evoked an electric energy, igniting the crowd into a frenzy of euphoria and excitement. The combination of pulsating beats, ethereal melodies, and striking visual effects created an unforgettable sensory experience for all in attendance. We cheer for another year of Future Rave at The Brooklyn Mirage and, hopefully, many more to come. 
---
Follow David Guetta:
Facebook | Twitter | Instagram | SoundCloud | YouTube
Follow MORTEN:
Facebook | Twitter | Instagram | SoundCloud | YouTube