Space Yacht enlisted some favorites for the sixth volume of Tech My House with tracks from Ōsé, DEM2, Mitch Dodge, COLOR.LOVE, Lvndo, and more.
---
Always taking pride in its mission to showcase the next generation of dance music, Space Yacht has cemented itself in the community as a brand that knows how to command attention with raucous parties (and, let's be honest, unhinged tweets). From hosting a wide range of events to signing up-and-coming artists to its label, Space Yacht is always doing its part to give artists opportunities to dominate the stage. One way they do this best is through their carefully curated, genre-based compilations. One such series is Tech My House, which returns now for another edition.
The previous edition of Tech My House featured superstars like Space Yacht co-founder LondonBridge, Ocean Roulette, DEM2, Tony H, alltalk, COLOR.LOVE, and ZOF. Now, Tech My House Vol. 6 brings back some of those same artists plus some fresh faces, featuring 12 compelling tunes from artists like Avilo, Haylee Wood, Mitch Dodge, Luxo, Ocean Roulette, and Lvndo.
Check out the Tech My House Vol.6 compilation on your preferred platform and continue on for more on the tracks!
Stream Tech My House Vol.6 on Spotify:
---
Space Yacht brings a variety of flavors for dancing on Tech My House Vol. 6.
The latest Tech My House compilation takes off with Chicago-born DJ and producer Ōsé and his track "All You Need." This tune introduces the compilation perfectly, with a flawless flow and playful vocals that tease listeners into dancing to the beat.
Avilo and Haylee Wood then take the lead with their track "Sweat," whose verses speak nothing but facts. Listeners will be itching for their next chance to hit the dancefloor and sweat their worries away after hearing this tune. Dynamic duo Tan House then follow suit with "Hypnotherapy," a track that lives up to its name by giving your body a mind of its own.
Latin tech house duo DEM2 then take the reins and show us exactly why they're Space Yacht regulars. One of my personal favorites off the compilation is their track "Wanna Dance." It definitely does the trick and takes control of your hips before you're even five seconds in.
Next up, Mitch Dodge and COLOR.LOVE put their heads together to bring listeners a track that will truly "FEELSORIGHT" the second it hits their ears. Further down the line, Zack Darza delivers "Off My Mind" with the most unique flow we've heard on the compilation so far. Lvndo brings up the rear of this edition with "Entonce," a track brimming with Latin tech influence from its vocals to its irresistible rhythm.
The sixth volume of the Tech My House compilation series comes to a close accomplishing precisely what it set out to do. Space Yacht has once again shown their mastery of the art of bringing rising artists to the forefront of dance music, giving them the support and platform that they deserve. Now, listeners can hit replay and dive into all the artists on the compilation. Be sure to follow Space Yacht as well as all the artists on socials to stay updated for their next releases.
---
Space Yacht –Tech My House Vol.6 – Tracklist:
Ōsé – All You Need
Avilo, Haylee Wood – Sweat
Tan House – Hypnotherapy
DEM2 – Wanna Dance
Mitch Dodge, COLOR.LOVE – FEELSORIGHT
Tony H., Koister, AMP (US) – Daddy
Dre Mendez, Caleb Dent – Cali
Luxo, Ocean Roulette – I Want
Zack Darza – Off My Mind (Feat. Gabe Sostre)
Taylor Pierce, Spiro Catalano – Walk (Feat. Fubu Q)
Lvndo – Entonce
Jax Carter (US) – Bitch Toxic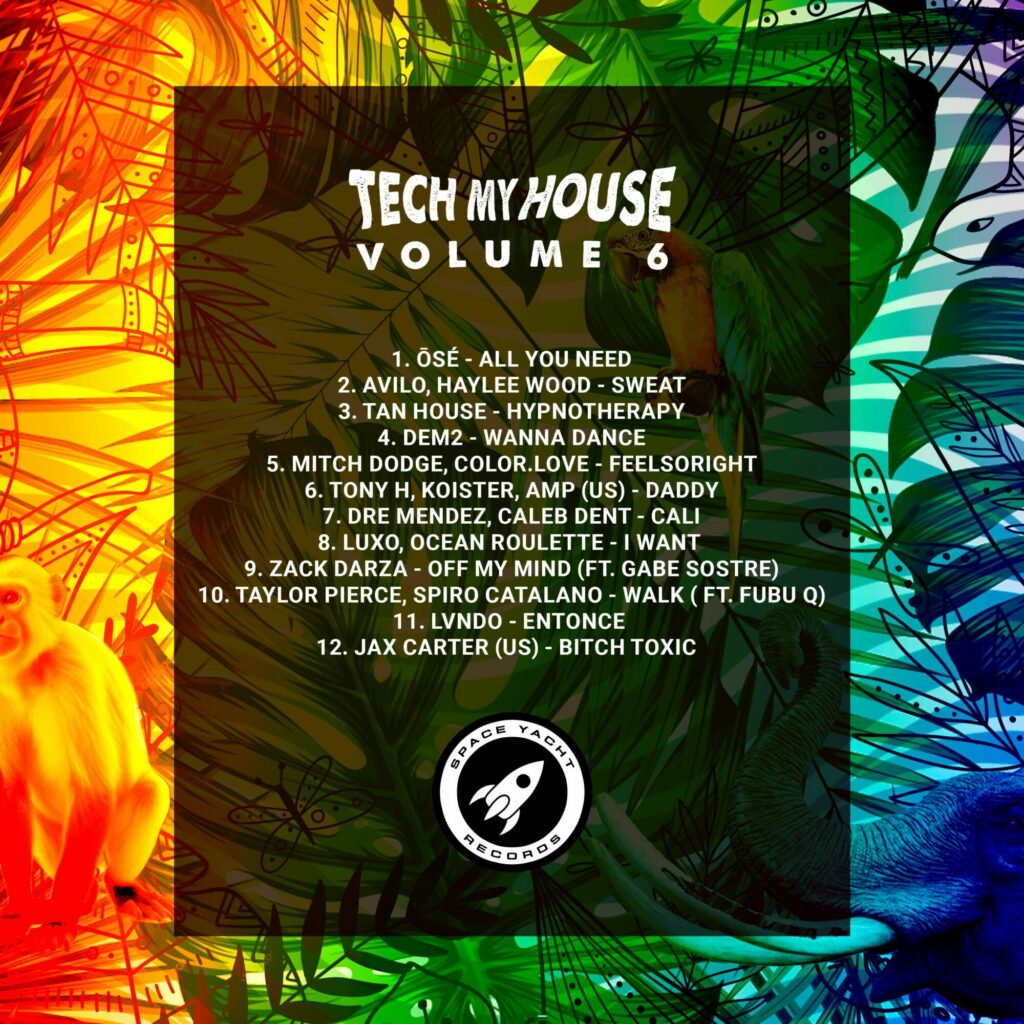 ---
Follow Space Yacht:
Website | Facebook | Twitter | Instagram | SoundCloud | Twitch