Elements Festival continues to grow while adding art, healing, and non-music experiences. All the essential details you need are here!
---
Elements Music & Arts Festival has made quite a name for itself over the years. It's grown from a local campout to a regional camping festival to what is now an event worthy of long-distance travel.
Elements has always touted itself as "Burner adjacent," meaning that it's similar to a regional Burn but is not affiliated the Burning Man Project and includes commerce. As the years have passed, its art and experience side has continued to grow. While the pandemic changed the trajectory of so many festivals, Elements operated a "COVID-safe" experience in 2020 and then ran into some hiccups in 2021.
EDM Identity skipped the 2022 edition, worried that some of the 2021 problems wouldn't be addressed — but the general consensus is that organizers put the festival back on the right track.
For 2023, Elements will revisit the new home it christened in 2022 in Long Pond, Pennsylvania, and we're returning to see for ourselves what's become of the event. A few notable changes include camping being put in the grassy areas so campers aren't on barren land, and the creation of "Vibe Villages" which replac the "sound camps" at previous events.
The sound camps were loosely based on Burning Man theme camps and were allowed to have sound systems. As of 2021, these had become untenable. They caused sound bleed and even led to a few camps dueling it out in unofficial battle. Organizers intend for the Vibe Villages to assure attendees all play nice together on the space, and also attract more visitors. Where previous sound camps weren't always obvious until the music started, the Vibe Villages will have more art and visual representation to draw people into the space at all times.
We're really looking forward to seeing how the new Vibe Villages play out, as well as the increase in art, and the return of the Wub Hub stage. Check out all the essential details below!
Elements Festival 2023 Essential Info:
Dates: August 11-14, 2023
Hours: 24 hours a day
Venue Address: 1 Hulman Dr. Long Pond, PA 18334 (Map)
Tickets: Purchase HERE
Facebook Event Page: RSVP HERE
---
Elements Festival 2023 – Set Times:
For the full Elements Festival set times, and personal scheduling capabilities, download the mobile app here.
---
Elements Festival 2023 – Festival and Camping Maps: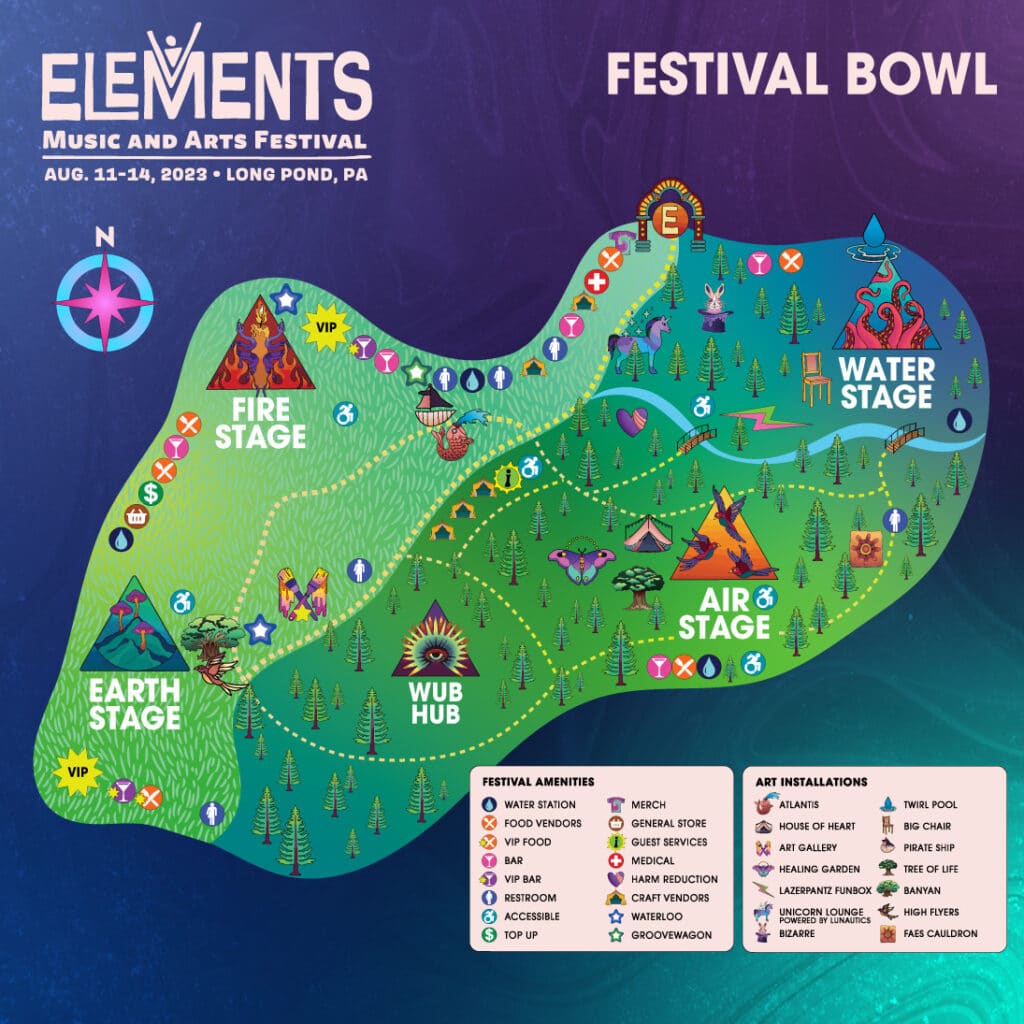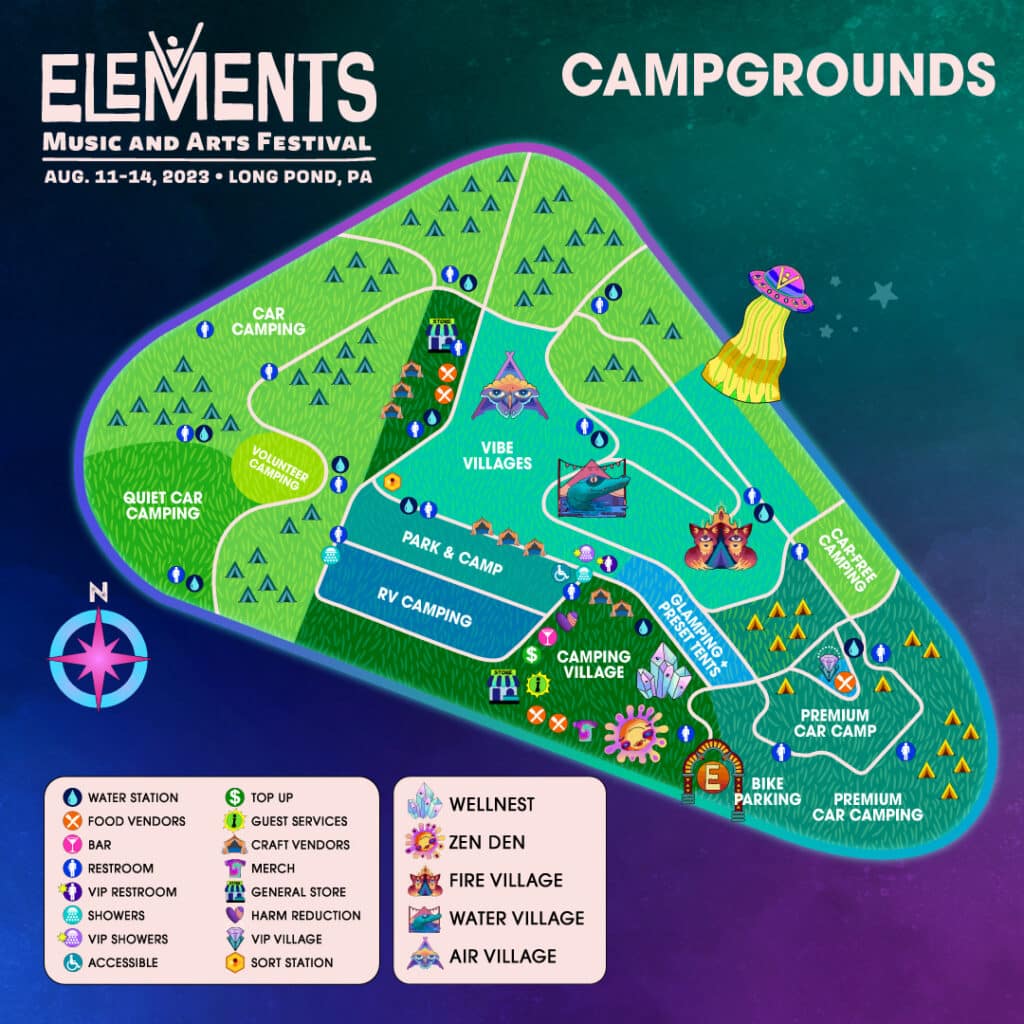 ---
Elements Festival 2023 – Healing Garden, Artists, and Food Vendors:
Over the years, Elements has grown its non-music experiences at the festival. Here are the 2023 Healing Garden, artist, and food vendor lineups: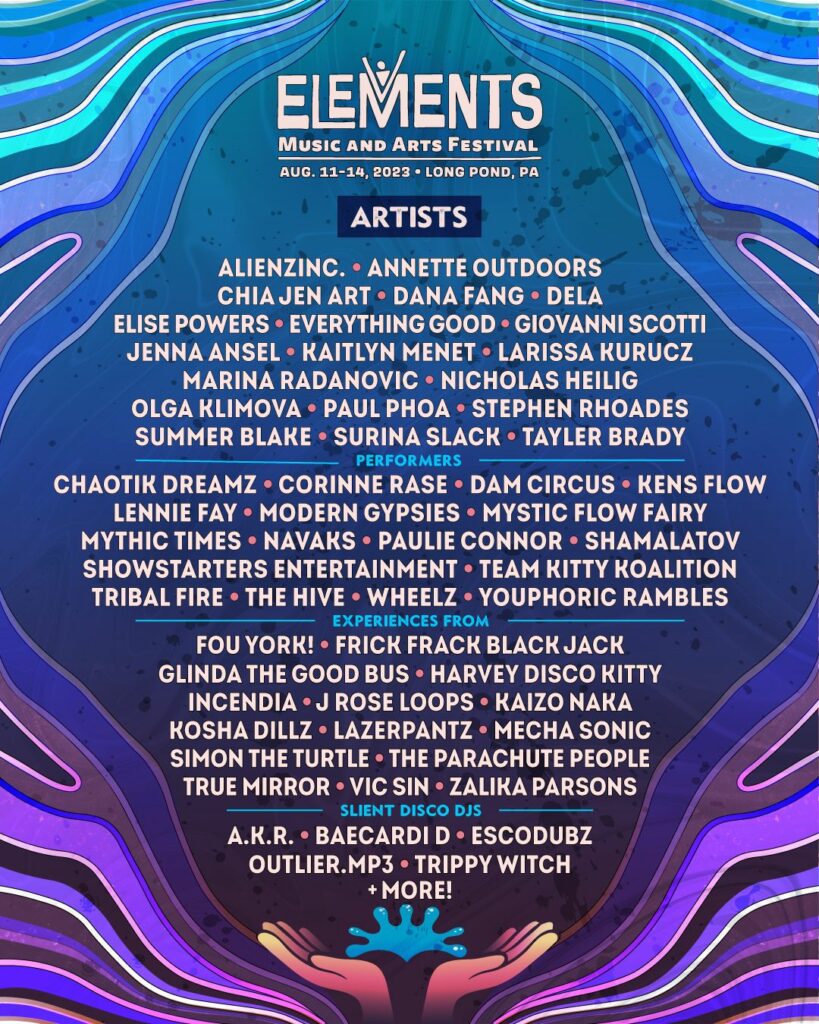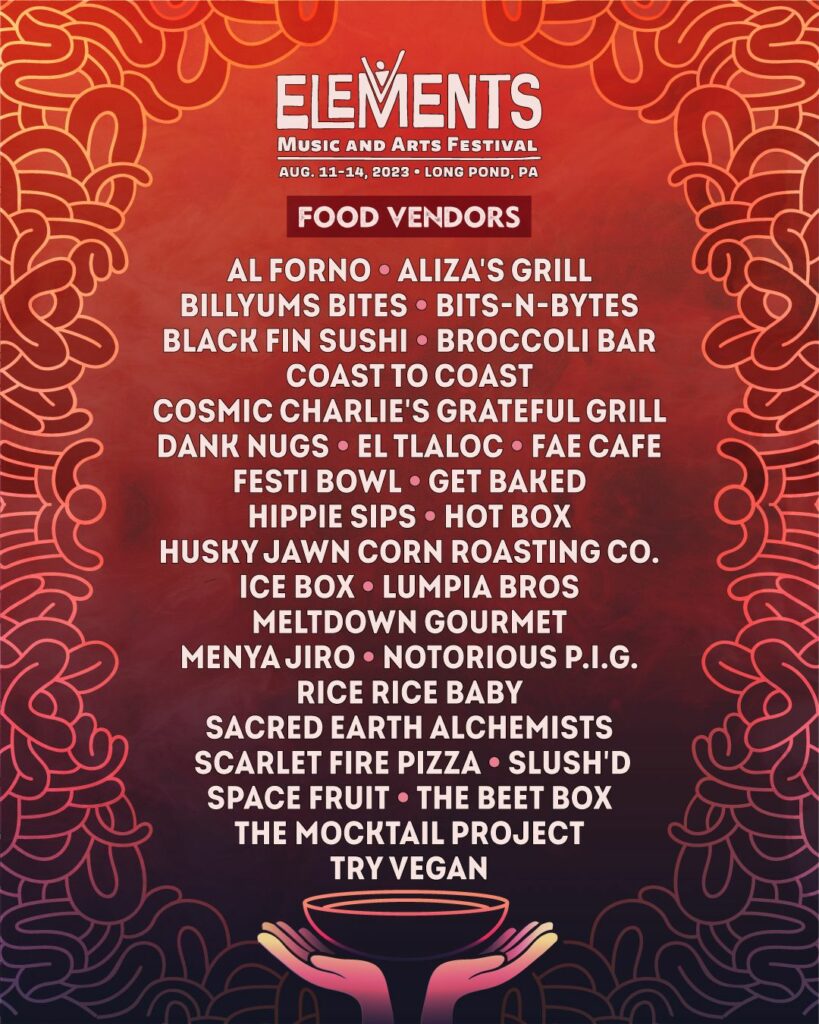 ---
Reminder to Mind Your Belongings:
Unfortunately, many people have reported pickpockets and bag slashings, as well as theft of wallets, smartphones, purses, and other valuables during this festival season. While this small number of bad apples in the bunch doesn't define an entire crowd, there are opportunistic people who come to these events to take advantage of unsuspecting partygoers. It's important to be mindful of your valuables while at Elements Music & Arts Festival.
Looking for tips to keep your belongings safe? Check our post highlighting some ideas!
---
Elements Festival 2023 – Dos and Don'ts:
NOTE: Elements shas hared two separate lists to distinguish what is permitted and prohibited in the campground versus the venue. For example, camp stoves are allowed in the campground but not the venue. These lists are presented separately below.
Campground Prohibited Items:
Glass of any kind
Paint of any kind including paint markers and spray paint
Fireworks, projectiles, and/or explosives
Firearms
Chinese lanterns
Illegal substances
Open fires
Charcoal grills
Propane tanks larger than 1lb or in quantities larger than in the "Campground Permitted" list
Vending items without an event permit
Motorized vehicles, including e-bicycles, e-scooters, go carts, ATVs, and/or UTVs
Skateboards, rollerblades, hoverboards, scooters, and/or Unicycles (including one-wheels)
Pets (service animals excepted)
Generators unless permanently attached to a motorhome or RV
Gasoline
Kegs
Drugs and/or drug paraphernalia
Focused light devices, including laser pointers
Flags or totems with metal or wood pieces
Unsealed tampons
Pacifiers
Unsealed over-the-counter medications/vitamins
Non-prescription drugs or prescription drugs in non-approved prescription containers
Aerosol containers of any kind, including deodorant, perfume, and/or sunscreen
Knives with blades longer than three inches – butter knives are acceptable in the camping area only
Drones
Tactical gear
Large speakers
Sticks, bats and/or clubs, including signs (or anything that could be deemed a weapon)
Unsealed car batteries
Campground Permitted Items
Any general camping items not on the "Campground Prohibited" items list
Self-powered speakers small enough to be carried in one hand
Cooking appliances with propane as primary fuel with UL sticker – no more than three total 1lb propane canisters and only one cooking appliance per camp site.
Factory-sealed nasal NARCAN – no more than two per person
Alcohol:

one case of beer or one box of wine per 21+ person
No hard alcohol
No glass containers of any kind

Generators permanently contained in RV are permitted in the RV area only – maximum five gallons of fuel per generator.
Bicycles (allowed in the campground only, not inside the venue – bike racks will be available by the venue entrance in the campground)
Venue Prohibited Items
Bags not in compliance with the bag policy (see below)
Any item that can be used as a weapon
Instruments
Knives and/or weapons of any kind regardless of permit
Chains, chain wallets, and/or studded jewelry
Fireworks or explosives
Blankets, sheets, and/or towels not in compliance with the allowed size and quantity
Outside food or beverages
Framed, folding, or solid chairs of any kind
Tents, shade sails, or structures of any kind
Flags, signs, and/or large obstructive materials
Large video cameras
Professional audio, video, and/or still photo recording devices
Stuffed animals
Pets (service animals excepted)
Drugs or drug paraphernalia
Umbrellas
Water guns
Skateboards, rollerblades, hoverboards, scooters, unicycles (including one-wheels), bicycles, and/or motorized carts or scooters
Focused light devices, including laser pointers
Sharpies, markers, and/or spray paint
Coolers
Balloons, balls, and/or large inflatables of any kind
Unauthorized solicitations, handbills, sampling, and/or giveaway items
Disposable containers
Glass or glass containers of any kind
Drones
Venue Permitted Items
Bags in compliance with the venue bag policy (see below)
Hats
Sunblock (non-aerosol in containers of 3oz or less)
Lighters
Cell phones
Sunglasses
Cigarettes/cigars
One small beach towel or blanket per person no larger than 30 inches x 60 inches
Hammocks
Digital cameras (non-pro)
Film cameras (non-pro)
Earplugs
One factory-sealed, non-glass water bottle no larger than 1L
Factory-sealed nasal NARCAN – no more than two per person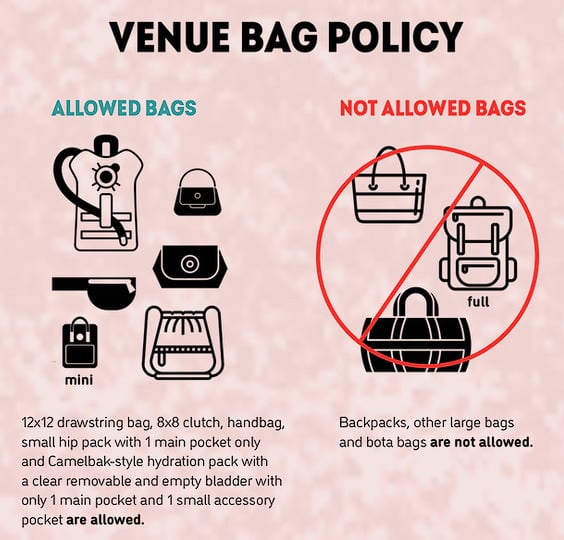 ---
Follow Elements Music & Arts Festival: