In My Elements has a simple mission: "Bring joy and create an otherworldly, transformative festival experience!" But could they pull this off safely during the pandemic?
---
There's nothing simple about putting on an event during a pandemic. It's risky, it's expensive, it can be awkward at times, and no one truly knows the right path to safety. When the BangOn!NYC team responsible for the Elements Festival put their minds to it, they found a path forward. At first, organizers punted all Elements events to 2021, but when the road to a smaller event became clear, In My Elements took shape.
Could In My Elements guarantee everyone's safety? Of course not; that can't even be done at ordinary events. But did they come up with a model that mitigates risk and allows attendees to feel comfortable? Absolutely!
The method that was created for this experience to happen is pretty extensive. So extensive, in fact, that Elements Festival co-founder Brett Herman went on to co-found Tested Contained Retreats (TCR) to oversee the logistics. The tip of the safety iceberg is their two-part COVID testing with a home test before traveling to the event, followed by an on-site test before being granted entry.
Another tenet at In My Elements was to have nearly all gathering spaces outdoors, and require masks when indoors – which was strictly enforced. Masks were required on the dance floors, too, but this wasn't strongly enforced. While there were moments where maskless dancers felt too close, the scale of the event generally allowed for comfortable distancing.
The actual COVID testing experience was rather simple in theory, but not necessarily in practice.
Overall the testing was a very positive experience. However, this is not a process for the faint of heart and our personal experience was a bit complicated. If you attend an event like this, expect delays, be patient, and use the bathroom before beginning the on-site process!
The home test was pretty easy and only required a swabbing of the nostril without what many have described as the swab "poking your brain" because it needs to be inserted so deeply in your nostril. From requesting a test to receiving results, we had our negative results in only 4-days. That includes the lab shipping us a test and having us ship the samples back.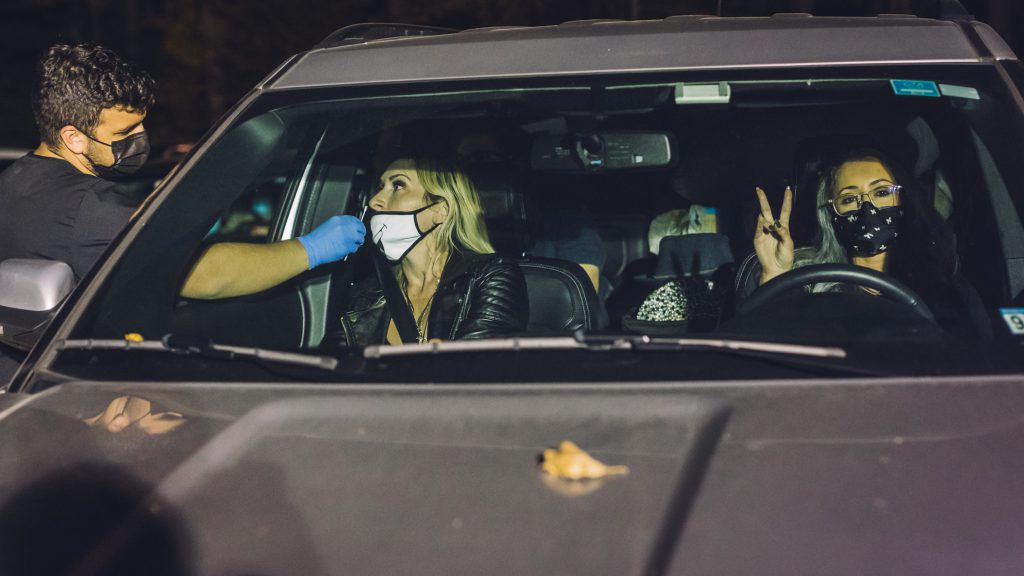 Onsite testing was another matter, though.
We arrived relatively early on Friday (around 2:00pm) and were in a line of cars, waiting to check-in and then get our rapid tests completed. A costumed and friendly member of the festival staff, while wearing a mask, informed us of the process and insisted that we remain in our cars with the windows up until we were cleared. It took about a half-hour to get to the testing tent, at which time medics asked us to roll down our window, performed a "brain poke" in each nostril, and sent us to park and await results.
We were originally told the rapid tests would take about 30 minutes, but we later learned that the absolute fastest time was 45 minutes, assuming no backlog.
Because of the backlog, however, our first test took two hours. A runner then located our car to deliver some disheartening news – we needed to retake the test. We later learned that one of us tested positive, but due to the possibility of false positives, we would need to retake to be sure. We returned to the testing tent, where the medic took two additional samples so there would be four in total to compare (1 home test, 3 rapid tests). More than two hours later and about five hours after arrival, we were cleared to enter after those tests were confirmed as negative. (Remember when I said to use the bathroom before starting the process?)
With that out of the way, we worked on getting ourselves situated and getting an understanding of the grounds.
The venue that Elements Festival takes place is at a summer camp in the North Poconos in Pennsylvania. It's kind of a brilliant plan – host a spring and a fall festival before and after the summer camp season. By using a summer camp, there is appropriate infrastructure in place for a festival. Attendees get the pleasure of bathrooms with running water, the option of cabins or camping, and lots of activities like water sports and basketball to add to the festival fun.
My wife and I were both volunteers as Safety Ambassadors, so while we didn't splurge on a cabin, we were told that we got to camp in "staff camping" rather than GA camping which was limited to two tennis courts right near parking. I say "staff camping" in quotes because nearly all the staff and volunteers had cabins, and the "staff camping" was basically anywhere we wanted within the staff cabin area.
We found a clearing in the woods behind the cabins, with a view of the lake and only one other "resident" in the area, so we were pretty happy about this. It was hard to find at night, but anyone who has tried to sleep at a festival in a GA camping area can understand the value of a little solitude like this!
One note about the venue – this wasn't the camp that all the pre-COVID editions of Elements utilized. Due to the size restrictions, it was moved to a smaller camp in the same area. This made a lot of sense, but the only map posted to the event site was from the previous events, which resulted in some confusion until folks got their bearings at the new location.
Of the size and location, the organizers said, "Going from 5,000 to 250 is definitely a strange shift, but we tried to bring as many 'Elements' of the larger festival experience as are feasible. Even with reduced capacity and all the safety protocols, we feel we maintained the same vibe."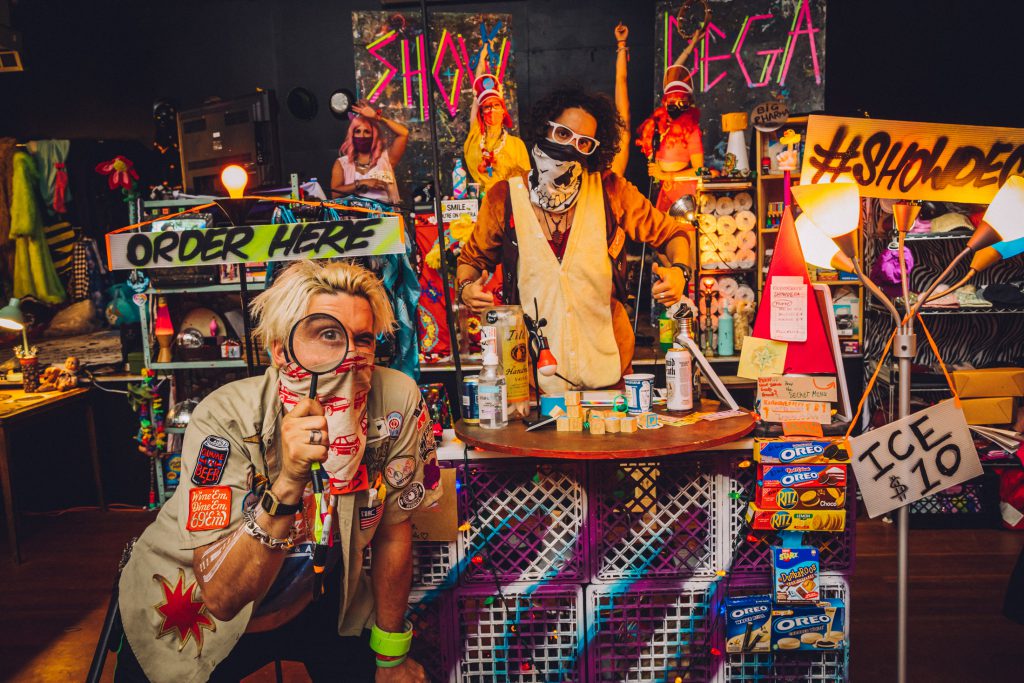 Before we get to the music, let's talk about the myriad of non-musical experiences and the intriguing concessions.
Elements has never been a simple music festival, and as a "burner adjacent" event, there is a heavy focus on arts, crafts, wellness, and other non-musical adventures to be had. In My Elements was no different, and permanent event spaces like the Wellnest and Showdega found their way to this smaller event.
The Wellnest moved outdoors and hosted activities like meditation, yoga, flow painting, and ecstatic dance and the Showdega housed the general store as well as karaoke, blackjack, staff & camper talents shows; plus, an actual wedding! Aside from the bathrooms and the medic station, the Showdega was the only fully indoor space, with staff doing a good job assuring all who entered had donned their masks.
As far as food and drink, the options were limited but pretty awesome.
There were effectively two food vendors: Verdes Plant Based and Cash Only BBQ, the latter of which being confusing because they were accepting payments via Venmo and Zelle. Verdes was truly outstanding and my favorite item was their Mud Shot coffee – "New Mexico Pinion Coffee w/ Chaga, Reishi, Cordyceps." I didn't know or care what any of those additions were because it tasted amazing! And I trusted the crunchy dudes in the truck to be putting the best natural items into my pie hole. The vegan bowls were easier to "identify" and no less amazing to taste.
Lastly, there was the Apothecary at the Alchemy stage, which seemed like a bit of an oddity brewing herbal teas throughout the weekend.
Unique for sure, but with herbal tea remedies described to energize and help bleary-eyed revelers focus, it did make a lot of sense. On the final night, my wife headed back to the tent about an hour before me, her night (and festival) having reached its conclusion. At the Apothecary, I asked if they had a "sleepy tea" and was told there wasn't one on the menu, but they would happily brew me something special if I was willing to wait. After spending 30 minutes on the dance floor, I returned to a piping hot and absolutely beautiful elixir. I drank some on my way back to the tent and gave the rest to my wife, who passed out blissfully about 15 minutes later.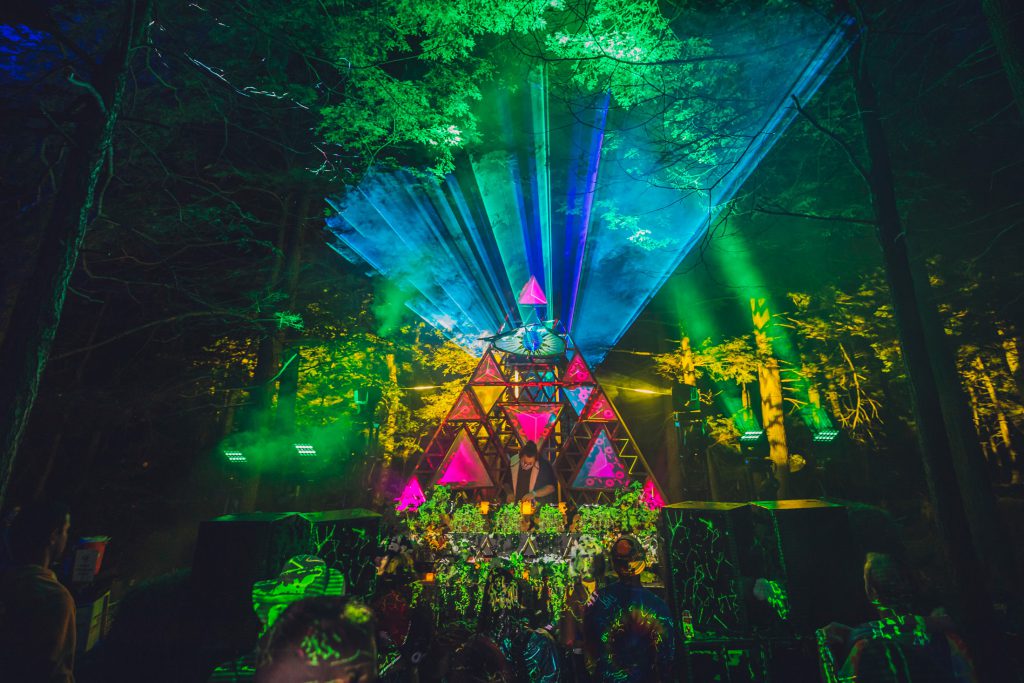 After setting up our camp in the dark, we got ourselves some dinner and were very much ready to get to the music!
By the time we were ready to hit the stages, it was almost 11pm and our Safety Ambassador shift began at midnight, making our options limited. Our shift was at the Alchemy stage till close at 4am, and we were blessed with two spectacular performances to get our weekend started on a high note.
The Alchemy stage was something truly special. Tucked away in the woods with a beautifully colorful pyramid backdrop, it definitely felt as though we had been transported to a magical place. The video mapping was absolutely exceptional, and lasers hitting the mostly bare tree branches created an overhead display of virtual fiber optics that really blew my mind. I messaged friends the next day that "lasers in the forest are my new fave!" – only to have them all chuckle and remind me why I really need to get to Electric Forest!
First up for us was Mashrik, who has a Lebanese/Egyptian background and takes inspiration from his heritage and traditional house music. The result is something more global than most house music, and much of his set had notable tribal sounds as well. During his set, a woman with bongo drums roamed the audience adding a live music element that is always welcome. She also liked to pick out individuals dancing with gusto and engage them in a bongo-versus-dance battle that was super high energy and a great way to get the crowd more engaged.
Next up was Nacho Isa, a Barcelona born, Brooklyn based DJ/Producer who is also the founder of 343 Labs. Nacho's set was a highlight of the weekend for me – it was high energy, on a smaller, more intimate, and artistic stage, and brought the crowd together beautifully. When he opened with a Pink Floyd remix, I knew I was in for something special.
Throughout his two-hour set, he continued to throw in small nods to classic radio tracks while never allowing the original tune to take over. This made for a very dynamic set that kept us all moving even as the 4am hour approached. It was especially fun when the crowd swelled at 3am once Lee Reynolds closed the Fire stage – and many of them wondered out loud why they didn't head over here an hour earlier!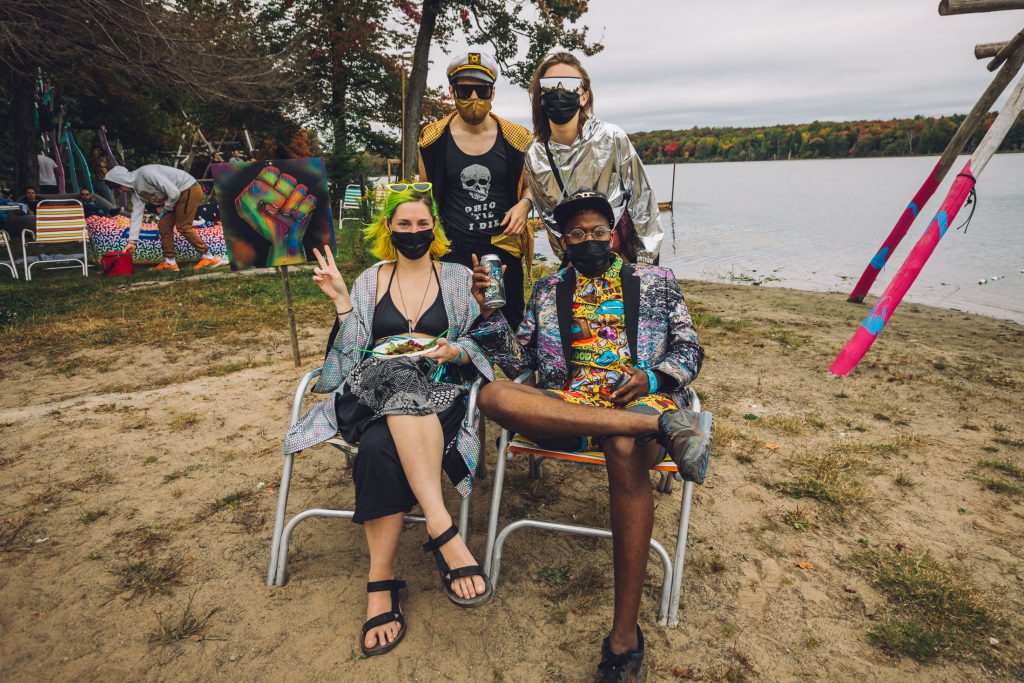 The daytime Water Stage was super chill and a perfect way to recharge before the partying to be had later at night.
After the closing shift on Friday night, our shift on Saturday was only an hour earlier from 11pm – 3am, so we did our best to sleep through the morning and enjoy some time at the Water Stage during the day. Despite the weather being too cold for many humans to go swimming (it was about 60F and cloudy in the afternoon) we saw a number of folks take a plunge in the lake. For most, this was like the "cold plunge" at an aqua spa – they jumped in and immediately got out, shivering but energized from the shock. Then there were those that were seemingly in-human who hung out in the lake, drinking and smoking as though this was all normal. Alas, is anything normal in 2020?
The Water Stage featured a sandy beach dancefloor which was a perfect way to air out your tootsies before and after a night of closed-shoe dancing. There were also a plethora of lounge chairs and hammocks from which to take in the downtempo vibes throughout the afternoon. This was the place that really felt like summer camp and where friends congregated to spend time together in person, perhaps for the first time since March. We caught some of Ria Bird and Soul Clap, both of which impressed with the precise vibes needed to recharge and ready ourselves for what was still ahead.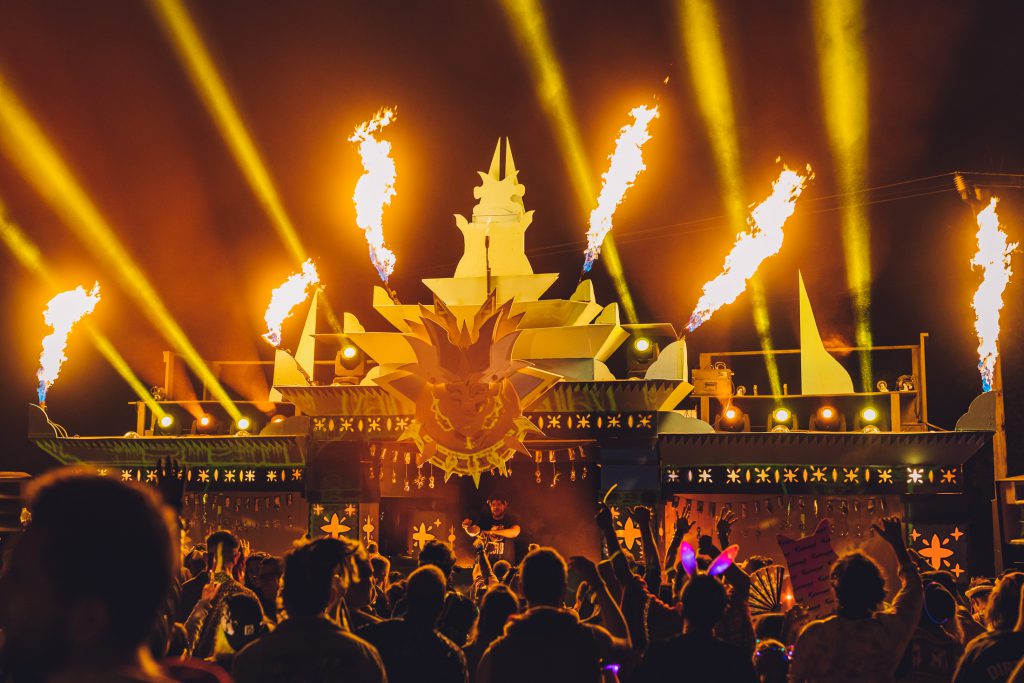 Saturday night at the Fire Stage was absolutely fuego, but it wasn't the same experience for everyone.
Where the Alchemy Stage was intimate and magical, the Fire Stage was more sprawling and in-your-face. It also included two Burning Man art cars that acted as interactive dance spaces – one was a carnival truck and the other was a pirate ship. There was also a "wook catcher," which was effectively a jungle-gym with some cargo netting where wooks could get cozy in the netting and let the vibes wash over them as needed to get through their experience.
The main stage wasn't as elaborately video mapped as Alchemy, but there were fire cannons and intermittent live fire arts performances from the roof of the stage. We arrived at the stage just in time to catch Golf Clap starting his set. I knew that with Sacha Robotti and Wax Motif to follow, I was in for an intense and energetic night. These performers were not my wife's jam, but the overall crowd, however, definitely appreciated the heavier sets with notably more bass. While Sacha Robotti's set was terrific, Wax Motif's bass-heavy set turned the dial up to 11 and did not disappoint. I left the stage at 3am completely wrecked and ready for my sleeping bag.
But this was also where our Safety Ambassador roles began to take shape. Our job was to "party with intention, be sure others are safe, and provide assistance when needed." In other words, we were definitely not security, but instead, we were there to act as a friend to those in need. Whether they were having a difficult experience, drank too much, or were being approached by someone without consent, we were there to help. I'm happy to report that our services were barely needed – not because there was no one in distress, but because the overall vibe was "look out for each other," and nearly every time I saw someone in need their friends came to the rescue. 
So while there were some folks having difficult experiences, we only needed to draw the attention of their crew and they were handled responsibly. Among the Safety Ambassadors, there was only one consent violation reported for the entire event. Of the safety focus, the organizers had this to say,
"Safety and consent are essential to the festival experience we create, and having a crew of ambassadors allows us to maintain a positive presence in more areas for longer periods of time. Plus ambassadors get to party with a purpose and be part of the team – it's a great way to get involved. We hope that more events larger than ours will add ambassador programs as time goes on."
After a few hours of sleep, we awoke on Sunday to some unexpected crappy weather.
Ah, yes – the bane of festival-goers everywhere: when the weather turns nasty. For the most part, the weekend weather was cool and dry – kind of perfect for a festival, if a touch cooler than I'd desire, with the forecast even calling for almost entirely dry weather. However, being in the mountains means unpredictable weather, and Sunday's on-and-off rain was just that. Several morning hours in our tent were used for just reading our Kindles to avoid getting wet.
The only times we left the tent were for coffee and, eventually, lunch; we timed it later so we'd be almost ready for our 7pm-11pm shift when the Fire Stage opened. Sadly, this took us away from a few of the non-musical activities we were considering, such as the Drag Storytelling. I got feedback from others that these alternative activities, while sparsely attended, were really well-managed and fun. The meditation and yoga got especially high marks!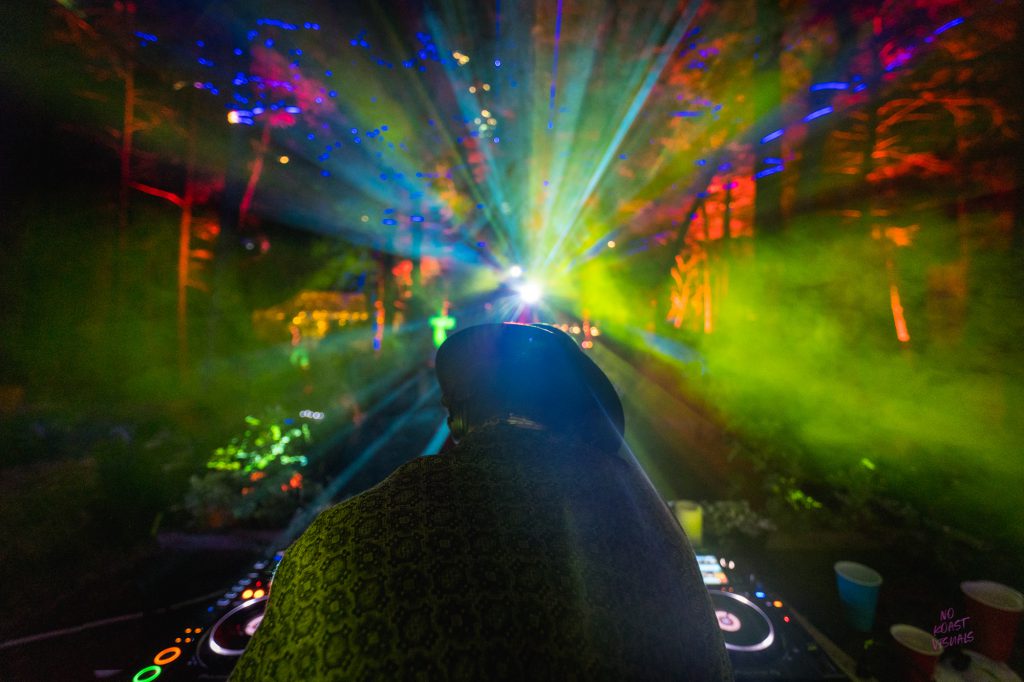 One of the best things about any multi-stage event is the ability to bounce around and take in many different musical styles.
When the stages are themed, it makes it easier to pick out your favorites; by doing this, however, it removes the serendipity of discovering something unexpectedly new. I was happy to find that the stages here were not themed and that the styles varied throughout the lineup. Not knowing the acts listed at Fire Stage on Sunday night, I was open-minded to the possibilities of something new and beautiful. They did not disappoint!
The most serendipitous moment of the weekend for me came when I got to Fire Stage for the opening set by Ryssa. Opening DJs have a tough job – it's often a very small crowd who isn't ready to "give it their all" just yet. When I arrived at the stage there were only about 20 people, but every single one of them was dancing!
Ryssa was pumping out some terrific energy and was not the least bit deterred by the smaller crowd. She had a techno style, but she chopped it up with lots of unexpected transitions. A traditional techno set wouldn't work at this hour, but these shorter segments and fascinating transitions kept us on our toes. On top of that, my wife (who often needs more time to catch the vibe) was almost instantly dancing along with me as the crowd grew.
By the time Charles Meyer took over, the crowd was starting to swell, with the dance floor pretty crowded by the end of his set. He, too, kept things lively and mixed up a number of styles, keeping the crowd wondering what was next. He was mostly in the realm of house, but he continually layered in funky and unexpected sounds. There were many nods to disco through his set, and the grooves just kept on coming. Throw some disco beats into any electronic set and you've got me hooked, that's for sure!
It had only been two hours since the stage opened when Papyon took over, but I was already feeling spent. The music, however, kept me going, with the revelers making sure to leave everything out on the dance floor, it being the final night and all. Admittedly, though, by the time Ria Bird came on with 30 minutes left in my shift, I had hit a wall and that's too bad because her vibe was terrific. I needed a change of scenery at 11pm, so I headed over to Alchemy Stage for a short burst of fresh vibes before calling the weekend a success around 1am.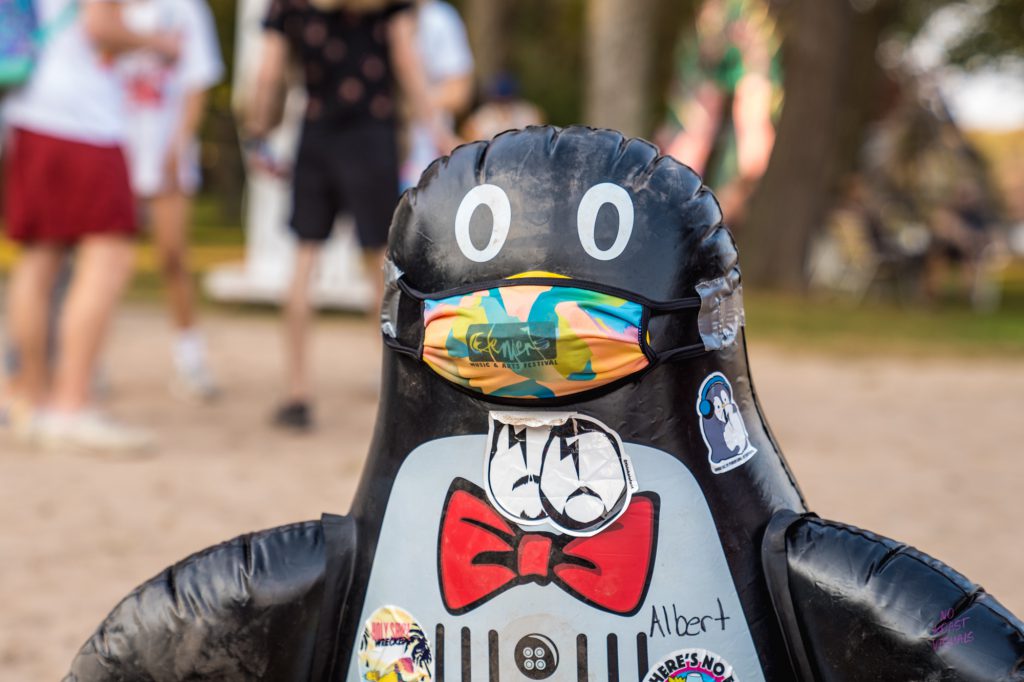 All in all, In My Elements was a blast, and felt like the right balance of safety and freedom.
As I said at the beginning, there is no perfectly safe way to hold any event, nevermind in a pandemic. But the In My Elements team did a fantastic job of striking a balance and making us all feel as safe as possible. I would have liked to see more masks on the dance floor. Then again, it was open-air, and it wasn't elbow to elbow, so is that safe enough? Maybe, but probably not. Once folks got into the party, some behaviors like hugs or yelling to talk to the person next to you felt dubious. This felt pretty minor overall, and I absolutely enjoyed the experience and would do it again.
The organizers had the following response to the question, "Why even host an event like this when the restrictions are so onerous?" 
"This is our DNA, bringing people together and creating joy is what we do. These events are not money-makers at all, but a way to keep our crew together, generate some jobs, and give people a brief weekend of respite and fun! "
Oh, yes, In My Elements certainly brought us together and created joy. I can't wait for the next event!
---
Connect with Elements Music & Arts Festival on Social Media: