Up-and-coming artists Chef Boyarbeatz, KLL SMTH, Skeler, Vide, Tsimba, and more have been added to the Elements Festival lineup.
---
The hype around Elements Music and Arts Festival has continued to build as the date of the festival approaches quickly. Taking place in a combination of forests and fields in Long Pond, PA, on August 11-14, the festival revealed quite a stacked lineup earlier this year. The first two phases included artists such as Skrillex, John Summit, STS9, Moore Kismet, Porter Robinson, Manic Focus, Elberbrook, Subtronics, and many more, who are set to perform on the Fire, Earth, Air, and Water element stages.
Today, Elements Festival revealed even more artists on the lineup with the return of the Wub Hub stage, where some of the best up-and-coming artists can showcase their skills. Providing a diverse mix of sub-genres, including experimental, wave, and more, there is plenty of room to discover new talent. A few standouts in the experimental bass realm include Chef Boyarbeatz, Curra, and KLL SMTH, who always bring their own mind-bending signature sounds to their sets. On the wave music side, Skeler and Barnacle Boi have been added to an array of festival lineups this summer and making a name for wave in the states.
Additionally, many notable artists can be seen on the Wub Hub stage, including a grimy bass Gurf b2b Runnit set. Not to mention stage takeovers by Sermon, The Drop BK, Para Presents, and Synchro. Other artists that festival goers will not want to miss include Vide, Android Dreaming, Jiv, Lavier, Mikayli, and many more. Make sure to peep the full Wub Hub stage lineup below to see what artists have been added to this year's festival.
Festival tickets, camping passes, premium accommodations, and parking are still available via Tixr. Stay in the know about ticket availability, future announcements, and all the special additions to Elements Music and Arts Festival by following the festival on social media.
---
Elements Music and Arts Festival 2023 – Wub Hub Lineup: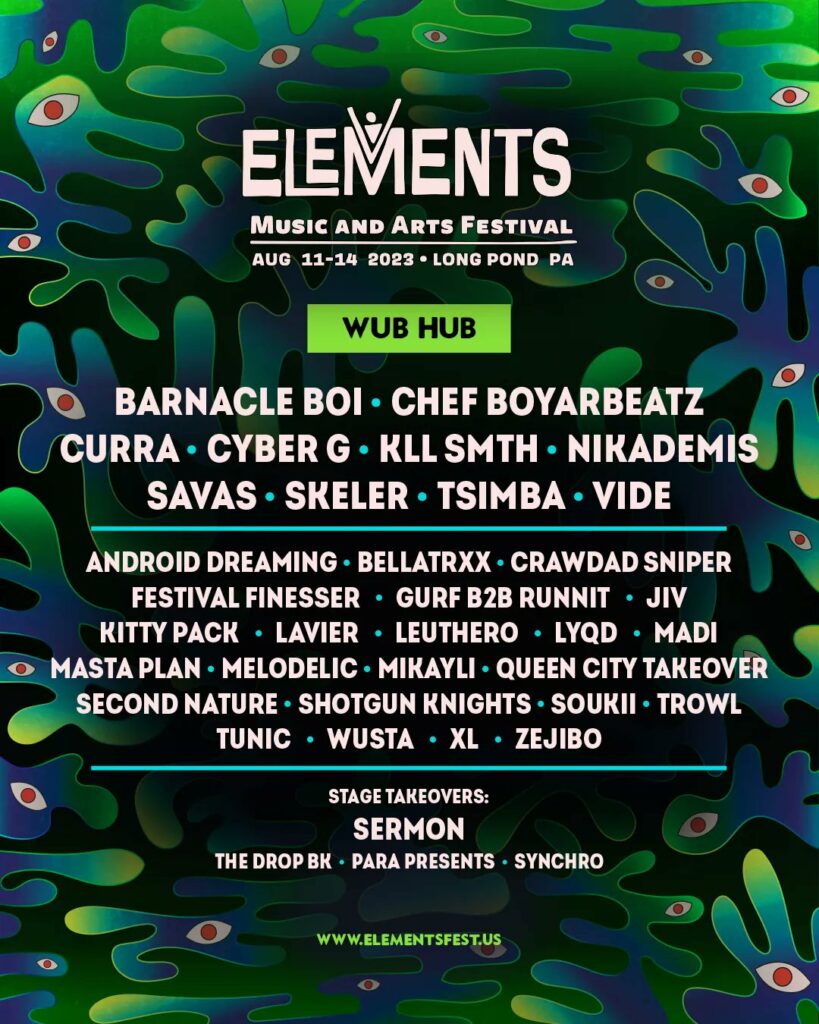 ---
Follow Elements Music and Arts Festival: