Electric Forest is one of the premiere festivals in North America, and it's all because of the music, environment, and collective vibes!
---
Electric Forest is a festival unlike any other. Between the variety of musical bookings, top-tier production, eye-catching art installations, natural beauty of the environment, and most importantly the collective vibe of the people, everything is elevated when experienced in the forest. Returning for my third year, this edition of the festival proved to be one of the most magical yet.
It felt like the lineup was specifically curated for me this year. I was also more comfortable navigating the venue, I had a creative vision going into the weekend, and I was ready to reunite with my Forest family, who were so kind to adopt me last year. To say I was excited to return to the festival would be an understatement, and by the end of the weekend, the Forest truly provided an unforgettable experience and an abundance of memories.
Traveling from San Diego to Rothbury is a mission in and of itself; however, as soon as I got through security and set up camp, all my worries faded away, and unadulterated excitement set in.
The entirety of Wednesday was a travel day. I flew from San Diego to Indianapolis, rented a car, drove to Grand Rapids, crashed with my EDM Identity fam at their hotel, and arrived at the Forest early Thursday AM. Every part of my arrival went smoothly. From there being zero cars in line for the general admission campground security check to finding my Forest fam that arrived Wednesday, it was all a breeze. After connecting with my Forest fam, I was set up by noon and was able to catch up with everyone, and we began to brainstorm the sets we wanted to see.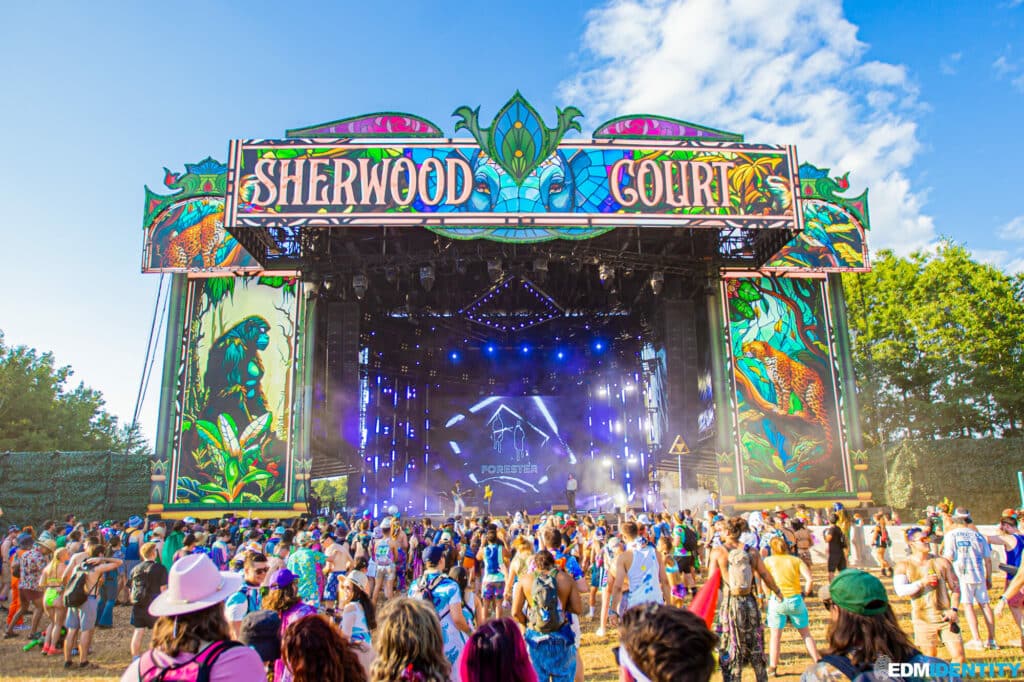 There were a few sets the group split up for, but for the most part, we wanted to see a lot of the same music.
Lane 8 at Sherwood Court was particularly special because I fully committed to dancing and experiencing the music with my Forest fam rather than bouncing around to take pictures. Sherwood Court is one of my favorite stages at Electric Forest, besides Observatory, because it has a big open field to frolic, and the LED panels that create a border for the stage bring it to life. We got to Lane 8 a little early, and the crowd was thick, but we were able to respectfully zig-zag through and find a great spot in the middle.
The entire set was absolutely magical, and the groups around us were very high vibes, dancing and trading kandi with one another. About ten minutes into Lane 8's set, I vividly remember he played "Rave" into "Reviver" into "Sunday Song," which are arguably my top three Lane 8 tracks; I ascended to the stars and danced my legs to dust. I couldn't stop smiling the entire set, and I remember looking back at my crew, and they sent me back the biggest cheeseball smiles too. Although I saw a lot of great performances over the weekend, Lane 8 stood out to me the most because I have been gravitating toward the melodic side of electronic dance music lately, and being able to experience those vibes with my Forest family really elevated my experience.
Other stand-out sets for me over the weekend were Forester, San Holo, Odesza, Madeon, and Elohim. These are all sets I refrained from splitting with another, so I was able to get in the zone, dance, sing and connect with the music in a powerful way. Now, when I listen to any of the music I saw in the Forest, I'm able to channel that happiness from the past and get all the warm fuzzies in the present. That's one of my favorite things about music, and I don't fully understand it, but it makes me feel good, and I understand that.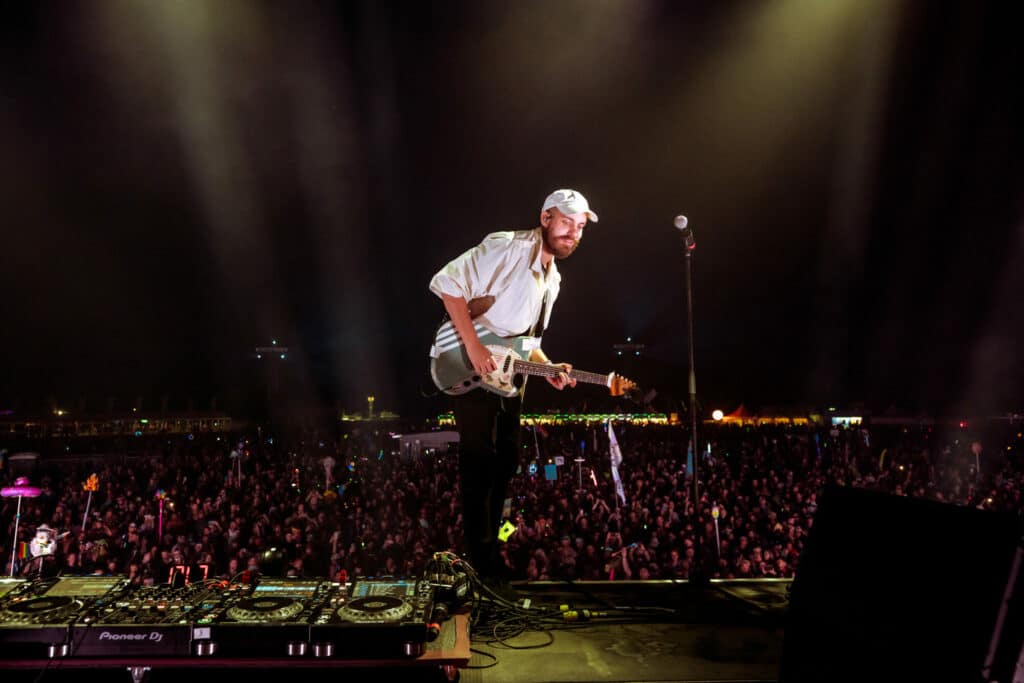 When the music stopped in the Forest, it was time to hit the afters in general admission camping, where the music went until sunrise, and a handful of special guests took the stage.
After attending three Electric Forests, I finally made it to the official after-parties in the general admission campgrounds. There were two stages set up next to each other. Each was slightly angled away from the other and had an insane sound system. I could not imagine being camped anywhere near the after-party stages because there is no chance you would ever sleep, but bless the souls who did camp there (RIP to their sleep schedule). If I had seen an artist I really liked at the after-party stages it would have been a better experience, although I met some really kind people in the crowd, the sound bleed between the stages was too much, and it wasn't long until I decided to continue the after party back at camp.
Each night from Thursday on was a late night, so I had to make sure I stretched, hydrated, and got some food in me before the start of each day. I made it a mission on Saturday to eat as much as I could because it is something I tend to overlook as I wander the festival grounds, working, taking photos, and getting lost in all of the magic that is Electric Forest. When I say I ate as much as I could, I mean on this one day, I ate Island Noodles, three slices of pizza from Pizza Nova, a Philly cheesesteak grilled cheese from Meltdown, a falafel pita from the Greek stand in GA camping, chicken tenders and couple blueberry lemonades.
Let me tell you; there is something to eating food and drinking water at a festival (go figure). I felt so good on Saturday. Even late into the night and wee hours of the morning, my body was handling all the dancing and partying I put it through. So, take this as a reminder to feed your body what it needs because the other days I didn't; I could feel the fatigue set in much earlier, and pushing through that was much more difficult.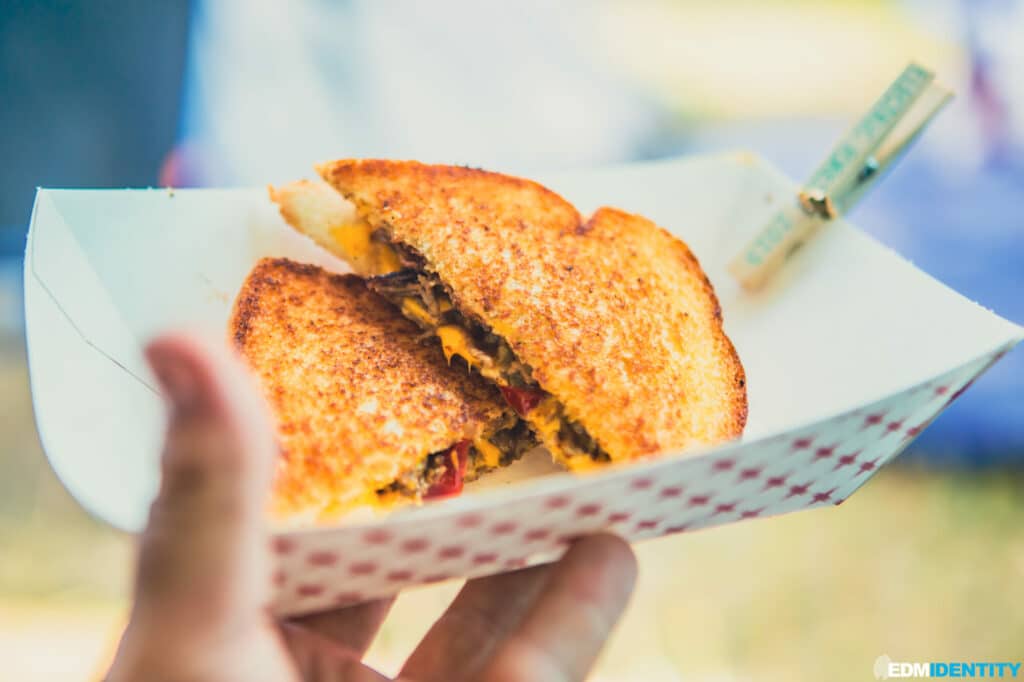 It wouldn't be a proper Forest without some weather, and come Sunday at 3 PM, we were hit by a severe storm that forced the festival to close while attendees found shelter and safety in their vehicles.
Being from San Diego, the worst weather we get is an overcast 60-degree day, but in Michigan, that is not the case. Luckily, we were still at camp when the severe weather made its way toward us. We could see the dark, ominous clouds encroaching, almost like they were circling us. When I looked right, the clouds were moving left; when I looked left, the clouds were moving right. It didn't make sense until I remembered that's pretty much how tornadoes start. Although we saw the clouds coming and had everything staked down, nothing could stop the force of Mother Nature. Gusts upward of 50 MPH ripped campsites apart, canopy legs buckled, tents were rolling down the camp aisles, and rain came down sideways, completely soaking everything.
Everyone in camp urgently put their electronics and other important belongings in vehicles before holding on to the legs of each canopy to keep them from flying away. The wind ripped everything to shreds, and the torrential downpour did not let up for at least an hour. Although items were damaged in our camp, nobody caught a stake to the face, and we waited out the rest of the storm in our cars. Some people even decided to use the storm as an opportunity to shampoo their hair and take a shower.
By 5 PM the weather passed and a beautiful sunset emerged. Attendees began to emerge from their cars to take inventory of their campsite, embrace each other, and let out some howls. For some time there, it was uncertain what the future held, but everyone stayed in high spirits and the news that the festival would continue was relayed through the app and by word of mouth. As soon as the news spread, you could hear everyone excitedly yelling, slapping the bag, laughing, and riding the vibe train straight back into the forest.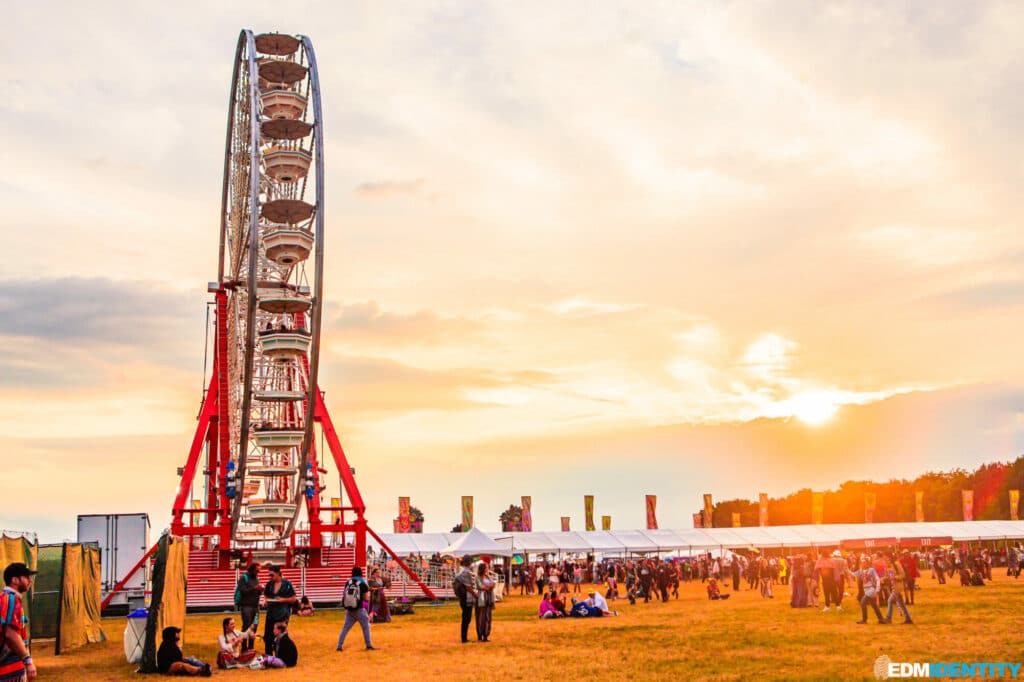 That is what will stick with me most about this year's Electric Forest. The collective vibe of everyone, from artists and performers to all the attendees, was completely unmatched and reminded me that the people are what make the Forest so special.
The energy is palpable in the Forest, and I truly believe everyone attended with an open heart and with the intention of connecting with one another, the music, the art, and the natural beauty of the environment. "The Forest provides" was a statement I kept saying to myself, and that energy proved to manifest in really magical and powerful ways over the weekend.
I connected with each member of my group on a deeper level by the end of the weekend. I traded kandi and rubber duckies with the kind souls of the Forest, and I took photos of some of my favorite artists (even met some of my favorite artists, San Holo, Forester, and Align!). In addition, I saw my friends take the stage at Grand Artique for arguably their biggest booking yet, weathered the weather, produced one of the best photo albums of my career (head over to our Facebook page to check out all the shots), and left Michigan feeling very inspired.
Yes, the Forest provides, and the people bring it to life, and yes, I will absolutely be going back next year – but this time around, I'll be doing an RV. Happy Forest, and see you next year!
---
Follow Electric Forest: