Justin Hawkes discussed his many successes following the release of his debut album Existential, his journey, and more at EDC Las Vegas.
---
Justin Hawkes, a small-town dreamer turned drum and bass hero, has been making substantial waves in the music industry as he continues to help bring the genre to the forefront of North America while introducing fresh, new sounds. Hailing from Virginia, Justin took his multitude of musical influences, including those from his family, and laid the foundation for the successful career he built for himself.
Under his original moniker, Flite, Justin took the DnB realm by storm, offering up an extensive discography that explored the depths of his creativity and the many facets of bass music. But his transition to this new alias in 2020 proved to be a monumental shift in his career and an intimate journey of coming back home to himself.
Justin Hawkes refers to his debut album Existential as a self-portrait that expands on his journey as a DnB artist in North America, weaving the genres of his roots into the story effortlessly and earning him multiple nominations at the Drum and Bass Arena last year. And he's continued to follow that up this year by releasing tracks like "Heartleap" on UKF and showcasing his sound at shows near and far, including some b2b sets with Bensley that have been filled with powerful tunes.
We had the pleasure of sitting down with Justin Hawkes at EDC Las Vegas, where he touched on his transition away from Flite, his creative process for his debut album, his unique relationship with Bensley, and more. Join us as we delve into the mind of this rising star and explore the world of drum and bass through his eyes.
Check out Bensley b2b Justin Hawkes at EDC Las Vegas 2023 on YouTube:
---
Hi Justin! How's EDC Las Vegas treating you?
It's been wonderful. We've been here since Thursday and came in a little early from Austin. We played Bassrush Massive. We've been vibing for the last three days. It was solid.
You've been hitting the stage with Bensley for b2b sets lately. What's your guys' dynamic like?
It's awesome. He's an artist I've respected and been a good friend of for a long time. So we've both been in kind of similar boats, like the two odd ones out from North America forever. That's really how it's felt. So we both kind of get each other on a little more of a deep level, which is great. And stylistically, I think we really combined really well, which is very helpful on a dance floor. It felt really matched.
So you played at bassPOD this year!
Yes! bassPOD was awesome. That's kind of been the main stage that we've been frequenting throughout, just hanging out at the festival. Then tonight, we had a sunset, which was amazing.
And you played Camp EDC last year. 
I did! I played at the Camp EDC pool party, which was a great time, just before Riot Ten. It was super fun.
Last year was a big year for you. Your album, Existential, was nominated for Best Album category at Drum and Bass Arena. Did you celebrate?
I did a little bit. I think I probably just gave a high-five to my girlfriend, maybe cracked an extra beer or something. 
What was the creative process like for that album?
So the album took two years. Some tracks I had beforehand and was like, "This could be great on the album," so I included it. But creating the whole front-to-back 15 tracks, it ended at 72 minutes to create a seamless album. That took some real thought. but it was a great creative experience doing that because you can experiment way more than you can in a single or EP environment. I set out just to do that because it's important for a debut album to prove exactly what you want to do. With my new name – Justin Hawkes, I changed it in 2020 – I felt it was really important just to say, "Here's exactly what I do." After ten years of making music, it's time to do me all the way.
"Better Than Gold" was also nominated for Best Track. What inspired that unique country meets drum and bass fusion?
If I'm honest, it was kind of like a joke at first. I was just trying to have some fun after changing my name. I was almost sarcastic, thinking, "What would the boomers hate the most?" It was actually super fun, and I was like, "Well, I can't make this sound like a joke." So I took it really, really seriously, and I made it as authentic as I could. 
I come from southwest Virginia, from the Bluegrass area of America, and I think it's really underlooked. It's almost never been touched in a drum and bass context. So I was like, "Well, I can take some piece of this that's integral to me and give it some life in my career." Part of that was involving my family, my dad, and his brother Andrew. My dad played guitar. I got to record him on mandolin and guitar. I wrote the lyrics, and I sent it to my uncle, who I had been listening to since I was basically a baby; he's like a rock star from the '90s. He rented studio time and made an amazing vocal. It just seems to speak together perfectly. I was very fortunate to be able to work with them.
That's lovely! So you've really become one of the faces of bringing drum and bass to North America, and obviously, your love for drum and bass runs deep. What got you into this genre?
I think about 12 years ago. I started finding dubstep around 2009-2010. And then, through finding dubstep, I started getting interested in drum and bass and dance music. I really didn't know what DnB was, but I was browsing the dance charts on iTunes when that was a thing you do, and I found Pendulum's album Immersion, which was such an incredible album. I was a metalhead before that. It was just so perfect for my taste. I just fell in love with what that sound was.
Yeah, there's something about it. I can't really put my finger on it…
Oh, I can put my finger on it.
Oh, tell me.
I think the true reason drum and bass is so awesome is because it's just a template. Anything can be made into drum and bass format, and that's why I think it's such an amazing place to experiment. You can have the softest, most intimate type of music and still be drum and bass, up to the absolute spine-shredding tunes, and it all fits. We've got the jazzy DNB, the techie DNB, and the smooth stuff. You've got the synthetic stuff or the really high, energetic stuff. I just think there's something for everybody. Regardless of what your vibe is, you can always find something that feels right for you.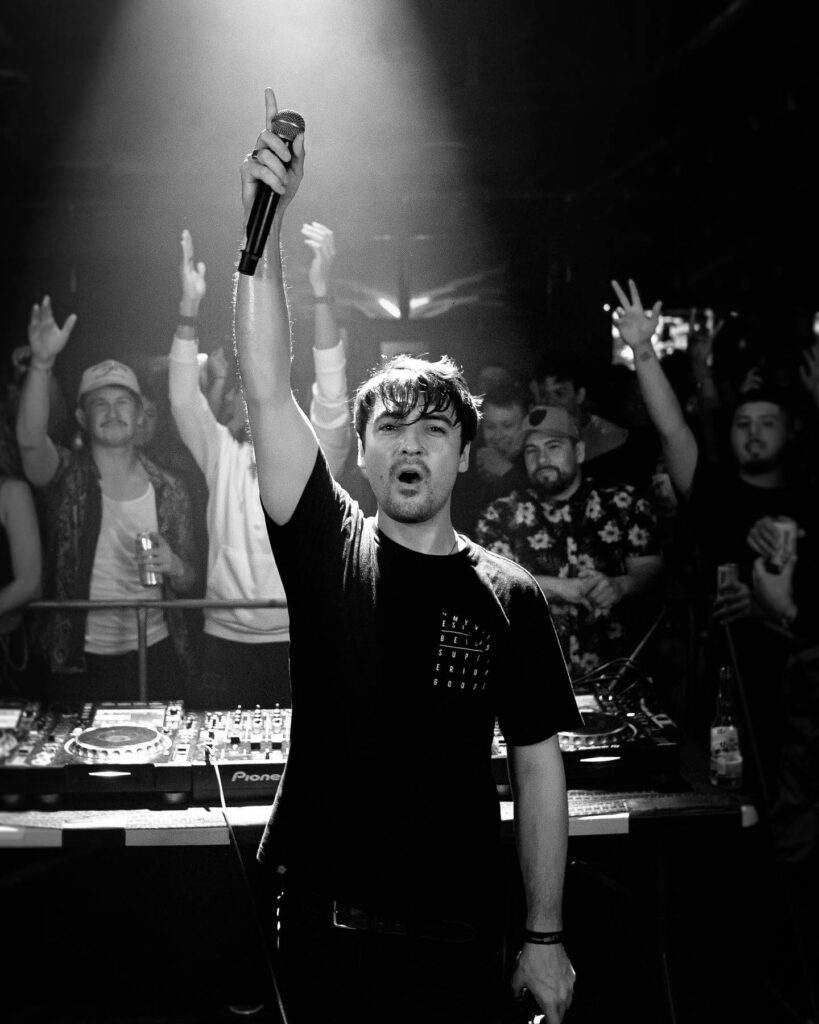 What are your thoughts on Hardstyle?
We actually have a crossover moment going on; many DJs are playing four-on-the-floor, which is like a slang term for basically 170 BPM, but for DNB, it's crossing right into the hardstyle zone. I actually really love it. I have a deep respect for hardstyle producers because, along with drum and bass, it takes so much to get right and do it correctly. 
We already discussed your transition from Flite to Justin Hawkes. Did you want to add anything more to that?
I just feel great about where I'm at with Justin Hawkes. This really feels like me. I feel like the music I made as Flite is a little piece of my history, and I'm really proud of where I'm moving forward with Justin Hawkes, especially after Existential.
So, what's next for Justin Hawkes?
I'm finding out myself. I think after an album, I get really exhausted creatively because I put so much into it, that I've actually been really hyped to make music that takes less brain power.
That makes a lot of sense.
I'm eager to experiment more on the dance, dance side… Very dance-oriented stuff. I'm moving towards that direction, like stage bangers, that type of stuff. It's just really fun to be able to play music that people really like dancing to. So yeah, I mean, America is having a moment, and I want to support that and make music people are gonna like when they hear it live.
Well, I'm really excited to see what you do next and will continue following along on your journey.
---
Follow Justin Hawkes:
Facebook | Twitter | Instagram | SoundCloud | YouTube