This year proved to be hotter than most at Camp EDC, but nothing could stop The Mesa from bringing ultimate vibes to headliners.
---
There was an incredible turning point for EDC Las Vegas in 2018 when the festival birthed a new experience – Camp EDC. This gave headliners a chance to make their home at The Las Vegas Motor Speedway for the weekend and avoid the traffic of getting to and from the venue, which has been an absolute nightmare in recent years with hours spent in the car or shuttle.
While Camp EDC seemed like such a far-out concept, considering the desert heat provides its own set of challenges, the new dates in May helped usher in the new era. And since its debut, Insomniac has continued to enhance the experience for headliners by transforming the expansive parking lot into an effective raver's daydream, a home where the party never stops, with a plethora of amenities, unique performances, and more. Plus, there's nothing better than walking straight into EDC Las Vegas through the grandstands each day.
Related: Looking for our experience at EDC Las Vegas this year? Check out some of our favorite moments and read our full review.
The era of Camp EDC has proven to be a huge success, with improvements and special additions helping to elevate the weekend, and from early morning DJ sets at The Mesa to goat yoga and shuffling classes, there was an activity for everyone to partake in at this year's edition. While others on our team have stayed at Camp EDC in the past, this year would be the first for me, so read on for a deeper dive into this rookie's experience in 2023.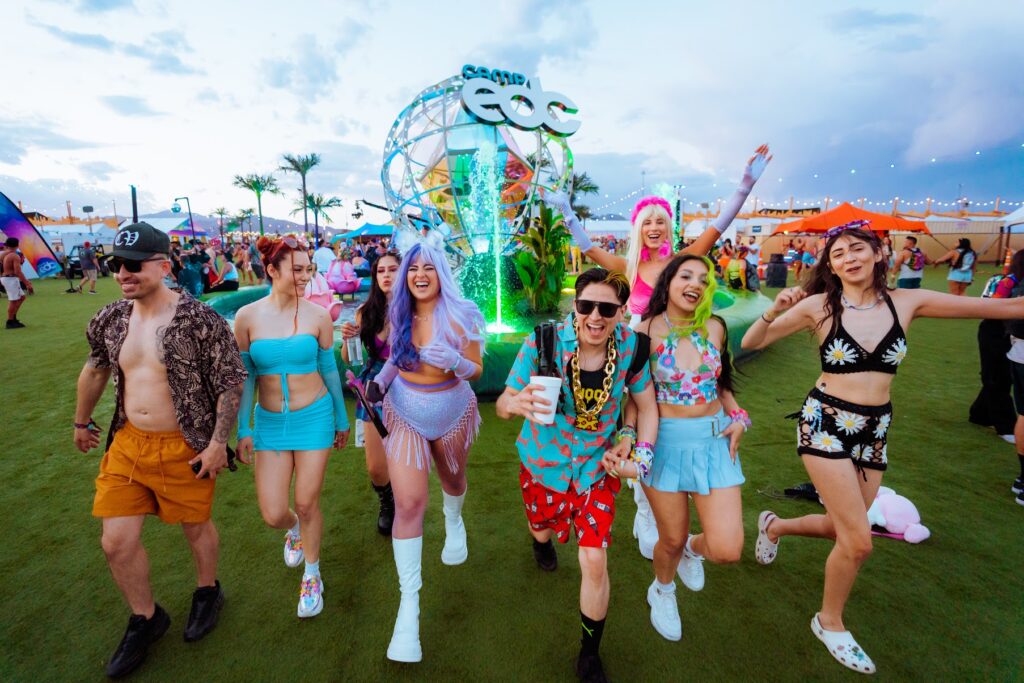 Excitement bubbled as we began to make our way to Camp EDC this year.
As my friend and I packed up my tiny teardrop camper with all the essentials, we made one last stop at Walmart for any last-minute necessities, CapriSun, Jolly Ranchers… like I said, the necessities. We waved to the other fellow RVs covered in EDC doodles as we left the parking lot, and we were off to The Speedway with butterflies in our stomachs and full hearts.
We were a bit nervous as we saw the long line of RVs when we arrived. However, to our surprise, security was a breeze to get through.
From the time we got in line to us parking in our designated spot, only an hour of time had passed. With the windows rolled down, we bumped the classics and felt the energy of excitement all around us, making that hour much shorter. We drove past the parking lot full of people unpacking their cars for the long walk to their ShiftPod, and we couldn't help but feel grateful that it wasn't us. But as we began to set up camp, the heat quickly became known, and we soon felt even worse for our fellow tent campers.
The heat was not messing around this year, proving to be a huge issue for many attendees, particularly on day zero.
I was prepared to deal with the heat to some degree, especially as someone who's camped at festivals before, but while I had a general idea of what to expect, I was not prepared for how hot this weekend would be. I knew there is always a certain level of discomfort with festival camping, no matter how prepared you think you are. I had heard rumblings of stories from fellow campers that the heat is hard to cope with, particularly when setting up camp, which I vastly underestimated.
When we realized that we didn't have the proper adapter to plug into the 50 Amp upgrade we purchased, my friend went went on a solo mission to find the front of the festival grounds where she could have the part dropped off for us. From her account, security kept pointing her in the wrong direction and after an hour of misdirection and the lack of shaded areas to take a break, the unbearable heat proved to be too much for her, and she suffered from a heat stroke. Have no fear, once she flagged down some police officers for help, we finally got our hands on the right part and after sitting in my camper with the air on full blast, we persevered.
We were not the only ones who experienced the wrath of the heat on day zero. The power grid for those staying in the Moon Glow and Desert Rose ShiftPods seemed unreliable on Thursday, as many were without power for their AC units for extended periods. Further, it took hours for service requests for AC units that weren't working throughout the weekend, if they were fixed at all. The texting service for status updates was inefficient, and there was never a true estimated wait time, leaving some campers, including our Editor-in-Chief staying in Desert Rose, to resolve issues themselves.
When speaking to other attendees, many reported having to spend time in the medical tent on Thursday, making it difficult for them to put their party hats on and play. Others opted to hit The Mesa to find solace. There were plenty of shaded areas with misters to congregate, and despite the overwhelming heat, it was coming alive with energy.
The VOLTA Beauty Bar was a major highlight of Camp EDC, serving up spectacular looks for headliners and providing shelter from the heat.
One of the first things I wanted to check out was the newest edition of Camp EDC, the VOLTA Beauty Bar. Insomniac and Lime Crime teamed up to offer six different beauty bars for headliners to get show-stopping hair and makeup for the festival, including one at The Mesa. As I made my way through The Mesa, the incredibly vibrant, fun hairstyles already bopping all around me had me run to the Volta tent for an appointment.
As I walked through the tent doors, I was immediately hit with the most euphoric sensation of AC, and my heart fluttered with content. The tent was busy, with stylists all working hard to deliver excellence to each customer, and they didn't stop till Sunday evening. Despite the sea of people wanting an appointment each day, everything seemingly ran smoothly and they made sure I left feeling beautiful and festival-ready amidst the chaos.
The Mesa came alive as the sun began to set on day zero.
A big, collective sigh of relief could be felt when the sun began to set on The Mesa. My friend and I made our way to a group of friends' RV site, where we all exchanged our own horror stories of the day, which was almost a comforting revelation that we weren't alone in our struggles. The sunset was a beautiful hue of orange and pink, with small bursts of rain to help to cool everyone down and ease us all into the festivities.
AZZECCA, Torren Foot, Loco Dice, and Dom Dolla kicked things off with a bang, and The Mesa turned into one giant dance floor full of eclectic festival fits, fans clacking to the beat, wine bags being slapped, and smiles all around. The pools were full of headliners, and the main tent was pulsing with lights, color, and sound. As I looked around and admired everything around me, I finally felt like I had arrived. We danced the night away without a care in the world as day zero slowly faded into the background.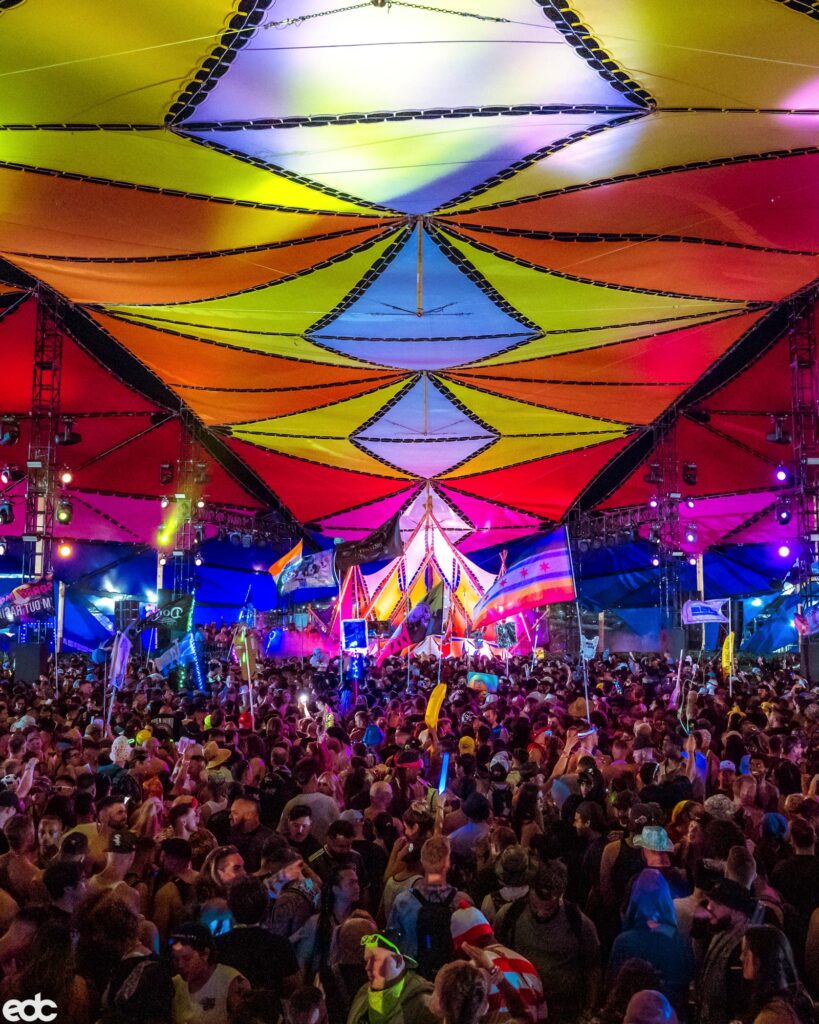 From this moment on, the dance parties never stopped, and the array of activities and amenities gave everyone something fun to experience.
When we felt brave enough to leave the safety of our AC to venture into the heat, we would wrap our heads in cool pashminas and bop around The Mesa, which was a short walk from our RV but felt much longer in the afternoon. An ice-cold, electric lemonade would be my first line of defense, and trust me when I say that lemonade saves lives.
We made a valiant attempt at Goat Yoga, but the previous night's festivities proved too much for our bodies, so we spent our afternoons exploring all the incredible vendors and dancing to whoever was providing the vibes at The Mesa. Anabel Englund, Biscits, Camden Cox, and NOIZU b2b Westend all brought the heat and kept the party bumping, leading us into the first night of EDCLV. Unfortunately, the heat kept us from seeing most of the Bassrush and Day Trip takeovers on Saturday and Sunday – staying cool was our top priority during the day.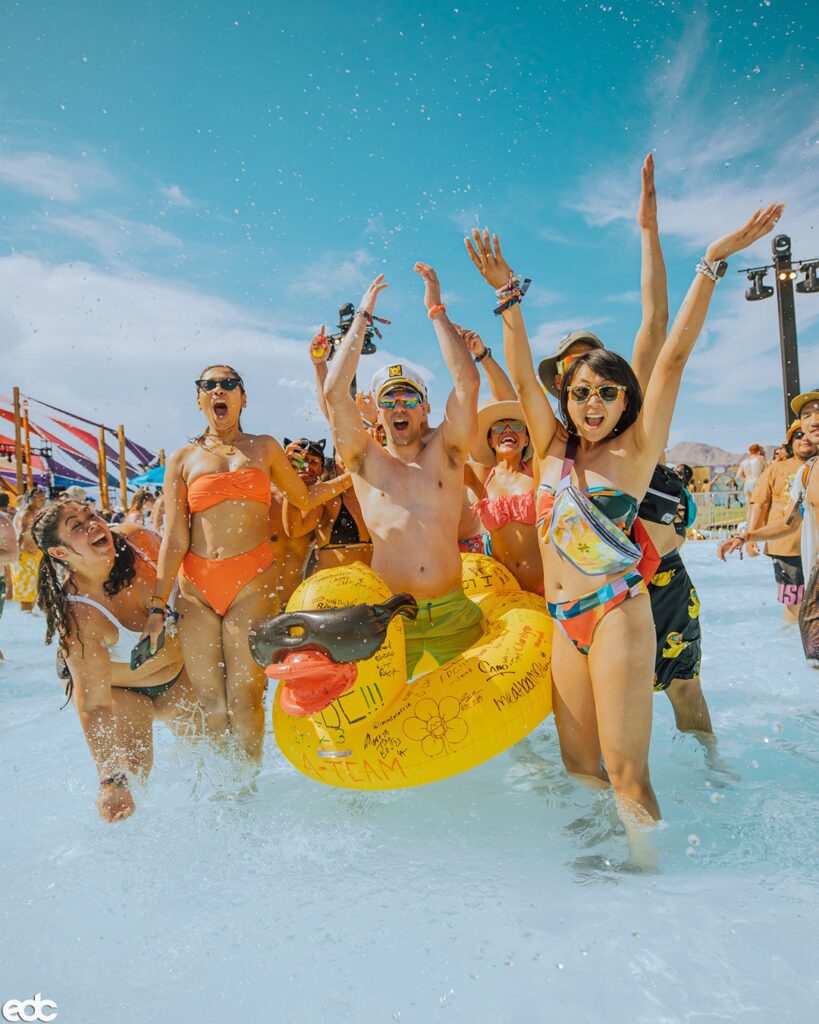 Another problem that did present itself during the day parties this year was the long lines to get in the pools.
Unlike previous years where it seemed to be fairly easy to get into the water, those looking to escape the heat flocked to the pools, and even with its new layout, the lines were overwhelmingly long. As much as we wanted to dip our bodies into that water, the hour-long wait in direct sunlight kept us from enjoying that part of Camp. We would typically sit in a shaded, misty area with our meal of the day from one of the tasty food options, check out the vendor market, and try to use up some of the WiFi on The Mesa.
That being said, the best time to get the most out of The Mesa was in the early mornings. As we would all shuffle from the festival grounds back to camp with the sunrise, The Mesa provided those sweet, final hours of that perfect morning air. Being amongst everyone dancing and vibing at 6:30 in the morning with no sense of time truly felt like a fever dream I never wanted to wake up from. Township Rebellion and Yotto closing out EDC Las Vegas at The Mesa on Monday at sunrise ended up being a highlight of my Camp EDC experience.
Despite some of the issues we faced at Camp EDC, the positives outweighed the negatives.
Overall, Camp EDC offers a unique, one-of-a-kind experience at EDC Las Vegas. It provides headliners with a home right outside the festival gates, and you can really feel the effort that goes into creating this oasis by Insomniac. I feel that improvements must be made with more access to places for people to cool off, whether that means adding more tents like the Volta Beauty Bar that were bumping with AC or adding more pools for headliners to access throughout. Even bringing in some of those huge fans that were found at entrances outside The Mesa would be a step in the right direction.
That being said, I have no doubt that Insomniac will continue to improve these bumps in the road. I look forward to coming back to The Mesa in 2024 with my camper in tow, and I hope to see you there!
---
Follow EDC Las Vegas: