Six VOLTA beauty bars will be found throughout the grounds with a range of available looks to amplify the electric energy of EDC Las Vegas.
---
Insomniac and Lime Crime, one of the international leaders in bold, vegan, and cruelty-free makeup and hair color, will team up to debut their joint beauty brand VOLTA at EDC Las Vegas this year. Six different locations throughout the festival grounds will feature industry professionals providing hair and makeup services using VOLTA products. So if you need a professional hair or makeup makeover, hit a creative block for a show-stopping eye look, forgot your best festival-ready products at home, or need industry professional skills for your nighttime look, this beauty bar will be the perfect place for you.
Headliners can select from a wide range of electrifying eye looks and hairstyles to be applied to them by industry professionals or shop the products used at the beauty bars in an all-in-one kit. VOLTA Beauty Bar services will be available at Camp EDC from 10am – 10pm, daily. Services inside the festival grounds (GA, VIP Skydeck, VIP circuitGROUNDS, VIP kineticFIELD, and Passport Lounge) will be available from 7pm – 2am, daily.
Additionally, all the VOLTA products used at the beauty bar can be purchased via the limited edition Electric Party Kit for $79 at the festival or online via their official website. The kit includes the Electric Party Eye and Face Palette, Dual-Sided Eyeshadow Brush, Meteor Party Crasher Glitter Lip Gloss, Emerald City Face Gems, Emerald City Face and Body Gems, Headliner Eye and Face Stickers, and a Festival Crossbody Bag.
Secure your spot at one of the six beauty bars on the VOLTA website for a look featuring vibrant, long-lasting pigments, eco-friendly glitters, high-color makeup, adornments, gems, over-the-top hairstyles, and more. Exclusive discount perks for the Electric Party Kit are also available for those that purchase services.
---
VOLTA Beauty Bar Service Tiers at EDC Las Vegas 2023:
Tier 1: "Good" — Available for Camp EDC, GA, and VIP.
Glitter Glow Up: 30-minute makeup service $30 or free for VIP. Includes eco-friendly glitter and gems.
Singles Party: 30-minute hair service $40 or free for VIP. Includes individual braids, buns, or puffs with glitter and colorful hair extensions.
Tier 2: "Better" — Available for Camp EDC and GA.
VOLTA Signature Looks: 45-minute makeup service for $65 with your choice of three looks Kaleidoscopic, Seeing Technicolor, or Electric Party all including eye makeup, eco-friendly glitter, gems, lashes, liner, and lips.
Double Up Daisy: 45-minute hair service for $75. Includes two braids, buns, or puffs with eco-friendly glitter and colorful hair extensions.
Tier 3: "Best" — Available for Camp EDC and VIP.
Kandi Kween: 1-hour makeup service for $100. Includes any eye look from the menu, foundation, highlight, contour, blush, gems, lashes, liner, and lips.
Carnival Custom: 1-hour hair service for $150. Includes your choice of a custom hairstyle with eco-friendly glitter and colorful hair extensions.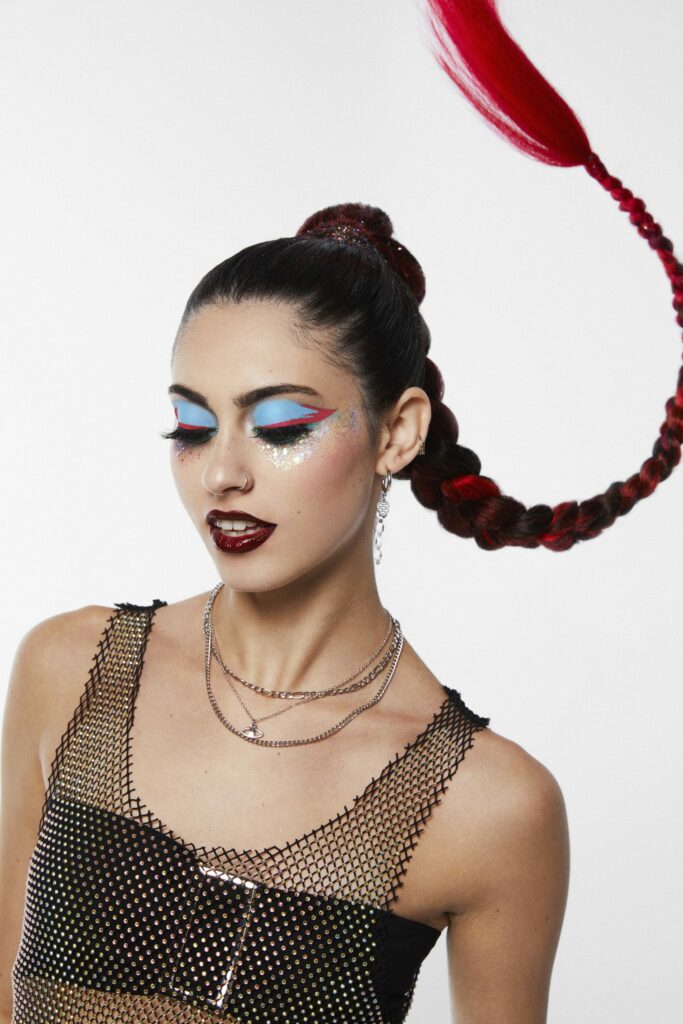 ---
Follow EDC Las Vegas:
Website | Facebook | Twitter | Instagram
Follow VOLTA Beauty: