Can't make it EDC Las Vegas this year? Tune in to Insomniac TV to catch all the action under the electric sky all weekend long!
---
We're just days away from the gates of EDC Las Vegas being opened once again, and this year's edition is shaping up to be its biggest yet with 500,000 attendees anticipated to be dancing from dusk to dawn all weekend long. Stages and art cars will be booming with sets from top-tier artists in scene while there will be so much more to explore at other areas of the Las Vegas Motor Speedway including Downtown EDC, the VOLTA Beauty Bars, and unique art installations. But if you couldn't make the trek to Sin City to experience all that EDC Las Vegas has to offer this year – you can get a taste of it from the comfort of your own rave cave.
Related: Looking for the EDC Las Vegas set times and other essential info? Check out our post with all the details you need to know!
From Friday, May 19 to Sunday, May 22, Insomniac will broadcast curated action from EDC Las Vegas 2023. Dance music lovers from around the globe can tune in to Insomniac TV on YouTube and Twitch to catch curated sets, along with performances set to take place on the massive kineticFIELD, circuitGROUNDS, and bassPOD stages. Artists set to perform on these stages include the likes of Kaskade, Armin van Buuren, Zeds Dead, Excision, Afrojack, SLANDER, Vini Vici, Martin Garrix, Netsky, FuntCase, and more.
Watch the EDC Las Vegas 2023 Live Stream from your computer at tv.insomniac.com or on YouTube. Don't forget to join us over at the r/electricdaisycarnival Discord to chat with other ravers while watching as well!
Tune in to the EDC Las Vegas 2023 Curated Live Stream on YouTube:
Tune in to the EDC Las Vegas 2023 kineticFIELD Live Stream on YouTube:
Tune in to the EDC Las Vegas 2023 circuitGROUNDS Live Stream on YouTube:
Tune in to the EDC Las Vegas 2023 bassPOD Live Stream on YouTube:
---
EDC Las Vegas 2023 – Set Times: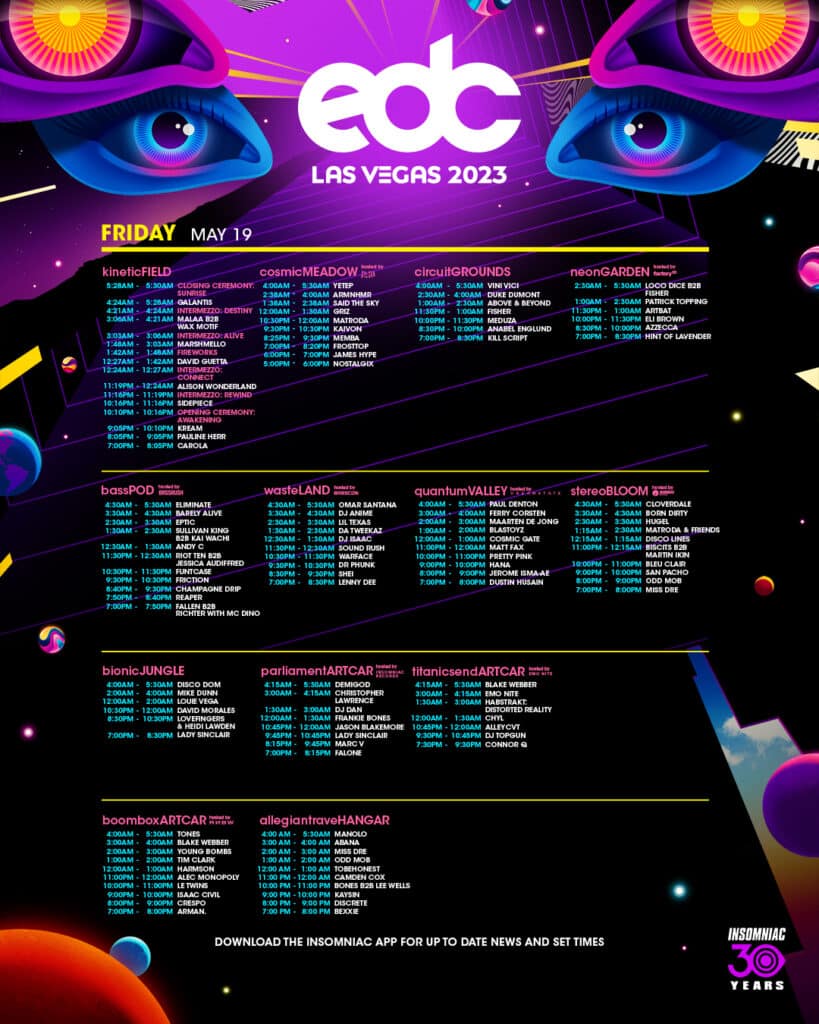 ---
Follow EDC Las Vegas: