Dial in your Lightning in a Bottle itinerary and familiarize yourself with the set times, festival maps, and more!
---
Lightning in a Bottle is just around the corner and we cannot wait to see what its 20th anniversaryhas in store. The festival returns to Buena Vista Lake in Central California from May 24-29 and will host a variety of music, art, workshops, yoga, speakers, and much more. Headlining this year's edition Lightning in a Bottle are SOFI TUKKER, ZHU, and Rezz with tons of additional performances and activations across the Lightning, Thunder, Woogie, Grand Artique, Junkyard, Stacks, Compass, and Beacon stages. Whether you are a fan of live music, bass, house, techno, or just want to explore the limitless offerings Lightning in a Bottle has planned, there is more than enough to keep you stimulated and engaged throughout the weekend.
If you have been on the fence about attending maybe the release of the set times, maps, and app will be enough to encourage you to get a ticket. For tickets, check out the available options on the Lightning in a Bottle website and lock in your epic Memorial Day Weekend celebration now. And, if you need any more convincing, be sure to check out the magic of Lightning in a Bottle through Zach's lens. For those that already have a ticket, feast you eyes on all the essential info you will need to have a successful weekend at LiB!
Lightning in a Bottle 2023 Essential Info:
Dates: Wednesday, March 24 – Monday, March 29
Box Office/Gate Hours:
Wednesday, May 24: 12pm – 11pm
Thursday, May 25 : 10am – 11pm
Friday, May 26 : 10am – 11pm
Saturday, May 27: 10am – 11pm
Sunday, May 28 : 10am – 6pm
Monday, May 29 : No Entry
Venue Address: 13601 Ironbark Rd, Bakersfield, CA 93311
Tickets: Purchase HERE
Facebook Event Page: RSVP HERE
---
Lightning in a Bottle 2023 – Set Times: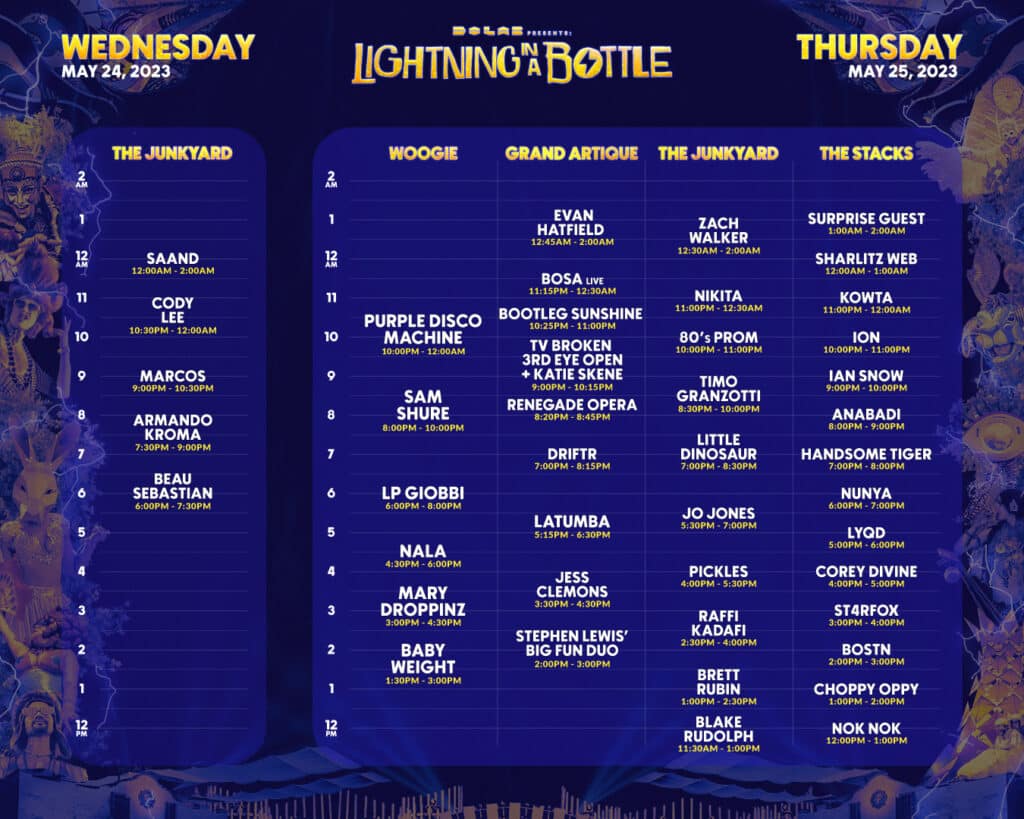 ---
Lightning in a Bottle 2023 – Festival Map:
Download the Lightning in a Bottle app in the Apple or Android store to see the festival maps!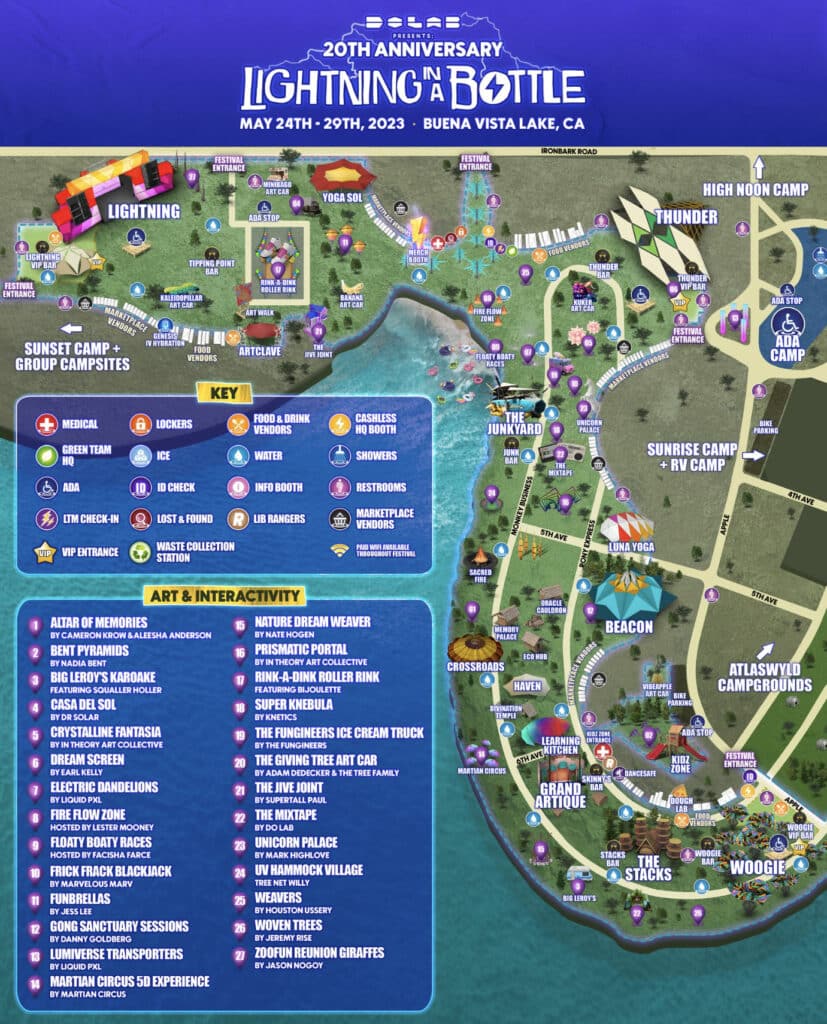 ---
Lightning in a Bottle 2023 – Camping and Parking Maps: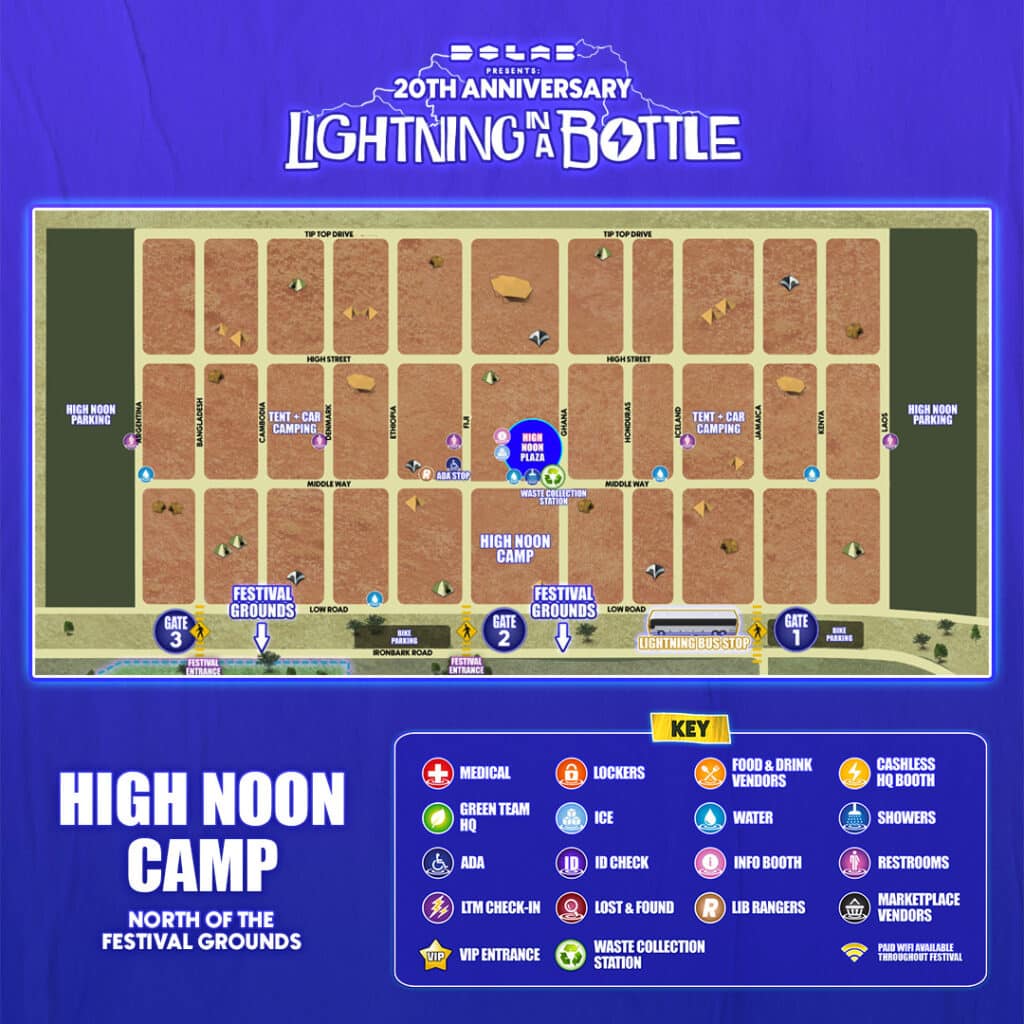 ---
Reminder To Mind Your Belongings:
Unfortunately, many people have reported pickpockets, bag slashings, and theft of wallets, smartphones, purses and other valuables during this festival season. While this small number of bad apples in the bunch doesn't define an entire crowd, there are opportunistic people who come to these events to take advantage of unsuspecting partygoers and it's important to be mindful of your valuables while at Lightning in a Bottle.
Looking for tips to keep your belongings safe? Check our post highlighting some ideas!
---
Lightning in a Bottle – FAQs:
All additional information about Lightning in a Bottle such as general FAQs, camping and RVs, tickets and wristbands, kids and families, and the cashless system can be found HERE.
---
Follow Lightning in a Bottle: