Crosstown Rebels marks two decades with CR20 The Album, featuring fresh tunes and remixes from Art Department, Black Coffee, Maceo Plex, and more!
---
Damian Lazarus' Crosstown Rebels imprint has been serving up festive grooves for an impressive 20 years. Along the way, unique celebrations like Day Zero and Get Lost have become indispensable pieces of the puzzle, while industry-shaping artists like Jamie Jones, Maceo Plex, Dennis Cruz, Seth Troxler, and Art Department flood Crosstown Rebels' discography, making it one of the most respected and adored labels in the industry. Adding to the excellence, Crosstown Rebels rewinds time and brings back some of their biggest hits, but with a twist.
CR20 The Album: Unreleased Gems and Remixes delivers a total of six re-imagined tracks as well as two brand new tunes to dial up the energy as we head into the weekend. The first of the new tunes, "The K Dance," comes from Adam Ten & Yamagucci. This track is light and quirky in all the right ways, featuring intoxicating vocals and playful percussive elements. The second new track falls out of the brilliant mind of Maceo Plex. "Together (2011 Mix)" features distorted vocals that suspend among soulful synths and crisp high hat details and features an all-around spicy attitude.
When it comes to the remixes, Major League DJz zaps the dancefloor to life with a significant dose of rolling bassline electricity on "Into The Sun" by Damian Lazarus and Jem Cooke. This underground vibe rolls into the second track, Art Department's remix of Jamie Jones's "Paradise 2011." If you're looking for a tune to soothe every ache in your body, then this is your jam. Now that you're loose and ready to rock, Dennis Cruz arrives to deliver a full-body workout as his signature Latin sound saturates every corner of Pier Bucci's "Hey Consuelo." Even Audiojack and Jem Cooke agree that it "Feels Good" to let the body do the talking, and Michael Mayer drives this concept home with a beat that vibrates from head to toe.
The last two remixes come from Black Coffee and Tibi Dabo, who take on "Horizon Red" by Made By Pete and Zoe Kypri and "Every Cow Has A Bird" by Guti & Dubshape. Both of these tunes will have you yearning for your next night out on the town. Additionally, Crosstown Rebels is in the midst of its worldwide tour, making future stops in Rome, Paris, London, and Berlin! And to top it all off, a 192-page book called 20 Years Of Magic, Madness and Music written by notable music journalist and DJ Joe Muggs, as well as a feature-length documentary by David Terranova, are fast on their way!
Grab your copy of CR20 The Album: Unreleased Gems and Remixes on your favorite music platform, stream the album on Spotify, and tell us about your favorite Crosstown Rebels moment from the last 20 years on Twitter!
Stream CR20 The Album: Unreleased Gems and Remixes on Spotify:
---
CR20 The Album: Unreleased Gems and Remixes – Tracklist:
Damian Lazarus x Jem Cooke – Into The Sun (Major League DJz Remix)
Jamie Jones – Paradise 2011 (Art Department Remix)
Pier Bucci – Hey Consuelo (Dennis Cruz Remix)
Audiojack x Jem Cooke – Feels Good (Michael Mayer Remix)
Guti & Dubshape – Every Cow Has A Bird (Tibi Dabo Remix)
Made By Pete x Zoe Kypri – Horizon Red (Black Coffee Remix)
Maceo Plex – Together (2011 Mix)
Adam Ten & Yamagucci – The K Dance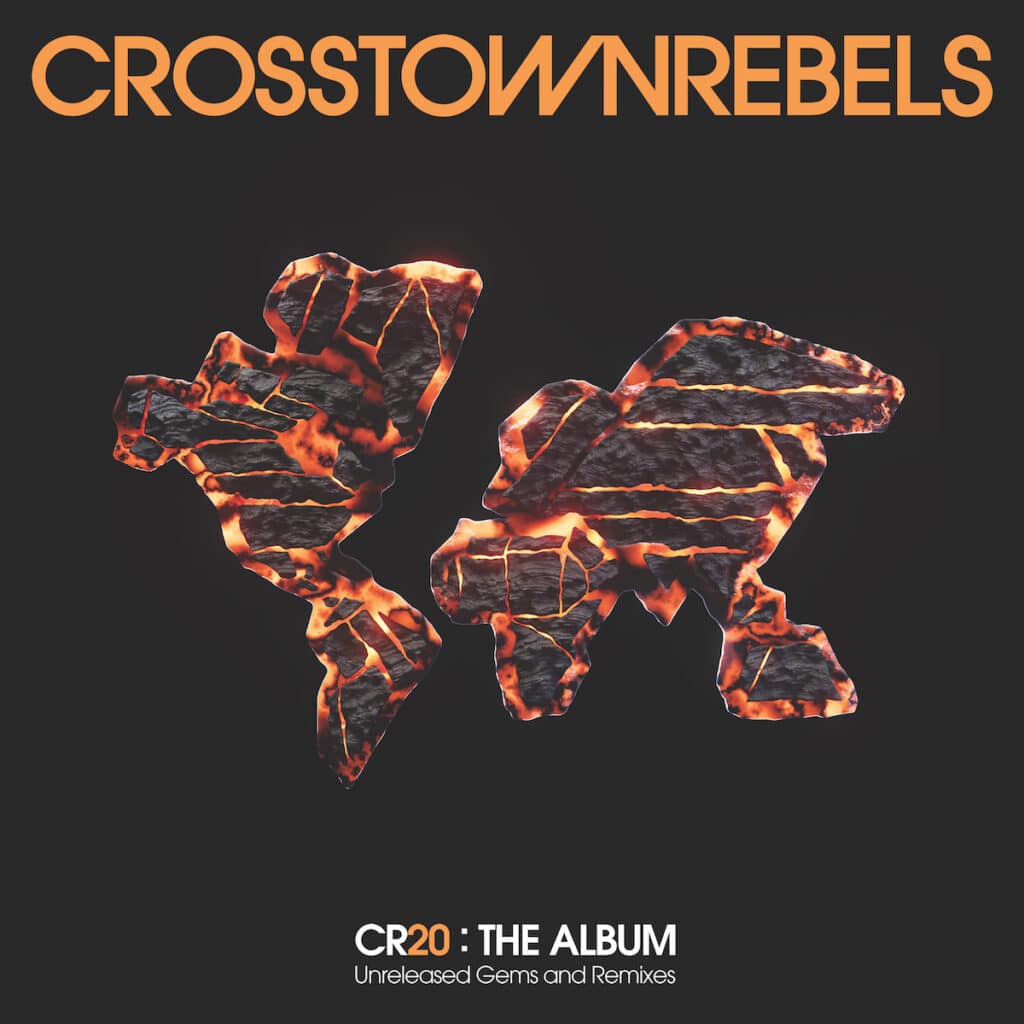 ---
Follow Crosstown Rebels:
Website | Facebook | Twitter | Instagram | SoundCloud | YouTube