Crosstown Rebels will be trotting around the globe on the CR20 tour to celebrate two decades of bringing quality techno to the masses.
---
It was two decades ago that Damian Lazarus launched Crosstown Rebels to create a home for those seeking surreal underground beats and unique experiences. Over the years, the multi-faceted brand has helped foster fresh talent that has turned into legends with countless releases and showcases around the world. Now, Crosstown Rebels is gearing up for their milestone celebration with the announcement of the CR20 tour.
The CR20 tour is set to kick off on March 25 at one of the hottest parties during Miami Music Week, Get Lost Miami. From there, the motley Crosstown Rebels crew will embark on a globe-trotting mission that will take them to Bali, Tokyo, and Ibiza in April, and Dubai, Istanbul, Rome, Paris, London, and Berlin in May. Each stop will be hosted at an iconic nightlife venue, such as Fabric in London and Sanctuary in Rome, to further add to the legacy of this special celebratory tour.
True to form, Crosstown Rebels is also bringing the heat with the artists who will be joining Damian Lazarus during this tour. The massive list of DJs set to perform includes Seth Troxler, Dennis Cruz, Mathew Jonson, Made By Pete, and Oceanvs Orientalis, along with rising talent such as AMÉMÉ, Yulia Niko, and Pale Blue, among others.
This is an opportunity for the Crosstown Rebels family, a global community of artists, DJs, and creatives, and the label's myriad of followers to celebrate this momentous milestone. With support from our friends at @volcantequila, there will be parties and events around the world. There's a killer compilation of exclusives and special remixes in the works. There's also a beautiful coffee table book, a short film, and a special launch event planned to bring together the sights and sounds of the label's unique and influential history. There's lots to share, announce and reminisce about in the coming weeks.

Damian Lazarus
Check out the lineups for each stop on the CR20 tour below. Head to their website for more information and to grab your passes!
---
Crosstown Rebels' CR20 Tour – Dates & Venues: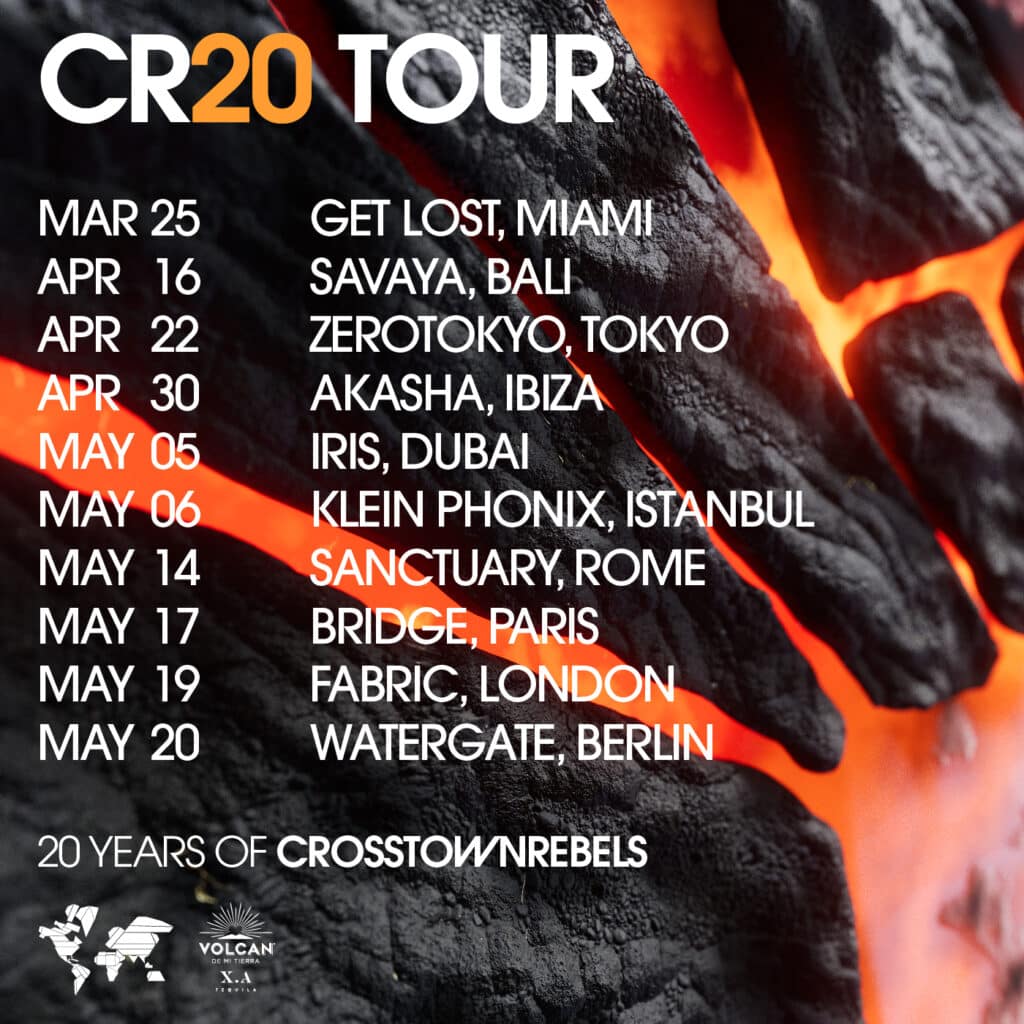 ---
Crosstown Rebels' CR20 Tour – Lineup By City:
April 16- Bali – Damian Lazarus, Carla Durisch at Savaya
April 22- Tokyo- Damian Lazarus, Bill Patrick, Seth Troxler at Zero Tokyo
April 30- Ibiza- Damian Lazarus, + special guests at Akasha
May 5- Dubai- Damian Lazarus, Carla Durisch, Oceanvs Orientalis at Iris
May 6- Istanbul-Damian Lazarus, Dennis Cruz at Klein Phonix
May 14- Rome- Damian, AMÉMÉ, Bartolomeo, Cristina Lazic, Oceanvs Orientalis, Pale Blue, Tibi Dabo at Sanctuary
May 17- Paris-Damian Lazarus, AMÉMÉ, Salome Lé Chat at Bridge
May 19- London-Damian Lazarus, Clive Henry, Dennis Cruz, Made By Pete, Mathew Jonson, Subb-an, Tibi Dabo, Yulia Niko, + special guest at Fabric
May 20- Berlin-Damian Lazarus, Bartolomeo, Pale Blue, Tibi Dabo, Yulia Niko, Mathew Jonson, Carla Durisch, Kiki & Silversurfer at Watergate
---
Follow Crosstown Rebels:
Website | Facebook | Twitter | Instagram | SoundCloud | YouTube