The legendary Webster Hall hosted an intimate night with ILLENIUM as he provided diehard fans with an experience they'll never forget.
---
New York City has been spoiled lately with a surplus of historic pop-up shows like the sold-out Skrillex, Four Tet, and Fred Again.. Madison Square Garden show and the John Summit "Where You Are" release party. Adding to the list is Grammy-nominated producer ILLENIUM, who took to Twitter roughly 30 hours before the event to make the announcement.
The tweet arrived almost a week after his initial album release party in Downtown Los Angeles on the night of the actual release. Without hesitation, I quickly submitted my RSVP and received a confirmation text that added, "Vinyl will be available, and ILLENIUM will be signing as many as time permits!"
Related: Dive into the tracks found on ILLENIUM's self-titled album in our review.
The event remained as secretive as possible, with fans scrambling to Reddit to find out what to expect. We were all eager to know if ILLENIUM would play a set at Webster Hall that night. Luckily one Reddit user who attended the Los Angeles release party hinted yes. His post read, "In LA, doors also opened at 8. He didn't play until 2 hours later at 10…The vinyl started selling at 9. He played his set (an hour). He then said he would start signing stuff."
The doors opened at 8pm and when we arrived around 7pm, the line was wrapped around the block. As we walked by, I saw familiar faces and many concert friends; some were sitting in lawn chairs, saying they'd been waiting since 1pm. As soon as the clock struck 8, the line moved swiftly towards the entrance, and we were let in within a matter of minutes.
Once inside, we walked towards the stage and saw his equipment set up, confirming he was about to treat us to a surprise set. He didn't come on stage until closer to 9:30, and within that time, I was fortunate enough to meet ILLENIUM for the first time. I told him how the first time I ever saw him live was back in 2016 when he opened up for Big Gigantic, and to see everything that he has accomplished since is awe-inspiring. I quickly supplied him with a sharpie to sign my ILLENIUM jersey before he had to take the stage.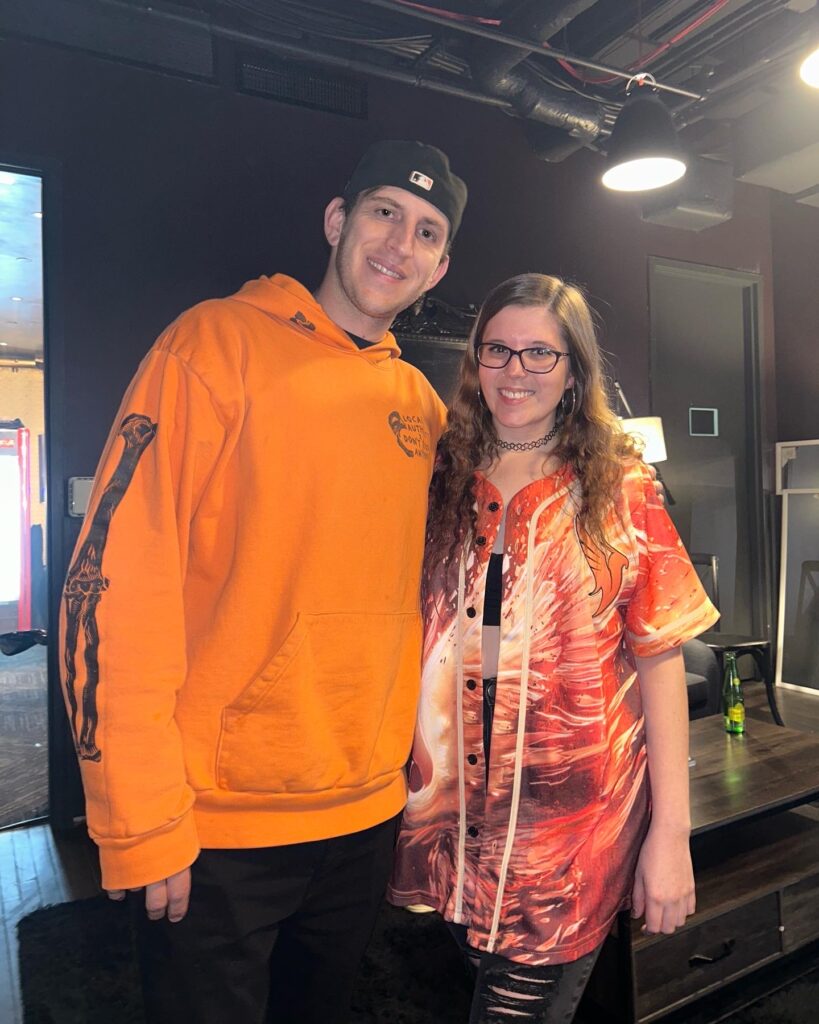 We went to take our spots inside and heard the crowd explode with cheers as he approached the decks soon after. On the mic, he said, "Fun fact this is the first place I ever played in New York City…I'm gonna show you guys a little sneak peek of some of the tour shit." Once again, the crowd exploded with more cheers.
ILLENIUM played for about an hour, giving attendees a real taste of his upcoming tour. The set featured songs from the album and new live edits such as Skrillex, Fred Again.., and Flowdan's "Rumble." and even a drum and bass edit of "All That Really Matters" featuring Teddy Swims. The fans belted the lyrics of each song he dropped, almost louder than the song itself. As one door opens, sadly, another one closes when he announced he was about to play the favored "Sad Songs / Good Things Fall Apart" outro for the last time.
I hadn't seen ILLENIUM since 2019, and I already have my tickets for his Barclays Center show in Brooklyn this July. But this night will go down as one of my favorite memories. You could feel how powerful the energy was and how strong the vibes were in that room, as everyone there was in support of ILLENIUM and his brand-new chapter.
Don't miss ILLENIUM Live on his 2023 World Tour this summer – tickets are on sale now.
---
Follow ILLENIUM:
Website | Facebook | Twitter | Instagram | SoundCloud | YouTube | Twitch