ILLENIUM releases his fifth album, stepping out of his comfort zone and giving the world music he truly loves making.
---
In September of 2022, ILLENIUM took to Twitter to announce the upcoming release of a new album, which left fans eagerly anticipating its arrival. He confirmed that the release would feature the tracks "Shivering," "All That Really Matters," and "From the Ashes," which had already generated a buzz among fans. Although these tracks had already been confirmed, ILLENIUM kept fans on their toes by teasing various mysteries throughout the months leading up to the self-titled album's release. 
Now, ILLENIUM has finally released his fifth album, which features an impressive 16 tracks. Collaborating with some of the biggest names in the music industry, he has pushed himself to explore new musical territories and present his fans with an authentic reflection of his passion for music. As a prelude to the album release, ILLENIUM shared seven singles that his followers have widely praised. However, the remaining nine tracks are equally compelling and showcase his versatility and ability to create different moods and vibes.
It's my self-titled album, so I want it to sound exactly like what is in my head, what I enjoy, what gives me escape, what makes me feel the most.

ILLENIUM
The diverse range of artists who collaborated with ILLENIUM on this album underscores the artist's ability to connect with different musicians and create a fusion of various musical styles. The unique blend of genres, including pop, punk rock, and electronic dance music, is a testament to the artist's versatility as well. Some of the notable artists who have worked with ILLENIUM on this album include Avril Lavigne, Said The Sky, JVKE, All Time Low, Wooli, Travis Barker, and many others.
Grab your copy of ILLENIUM on your favorite music platform, stream the album on Spotify, and continue on for track highlights. Let us know which beats you're vibing with on Twitter!
Stream ILLENIUM – ILLENIUM on Spotify:
---
ILLENIUM gives all of himself to his two solo tracks, "Starfall" and "Drwn."
Upon commencing the album, the introductory track, "Starfall," conveys the impression that ILLENIUM is bidding farewell to his original sound before embarking on a new musical direction, which may not be immediately recognizable to his followers. The synths and poignant background vocals that precede the drop instill a distinct sensation of a parting gesture from the ILLENIUM of his past four albums.
"Drwn" serves as a throwback track, highlighting the artist's creative evolution and growth over the years while acknowledging his musical roots. The track emanates a musical essence that aligns with the distinctive sound and style of ILLENIUM's 2021 album Fallen Embers. This stylistic parallelism in "Drwn" evokes a sense of nostalgia and introspection in fans, who are reminded of the artist's previous musical offerings.
The start of the album's first single, "Shivering," was played at Ultra Music Festival in 2022, and it was madness!
Now that fans have the full track to enjoy, "Shivering" can be seen as both melodic and emotional, featuring the singer's vocals from the rising band Spiritbox. With ILLENIUM's signature drops, the song explores the themes of heartbreak and loss together with a signature production style blending atmospheric pads, soaring synths, and powerful percussion to create a memorable musical experience. This track makes one want to scream, shout the lyrics, and dance to the emotional frenzy ILLENIUM delivers.
Said The Sky and ILLENIUM collide once again for a mouth-dropping track called "Other Side." Like many of the two artists' previous collaborations, this tune showcases their signature production styles, with soaring synths and emotional melodies taking center stage. The track's drop is slower than some of their previous work, allowing the listener to fully immerse themselves in the depth and complexity of the soundscapes. Vera Blue's vocal performance adds an extra layer of emotion, bringing to life the lyrics that explore themes of love, loss, and longing for something more.
ILLENIUM notches his music up by giving that punk rock vibe on specific tracks, along with some unique collaborations.
ILLENIUM's latest musical offerings have a distinctive touch, incorporating throwback punk rock anthems that the artist himself produces. Notable tracks such as "Lifeline" featuring jxdn, "Eyes Wide Shut" with the collaboration of Avril Lavigne and Travis Barker, and "Insanity," created in partnership with American Teeth, showcase his innovative approach to music production. These newer tracks exhibit a unique blend of ILLENIUM's signature sound with the nostalgia-inducing punk rock sound many fans may have grown up with, making for an exciting listening experience.
With this release, ILLENIUM has ventured beyond his comfort zone to create a collection of music that showcases the artist's talent for fusing various musical styles. His collaborations with different artists further highlight ILLENIUM's ability to connect with musicians from diverse backgrounds and create a unique sound that appeals to a broad audience. His dedication to his craft is evident in every track, resulting in a remarkable album that seamlessly blends different genres and styles.
---
ILLENIUM – ILLENIUM – Tracklist:
Starfall
All That Really Matters (feat. Teddy Swims)
Worst Day (feat. MAX)
From The Ashes (feat. Skylar Grey)
Lifeline (feat. jxdn)
Eyes Wide Shut (feat. Avril Lavigne & Travis Barker)
Shivering (feat. Spiritbox)
You Were Right (feat. Wooli & Grabbitz)
Insanity (feat. American Teeth)
Drwn
Other Side (feat. Said The Sky & Vera Blue)
I Want You 2 (Stay)
With All My Heart (feat. JVKE)
Back To You (feat. All Time Low)
Nothing Ever After (feat. Motionless In White)
Luv Me A Littlle (feat. Nina Nesbitt)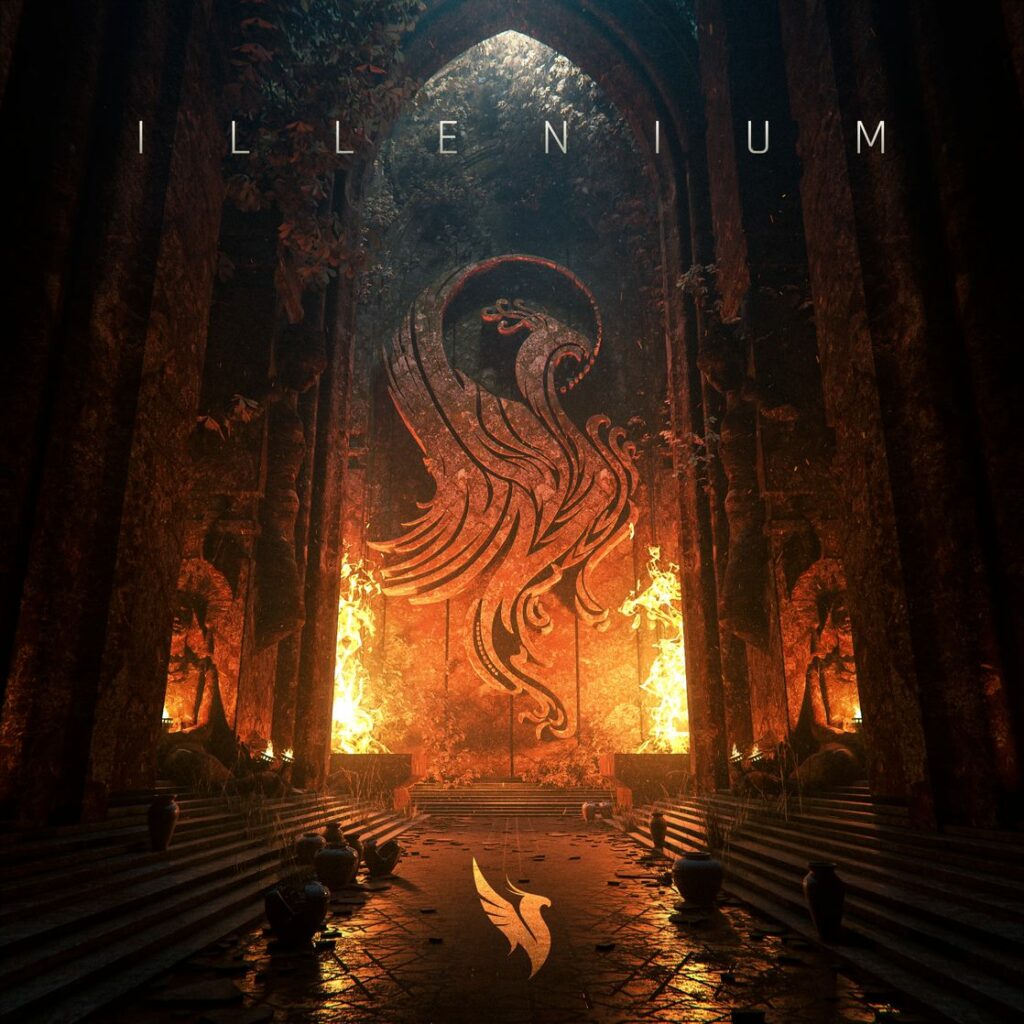 ---
Follow ILLENIUM:
Website | Facebook | Twitter | Instagram | SoundCloud | YouTube | Twitch