Haus of Panda set the tone for the future of his curated events with an intimate edition of Speed World for its US debut.
---
A little over a week ago, San Francisco got a taste of what the exhilarating Speed House genre has to offer with the first-ever US edition of Speed World. Canadian producer Haus of Panda brought his exciting event to the Bay Area with a lineup composed of some of the best producers the Speed House Movement label offers. What initially felt like a test run for the drawing power of the speed house movement in the States was a high-energy event that brought fast tempos and hard kicks wrapped into one unforgettable night.
Speed World USA was held at Arena SF, a smaller venue that gave fans the feeling of being at an exclusive event. One of the less-encountered aspects of this venue is that it served alcoholic boba, which I was excited to try out. This turned out to be true, but the party from the night before had completely sold them out, leaving me with a craving to return – hopefully for more hard dance events.
The night kicked off with some of the local DJs like Warcer, who got the dancefloor moving with some groovy house tunes, and the occasional heavy bass track slipped in for good measure.
However, the party didn't truly start until J. Slai took the stage to fire up the crowd with his signature sets that often tread the fine line between excellence and rebellion. This set proved exactly why he is one of the few producers in America who is able to successfully contain the eclectic style of American Hard Dance, packing his nearly-all-original set with uptempo, ustempo, drum and bass, big room classics with a hard dance twist, and loads of unreleased music.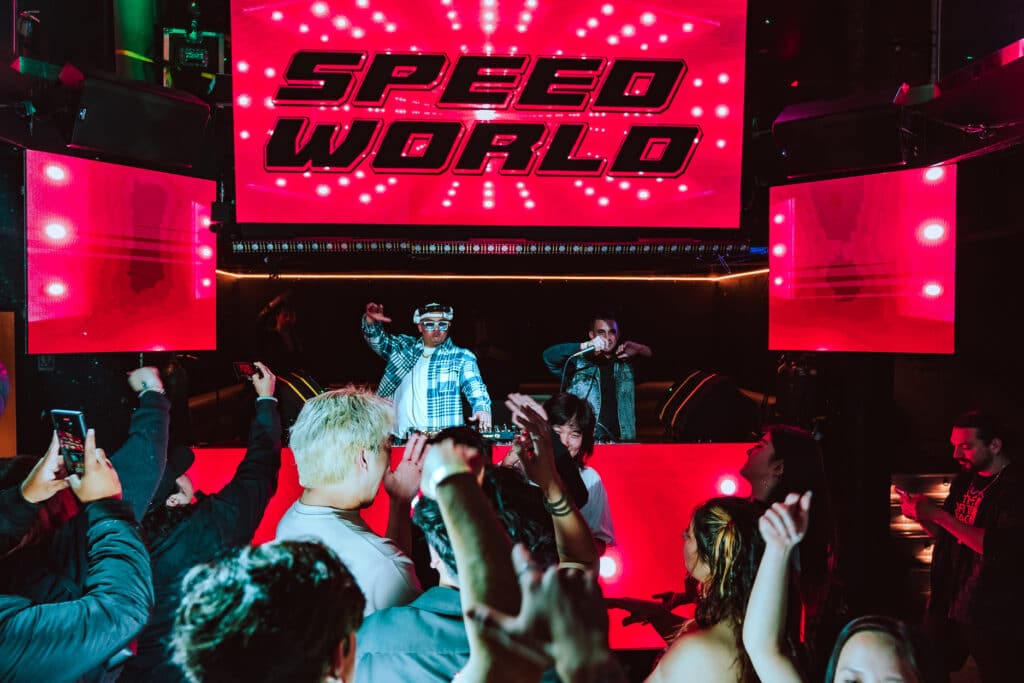 It was tough to follow this set, but BEL AIR WITCH took this task head-on and passed with flying colors.
As a standout in American Hard Dance, BEL AIR WITCH brought out the crazy energy expected in the genre with tons of hard psy, reverse bass, and a touch of harder kicks, which illustrated his style and paid respect to the Speed House genre. This set was a full-circle experience for BEL AIR WITCH as two years ago, he played the original online edition of Speed World, which added an extra layer of emotion that was special to witness.
After BEL AIR WITCH, it was time for none other than the label boss himself, Haus of Panda.
For his first performance in California, Haus of Panda gave fans a taste of his veteran DJ skills with a performance that kept the dancefloor energized despite having two hard dance DJs on before him. He went deep into his arsenal, pulling out the best tunes that the Speed House genre has seen in addition to the latest tracks like his and Henry Fong's banging remix of "Miracle." Then, SWAGE closed the show with another set full of Speed House, wrapping up the night in style and sending fans home happy.
Speed World USA was a great event that showcased how fun the Speed House genre is in a live setting.
I imagine this is what hard house in the '90s felt like – intimate, high energy, and full of fans that show up simply for the love of the music. As a fan, I really enjoyed the curation of the lineup, which consisted of only label members. It felt like a true representation of Speed House as a genre and Speed House Movement's mission of pushing the sound beyond its limits with fresh ideas from eager producers. Make sure to stay tuned into Haus of Panda, as there is no doubt in my mind there will be bigger, better editions of Speed World USA in the future.
---
Follow Haus of Panda:
Facebook | Twitter | Instagram | SoundCloud | YouTube | Spotify