Lastlings will head to Brooklyn, Toronto, Phoenix, Los Angeles, Austin, San Francisco, and more on their Perfect World tour this fall.
---
Since first emerging on the scene in 2015, Lastlings has only tightened their grip on the community with each passing year. Early releases from the Japanese-Australian duo caught the ear of RÜFÜS DU SOL, leading to the release of their debut album on Rose Avenue Records, First Contact, which was captivating at its core. Recent years have seen Lastlings continue to press on with fantastic performances and singles like "Get What You Want" and "Holding Me Like Water," but it was clear that more was on the horizon for the duo.
In March, Lastlings announced their sophomore album Perfect World and dropped off "Noise," showcasing their innate ability to tell stories through their sonic productions. Today, they've delivered the fourth track that will be found on the album, "Out My Head." This introspective tune offers a heavy dose of nostalgia that pairs perfectly with its hopeful lyrics as Lastlings fully displays their innate production abilities for the latest chapter of the ever-growing story that will be found on Perfect World when it lands on June 23.
Paired with the release of "Out My Head" is some exciting news for fans of the duo, a tour of North America that will take place this fall. Set to kick off on September 14 at Union Stage in Washington DC, Lastlings will then set off on a trip across the continent with stops in cities such as Boston, Toronto, Chicago, Austin, Denver, and Los Angeles. The tour, which will see Running Touch join the duo, comes to a close on October 7 in San Francisco, so don't miss out on your chance to see them.
The artist pre-sale for Lastlings' Perfect World North America Tour begins on Thursday, May 4 at 10am local time, with the general sale occurring on Friday, May 5 at 10am local time. Sign up for early access to tickets to their upcoming shows, give Lastlings' "Out My Head" a listen on Spotify or your preferred platform, and pre-order Perfect World ahead of its release on June 23.
Stream Lastlings – Out My Head on Spotify:
---
Lastlings Perfect World North America Tour 2023 – Dates & Venues: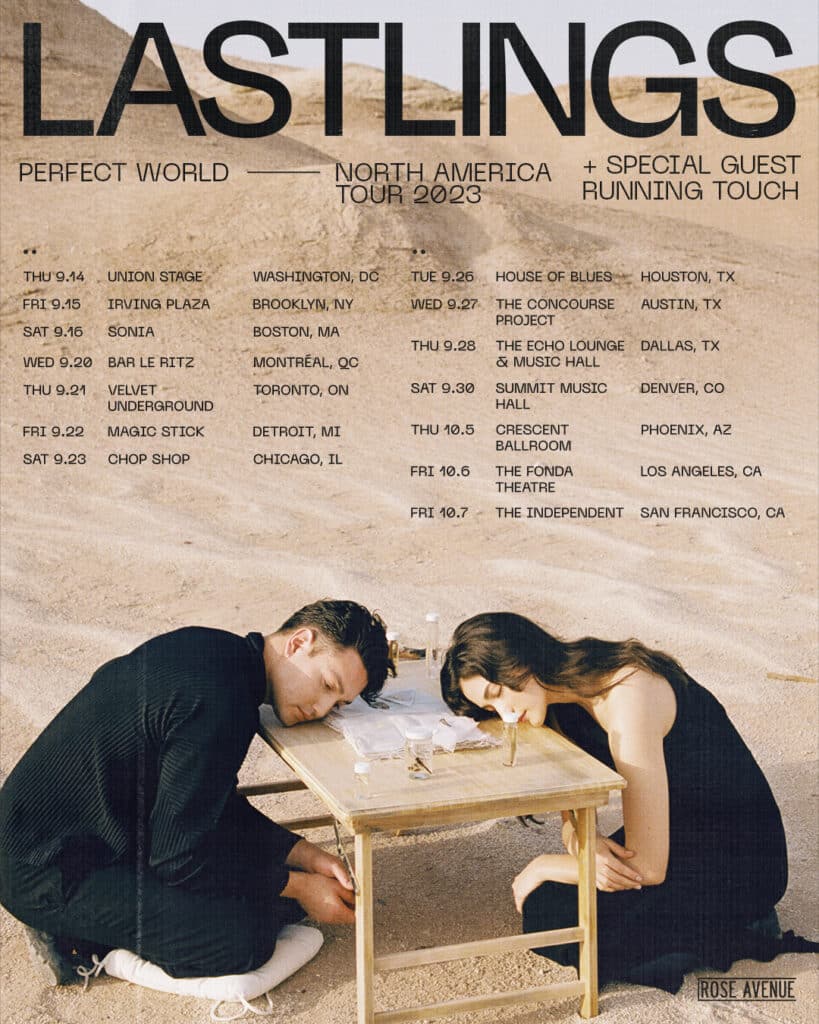 ---
Follow Lastlings:
Facebook | Twitter | Instagram | SoundCloud | YouTube