Madeon, deadmau5, A-Trak, Codes, Destructo, Walker & Royce, Ghastly, and more are set to play Bass Camp Festival VI this summer!
---
While much of the glitz and glamour in Nevada is centered around Las Vegas, there's something special that has been brewing a few hours north in Reno. Known as the "biggest little city in the world," they have become a home away from home to those looking to get away from the hustle and bustle of normal life and a space for Bass Camp Festival to flourish. This year, the festival will reach its sixth edition when it returns on July 28-30, but this edition is shaking things up with a new venue for attendees to explore.
On July 28, Bass Camp Festival VI will kick off with a series of pre-parties at venues throughout Reno to get the party started off on the right foot. Then, the festival's "home base" will open its doors the following day at its new venue, Wingfield Park, which is nestled on the Truckee River. There, attendees will be treated to high-quality performances, art installations, a vendor village, art cars, and more for the rest of the weekend.
We are beyond excited to host Bass Camp VI in Wingfield Park this summer with the gorgeous Truckee River flowing through the festival grounds. The river and all grass park will be a brilliant addition to this already amazing annual event as well as a great place to cool down in the water while listening and dancing to our many talented artists this summer.

Paul Reder, Founder/CEO of Bass Camp Festival
Sitting atop the Bass Camp Festival VI lineup are two of the biggest names in the dance music scene, deadmau5 and Madeon, but there's so much more to explore on this deep lineup. House lovers will gravitate to sets from the likes of A-Trak, Codes, Destructo, Kaleena Zanders, Truth X Lies, Walker & Royce, Speaker Honey, and VNSSA, while the b2b featuring Odd Mob and OMNOM will be a true treat. Bass-centered artists such as Blanke, BUKU, Ghastly, SubDocta, Jantsen, and Kompany are sure to hit hard with their performances, while Christian Martin is slated to play a DnB set that shouldn't be missed. Check out the full lineup below!
Tickets for Bass Camp Festival VI are on sale now. Head over to their official website to make your purchase, and let us know if you plan to attend the festival on Twitter.
---
Bass Camp Festival VI – Lineup: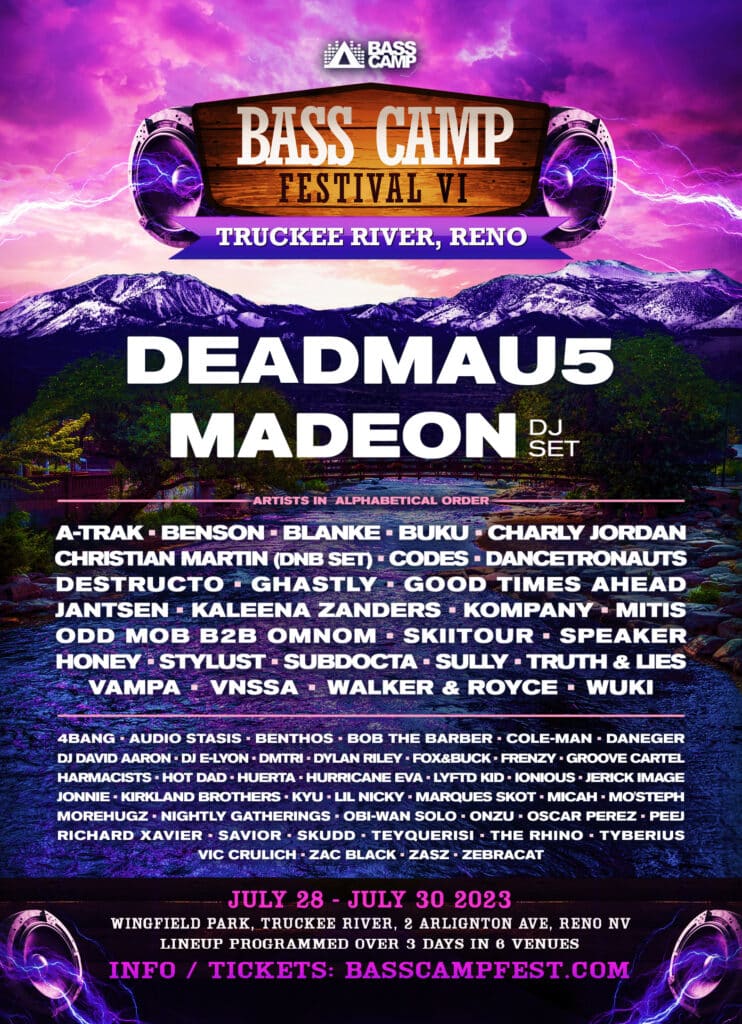 ---
Follow Bass Camp Festival: